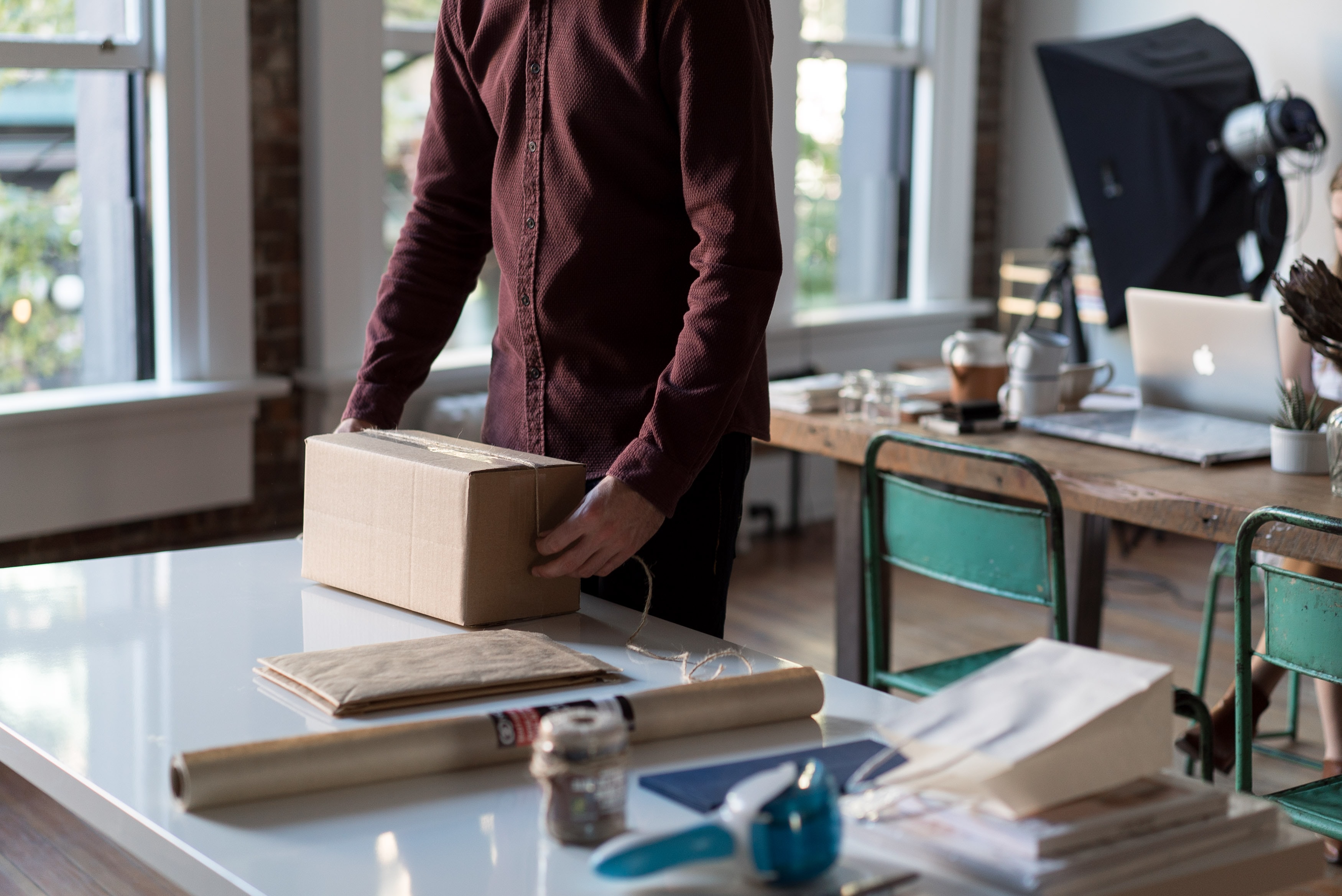 There's a lot of work involved in a product launch. Your team goes through rounds of brainstorming, product iterations, product testing, marketing plans, and more. And while all of that is happening inside the four walls of your office, it can be easy to forget that word-of-mouth in the market plays a big role in a successful launch.
With the impact of COVID-19, you may have considered delaying or pausing a product launch. While store closures and changes in consumer spending can definitely impact your launch plans, there's still plenty of opportunities to launch new products in a way that resonates with consumers.
According to the Harvard Business Review, some of the most common reasons new products fail are lack of preparation, lack of market testing, and consumer confusion. If people don't understand the new product and how to use it, they won't buy it. And that's where product sampling comes in – especially in a time when shoppers can't wander the brick-and-mortar store to stumble upon your product.
What is a sampling campaign?
Product sampling is when brands ask customers to try their product for free in exchange for honest feedback in the form of a review or social media post. A sampling campaign is a great way for brands to quickly collect reviews for new products. Bazaarvoice has found that for every 50 samples we send out, we get about 45 reviews in return. Even if a product has just five reviews, the purchase likelihood is 270% greater than for a product with no reviews.
In addition to generating reviews, product sampling increases social awareness, which can turn into new customers. After seeing a product on Instagram, 79% of consumers searched for more information and 46% made a purchase.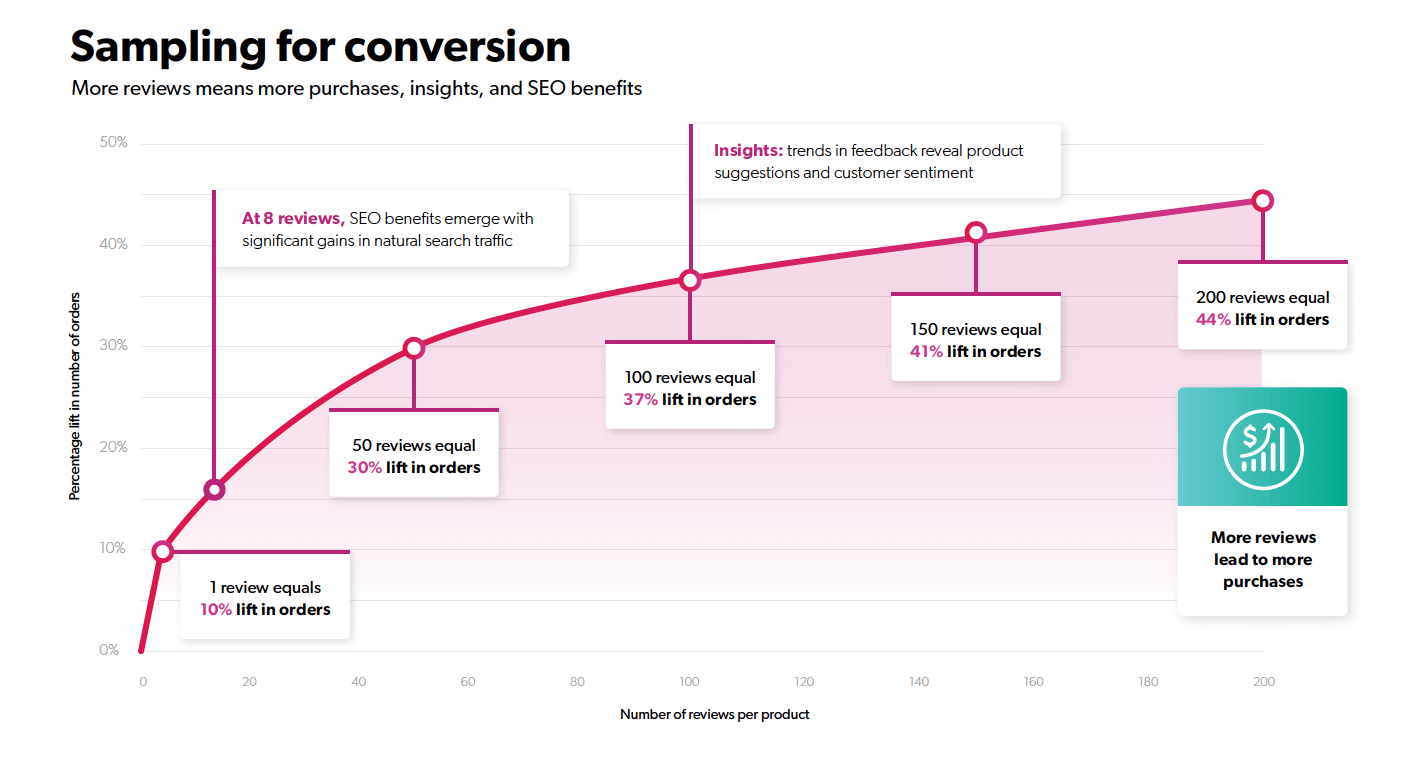 By executing a product sampling campaign, you can not only build brand loyalty and get critical product feedback and user-generated content (UGC) before launch, you can also start driving traffic to your e-commerce site, create a social buzz, and increase your revenue. All before your product even hits the market.
5 steps to create a sampling campaign before your product launch
1. Define your sampling goals
Sampling should be seen as a tool to help your product launch run more smoothly. To see the most value out of running a campaign, identifying your goals should be your first step. Work with your launch team to answer the following questions:
What do we want to gain from sampling our products ahead of launch?
Some common answers are to generate reviews or social buzz ahead of launch or to drive traffic to an in-person (or virtual, given the times) product launch event, and the list goes on.
Do we want to generate awareness, inspire conversion, or both?
Awareness translates to a social conversation about your products and brand across various channels, creating a buzz. Conversion comes from collecting reviews from product samples. Combining the two activates your brand across the full sales funnel.
Your sampling goal will inform what type of sampling campaign you should run and how long you need to build into your launch timeline to set yourself up for success. Find out here what other questions you should be asking ahead of a sampling campaign.
2. Ensure your product launch timeline includes enough time for sampling
As you're outlining all of the steps for your product launch, don't forget to factor sampling into your timeline, especially since you're trying to create some pre-launch interest in your product.
To figure out how much time you need, work backward and think about how you're going to get the product into customers' hands. Will you ship it to them? Have them pick it up from one of your locations? Do white glove delivery? You'll also need to give customers time to write their product reviews.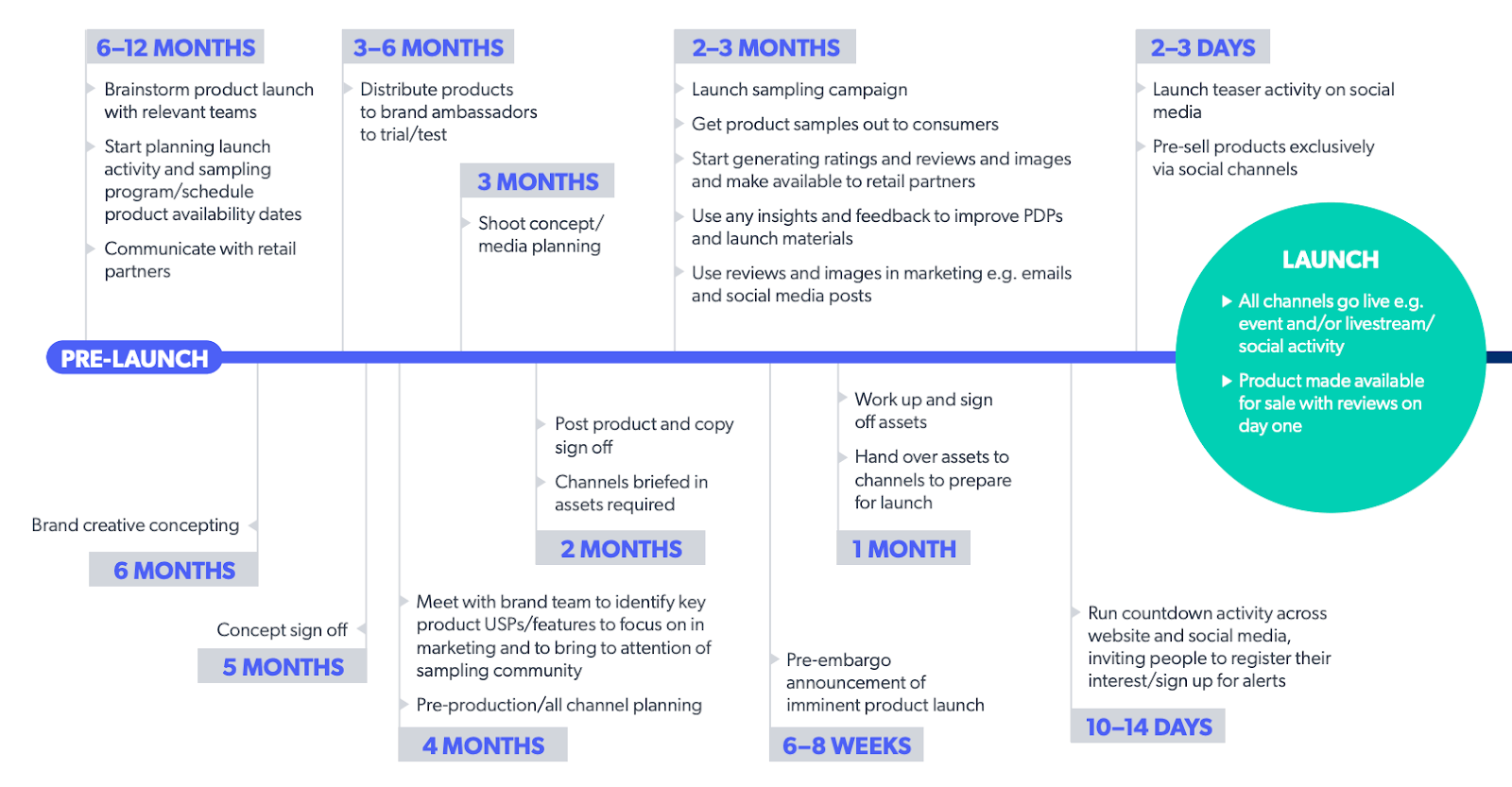 If you're choosing to ship your product to customers, make sure you have a reliable distributor. Remove the burden of working with multiple shipping and fulfillment providers by choosing one sampling partner that can manage the process for you. This way, you'll be able to focus less on shipping stress and more on your actual product launch.
3. Find the right people to sample your products
You don't want to send your new product to just any customer. You'll get higher engagement if you just send it to the audience it was intended for. Send out surveys to potential samplers to narrow down exactly who you want for your sampling campaign. Use your survey to ask specific questions about your new item.
For instance, if you're launching a new coffee product, ask about the customer's coffee habits. How many cups a day do they drink? Do they prefer to make coffee at home or go to a coffee shop? Do they prefer tea over coffee?
You could also partner with Bazaarvoice to tap into an existing sampling community. We vet everyday consumers to understand their preferences and if they'll be the right fit for the sampled product. This offers a unique way to sample your product to a group of brand advocates who are eager to share their honest feedback.
Product samples are sent to consumers after being vetted for the sampling campaign, with the expectation that the consumer will leave an unbiased, authentic product review or make a social media post after receiving and trying the product.
4. Lean on influencers
It's right there in their name. In addition to everyday consumers, social media influencers have the power to, well, influence their followers to purchase products and services. Approval from the right influencer during a sampling campaign can mean big numbers for your product launch.
Just like finding the right target audience, you'll need to find the right influencers to send your product to. You don't want to send a brand new baby product to an influencer who isn't even a parent or provide product samples to an influencer who is thought to buy their followers.
And authenticity should be of the utmost importance for your business. If a consumer finds your brand to be working with untrustworthy influencers or if an influencer touts your product when they probably wouldn't actually use it, they'll lose trust for your business and it can cost you — financially and otherwise.
Before you hire an influencer, consider tracking them for a while to understand their online behavior, engagement trends, and existing partnerships.
Within the influencer world, there's a designation between micro- and super influencers. Micro-influencers tend to have a smaller, but still substantial following, and super influencers have large followings — think celebrities. We recommend using micro-influencer to ensure you reach your desired audience.
When you're sending to influencers, remember that good packaging is essential. Many influencers choose to do "unboxing" videos, so if your packaging is pretty, doesn't have any leaky products, and includes a handwritten note, it will make for a better experience.
5. Use feedback from pre-launch sampling to improve your products
One of the biggest benefits of running a pre-launch sample campaign is the valuable feedback you'll receive from customers. While most of the feedback will hopefully be great, constructive criticism can be used to improve the beta version of your product before you launch it.
Clothing brand Vertbaudet did similar when they noticed consistent negative feedback around a maternity line. They altered the cut of the dress and saw a 12% increase in sales.

Developing an improved product means you'll see more positive ratings and reviews from customers once it's fully launched.
Nail your launch with a sampling campaign
Whether you're a small brand trying to increase awareness or a big brand that's about to launch a new line, product sampling is a great way to build word-of-mouth and get crucial feedback before launching your product to the masses.
By using the strategies above, you can create buzzy social content and gain ratings and reviews to increase post-launch awareness and conversions. Learn more about sampling campaigns here. Or get in touch with us below to see how Bazaarvoice can run your end-to-end sampling campaign for you.
Request a demo