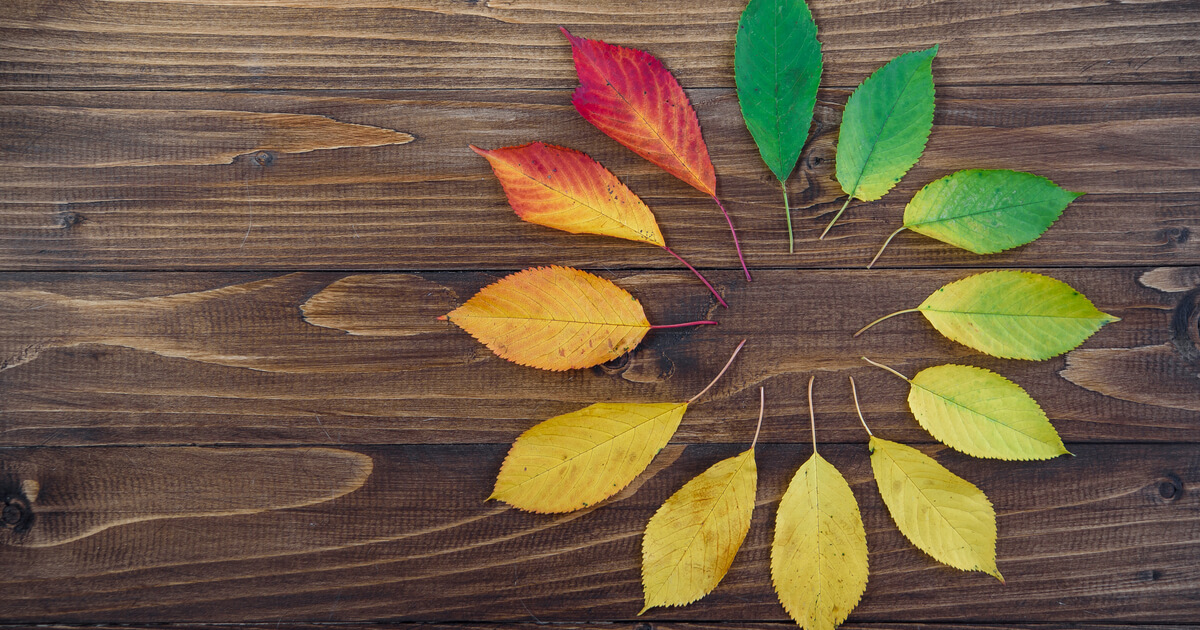 Product marketing: A term most know, many conquer, but few completely master. But don't worry, this comprehensive guide of the full product marketing lifecycle — from before, during, and after launch — will teach you how to easily become one of the latter.
Chapters:
---
---
In 2001, the Segway scooter launched as one of the most hyped products in history, promising to change the world by replacing automobiles. Instead, the Segway bombed and ended up as a mall cop punchline. One of the main reasons behind its failed launch was its inventor's obsession with secrecy. He didn't allow his marketing team to do the research they needed.
If he had, they would have discovered the scooter was overpriced, and people thought it looked really stupid. (#awkward)
One of the biggest misconceptions about bringing a product to market is that someone just swoops in at the end to sell the finished product. But that's not how things work in reality. Segway's failure is a great illustration of why product marketing shouldn't be an afterthought.
Product marketing is integral to every aspect of a product's lifecycle — before, during, and after launch.
What is product marketing?
At its core, product marketing is the process of bringing your customers and product together. This includes developing a go-to-market (GTM) strategy, as well as synthesizing feedback from customers and a core team of cross-functional stakeholders, ranging from product, sales, customer success, and marketing.
Then, throughout the launch and growth phases, product marketers help make sure that market-facing teams are continuously enabled to effectively represent the product and that the product is positioned for optimal performance.
The role of a product marketing manager (PMM) varies between different industries, companies, and products. Usually, a product marketer's responsibilities include conducting market research, crafting a compelling product vision and narrative, developing a launch plan, launching the product, and supporting its growth by driving demand and product usage.
They also take market insights like customer feedback and competitive intelligence back to the product team to influence future product development.
Why is product marketing important?
Product marketing is crucial to every business strategy.
Why? Because it's the voice of the customer.
To support a successful product launch and ongoing growth, businesses need to build customer relationships all along the product journey and continuously advocate on behalf of the customers' pain points and goals.
A great product marketing team empathizes with customers' pain points. They ask: What problems do they have, and how does our product solve them? Then, PMMs communicate the product's value to customers, advocate for its use, and take customer insights back to the product team to further tweak features or troubleshoot problems.
"…product marketing actually assesses the market, what sort of core competencies that organization already has, and then pulls that empathy and understanding of the market into what should we go build, because we fundamentally understand there's an acute pain point going on for which people are willing to pay for a solution, and that is truly the value that a product marketing manager brings to the table." – Elizabeth Brigham, Head of Product Marketing at Morningstar.
Product marketing phases
The Product Marketing Alliance outlines the phases of product marketing, which we've adapted below into three main stages: before, during, and after launch. The first two phases (preparing for and launching a product) generally take about one to one and a half years, according to Claire Maynard, Head of Product Marketing, New Products & Solutions at Atlassian.
1. Pre-launch stage: Market research, positioning, awareness, and reach
During the pre-launch phase, you gather info on the market and define your position. This includes conducting market research, telling your brand story, and expanding your reach by identifying your customer base and building buzz.
In essence, you're trying to ask a lot of questions and foresee Segway's 'mall cop' punchline before it happens. Then avert it.
"The biggest opportunity for [product marketers]," according to Christine Lee, VP of Network Accounts at Bazaarvoice, "is to be the devil's advocate in the 'pre' stage to make sure all road bumps are known/uncovered."
Market research
When you're in discovery mode, you should make an educated hypothesis about what customers want, test your assumptions, and review and refine those assumptions. Then build a business case for your product. One way to do this is by talking directly with customers.
"Representing the customer is all about having deep, specific knowledge from actually talking to customers," says Natala Menezes, Global Head of Product Marketing at Grammarly. "Launches themselves are just actually a next step in that process, and it's not where their relationship is beginning."
Peloton is a prime example of a using the discovery phase to refine marketing strategy. The brand hypothesized only fit, affluent riders would buy the product, so that's where it focused initial marketing efforts. But through conversations with their community, they realized they'd missed the opportunity to sell to less wealthy consumers who liked the bike's convenience, and were willing to splurge.
Thanks to this market research, the brand introduced a new financing program and a more diverse marketing campaign. With a market cap of $10billion, the pivot clearly worked for the brand. Which demonstrates precisely the importance of the market research phase. Just because the feedback isn't what you expected, it doesn't mean a lost cause.
After you've thoroughly tested your assumption about your project and audience, it's time to plan how you'll bring your product to market:
Objectives
Messaging
Pricing
Delivery and servicing
Enablement of market-facing teams
Demand generation
Market communications
And the list goes on
Positioning
Once you've mapped out your plans, you should define your brand and product's positioning. In your market research, you identified your target audience, and now it's time to map out the customer journey toward product adoption for each buyer persona.
This involves delving into your audience's pain points and then choosing the right messaging and channels to reach them. You'll also need to choose a product name and logo that's accessible and appealing to customers.
For example, when Airbnb rebranded in 2014, it positioned itself as a way to belong anywhere in the world. With a worldwide audience, the new logo and accompanying ads had to carry a message that would resonate no matter who or where you are: "We are all seeking to belong. We all want to connect and share to feel accepted and feel safe."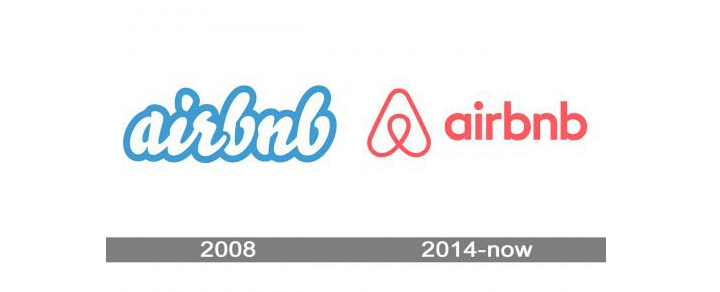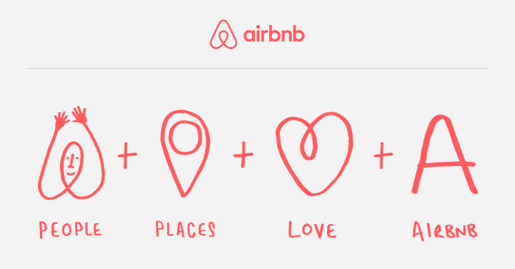 A more recent example of brand positioning is Nike's "Play New" campaign. With messaging like "Here's to giving it a shot, even though your shot is garbage," it's clear that the brand is trying to reach an audience that's just dipping its toes into sports and fitness. People feel fearful and awkward when trying new things (like me at my first spin class) — and they often fail (also like me at my first spin class).
Nike's clear empathy for those feelings is what makes the campaign so appealing to people who aren't professional athletes.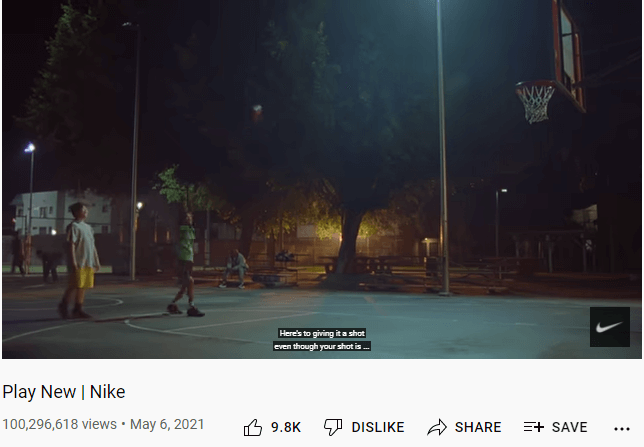 To ensure your messages land, pay close attention to audience feedback. If the story you're telling doesn't resonate or misses a wider audience, you should shift your messaging strategy. But if your video is racking up tons of views on YouTube and the comments are full of positive vibes like Nike's, you'll know you hit the right nerve.
Generate awareness and anticipation
With a teaser, you can generate a feeling of anticipation prior to a product's GA release. Do this by posting a video, social post, or ad without any specific product or launch details. Nike's Twitter post showing a runner using AR lenses is a perfect example of how brands can use videos on social media as teasers for new product launches.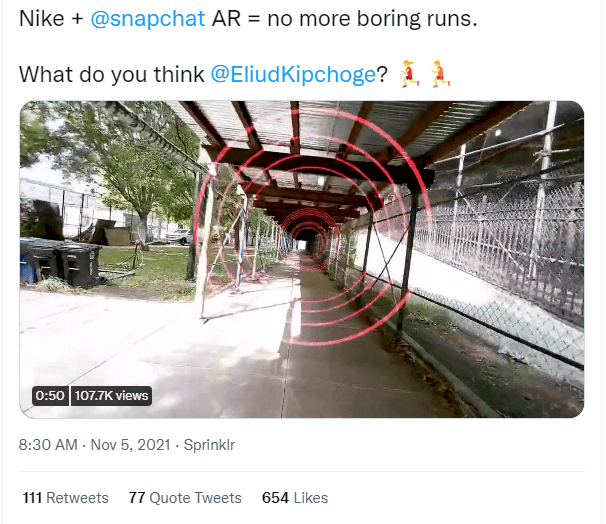 Similar to a teaser but with more details, the sneak peek is especially suited for Instagram because you can sneakily (😉) build an audience and create buzz around your product before you try to sell. Gathering feedback at this stage can help you determine if you've found product-market fit.
Texas fashion boutique Gypsy Waltz takes advantage of this approach by offering a few tantalizing and strategically placed photos of upcoming products and when they'll be available to purchase.
One of the advantages of the sneak peek is the feedback opportunity. You can field questions via email, social media, or live chat, and customers can like and share the product before they even buy. Or you can utilize a hyper-targeted sampling campaign and send product samples to your dream customer in exchange for honest feedback.
Another way to amplify your launch event is by creating a "save the date" video to excite your audience and generate buzz. In the video, share the time and date for your launch event. Even mention something special that will encourage people to attend, like an exclusive live performance. Taylor Swift does with her save-the-date video for the launch of her album Lover.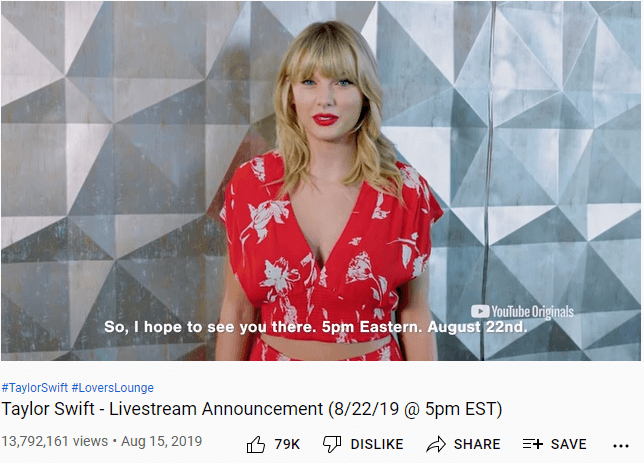 Below the ad, Taylor also posted links to pre-order the album, attend the launch event, buy merch, and follow her on social channels. This may seem a strange example, but Taylor has a million Grammies so we can't knock it.
Pro tip: Don't over-hype the event unless you'll deliver above and beyond audience expectations. For example, Taylor's ad felt very chill and unscripted. But the actual launch event felt like a valentine for fans. Taylor read from her childhood diary and gave away free copies, shared her thought process for creating the album, and talked with guest Stella McCartney about their fashion collaboration.
Expand your reach
One of the best times to earn new customers is before a launch. If you're a new brand launching your first product, you're just trying to go beyond your family and friends. And if you're an established brand, you're trying to expand your reach beyond your established customers.
Either way, your existing network is your best tool to recruit new customers.
Referral marketing is a strong strategy to snag new customers — especially millennials, many of whom won't even consider a product if their friends don't like it. You should capitalize on the social proof trend by offering an incentive for existing fans to share your product with their friends.
A great example of this is when Harry's published a pre-launch referral page with the copy "Shaving is evolving. Don't leave your friends behind." The company offered tiered prizes (from free shaving cream to free shaving for a year) depending on how many successful referrals customers signed up.
The week-long campaign generated about 100,000 emails through referrals before the company even launched its product.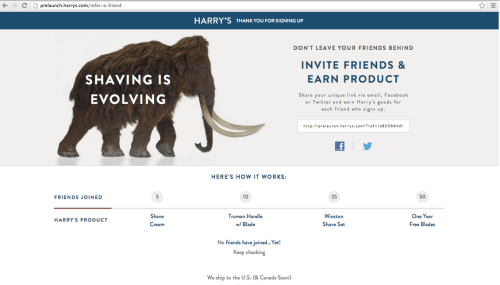 As a bonus, this pre-launch referral approach makes your customers feel like insiders, which encourages brand loyalty and customer retention.
2. Launch stage: Build trust and activate users
During the product launch stage, you'll usually release your product in three stages that correspond to customer tiers:
Alpha (hand-picked customers)
Beta (larger group of fans)
GA (general availability)
Each stage gives you a chance to learn how customers are responding to the product. Then use these insights to tweak aspects of your product such as capabilities, pricing, and messaging.
It's time to prepare your sales assets and marketing campaigns and equip your team with field enablement sessions. And you'll thoroughly document everything so your core team can fully understand, promote, and support the product.
"You sort of learn as you go," says Maynard. "Your initial idea for a product might end up being completely different once you've tested it with end-users."
Build trust with user-generated content
An effective way to establish trust and build buzz for a new product is to show other customers' experiences with that product. Ask your alpha and beta users to share reviews and post content on social media. To collect more user-generated content (UGC), reward customers with gift cards or the promise of early access to your next launch.
Collect and share customer quotes as part of your launch campaign. Use customer testimonial photos and videos on your website, YouTube channel, and social media. Or — for B2B companies — spotlight customer success stories in case studies (like we do😌).
Take Nourison, a leading supplier of rugs, carpets, and home accessories. The company converts 4x the customers by bringing user images from social media into its product detail pages. Even negative customer feedback is useful because it enables the company to glean meaningful insights to improve the product, its features, and marketing messages.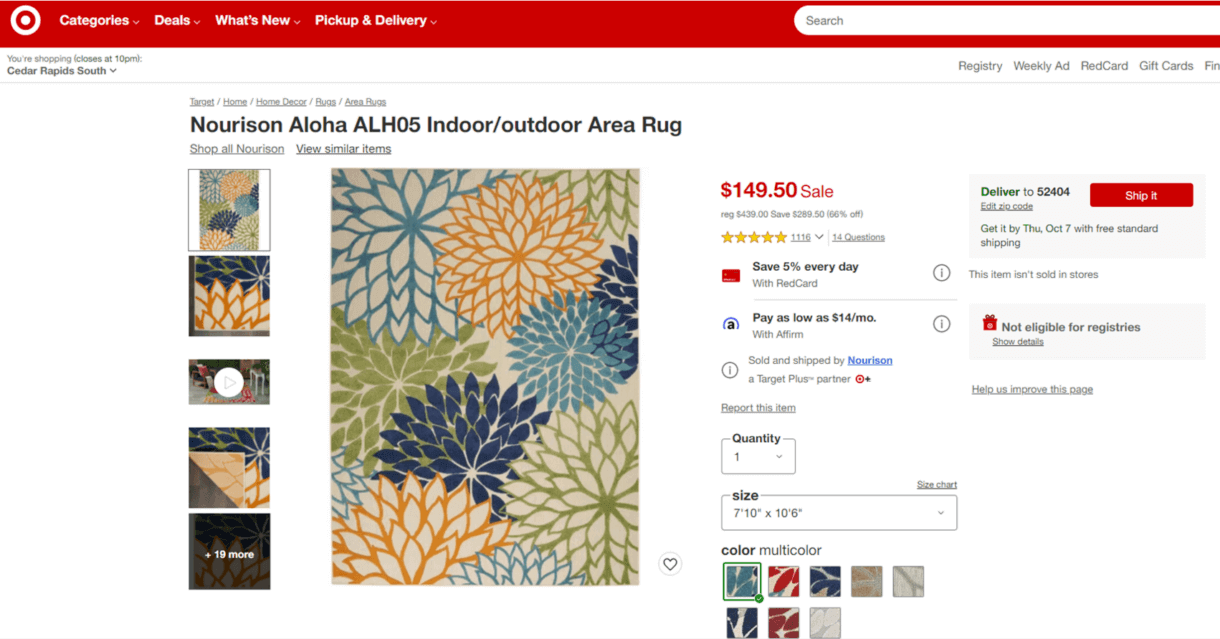 Activate your audience
At the beginning of the product launch, your primary goal is to activate users ASAP. In other words, to get customers to make a purchase, become repeat buyers, and/or engage with your brand in some way.
You can do this by providing a sleek onboarding experience that quickly ushers them to the "a-ha moment." For example, after insurance company Lemonade's users sign up, it takes only about 90 seconds to get them a quote. This helps customers see the product's value in the most frictionless way possible.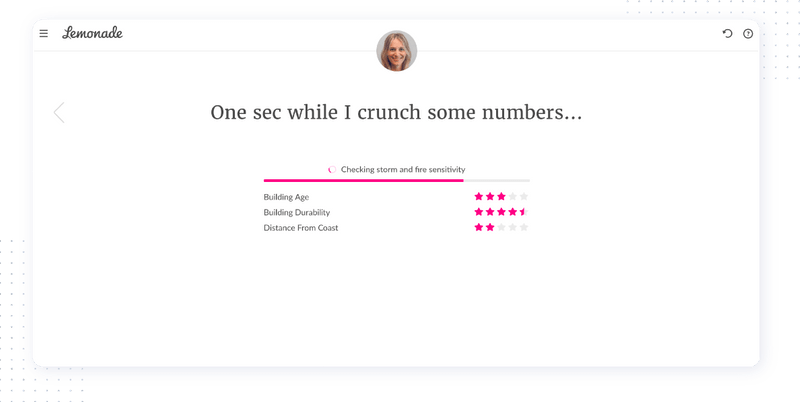 You can also activate customers by making a subscription signup process as non-committal as possible. Stitch Fix does this in style with its style quiz.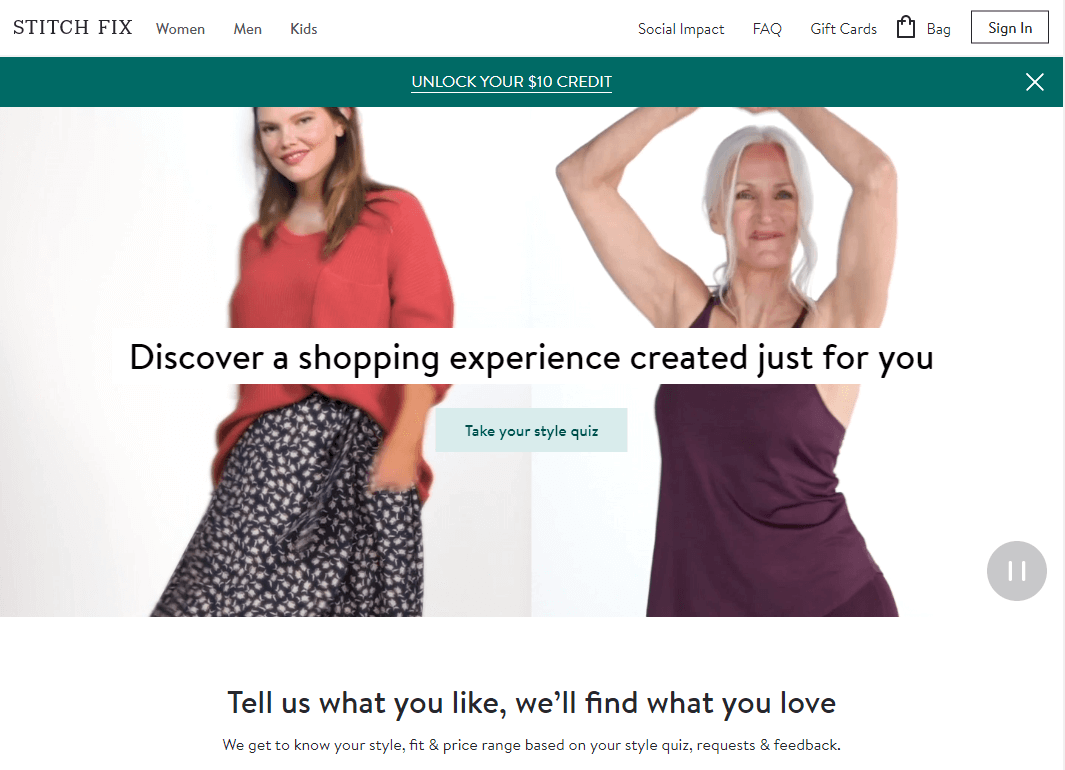 Visitors share their email before taking the quiz (oopsie! not just a quiz). By the end of the quiz, visitors who were inspired by the styles they saw can sign up for the service. Or they can wait to receive tantalizing promotional emails that offer credits toward their first style.
Another great way to activate customers is to embed content marketing within your product marketing strategy. SaaS company Atlassian does this by publishing a keyword-optimized template or tutorial that appeals to its target market. People in its audience who are interested in that topic click on the tutorial and land inside the product itself.
Because the experience of getting into the product is frictionless, it drives activation just from searching.
3. Post-launch: Consistent messaging, engagement, and expansion
After you've successfully launched a product, you should invest in growing its demand and adoption. The goal of the post-launch phase is to grow your customer base, as well as your product.
"DO NOT BE AFRAID TO MODIFY the offer/solution in market if something isn't working as planned." – Christine Lee, VP of Network Accounts at Bazaarvoice.
You should analyze the customer journey and create consistent messaging and opportunities for engagement and expansion throughout. Then you can use customer feedback to create a roadmap for future product features or integrate it into an omnichannel marketing communication strategy.
Repurpose across channels
One of the most important parts of the post-launch phase is to keep messaging consistent across different channels. Besides creating a consistent experience for customers, it also saves marketing dollars to repurpose content in different ways.
Pro tip: Post a five-minute YouTube video on your product detail page. Then, include a still from the video in launch emails with a CTA to watch the video on your product page. Post and boost an IG carousel with a link to visit the product page. And finally repurpose one of your IG images in a direct mail piece with a short product description and an exclusive offer.
Breakfast food brand Kodiak Cakes kills at consistent messaging. The company posts drool-worthy images on Instagram carousels along with engaging questions that earn hundreds — sometimes thousands — of comments and likes.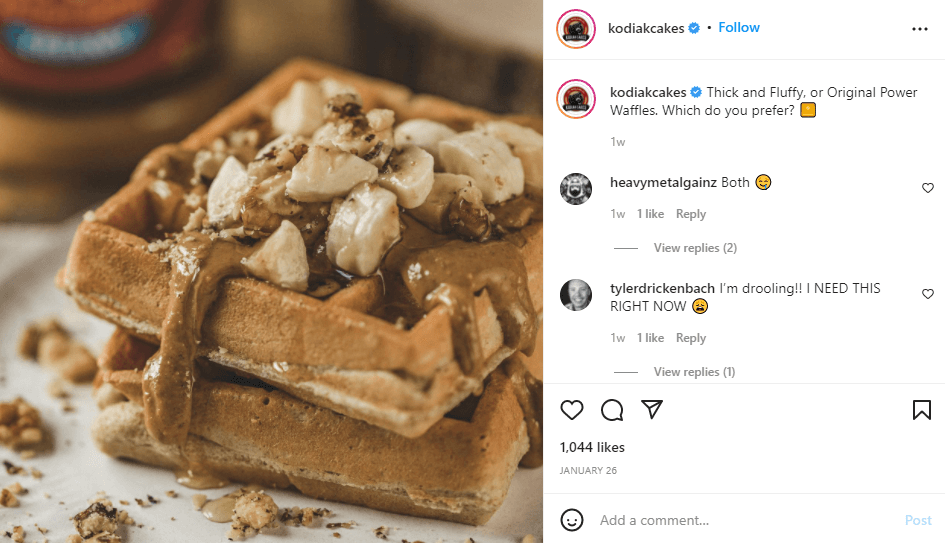 The company also repurposes those images on its website. If you click on the website image, you land on the IG profile. Boom. Consistent experience throughout.
Encourage engagement with gamification and discussion panels
After launching your product, encourage users to continue engaging with marketing, even when it isn't directly geared toward driving sales. Gamified marketing captures attention, grows brand awareness, and drives conversions. Plus, it's a way to show off your brand's personality and provide something of value for free — a fun experience.
Even Apple, the world's most valuable company, uses the gamification technique. A few months after releasing the iPhone 13, Apple invited users to participate in a photography challenge.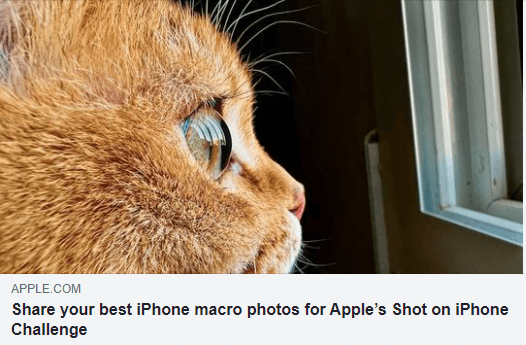 Participants shared their own photos taken on iPhone 13 Pro or iPhone 13 Pro Max on social media with the hashtags #ShotoniPhone and #iPhonemacrochallenge. Apple promises to celebrate the winning photos on Apple's website and social channels, and maybe even physical stores or billboards.
You can also engage customers by hosting a discussion panel via webinars or podcasts. This tactic helps non-customer-facing teams like marketing to hear the voice of the customer directly. Discussion panels can inspire future product features or marketing strategies.
It's also a great way to humanize your brand. By meeting customers face to face, you reinforce the idea that you want to connect with and help your customers.
Panel discussions could be centered on something important in your industry, constructive feedback about a new product, or a way to connect customers together in a community. Peloton accomplished this beautifully with its Homecoming 2021 Community Chat, which consisted of 88 classes and 13 panel discussions.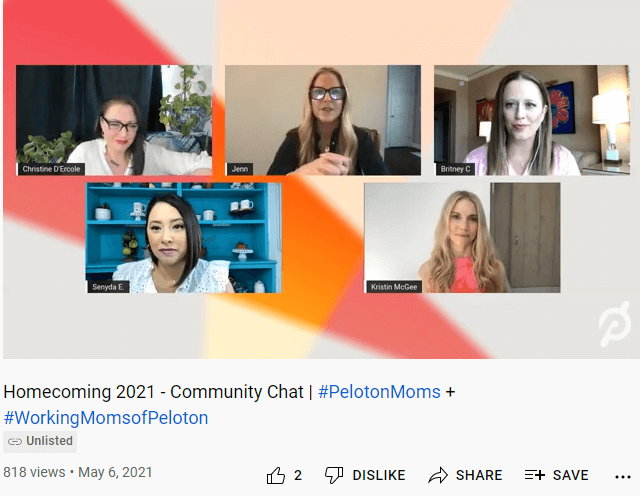 Prior to the virtual event, the company collected questions from members and then hosted discussions to address those questions, grouped by topic. Panelists included Peloton instructors, active members on social media, and frequent leaderboard leaders. The content created from this event was later repurposed on its blog and YouTube channel.
Expand through upselling, referrals, and UGC
Once customers have adopted your product, the next step is to expand by increasing the value you get from customers — i.e., upselling. A common way to upsell customers is to encourage them to upgrade from a free to a premium plan, as Grammarly does in this promotional email:
Upselling can also mean showing customers how to use the product they already bought — by buying another product. Clothing retailer Express does this by sending post-purchase emails with examples of items that would pair well with a customer's previous purchase.
You can also expand your customer base through referral marketing. For example, Get Back Necklaces used Friendbuy's referral program to offer customers and referrals 50% off their purchase, which increased its referral revenue by 700%.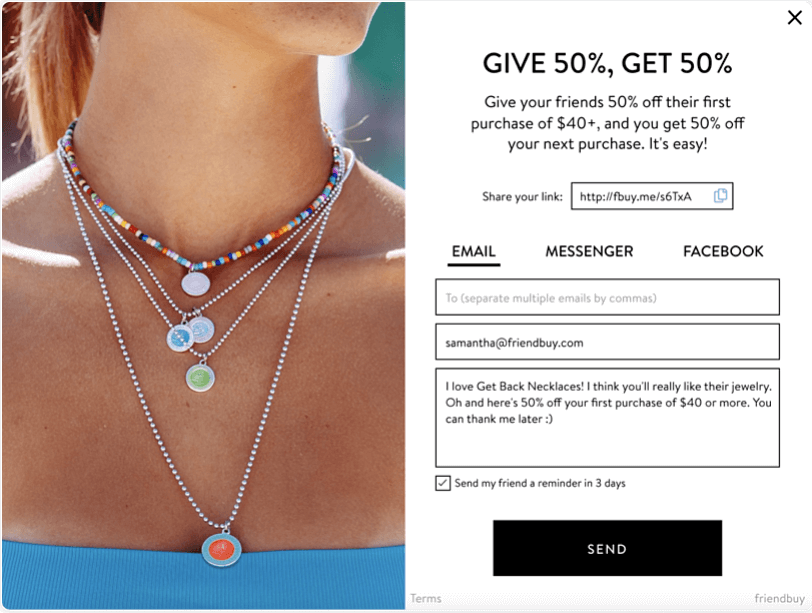 Another way to expand your customer base is with viral UGC, which makes marketing more meaningful and authentic to customers. A prime example of this is Applebee's using TikTok videos of Walker Hayes' hit song "Fancy Like."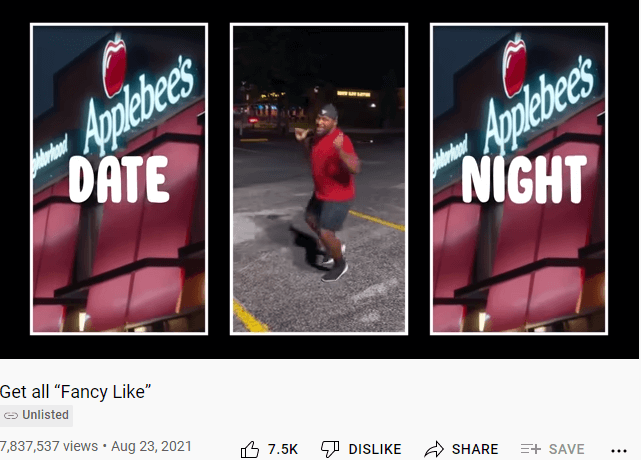 After Hayes' TikTok video went viral on social media, fans took it upon themselves to reenact the dance on their own social media channels (sometimes even filmed at Applebee's). Applebee's took advantage of the free publicity and created some TV ads and social media campaigns using these videos. The song became the top country song in the U.S., and store sales increased while competitors' sales fell.
To get started with UGC, you can partner with an influencer to create personalized testimonials that feel more authentic and use their ideas to help shape future features. I.e., your product roadmap. (Here's more ideas on how to find a TikTok influencer that makes sense for your brand.)
Land your launch
No one is promising your product will be the next iPhone, but with a bit of strategy and investment, you can ensure that it's not the next Segway.
Ready to craft your go-to-market strategy? Learn more about how starting with UGC can help you find fans, collect reviews, and gain traction before, during, and after launch.