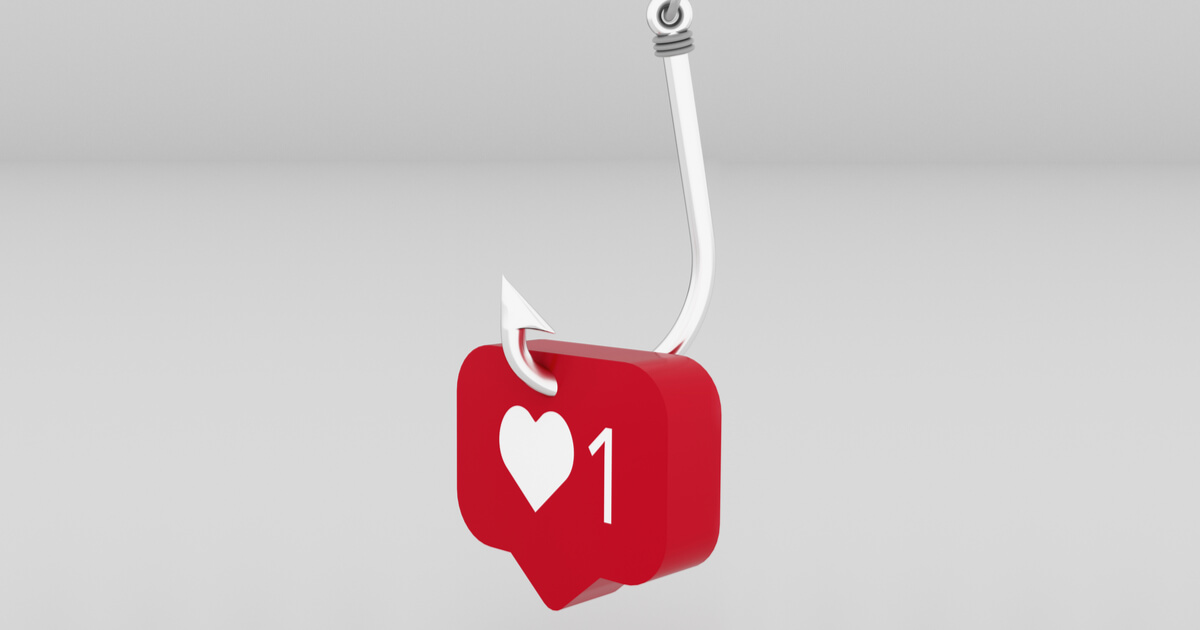 As a social manager for an e-commerce brand, it may feel like your role is changing faster than the industry. Trends like shoppable content, continue to emerge and challenge you to adopt new workflows and strategies.
To make matters worse, many of the social media marketing tools on the market today fall short when it comes to enabling commerce. They work great for functions like scheduling and tracking follower engagement, but what about tools to manage influencer content and create better shopping experiences?
There's an opportunity to think bigger about the tools you use for your social e-commerce strategy.
Yes, growing followers and brand awareness is important, but with the right tool you can drive product discovery and sales on social (while streamlining your workflow).
The best social media marketing tools we've seen
If you want to be more efficient with your social strategy and drive results for e-commerce, look for these seven best social media marketing tools.
1. Save time with an easy-to-use social media scheduling tool
When you manage multiple social media accounts, you need a quick and easy way to keep them up-to-date with new content. Enter the social media scheduling tool — a must-have for social managers.
At the very minimum, social media posting tools provide a convenient way to queue up content. That way you don't have to log in to each platform and publish it manually. But more robust scheduling tools offer features for team collaboration, product tagging, and forecasting that can not only improve your workflow but also your social media strategy over time.
Look for social media scheduling tools that can help you:
Schedule and post to all your social platforms with products tagged
Collaborate on posts, approve drafts, and share feedback on the posting schedule
Identify peak times to post content (when most of your followers are online)
Analyze content and identify what will perform best for your target audience
You'll also want to closely evaluate scheduling tools for their ease-of use—a simple interface can save a lot of time. Drag and drop, heat maps, automation (like suggested hashtags), any functionality that can streamline your workflow, should be a priority.
2. Scale actionable analytics with a robust social reporting tool
After you publish content on social media, you'll need to analyze and report on your efforts to see what type of content is resonating with your followers. (Across all platforms).
You can gain helpful insights by tracking engagement metrics such as likes, shares, impressions, comments, and reach — and most social managers do. But these top-of-funnel KPIs are table stakes for any social analytics tool.
Look for tools that go beyond buzz metrics and can generate actionable insights about your:
Followers
Competitors
Content
But if you really want to drive ecommerce growth and prove the business case for social to higher ups, you'll need a way to see how posts are tied back to measurable sales.
What if you could learn which tagged products are getting the most clicks or how many sales are attributed to each post. With the right tool, it's possible.
Additionally, ensure your social analytics tool provides a visual user-experience so you can quickly find what you're looking for. When working with data, visuals like charts, tables, and graphs can make it easier to interpret data and formulate a story about what it says.
3. Stay organized with a comprehensive content library tool
More often than not, social content lives in several different places—your cloud drive, desktop, and emails. This makes it difficult to source and manage. And that's just your brand's owned content. Then, you have to track down and store content created by influencers and customers.
With all this social content sourced in different ways and stored in different places, your workflow can become messier by the day.
But there are great tools that can help you stay organized with a centralized hub to house and manage the content you need to deploy across channels.
When researching, look for a tool that offers a robust media library that can consolidate all your content in one place–brand-owned, influencer, and user-generated content (UGC). UGC is often the most challenging to organize and manage because you have less control over it. But there are tools that can help you collect, store and request rights to @mentioned, tagged and hashtagged content—automating a very time-consuming process for social media managers.
Ensure your content management tool can help you:
Sort and tag content
Pull in UGC on social and upload brand-owned content
Track hashtags and influencers for campaigns and collaborations
Bonus: Allow you to request rights (in bulk) to UGC directly in the tool
4. Easily activate and track influencers with a tool for influencer management
When you have to work natively in each social platform to track down influencers and their content, you can end up wasting a lot of time. But the right social content tools can help you streamline influencer programs.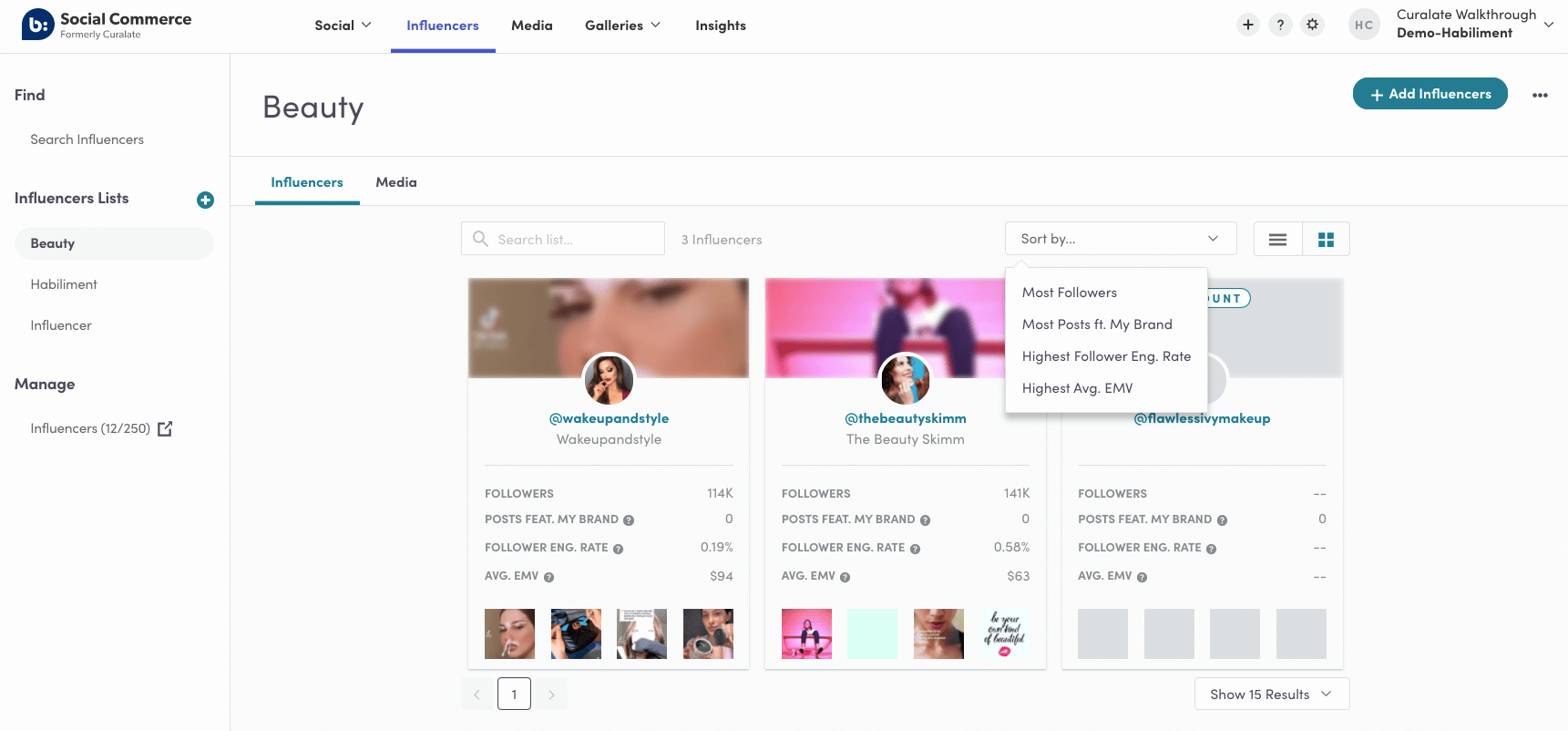 Look for a content tool that not only allows you to easily pull in influencer content, but also helps you repurpose, activate, and distribute it throughout each of your social channels. Bonus if you can make influencer content shoppable within the platform as well.
You'll also want reporting features that can help you measure how influencer content performs. Metrics like follower engagement and earned media value are critical for social media managers that are looking to better understand which influencers are driving results for the business.
5. Optimize your social strategy with AI tools
If you want to streamline your workflow and optimize your strategy at the same time, you'll need a social media marketing tool that offers artificial intelligence (AI). Why?
AI can automate processes for you — like identifying products to be tagged in a new post or suggesting times to schedule posts based on follower activity. It can also provide you with insights that you would otherwise miss out on by acting as an extra pair of eyes running in the background.
For example, a social AI tool could tell you which type of imagery has the highest engagement, so you can focus more on the visual themes (like color, style, or products) that perform best for your brand.
AI social tools provide a competitive advantage by helping you work smarter, not harder. They can uncover the insights you need to adjust your strategy and give your followers exactly what they're looking for.
6. Drive product sales with a social commerce tool
When selling on social media platforms, it's important to keep in mind that only 30% of social users are impulse buyers. The other 70% want to learn more about your product and brand before they buy. This means most consumers on social will not convert on the spot—like when you send them directly to a product page (with a link in bio) or prompt them to buy with shoppable tags.
If your ecommerce team is trying to drive conversions and revenue on social, you'll need to provide seamless shopping experiences that close the gap between consumer discovery and purchase.
How can you help consumers on social spend more time with your content so they discover more about your brand and products? Like2Buy.
Like2Buy is a link in bio tool that transforms one link into an Instagram storefront. Rather than taking the consumer away from social to an overwhelming website, this tool creates an immersive shopping experience that feels like browsing through a social feed.
Here's an example of the Like2Buy experience Billabong created for its Instagram.
For e-commerce brands looking to increase conversions on social, Like2Buy is a game-changing tool.
7. Take shopppable content to the next level with a product discovery tool for social
Typically, bounce rates on social networking sites are high and conversions are low. Why?
Because the product you're driving your followers to is probably not the one they want or are interested in buying. But they may want to buy something else from you. They just haven't discovered it yet.
It's up to you to help social followers discover more—more about your brand and products. But how can you drive more product discovery on social?
Consider social media marketing tools that can help you level-up the shopper experience.
Imagine if your followers could discover new products and feel like they're in a physical retail store (without ever leaving their social app)? With our Social Commerce tool, you can create a Showroom, or pop-up shop, on social media with just one link and drive 60% more product discovery than a typical social post.
Here's an example of the Showroom experience Nordstrom created for its Instagram.
The best social media marketing tools for e-commerce go beyond the basics
Ultimately, the tool you choose for social media marketing should help you streamline your workflow, uncover more meaningful insights, and generate ROI in the areas that matter most to your business.
But as the lines between e-commerce and social media continue to blur, don't sell your marketing efforts short with a run-of-the-mill toolset. There are endless possibilities in this space.
With our Social Commerce tool, you can not only streamline your workflow — especially when it comes to managing UGC and scheduling shoppable content — but also sell more on social media with better content experiences.
We're just going to come out and say it: It's the best social media marketing tool for the future of social commerce.
Request a demo