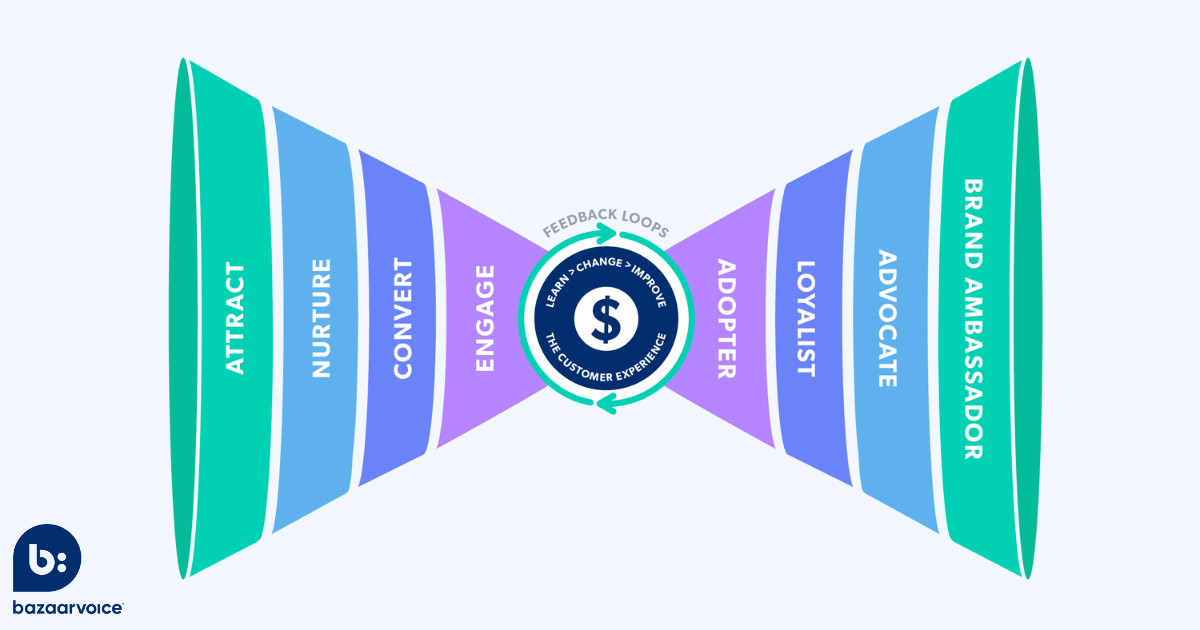 Working in any position selling a product requires a go-getter attitude and a knack for talking with strangers. But as any salesperson will tell you, that isn't enough to close a deal. If your customers don't know or trust you, you're going to lose their future business. So, how do you attract customers that know your brand and trust you to provide quality service? By using a bow tie funnel as a template for your sales and marketing strategies.
A bow tie funnel is better suited to today's e-commerce because your tactics for capturing customers shouldn't stop once you close a deal.
According to Harvard Business School, we've known as far back as 2000 that restarting efforts to attract new customers can often be more expensive than retaining current customers. And loyal customers tend to spread the word about your business faster and farther than you can, for the same price on your own marketing efforts.
The bow tie funnel hijacks this phenomenon as a marketing and sales strategy, transforming the traditional sales funnel into a funnel honed for ongoing growth.
What is the bow tie funnel?
Salesforce describes the traditional sales funnel as an ideal pattern of consumer recruitment that resembles a water funnel. This funnel follows four stages of customer intake that narrows in a downward trajectory. The traditional stages cascading from the top of the funnel are:
Awareness
Interest
Desire
Action
With a wide net of lead generation at the beginning that gradually pares off potential customers until the final purchase at the end of the funnel.
The bow tie funnel includes all the stages of the traditional funnel, but it continues on after the purchase to include efforts toward retention and encouraging future engagement. This marketing funnel is flipped horizontally, to create a visual of consistent growth.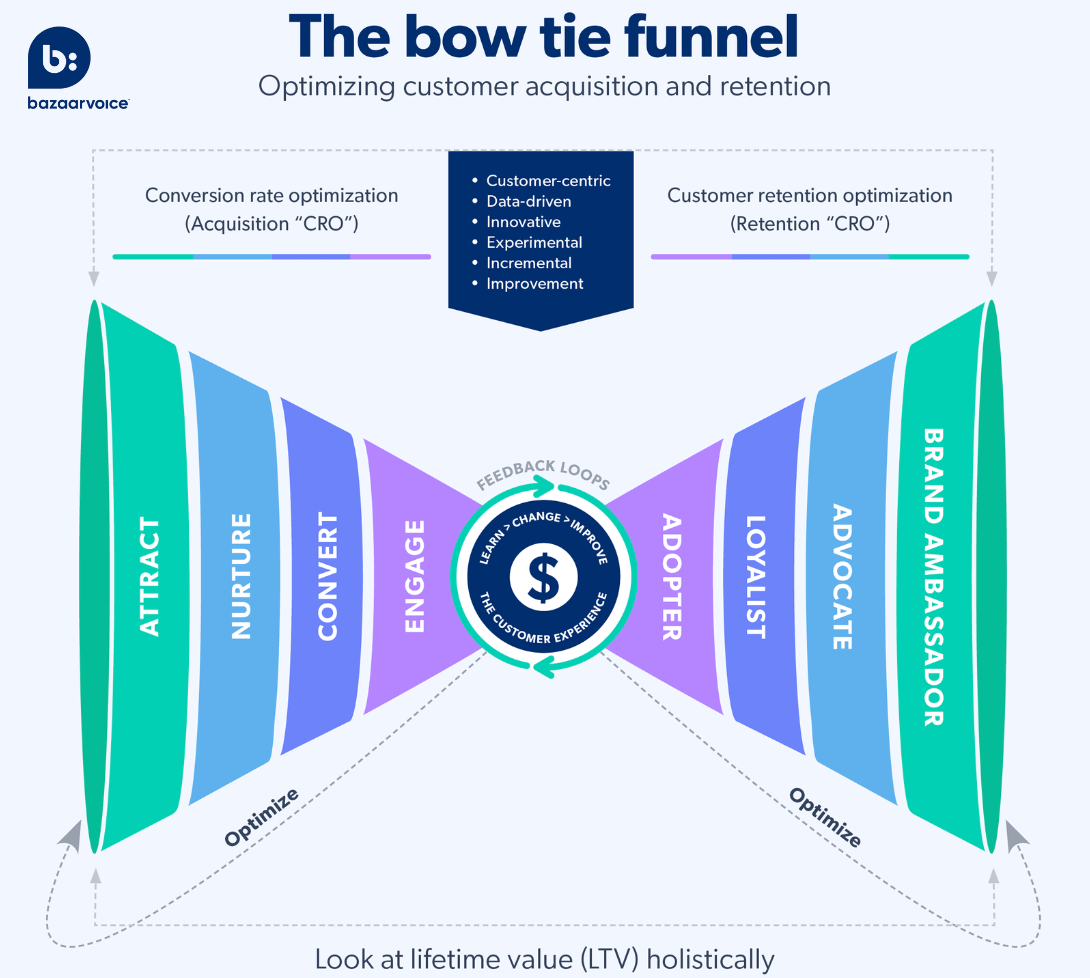 After the purchase, the bow tie funnel adds on four stages of customer relationship development:
Adopter
Loyalist
Advocate
Ambassador
These stages strengthen the customer's trust in the brand and lead the customers to eventually become surrogate salespeople. This is called consumer-to-consumer (C2C) marketing.
In an interview with Bryan Reynolds, Gary Malhotra, former VP of Marketing and Experience at TapClicks, says marketers should, "focus on one key metric, which is the company's total revenue and the drivers that impact that."
Using the bow tie funnel as a sales and marketing strategy allows marketers to track customer growth and measure the drivers that impact total revenue. Some data that can help inform these measurements are lookalike, clickstream, and attribution data, as Gary describes in a LinkedIn article.
Benefits of the bow tie funnel approach
The second half of the bow tie funnel, which focuses on brand trust, is the reason the bow tie funnel is so important. In a Winning by Design video about the SaaS sales methodology, Jacco van der Kooij explains that the majority of revenue in a Sales as a Science approach is made after the sale. This lines up with the right side of the bow tie funnel, which aims to enhance customer trust and retention.
Revenue is best secured when your company continues to keep its customers happy and loyal post-sale. As The Customer Experience Podcast explains, the best ways to keep positive customer sentiment and enhance their experience involve respect and kindness. Customers are people first and foremost, and their time and efforts should be honored.
Beyond providing a focus on keeping clients happy, the bow tie funnel provides one of the most important benefits needed for data collection: time. As Gary Malhotra points out, "the most valuable data is the hardest to get."
Information gathering is key in maintaining both current customers and gaining new ones. It's very difficult to notice patterns without fully understanding which experiences brought your specific customers to your brand.
The bow tie funnel follows the consumer throughout their entire customer journey, providing ample time to gather data. This data can be gathered by the sales and marketing teams working together as the customer passes through their areas of expertise. As Jacco van der Kooij goes on to explain, customers in the latter parts of the funnel are often taken care of by Customer Success and Account Management.
Clients can be asked to fill out surveys, asked follow-up questions in emails about their experience, and more. Their lifecycle as your customer can even be part of your own case studies.
How brands nurture customers throughout the bow tie funnel
For some models of the traditional sales funnel, the final stage is Nurture. The bow tie funnel expands on this stage — hard. At every point during the right half of the bow tie, the customer-brand relationship must be nurtured.
Here's a more detailed look at customers at each of the last four phases of the bow tie funnel and how some brands market and sell to them.
Peacock welcomes customers at the Adopter stage
The first stage that post-purchase consumer retention focuses on is the Adopter stage. This customer has just made the decision to purchase your product or sign up for your service, and they need to be secured. This is a critical time to prevent buyer's remorse, and it's essential to make the client feel like they're part of your brand's group.
Peacock does this by sending new subscribers an email welcoming them to their "Flock." Their copy emphasizes the benefits of using their service and parts of the email showcase free content that you can access on their website, such as "The Office."
And this strategy works. As of 2021, Peacock had 24.5 million monthly active accounts. Out of those, roughly 9 million accounts pay an average of $10 per month per account.
Customers ultimately want to feel good about their choices. Anything you can do to usher them toward that feeling of "rightness" will help increase their loyalty. Consider sending them an email to welcome them or encourage them to share their purchase on social media. You might optimize their customer experience even more by personalizing your outreach. For big-ticket purchases, it's a good idea to follow up with something tangible like a phone call or a letter.
Autodesk upsells customers during the Loyalist stage
The Loyalist stage is the second stage of the bow tie funnel. The customers in this stage are a major source of renewals and upsells for your business. They've been with you for a while, and the goal isn't to sell them on your brand anymore. Instead, you need to convince them you can continue to make their life better. That starts with creating customizable packages they can choose between. One such way is by making a pricing/benefit tier with three or four options ranging in price and product use.
Autodesk, an architecture design software company, offers an easily accessible page of price tiers for Autodesk Build. The company offers options useful for small and large businesses, tagging the "most popular" option to help upsell customers on the lower tier. They also offer the option for monthly billing as opposed to annual, allowing customers greater optimization.
The results? In a recent news release, Autodesk announced its fiscal year 2022 fourth-quarter revenue peaked at $1.21 billion. According to president and CEO Andrew Anagnost, Autodesk's work to ensure its customers receive high-quality service and an evolved experience has built "enduring partnerships and shared growth" for the company and its customer base.
We recommend inviting your customers to renew their service manually — which will give you a chance to upsell. For instance, you might require them to reselect their tier of service out of your pricing/benefit tier.
You can also cross-sell to this demographic. They may be solely interested in your current offerings, but increasing awareness of your related services might result in a new sale later.
SlushyCup rewards engagement at the Advocate stage
The Advocate customer is a client who has progressed past the Loyalist stage to promote your brand and create user-generated content (UGC) on your brand's behalf. Try rewarding this group with incentives and benefits because their efforts help develop your reputation and encourage growth in your customer base.
Additionally, Advocates are likely to expect and respond well to brand interaction on social media. They should also be given more personalized attention when they contact your business directly through email or phone. Maintaining your Advocate base is a good way to achieve that much-needed word of mouth to start generating referrals.
One brand that uses social media and rewards to encourage Advocate growth is SlushyCup. The brand makes short videos on TikTok showcasing its SlushyCups in use, as well as some funny (and awkward) customer interactions. When viewers share, follow, and comment on its videos, SlushyCup sends that viewer a free cup.
Currently, @getslushycup has over 602k followers, and its videos have accrued 4.9 million likes on TikTok. And its videos often gain more than 100 comments per video, most of them asking for a free cup. Its content is so viral that you might see one of its videos on YouTube Shorts at least once per hour.
As a brand, you want to come across as available and responsive. Replying to your Advocates encourages UGC, and it also improves your reputation for quick responses and quality service. Simple "thank you" messages for comments or sharing your Advocate's posts on your company page can go a long way toward making your brand stand out.
United Airlines provides premium benefits at the Ambassador stage
Brand Ambassadors are the final stage of the bow tie funnel, where the funnel widens out the most. This is because they're frequent customers who have bought fully into your brand and act as unpaid (or sometimes paid) promoters both in person and online. This group generates the most word-of-mouth referrals, and so they should be rewarded for their efforts.
United Airlines rewards its most loyal customers and brand ambassadors with deals on flights and, most notably, the option of a United Club lounge membership. These lounges are quiet, classy spaces away from the chaos of airport transit. The lounge at London Heathrow, for instance, is spacious with a beautifully designed bar to sit with a drink.
While your business might not be an airline, you can replicate this approach by implementing other ways of recognizing your VIPs. Some ways to do this might be by giving them a shoutout on social media, access to secret or exclusive content, or the opportunity to participate as a VIP at your events.
Put a bow on your marketing and sales
While the bow tie funnel is one of many sales and marketing strategies currently in use, it's the most solid strategy for sustainable growth. If you're not already using a growth-focused strategy, you may be losing money by putting too much focus on attraction and not enough on retention.
Here's some things to consider when looking at a potential marketing methodology.
How much churn are you dealing with in real time?
What metrics are you able to gather and what metrics are you missing out on?
How much does your brand spend per year on attracting new customers?
Growth marketing strategies like the bow tie funnel can provide you with higher-quality customer lifetime value over time alongside better opportunities to gather data.
Taking advantage of your already existing customer base is a better investment than focusing entirely on recruitment — and it helps build your brand's reputation. The bow tie funnel helps you glean customer insights, but that's just the beginning.