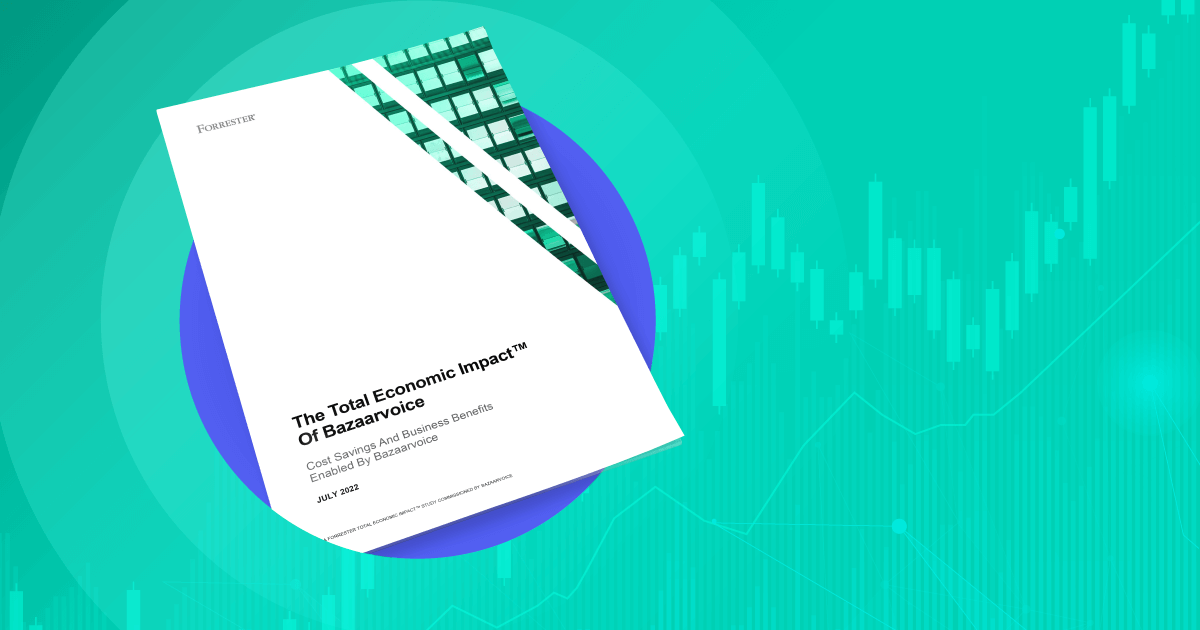 Building an effective user-generated content program can be an overwhelming undertaking. It's time-consuming and not all retailers and brands have the resources available to handle it alone.
Enter Bazaarvoice — an industry-leading user-generated content (UGC) platform.
Working with Bazaarvoice can improve productivity on content operations by 30%. How do we know? Because we recently commissioned Forrester Consulting to conduct an independent Total Economic Impact ™ (TEI) Study of Bazaarvoice. And that was one of the results.
A total economic impact is, by definition, a methodology developed by Forrester that enhances a company's technology decision-making processes. It assists vendors in communicating the value proposition of their products and services to clients.
The aim of this particular study was to demonstrate the return on investment (ROI) and benefits that brands and retailers can see when they partner with Bazaarvoice. Forrester interviewed 10 decision-makers at nine brands and retailers who use Bazaarvoice and combined the results into a single composite organization to get a better sense of the benefits, costs, and risks of investing in working with us.
There's a few headlines from the total economic impact study that we're especially proud of, including:
400% return on investment ($4 return for every $1 spent)
3-month payback period
4x increase in conversion rates
2.71% contribution to total revenue
But let's take a closer look at the impact and benefits for both brands and retailers and how they can apply to you.
Total Economic Impact ™ for brands
Bazaarvoice can help supercharge any brand's commerce efforts through content, communities, and experiences.
Here's how brands can tap into the biggest economic opportunities possible by leveraging the full Bazaarvoice platform.
Spotlight core products — and build excitement for new ones
Who doesn't love getting freebies? Sampling campaigns help brands showcase products and generate UGC — either for new products or existing ones that need a fresh slate of content. Our sampling campaigns generate authentic feedback on products and increase the volume of product photos and videos on social media.
Brands see a 300% jump in conversion rates when shoppers engage with content from sampling campaigns. This translates to $3.3 million in extra revenue in the first year of working with Bazaarvoice.
Two brands noted that sampling programs improved product star ratings by half a star, averaging between 4.2 and 4.3 stars, according to the Forrester study. And when consumers interact with content from Bazaarvoice product sampling programs, conversion rates reach 8%.
As one global lead of social and consumer content engagement for an electronics brand noted, "We did a small sampling campaign with 200 people participating. It generated 4.5 million social media impressions and more than 120 unique reviews. And it's not so much content volume; it's the impressions that count and $50k earned media value that came from one campaign."
Increase product page conversion rates with visual content from social
Real content from real customers resonates with shoppers. UGC is perceived as more authentic, as it shows how products fit real customers or work in everyday situations.
And the more customer content brands collect, the bigger the result — whether it's reviews or consumer photos and videos. Conversion rates improve 200% with visual and social content. This can increase profits by 8%.
Bazaarvoice offers the capability and workflow for brands to include visual content from customers' and influencers' social media accounts to show off products.
This is a great way for us to gather photos from customers wearing our clothes without having to go to studios or without having to get big photo shoots to do it. Customers are wearing our products that show how much they loved it, and we can get that sentiment across. It's very much seen as improving our online experience as a whole

site optimization manager, retailer
Conversion rates increase to 6% when shoppers engage with visual and social content alongside other types of customer content.
Drive traffic with authentic content syndication to retailers
Bazaarvoice helps brands syndicate UGC across 1,750 global retailers. Brands can increase content syndication 10x when they work with us.
A senior manager of omnichannel, CPG at a nutrition brand touted the benefits of content syndication: "A lot of people don't leave reviews on big-box retailer sites for our products, so it was huge to be able to syndicate reviews from our native site out to retailers. Customers could really see what other people were saying about the product."
Content syndication leads to a 3x increase in webpage traffic and a 100% conversion rate lift.
But it's not just about getting content in more places. The authenticity of that content matters too. Whether they're shopping on a brand's website or with a major retailer, consumers want the content they use to make a buying decision to be real, honest, and highly relevant.
We ensure the authenticity of content via industry-leading fraud detection technology, which safeguards and grows brand equity. Plus, our moderation capabilities remove content containing vulgar language, overreaching claims, and pricing — all to ensure it meets brand guidelines while empowering consumers to make confident purchasing decisions.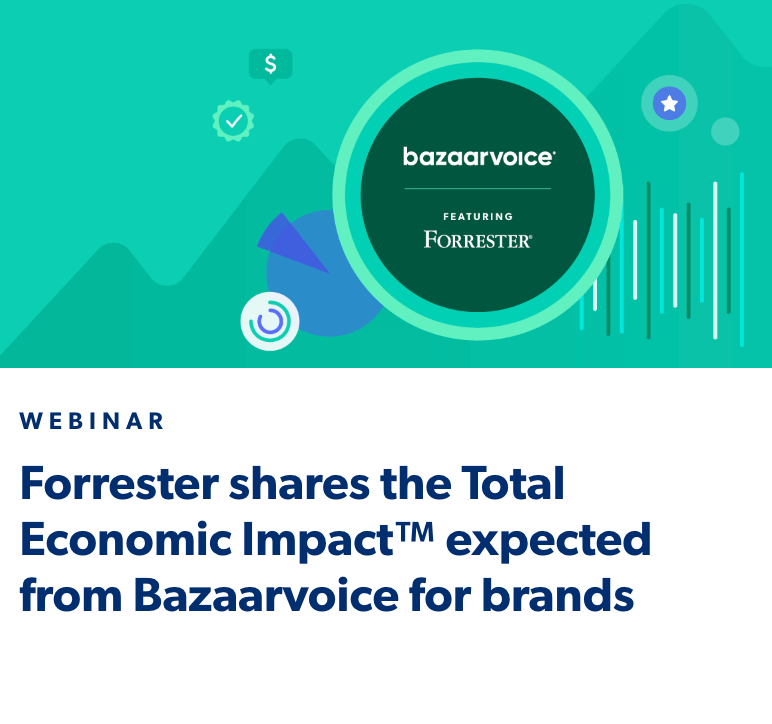 ---
Total Economic Impact ™ for retailers
While online shopping is the go-to for most consumers, they still enjoy shopping in-store. To help you become a top choice for shoppers in all environments, there's several strategies to embrace to maximize economic impact.
Collect and display user-generated content across the shopper journey
Collecting and displaying quality user-generated content (UGC) enables you to inspire confidence at various stages of the shopping journey. Working with Bazaarvoice improves productivity on content operations by 30%.
We help retailers collect content at each touchpoint. We offer email templates for outreach, authentication services, sampling campaigns, and moderation filters. This relieves many of the pain points for retailers' digital marketing teams.
Retailers also see a 3x increase in content coverage of products syndicated across retail and social channels. Review request email outreach combined with content syndication across Bazaarvoice's retail network grows content volumes and the quality of products' ratings and reviews. This also increases conversion rates and order values.
Optimize product pages — for both search and conversions
Standing out in search is crucial for grabbing customers' attention and beating the competition. Ensuring that your product pages feature enhanced search engine optimization (SEO) increases visibility.
A continuous flow of high-quality, new content on product pages improves search rankings. Retailers working with Bazaarvoice can see a 3x increase in webpage traffic. This enables marketing teams to shift their search marketing spend to other areas.
"We rely on Bazaarvoice for search equity. User-generated content creates a great avenue for us to get current content on our site and bring attention to our product. That helps us to rank higher in search results and get found better," a UX analyst for a food brand said.
Our Question & Answer tools also give product pages a boost. Q&A content helps increase conversions by 150%. Customers can leave questions about products and for customer teams. Responses from brands and retailers are syndicated across every channel where products appear. This helps shoppers find the information they need no matter where they shop.
This additional information about products instills confidence in shoppers and can boost conversions by 20%.
"When you think about the impact, that's 700 fewer calls or emails coming through to our customer service team. It's time and money saved, so the impact is significant," said Kristina Rapljenovic, Website Manager at Nestlé Canada. The CPG retailer has utilized UGC to listen and engage with consumers, leading to higher customer satisfaction, increased engagement, and insights for data-driven decision-making.
Boost in-store sales
Most shopping sessions start online, even if consumers end up buying products in stores. Shoppers often use customer content syndicated by Bazaarvoice to research items online and buy them offline.
21% of the revenue generated with Bazaarvoice is in-store sales. Retailers can track the performance of content syndication by surveying customers after they make an in-store purchase.
An electronics brand saw in-store spending increase 3.76x after shoppers interacted with content like reviews, Q&A, or customer photos.
Reduce return rates
Returns are one of the biggest challenges for retailers. Receiving and processing returns is incredibly costly and high return rates reduce profit margins. In the apparel sector, return rates can be as high as 40%.
While it's impossible to fully eliminate returns, increasing the quality and volume of user-generated content can help dramatically reduce return rates. The more information consumers have before making a purchase, the more successful the experience will be.
Visual social content from fellow shoppers is the most powerful way to instill buyer confidence. Seeing products modeled on real people or being used in real settings gives consumers a better sense of what they're buying, so they're less likely to submit a return.
Premium fashion brand GANT teamed up with Bazaarvoice on a content strategy that encourages customers to offer more feedback. The program, which included featuring product reviews on its website, helped the brand reduce return rates by 5% and increase its profit margins.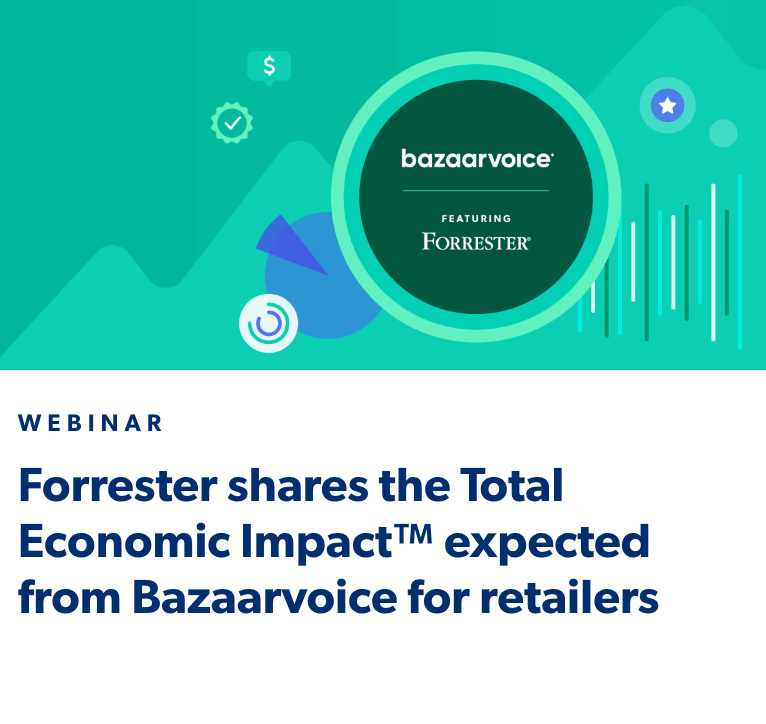 ---
Bazaarvoice is with retailers and brands every step of the way
Achieving the highest total economic impact and standing out in both brick-and-mortar and online shopping spaces is crucial for brands and retailers today. But, you don't have to go it alone.
The decision-makers interviewed for the Forrester study we commissioned emphasized what a supportive partner Bazaarvoice has been in building their content strategies. These leaders said they were able to get questions answered quickly and receive guidance about increasing ratings and performance of products, while boosting the variety of content they feature.
As a senior manager, omnichannel, at a nutrition CPG brand put it, "What I love about Bazaarvoice is they are always working with companies to optimize their UGC strategy, bringing new ideas to the table. Every month I ask our insights manager, 'What's new with Bazaarvoice?'"
As brands and retailers add different Bazaarvoice products, they'll see the magic of how the pieces fit together to influence consumers' shopping behaviors. The cumulative impact of our products for content collection and syndication significantly boosts conversion rates.
To recap what retailers and brands can experience when they work with us, according to the total economic impact study:
Conversion rates increase 200% with visual and social content
Conversion rates jump 300% when shoppers engage with content collected from product sampling campaigns
Productivity in content operations improves by 30%
Questions and answers boost conversions by 150%
Ready to learn more about the ROI of partnering with Bazaarvoice? Read the full Forrester study here.