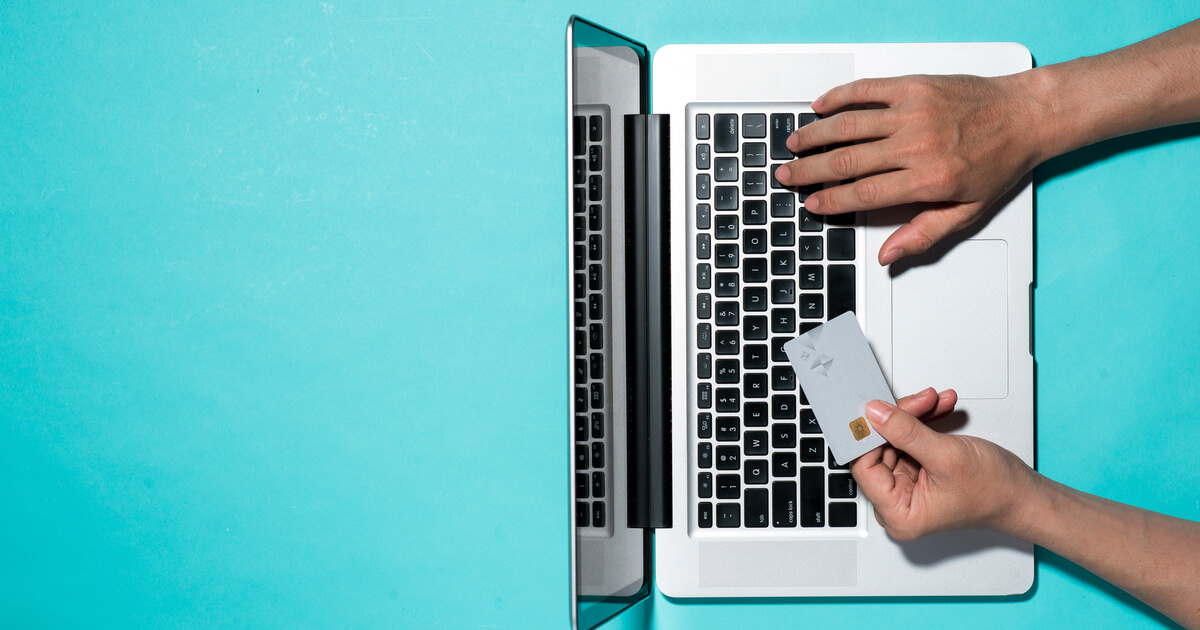 So you want to improve e-commerce return rates. But where do you start? Online shoppers are bombarded with choices these days. There's hundreds of products to buy and websites to shop from. So, it's no wonder consumers often visit an e-commerce site a handful of times before ever buying anything.
In such a competitive landscape, driving shoppers to your e-commerce site is no small feat. So retailers and brands need to step up their game if they want to improve their e-commerce conversion rates.
The average conversion rate for e-commerce sites across all sectors ranges from about 2% to 4%, even though these websites usually get millions of visitors a day. Improving e-commerce conversion rates is crucial in terms of profitability, of course, but also for building a loyal shopper base.
Here's a closer look at what e-commerce conversion rates are, how to calculate conversion rates, and ways to boost your rate.
What are e-commerce conversion rates?
E-commerce conversion rates refer to the percentage of users who take an action when visiting a website. In other words, it's the ratio of transactions compared to website sessions.
Making a purchase is one of the most desirable types of conversions for e-commerce sites. Conversion rates include other types of actions, too.
Completing a lead-generation form, contacting customer service, subscribing to an email newsletter, downloading an asset, or engaging in another way are all types of conversion. Essentially, conversation rates tell you a lot about how shoppers behave once they visit your website.
How to calculate conversion rate
To determine your e-commerce conversion rate, divide the number of visitors who make a purchase (or took another desired action) by the total number of visitors to the site. Then, multiply that number by 100. Use this formula:
(Total visitors who purchase / total website visitors) x 100 = e-commerce conversion rate
For example, say a website has 500,000 unique visitors a month and 10,000 of those visitors make a purchase.
(10,000 / 500,000) x 100 = 2% conversion rate.
Conversion rates vary by industry, and many brands keep this information top secret. According to an Unbounce report, e-commerce conversion rates averaged 5.2% in 2021, across all online shopping sectors. Lower-cost items, like food and apparel, tend to have higher conversion rates, while more expensive products and services, such as travel, have lower rates.
10 ways to improve e-commerce conversion rates
Now to the good part. Now that you've calculated your e-commerce rate, you may realize it needs a little boost. Or a lottle boost. Improving e-commerce conversion rates relies on creating high-quality shopping experiences that provide consumers with all the information they need to make an informed decision and easily complete a purchase.
Here's 10 strategies proven to improve e-commerce conversion rates.
1. Make sure your e-commerce site is easy to navigate
A poor shopping experience, with a slow-loading product page or overly complicated checkout process, turns shoppers off. 52% of consumers admit to getting frustrated when e-commerce sites are too slow, according to a Retail Systems Research survey. More than 90% of these shoppers leave the website altogether and start shopping at a competitor's website or Amazon. And, many never return.
If your e-commerce site isn't loading within about 3 seconds, work on speeding things up. A one-second delay in a website's response can cause conversion rates to drop by 7%. Also, make web pages easy to navigate so consumers can find what they're looking for quickly and with ease.
Then, make it simple for a shopper to actually buy what they want. Reduce the number of fields a consumer needs to complete to check out and accept a variety of payment types. 87% of shoppers say they'll abandon a shopping cart if a checkout process is too complicated, according to Meta for Business.
2. Remove anything that could distract online shoppers
Making it easy to purchase from your e-commerce site also involves removing any distracting information, like extra links, pop-up boxes, or confusing navigation features. You only have a few seconds to grab consumers' attention, so cluttered pages drive down conversion rates.
Websites should be designed to guide consumers by including calls-to-action, such as "add to cart" or "checkout now." Include lots of filters to help shoppers find exactly what they're looking for. Too many options can be overwhelming.
3. Conduct A/B testing to uncover weak spots
The only way to truly know how a consumer perceives your e-commerce site and what it's like to use it is to test it out. Conducting an A/B test lets you compare different versions or elements of your website to see which performs best.
Test out product headlines, colors, descriptions, page layouts, navigation, and calls-to-action to see what resonates most with your audience. A/B testing will identify what visitors are most likely to click on and which products they're most likely to buy.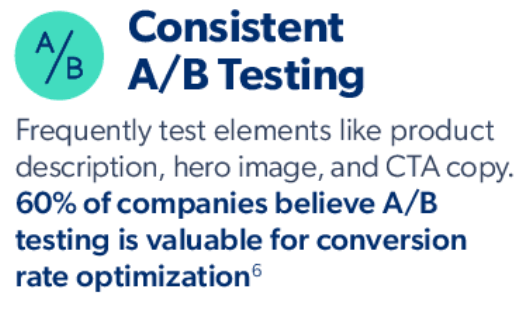 This process will help you uncover strong points and weak spots that are affecting your conversion rates. So, you'll know what changes to make to your website to improve conversions.
4. Optimize your site for mobile
People spend several hours a day on their smartphones, browsing their social media feeds and shopping online. About 80% of smartphone users say they've purchased something on their devices in the past six months. That number is only going to rise with the rapid rise of social commerce.
Mobile commerce continues to rise and is expected to reach $436.7 billion in 2022 and account for about 40% of all e-commerce sales, according to eMarketer.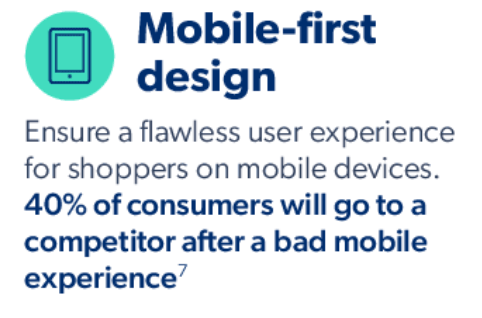 Optimizing your e-commerce site for mobile is more crucial than ever to reach these shoppers and make it easy for them to browse, add items to their carts, and complete the checkout. Not having a mobile-friendly website could also affect your search engine rankings, making it tough for consumers to find you in the first place.
To increase mobile conversions, you should try to increase the page's font size, compress images, and improve page speed. Failing to provide a top-notch shopping experience will not only decrease conversions but also drive consumers over to your competitors.
5. Increase user-generated content to help consumers purchase with confidence
User-generated content (UGC) builds trust with consumers and inspires them to shop with confidence. Most shoppers consult with reviews before making a purchase, and 40% say they won't buy something if the product page doesn't feature UGC.
UGC offers authenticity that shoppers appreciate. They can learn from real consumers about how a product performs in real-world situations, good and bad. Featuring this content on product pages drives sales. Shoppers that engage with UGC are more likely to convert.
We've shown that the retailers and brands that use our Ratings & Reviews tools can increase conversion rates by 3.6% and boost engagement by nearly 12%. The more reviews the better, too — for every 10 new reviews, sales increase by up to 5%.
Bazaarvoice customer Appliances Online, Australia's largest online appliance retailer, has increased its review volume, gathering more than 300,000 reviews, using our tools. This has helped the brand improve e-commerce conversion rates 3x when shoppers engage with UGC.
6. Feature visual UGC to boost authenticity
Along their product discovery journey, shoppers seek out photos and videos from other consumers. Many view these images as more authentic and trustworthy since they show products in use by real people versus professionally shot photos.
47% of shoppers look for visual UGC on product pages, and more than 30% check search engines and other websites that sell your products for the UGC, according to Bazaarvoice research. Asking shoppers to include photos and videos with their reviews or to tag your brand on social media are some ways to collect visual UGC. Displaying this content on your e-commerce site and your social media accounts not only creates an emotional connection but also drives sales.
Brands and retailers can increase conversion rates by 150% and average order value by 15% when shoppers interact with images displayed using our Galleries tool. For example, cycling products brand Le Col experienced a 5x jump in conversions and a 12% average order value increase when shoppers engaged with its galleries.
Otherwise, skip the middle man and turn your social feed directly into a store front with Like2buy.
7. Respond to consumer feedback
Shoppers feel valued when they see you listening and responding to their needs. Answering their questions and responding to their reviews, both negative and positive, builds confidence and loyalty. Brands and retailers that respond to feedback can see improve e-commerce conversion rates by 98%.
When consumers see a brand's response to reviews, 47% say it increases the chances that they'll purchase. Even negative reviews don't deter shoppers from coming back, as long as a brand has responded. Many shoppers actually find negative reviews to be more informative, and reading them lends an air of authenticity to the shopping experience. Negative reviews help drive conversion rates more so than having no reviews at all.
Bazaarvoice customer Webroot, an internet security software, has responded to 70% of its low-rated reviews. This has improved the shopping experiences for its customers but also humanized the brand for future customers. It has also helped the brand position itself as consumer-centric.
8. Provide discounts and offers
Who doesn't love free shipping or 10% off a purchase? Offering these types of promotions attracts shoppers to your brand and entices them to purchase. Nearly 75% of consumers rank offers as a top factor in deciding where to shop and what to buy, according to RetailMeNot.
Discounts and offers also improve the shopping experience. High shipping costs are one of the top reasons consumers abandon their online shopping carts. Shoppers also tend to spend more when they receive free shipping or a coupon.
Creating personalized offers that make sense for your brand can drive up conversion rates and turn new shoppers into loyalists. To encourage purchases, send an offer when someone joins your email list or create tailored messages for your regular shoppers.
9. Send follow-up emails
Whether it's connecting with a shopper after they've made a purchase, just saying hello, or reminding them that they have a cart full of goodies, sending follow-up emails creates connections and can ultimately boost e-commerce conversion rates.
Many shoppers load up their carts and then decide not to follow through with the purchase for whatever reason. Ignoring this means you're missing out on these sales. Send an abandoned cart email to these consumers reminding them to complete their purchase and even offering a discount if they do so.
Personalized email messages can drive conversions even higher. Do this by grouping customer segments based on different criteria, such as past purchases, location, or products that they've clicked on but not purchased. Shoppers will appreciate this high level of customer service and will be inspired to consider a purchase.
Sending a post-interaction email (PIE) where you invite shoppers to review something they've recently purchased is a great way to encourage UGC, and can increase review volume by 8x. The more reviews you attract, the more confident consumers will feel shopping with you. A PIE also helps you solicit feedback about products or customer service so that you can deliver an even better experience next time.
10. Focus on customer service
Happy shoppers are more likely to buy things from their favorite brands, repeat those purchases, and recommend those retailers and brands to their friends and family. Focusing on offering top-quality customer service will boost e-commerce conversion rates.
A poor customer service experience has led 52% of consumers to switch brands, according to Meta for Business. And, many shoppers would pay more to shop with brands that offer convenience and amazing customer experiences.
Take time to ask for feedback via ratings and reviews and customer satisfaction surveys. Review the responses and look for patterns or ways that you can improve your offerings. Respond to customer needs, too, whether it's a social media post, email, question, or review. This shows that you care what they have to say and that you value their business.
Now go and improve e-commerce conversion rates
As online shopping continues to be the go-to for most consumers, driving shoppers to your e-commerce sites and enticing them to purchase is crucial for retailers and brands. By encouraging feedback and ensuring quality customer service and a seamless shopping experience, you'll build trust and stand out each time a shopper is looking to buy something new.
If you want to learn more about boosting your e-commerce conversion rates, check out our tools. They can help you to gather UGC and distribute it across your product pages and social channels to reach shoppers where they are and encourage them to shop with you.