219%
Increase in conversion
Founded in 1995, Hobbycraft is the UK's largest arts and crafts retailer. Alongside its e-commerce website, it has over 100 stores spread across the UK. It sells thousands of products for art, knitting and crochet, haberdashery, papercraft, wedding and party, baking, jewelry making, and more. Hobbycraft has approximately 24,000 different products available for sale.
The Bazaarvoice journey
Hobbycraft started their journey with Bazaarvoice back in 2012 with Ratings & Reviews, which has been a huge success. They've collected over 650,000 reviews with an average rating of 4.6, and in the last year alone Bazaarvoice Ratings & Reviews was responsible for a $5.3 million incremental revenue increase.
But they knew they could utilize user-generated content (UGC) collected from social media even further with the right social commerce strategy. Following the success they'd seen from working with Bazaarvoice Ratings & Reviews, the team agreed that Bazaarvoice was the right partner for them.
"We wanted to build on the successful partnership with Bazaarvoice and implement Social Commerce to help drive more traffic to the website and increase conversion when they arrive" explains Helen Morling, Optimisation Manager at Hobbycraft.
Helen, as well as Lauren Couston, Digital Product Content Manager, felt that the simplicity and ease of use of Bazaarvoice Social Commerce made it the frontrunner based on our specific needs.
Lauren continues "We had tried using UGC on our website product pages in the past and the impact was significant. However, it was such a manual process we could not sustain it due to the size of our team. Bazaarvoice's more automated approach made it a more realistic solution for us."
Hobbycraft implemented Social Commerce in early November 2022 and they've already exceeded their ROI goal.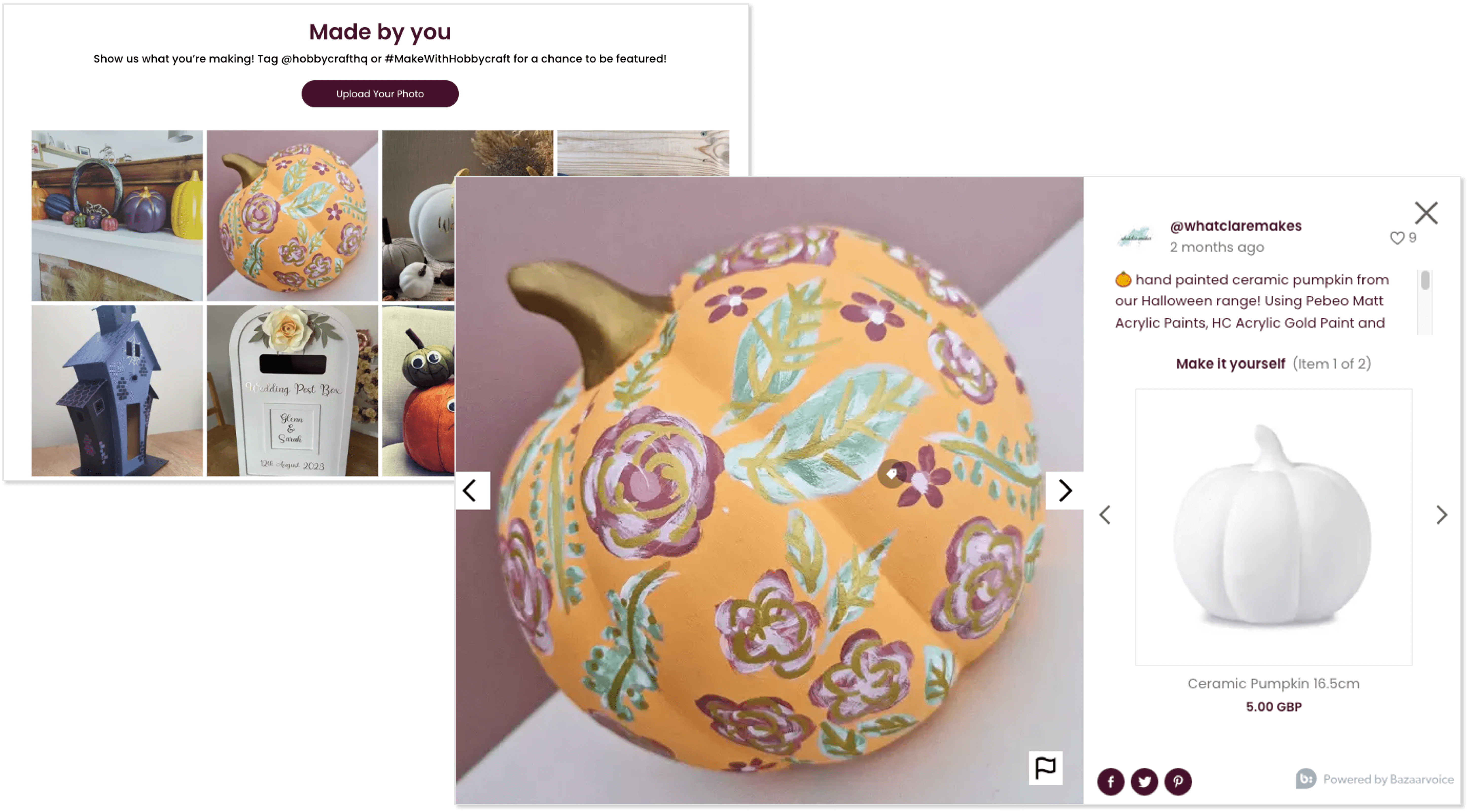 Driving traffic with Social Commerce
Both Lauren and Helen agree that incorporating UGC into their content strategy has had a positive impact on the ROI of the business.
"UGC is more authentic to our customers and complements our traditional brand product imagery," Lauren explains, and this shift in content is paying dividends for Hobbycraft.
Using Bazaarvoice to display UGC from their social channels like Facebook, Instagram, and TikTok, has increased the click-through rate by 95%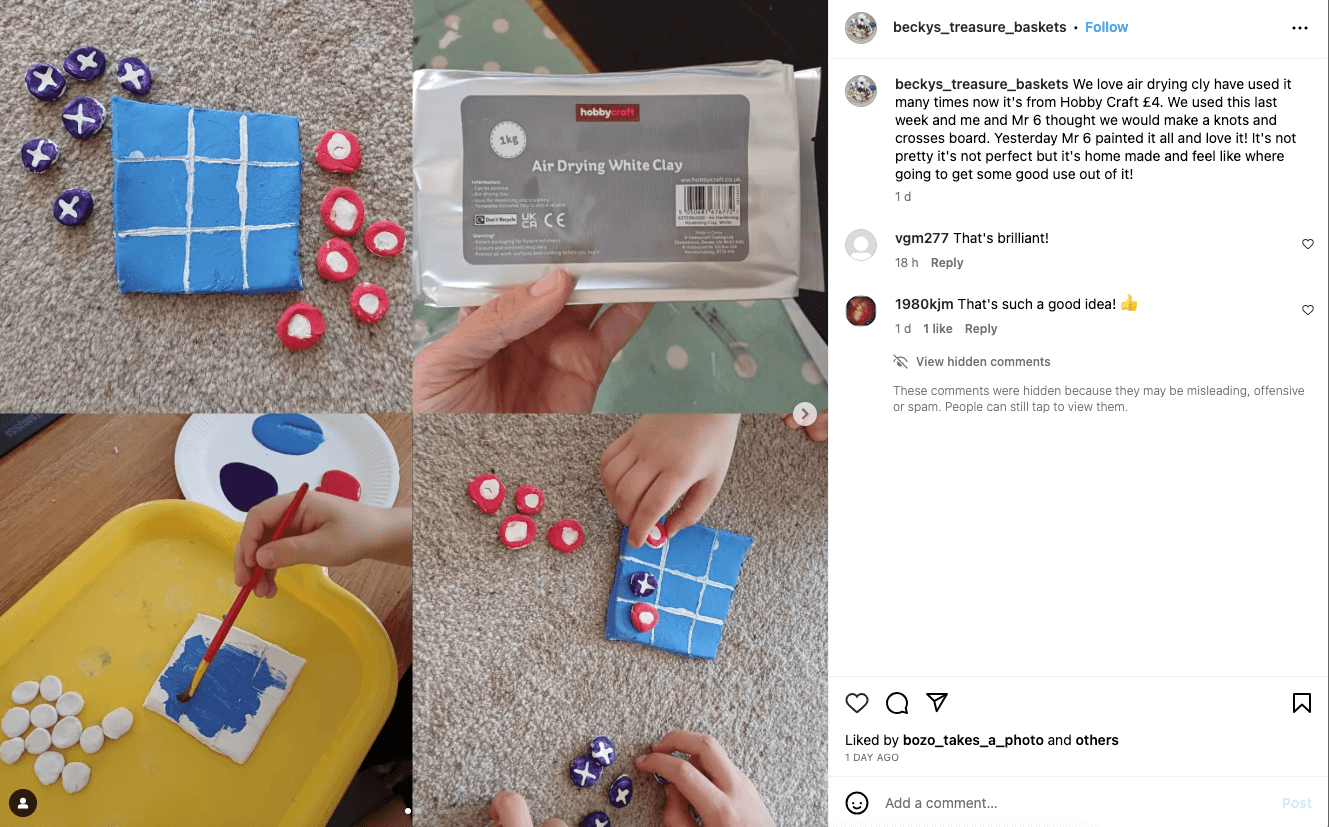 .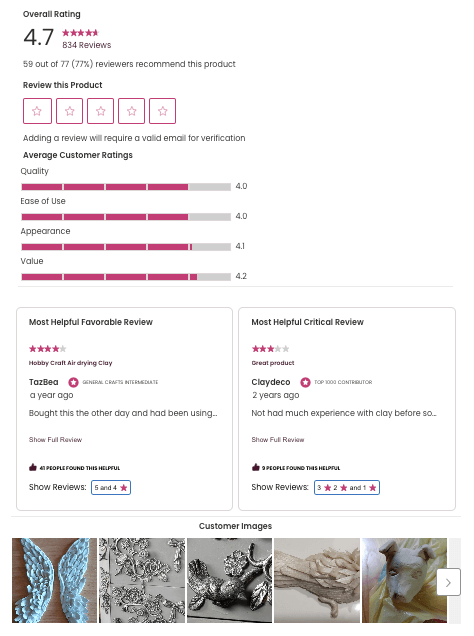 Further increasing conversion
As well as driving traffic to the website using UGC Hobbycraft also incorporates Bazaarvoice Galleries on their home page and product pages. In total, they have seven galleries across five page types
"We are now very much showcasing the voice of our customer," Helen explains.
These customer creations have inspired Hobbycraft to spend more time on the website browsing for creative ideas. They then tend to go ahead and actually purchase the products used to make them. Not only do customers like to get inspired by the UGC displayed by Bazaarvoice Galleries but they also like to submit their own UGC via the submission buttons on the website.

This new approach to content is clearly working. Utilizing Bazaarvoice Galleries on their website has already led to a 219% increase in conversions, a 24% increase in average order value.
Notably, the average basket size for customers who have interacted with a gallery, has increased from around £25 to around £30 per customer, and Hobbycraft achieved their annual ROI target within eight months of working with Bazaarvoice.
But Hobbycraft's ROI with Bazaarvoice wasn't just financial. The time savings and expert services provided are what set us apart.
"The icing on the cake for us is the fantastic team at Bazaarvoice who continue to advise us on how to get the very best out of their product and maximize the positive impact on the business. I really think they deserve an extra special mention," explained Helen.
To learn more about Bazaarvoice Social Commerce and our Expert Services, request a demo today.
219%
Increase in conversion
About the company
Founded in 1995, Hobbycraft is the UK's leading arts and crafts retailer offering approximately 24,000 products for art, knitting, paper crafts, bakery supplies, and more. With over 100 stores throughout the UK, as well as an extensive e-commerce website.
Client since 2012
UGC is more authentic to our customers and complements our traditional brand product imagery
Lauren Couston
Digital Product Content Manager, Hobbycraft