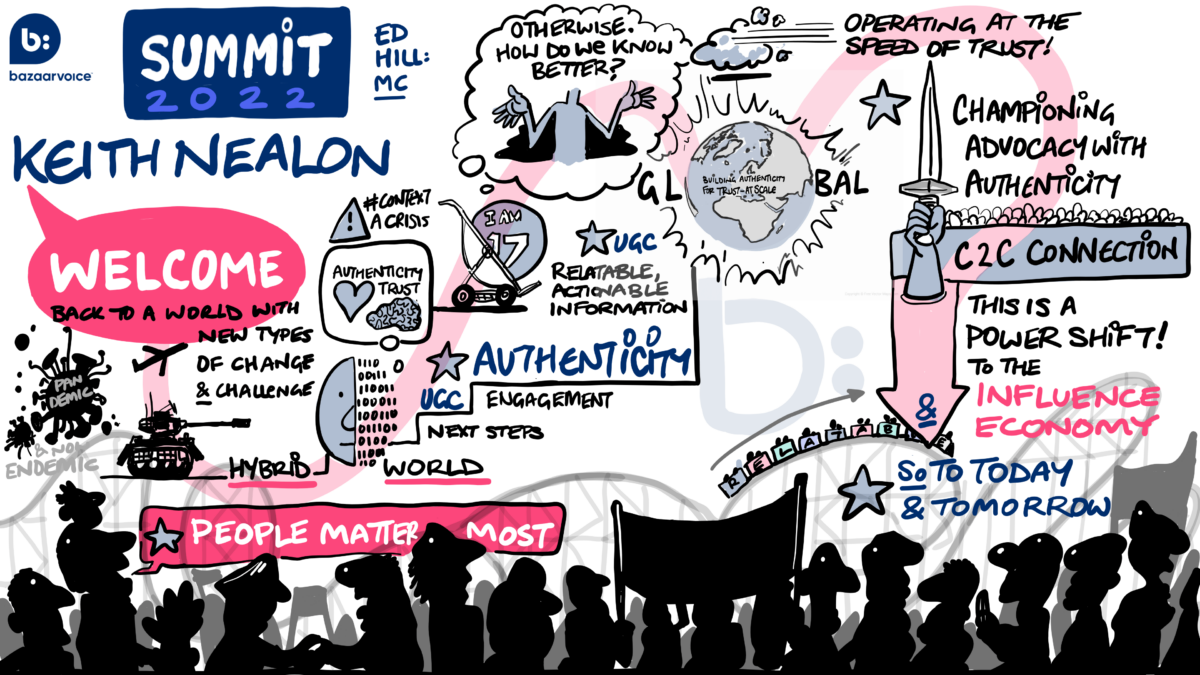 These are live-blogged notes and sketches from the Bazaarvoice Summit opening keynote, delivered by Keith Nealon, CEO at Bazaarvoice, on 6th April 2022. The rest of our Summit content can be found here.
---
Keith welcomed people to his first Bazaarvoice Summit as the new CEO, two years ago. It was just as the pandemic was changing all our lives. Here's how he introduced his second Summit, two years on.
Unprecedented times
At risk of repeating myself, we're still in unprecedented times two years on, thanks to geopolitical turmoil. We're also feeling the impact of the other macro trends affecting our industry. We're pacing from a pandemic world to an endemic one. Endemicity means, according to McKinsey, the disease will only cause minor fluctuations in consumer behavior. Endemic diseases are all around us, like the common cold. For businesses, Covid-19 is the common cold with a twist. And the twist is that we have to define new normal business goals. We need to:
Monitor progress
Limit risks
Slow transmission of disease
We should aim for an always-on response system that can scale quickly. Today, our customers and employees need a transparent vision of the way forward. They need to feel that their well-being and needs are at the heart of what we do.
Retail is at an inflection point
We're at a critical juncture in the world of retail: Commerce and social media have made deep inroads into our daily lives, and they've become increasing intertwined, challenging us to mature our use of social commerce.
At the same time, consumer trust in company information is really at an all-time low, certainly when compared to trust in fellow shopper-generated content. Online purchasing has very much been replaced with online browsing and shopping. Social commerce and e-commerce worlds are essentially merging into one, and in this next phase of commerce infrastructure growth, the physical and digital will be increasingly hyper connected.
The next version of Internet — web3 and the metaverse — are starting to gather pace.
And in the next weeks and months, retail will change because of the rise of this new level of physical and digital interconnectedness.
The need for authentic experiences
How do we respond? By creating truly great experiences. How can we take advantage of these opportunities and new experiences that we can offer our collective customers? We're going to face new authenticity challenges as this technology evolves. For example, if I created a virtual avatar myself this week, should it look like me and age with me? Or am I allowed to be a 25 year old man online for the next 15 years?
What is authentic in a virtual world and what new ground rules will become accepted?
Businesses can no longer stay neutral on global issues. Staying neutral is still choosing the wrong side in the eyes of our employees, and your customers for that matter. However, if there's one thing to learn from the last two years, it's that people matter more than anything in the world of brands and businesses.
So, yes, we're living in very disruptive, challenging, and, frankly, complex times. And our collective industry is getting more and more multifaceted every year as well. We'd like to give you a glimpse into the future, and explain why I think that winning the hearts and minds of consumers is all about authenticity.
The foundations of Bazaarvoice
But first, let's rewind to 17 years ago when Bazaarvoice was founded as a company. We kicked off the future of online shopping by giving consumers a voice that mattered. And it was all thanks to a stroller.
Back then, one of our founders had just become a father. He was in the market for a baby stroller and he was trying to find more information about one model online. He came across this really detailed and useful, honest consumer review which gave him confidence to purchase the stroller.
That was our very first user-generated content (UGC) success story. He helped found Bazaarvoice on the principle of helping consumers make informed decisions with relatable UGC. Imagine a world without reviews and without UGC, shoppers wouldn't be able to have any independent information. Manufacturers could write what they want and consumers would have to take it as gospel.
We'd all have believed that Segways were the future of mobility or that PropBoy87 is selling genuine movie memorabilia on eBay. That was the reality two decades ago.
Amplifying authentic voices
Today, Bazaarvoice has grown from being a natural advocate. We are amplifying authentic consumer voices in the marketplace, to helping brands understand what the consumer is thinking and feeling.
We've helped brands around the world connect, create and innovate, and do it easier and faster than ever before. Why? To improve the shopper experience:
Online
At retail
In social
Via search
In-store
Over those two decades, authenticity has been the foundation. Great content, especially when it comes from genuine and relatable people, builds trust, loyalty and accelerates conversion. It does so at scale with an almost unimaginable efficiency, because it's authenticity that inspires shopper confidence in their purchasing decisions, and drives growth for you, our customers.
Authenticity is sacrosanct. I believe we have a duty to uphold trust and to champion authenticity, embedding it in every touchpoint across the entire ecosystem. This is our invitation to brands, retailers and consumers: To embrace who you are and to take the journey with us to be your best and most authentic brands and selves.
Making true human connection
Come along for this journey and help us build this future together. Authenticity is not just a box you can tick, it's the path to genuine human connection.
There is a drastic power shift towards the consumers. This authentic connection between them is foundational to what we call the influence economy. The brands and retailers we work with are already benefiting from the opportunity UGC provides. It not only increases sales online and in-store, but also helps you optimize marketing products and services. It can even surface new growth opportunities.
So, if we want to effectively navigate this new world of ever-evolving trends and behaviors, winning the hearts and minds of consumers, we need to enable consumers to help their peers guide their purchasing journey. Bazaarvoice can do this at scale. Navigating this complex and frankly, massive ocean of content well enough requires the deep expertise that we've built over time.
And when we collect, syndicate, aggregate, and verify the authenticity of UGC for you and with you, the result is magic because it means that we can essentially make a huge difference in accelerating the consumer's purchase path.
Rekindling consumer trust
UGC has become a brand and retailer's best friend, accelerating shoppers through the funnel and improving the user experience along the way. This engaging, trusted and helpful content accelerates discovery and decision making at every step. When we ingest all of that content, manage that complexity, and use it to provide a simple, compelling experience for individuals, we know that we've done our job right.
We can have a world of diminishing trust or a world where trust is rekindled. The choice is ours, and how we act as an industry is up to us. What choice will you make?
Think back to the story of the father buying a baby stroller. If he were standing here today, I know what he'd say. He would say what customers really want is human connection, and for us to be as human as them.
---
The retail industry is as strong as ever. And consumers hold the power like never before. They decide how a brand is perceived, and the risk of boycott in today's cancel culture is very real. The dramatic power shift to customers has led to heightened actions and vocalizing for authenticity, improved experiences, and above all, for consumers to feel heard. Catch up on Bazaarvoice Summit to see how to win hearts and minds of today's consumers.