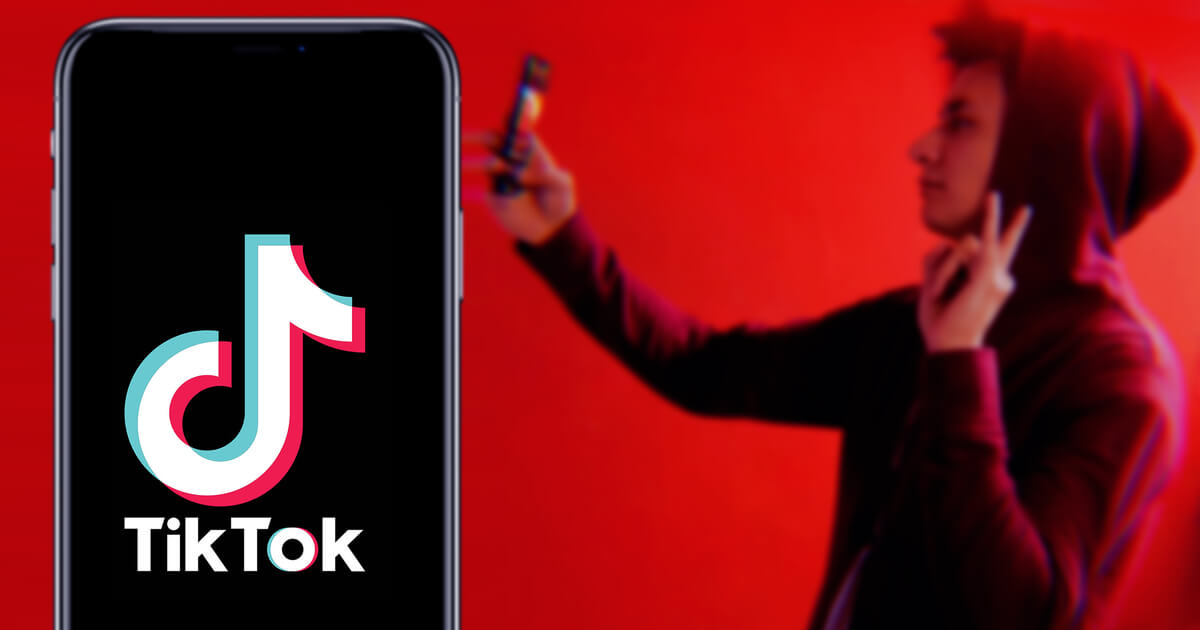 Why do you need a TikTok influencer? Because TikTok now boasts nearly a billion monthly users, and it's the most downloaded app worldwide for the second year in a row. And with 28% of Gen-Z — a group with $143 billion of purchasing power — using TikTok, it's the social-networking platform of choice for brands targeting this coveted audience.

But to effectively capture Gen-Z's attention on TikTok, you have to understand the platform's trends. You need to team up with the right person to create authentic content on behalf of your brand and provide the social proof you need. In other words, you need an influencer.

Finding the right TikTok influencer requires more than just selecting someone with thousands of followers. It involves conducting a thorough search and assessing whether an influencer is the right fit for your brand and will resonate with your target audience.
Search for TikTok influencers by topic
Much like other social networks, TikTok organizes its content by hashtag. And since most TikTok content contains hashtags, it's an effective way to find users posting about topics relevant to your brand.

Navigate to the Discover tab to search hashtags (as illustrated below.)
Use relevant search queries to find influencers posting about topics relevant to your brand. If you're an apparel brand, you might search for "fashion" vs. "apparel." If you're interested in beauty-specific posts, search by #beauty or #BeautyTips.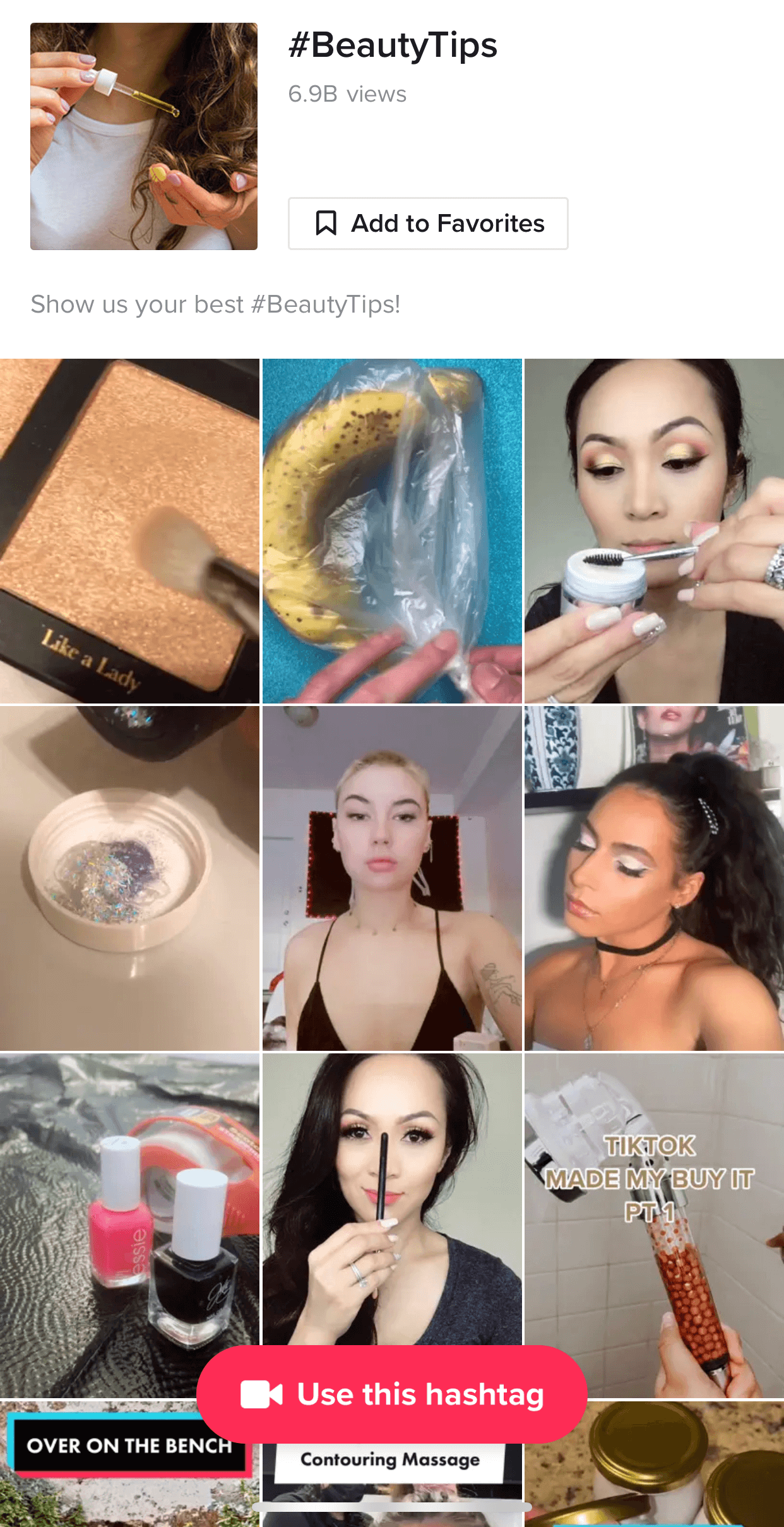 You can check the popularity of certain TikTok hashtags and take a look at some of the most frequently used ones here.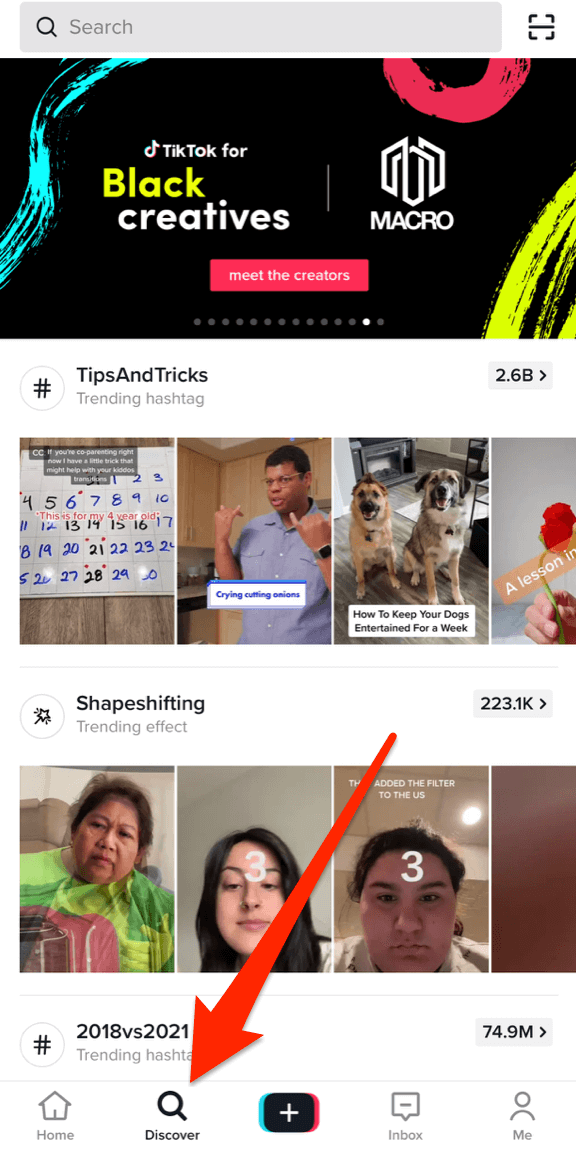 Hashtags are a great tool for identifying potential influencers. After all, TikTok users that consistently use a specific hashtag may have an audience that's interested in this type of content. But hashtags are only the first step in finding the right influencer for your brand. Keep in mind that just because a TikTok influencer uses that hashtag doesn't necessarily mean they have an active, engaged audience interested in that topic.
Find TikTok influencers by location
Although TikTok is a global social media platform, its algorithm filters the content you see based on your country and your language preference. So if your product or services are only available in certain countries, you need to ensure that any potential influencers you work with can reach these distinct audiences. You'll also want to pick an influencer by location if your brand is hyperlocal, such as a restaurant.

Change your TikTok location or language to more easily view content from your company's part of the world, and choose an influencer. Like the last step, the most effective way to find influencers in a particular area is to search by hashtag.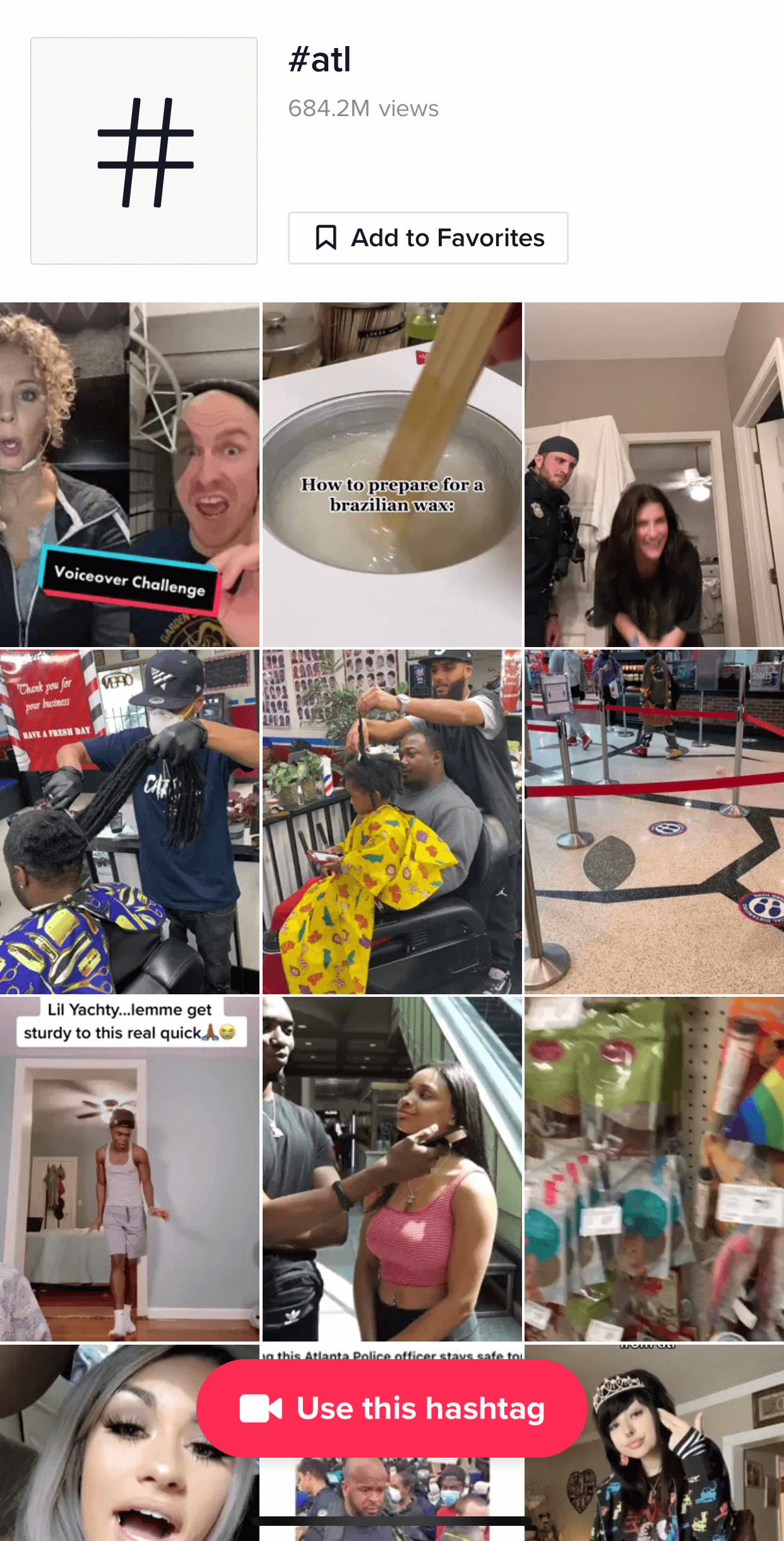 Use location-specific hashtags to find influencers posting about the area you're interested in. For example, you can look for videos tagged #nyc, #atl, #australia, or #usa.
Use a tool to find a TikTok influencer
There are a variety of tools on the market designed to make it quick and easy to search for TikTok influencers. And instead of scrolling through hashtags, they'll suggest influencers for you based on a variety of search criteria, including follower account, engagement rate, and more.

Some of them, such as Upfluence, identify TikTok users who are already fans of your brand and may already be posting content about it. And many of them also provide detailed analytics, so you can assess potential influencers and track your influencer marketing campaigns.

Analisa, Grin, Influsoft, Julius, Letsinfluence, and NeoReach are other popular TikTok influencer search platforms. Their prices, formats, and features vary.
Assess if a TikTok influencer is the right fit for your brand
Just because you find a TikTok user who has tons of followers and posts about your industry doesn't necessarily mean they're the right influencer for your brand. Before you broach the subject of working together, take the time to determine whether they're truly the right fit and if they can help you achieve your TikTok goals.
Analyze their audience
Ensure the TikTok influencer has access to your target audience.
Is their audience the right demographic? Evaluate their followers by age, location, gender, approximate income, or more to determine if they're in your target audience.
Do they follow your brand? Your competitors? Others in your industry? Users who already have an affinity for your brand or industry may be more likely to engage with sponsored content. Or, if you're teaming up with an influencer to grow your own social following, it may be more valuable for you to team up with an influencer whose audience isn't already as familiar with your brand.
Does their audience engage with the kind of content you're interested in creating? Do they like, comment on, and share the kind of video you want to make? Do they engage with sponsored content?
Often, an influencer who shares a lot of content on the topic of #beauty, for example, will have an audience that's interested in those videos. But it's essential to dive a little deeper into an influencer's audience before reaching out.
Explore their content
Take a close look at the videos the TikTok influencer shares.
Do they have viral videos? If an influencer creates viral content, it shows their skill and the fact that they know their audience. However, an influencer with a portfolio of viral content may also be more expensive to work with.
What makes their content appealing? What does their audience get out of their videos? Are they entertained? What are they learning from you? Are they seeking inspiration or product recommendations? How does this align with your brand?
Does their content show that they have an understanding of your audience? You want to ensure that your chosen influencer knows how to appeal to your target audience.
Do they appear to have the same values as your brand? Is there any potential conflict of interest with your brand?
You may also want to look at an influencer's posting habits. Are they posting daily? Weekly? How much time is there between new content?
See if they've worked with brands before
Determine if the influencer has experience working with brands, what content they produced for them, and how it performed.
Are there sponsored posts on their account? You can usually identify these because they contain the hashtag #ad, as illustrated in the screenshot below.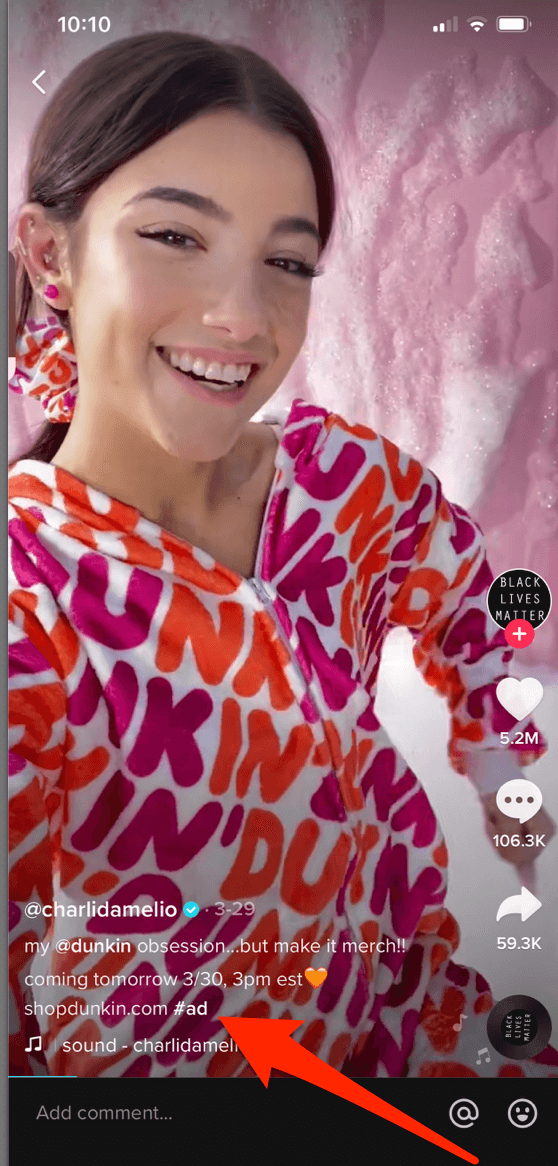 Are they currently working with your competitors? Have they in the past? You want to avoid any conflict of interest or potential issues with a non-compete agreement.
What kind of video content did the influencer create for the brand partnership? How much engagement did it receive? What kind of comments did users make about it?
Whether you want to work with a seasoned influencer or a micro-influencer who may not have partnered with a brand before, do your homework. While you can certainly work with someone who's worked with your competitor in the past, you want to ensure that your chosen influencer isn't currently making posts on behalf of your competitors.
Calculate their engagement rate
It's essential to understand a TikTok influencer's engagement rate — a percentage that measures how many people interacted with their content — before working with them. A high engagement rate indicates that the influencer's followers are more likely to interact with the sponsored content the user posts about your brand.

To calculate a TikTok user's engagement rate, simply add their likes + comments + shares (the ways users engage with TikTok content) for one of their videos and divide it by the number of views received.

Keep in mind that just because an influencer has a lot of followers doesn't necessarily mean they're also going to have a high engagement rate.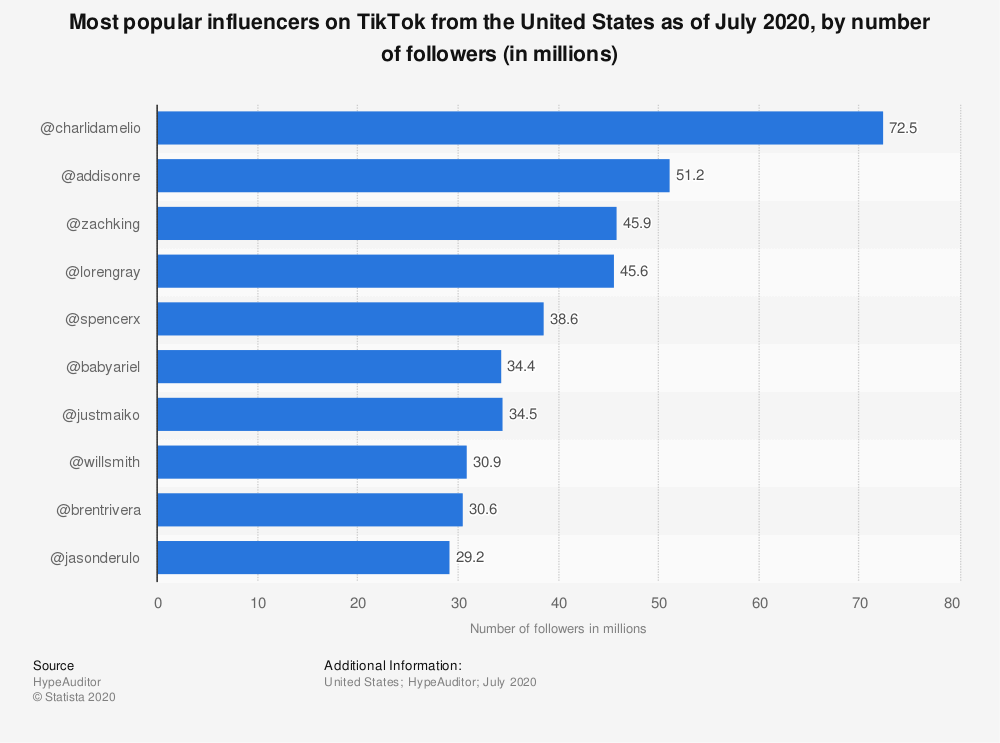 As you'll see in the graphs above, the most-followed TikTok users don't always have a corresponding high engagement rate.
Reach out to TikTok influencers so they'll say "yes"
Finding the right TikTok influencer is just the beginning. Now you need to contact your influencer of choice and persuade them to work with your brand.

Many influencers will list their email in their TikTok bio to make it easy to contact them. If there's no email listed, visit their website, Instagram, or YouTube profile to try to find their email address. You can also message a TikTok user, but you must be following the account in order to use this feature.