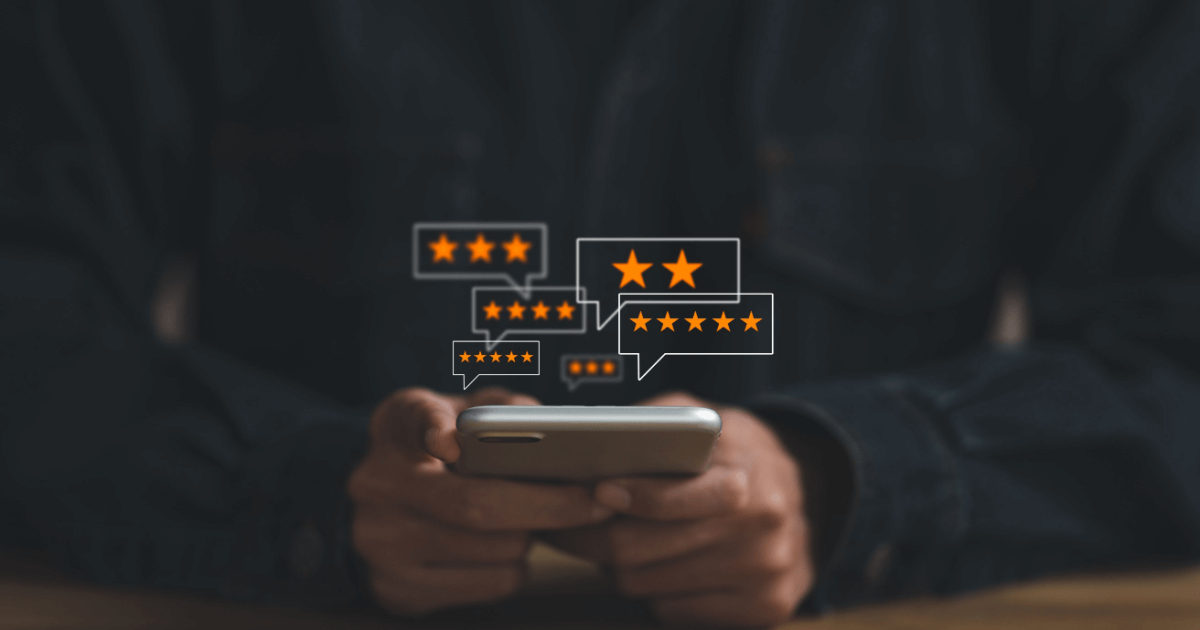 Consumers expect brands to be the real deal these days, and they can spot inauthenticity from a mile away.
When it comes to advertising, they want messaging to be genuine and not too salesy and images not to be too perfect. They want you to share the same values they hold dear and appreciate their feedback. The more authentic you can be, the more you'll build relationships with consumers.
Review marketing can help you achieve all of these things. It's especially a game-changer for smaller marketing teams looking for efficient, yet effective marketing solutions.
What is review marketing?
A review marketing strategy refers to collecting user-generated content (UGC), such as customer reviews, photos, videos, or anything else created by an individual and not your brand, and using the content in your marketing campaigns.
Consumers consider UGC to be the most authentic type of marketing content and trust it as much (if not more) as recommendations from friends and family. 88% of shoppers consult product reviews before buying anything, and 78% say reviews are the biggest influencer on their purchases.
Retailers and brands find UGC to be useful for improving customer service, products, and marketing messaging. For marketing teams with tighter budgets, tapping into review marketing can give you the biggest impact. Here's why — and, some guidelines for how to do it.
UGC and its place in modern advertising
Shoppers want to see UGC wherever they encounter your brand. That's why review marketing is so powerful. Plus, 86% of brands and retailers recognize the impact of UGC.
Ads featuring UGC experience 4x higher click-through rates, and they help retailers and brands reduce their cost-per-click rates by 50%, according to our own research. You can also increase consumer trust when you feature UGC in ads.
Reviews are the king of UGC. 22% of consumers say ads that feature reviews increase the likelihood that they'll purchase a product. And among brands and retailers, 64% rank reviews as the most influential aspect of their sales and advertising strategies.
How small teams benefit from using reviews in marketing ads
Reviews from real-life customers are some of the most valuable content you have. To harness their power, you need a review marketing strategy to collect and feature them in your advertising.
Highlight customer reviews at every touchpoint — on social media, in emails, in stores, and on product pages. Consumers appreciate having easy access to this content wherever they shop.
When you have a smaller marketing team, using reviews in ads is crucial. Here's how you can benefit from review marketing.
1. It's cost-effective
Many marketing teams have been dealing with lean budgets lately. UGC is the solution. Reviews are easy and inexpensive to collect and display across channels. When you feature UGC in ads, you have the potential to see a 50% drop in cost-per-click rates.
2. It resonates with consumers
Your customers are already talking about you. Developing a review marketing strategy to use review content in your ads will boost the authenticity factor. With authentic reviews, you can create impactful ads that resonate without the need for extensive creative resources.
3. It enhances credibility and trust 
Shoppers trust the opinions of their peers. Using reviews in your marketing shows that you value consumer feedback and makes shoppers feel confident buying your products. Leveraging genuine user views can help smaller brands or businesses establish trust and compete with bigger players.
4. It boosts engagement 
Ads containing UGC see 4x higher click-through rates. That means better engagement and more bang for every advertising buck. Consumers will take notice when they see that you're showcasing reviews.
Guidelines for choosing the right reviews
A successful review marketing strategy depends on showcasing your most compelling reviews. These tips can help you encourage your customers to leave reviews and use them in a creative way to inspire shoppers, boost engagement, and drive sales.
Engage with your community
The most effective UGC comes from real people who love your brand and products. These reviews feature high-quality, honest, and authentic content. The best way to collect it is to build a community, and there are several ways to do it:
Host a sampling campaign, where you offer consumers a product in exchange for a review, to increase reviews and sales
Create branded hashtags on social media that are catchy and consistent with your brand. This helps consumers easily reference you in their posts.
Comb social media platforms for mentions of your brand or product names, use Google Analytics to track on-site traffic, and look for instances where someone tagged their location at your brick-and-mortar location
Send a review request email soon after someone makes a purchase with a link to make leaving a review easy.
Run a social media contest asking consumers to create content about your brand for a chance to be featured in your marketing
Note that whenever you use a customer's feedback in your ads, you need to ask them for permission. It's not safe to assume that just because they tag you in a post or use your hashtag that they want their content used in your marketing.
Integrate reviews creatively
Consumers consider ads that feature UGC, including testimonial ads, to be authentic and relatable. They trust reviews from their fellow shoppers — mainly because of social proof, which is the idea that people often replicate the behaviors that they see from others.
While it's tempting to just include positive reviews in ads, 60% of consumers say negative reviews are just as important to them when making a purchase decision. Putting a creative spin on negative UGC and including it in your ads will make consumers take notice and make you seem more relatable.
Just look at Snowbird Ski Resort. After receiving a one-star review saying the resort didn't have enough easy-to-ski areas, the company repurposed the content into an ad targeting advanced skiers and thrill-seekers.
The ad was a hit — it attracted lots of attention, and the brand features these ads on its website.
Follow UGC advertising regulations
Review marketing is cost-effective, easy to put together, and gets results, but it's still advertising. Therefore, it must follow certain consumer protection regulations and laws. Making sure everything you do is on the up and up heightens your authenticity and trustworthiness.
Your UGC advertising strategy must follow these guidelines:
Treat all reviews equally. That means you shouldn't just collect, moderate, and display only positive reviews. All honest, authentic reviews — negative and positive — should be treated the same. Don't discourage or reject negative reviews, or only ask for positive reviews. Be sure to publish negative reviews, even when you don't agree with them
Never allow or post fake reviews. Doing so is the epitome of inauthenticity. Fake reviews include those written by bots or real people who never purchased or tried your products, or that have been edited to appear more positive
Disclose any material connection between reviews and a merchant. Consumers expect reviews to be written by real people who purchased an item and shared their feedback. If you have a relationship with a reviewer (they're an employee, for example), you must disclose it. Otherwise, you risk losing credibility, and you could potentially violate consumer protection regulations
Divulge any benefits provided to the reviewer. If a reviewer received anything in exchange for a review, it needs to be disclosed. That includes sampling campaigns or paying influencers to post or write reviewers
Display disclosures prominently. Make sure these disclosures or incentives are clearly stated and prominently visible. There's no standard wording that should be used, but it should clearly convey information to anyone reading the review and stand out enough for the reader to notice it
Monitor and iterate
Your review marketing strategy doesn't end after creating and running a review ad. You need to track metrics to gauge its effectiveness and make tweaks based on what you learn. Plus, the ad will most likely inspire others to leave reviews, and you'll have fresh UGC coming that you'll want to use in your review marketing.
Using Bazaarvoice's Insights and Reports gives you access to an easy-to-use dashboard where you can track different types of UGC for your brand, including reviews and social media posts. Bazaarvoice also has a UGC moderation program to help prevent low-quality, fake, or fraudulent from getting through our network.
Monitoring data related to your review marketing campaigns will ensure they're striking the right notes. You'll know what type of UGC resonates most and is generating the best results. You can use these insights for future campaigns.
Creating your review marketing strategy
Consumers trust reviews, more so than traditional marketing messages. They read reviews just about every time they purchase something and rely on this content to provide accurate, credible information. Collecting UGC and creating review ads appeals to shoppers — they feel confident buying from you, and they'll tell their friends.
Review marketing is a cost-effective, convenient strategy for small marketing teams with lean budgets. Consumers are already talking about you online and sharing their feedback. Capturing and displaying this UGC drives results, builds trust, boosts engagement, and inspires shoppers.
To get started, join expert speakers Matt Phillips, Director of Customer Success at Searchspring, and Ashlee Meerscheidt, Technical Account Manager at Bazaarvoice, as they share their insights and tips on leveraging reviews for optimal results in this on-demand masterclass: How to boost product discovery with reviews.