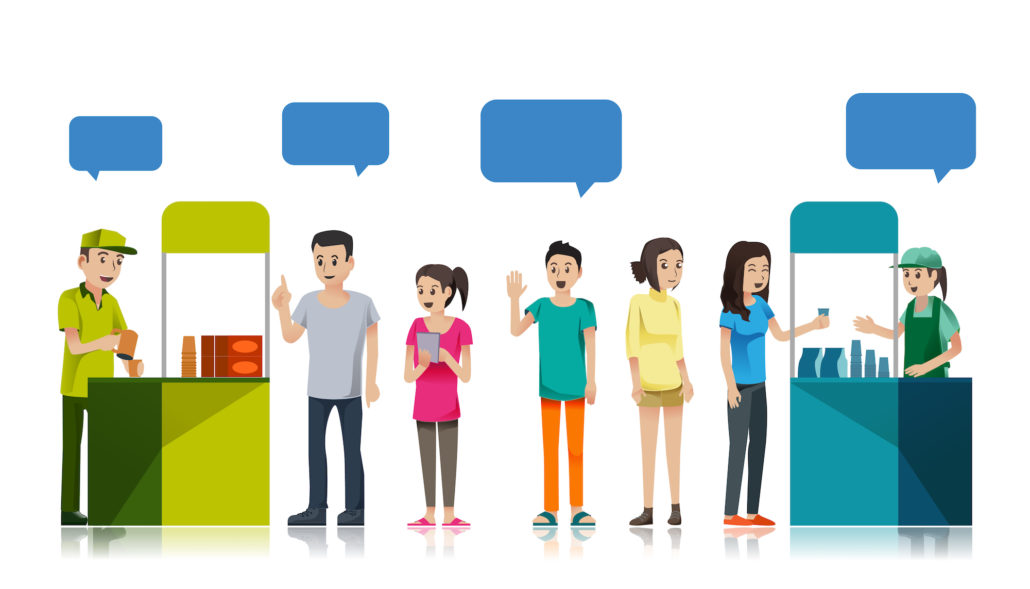 Originally published on November 15, 2017
Smart marketers are increasingly turning to product sampling as a way to drive brand awareness, increase sales, and build customer loyalty. That's because it does something that no other marketing effort can: it puts something physical in a consumer's hands.
And it works.
In this guide, we'll give an in-depth look at what product sampling means in the world of e-commerce and how smart marketers in the retail industry are using it to reach more consumers — and sell more products.
This guide will cover:
Why product sampling is so important in e-commerce
Free samples have long been a touchstone in the shopping experience at the grocery store and the makeup counter.
Even with the rise of e-commerce, product sampling has become an integral strategy for marketers that want to reach and engage their audiences, particularly on social media. From consumer-packaged goods (CPG) to technology to apparel, brands across a number of industries are turning to product sampling to show results fast. There are a number of advantages to running product sampling campaigns: identifying and rewarding your most loyal customers, getting helpful feedback on products from real customers, and building excitement and demand for a product launch are just a few.
But perhaps the biggest advantage of sampling in e-commerce is how it can be used to quickly generate ratings and reviews and other key user-generated content (UGC).
Simply put, product sampling works by asking consumers if they'd like to experience a product in exchange for their honest feedback, whether through a review or on social media (or both). This allows brands to collect and amplify content from real customers in the hopes of influencing new buyers.
According to Pew Research, online reviews and other customer content are crucial in buying decisions. In our own research, we found there is a 140% conversion lift when shoppers read reviews and interact with other UGC. Even just one single customer review on a product corresponds with an average 10% conversion lift. By the time you hit 50 reviews, the average conversion lift jumps to 30%.
And when it comes to social media, we've found that 57% of respondents say they bought a product they first heard about on social media, and 66% of consumers are more likely to purchase a product if the website has social media posts with pictures and videos from real customers. In 2020, shoppers are just as likely to be inspired by customer photos on social as they are to make a purchase directly from your Instagram, Facebook, or TikTok page – 1 in 3 shoppers say they have bought directly from social media.
The bottom line: Getting people talking about your products online is a great way to influence sales — and product sampling is a great way to help start those conversations.
The most common and successful product sampling strategies in e-commerce
At the end of the day, there are a lot of ways to give people free stuff — just think back to the free AOL floppy discs and CDs everyone used to receive in the mail as part of AOL's $300 million direct marketing campaign. But your objectives should inform how you design and plan out your sampling campaign.
Here are some questions to ask yourself when designing a sampling campaign:
What are we trying to accomplish? Brand awareness, brand affinity, or bolstering our sales figures?
Do we have a clear objective for what we want from people who try our product?
How many people should we include in our sampling group?
How do we identify the right people to include in our sampling group?
That last question is important. You want to make sure you're getting your products to the right people — you know, the people who actually care about what you're selling.
There are services that will help you identify the right people to include in your sampling group, but here's a good tip: Start with your best customers – we call them your brand advocates. Your return customers, the people who already get fired up about what you're doing — these are the ones you want to reward. Not only does it help build brand loyalty, but it puts the right people in the right position to tell others about what you're doing.
With that in mind, here are three common and successful sampling strategies for e-commerce.
Sampling for reviews: We know that reviews are crucial when it comes to selling products and beating out competitors. A sampling campaign is a great way to quickly collect more reviews fast and increase your competitive advantage. In our own experience, we've found that for every 50 samples we send out, we get about 45 reviews in return. And that's enough to sway someone's purchase opinion.
Releasing a new product: A lot goes into a product launch, but people often forget that getting the word-of-mouth machine going is a huge — and often missing — component to a successful launch. Involving customers from the beginning can pay off in a big way. Once your product or service is ready to launch, seed it out to customers, brand advocates, or even industry influencers — invite them to test it out in exchange for their feedback and product review. By doing this, you foster brand loyalty, receive critical product feedback, and build buzz in the marketplace around your new product.
Sampling for social love: The rise of social media has given everyone a microphone to share their experiences with friends, families, and strangers. And that's a powerful tool in e-commerce, if you tap into it the right way; just look at the $1 billion industry of social media influencers.
You can identify which influencers appeal to your target audience and then provide them with free samples, so they can share the word. You don't even have to go to the influencer route, you can provide product samples to your best customers in exchange for them sharing their opinion on social media. Take the route that makes the most sense for your business, just don't forget about the power of social.
The three strategies above aren't the only strategies out there. You've got everything from in-person sampling, direct marketing (where you send products out in the mail), and product bundling (where you throw an extra product in alongside the thing you're selling), among other options.
But the three strategies above feature the best return on investment for brands working in the e-commerce space. Moreover, these three strategies can be combined in countless ways to produce different campaigns with different goals.
How to get your samples into shoppers' hands
No matter which e-commerce strategy is best for your brand, you still need to get your product in people's hands for them to trial and provide honest feedback. We've helped brands sample hundreds of thousands of products, and we have not seen a one size fits all approach yet. Depending on your product, you might consider the following options. 
Ship samples using common carriers:

This is the most common use case. Using partners working with common carriers is the easiest, and most cost effective way to get your product to shoppers. This is best fit for smaller items, such as CPG, and health and beauty products. 

Coupon:

Perishable or frozen foods can rarely be shipped using most common carriers. For these types of items, a coupon that can be redeemed for full value at one or multiple locations yields the best results. You are still asking users to take an additional step to pick up the item, but If the community that you are sampling to is actively managed and engaged you could see review conversion rates that match those of shipped samples.

In-store pick-up:

If you control the distribution of your product and have a physical store shoppers can visit to pick up a sample, you remove the complications of the "last mile" and getting the product to a shoppers' doorstep. This might make things easier for you, but could also complicate sampling for the community and might affect participation. This is the best option for items that are heavy or bulky and hard to ship.

White glove delivery:

For products that can't be shipped using common carriers or picked up at a store, white glove delivery is necessary. This is especially true if the product requires installation. Appliances or furniture are often not thought of as easy to sample, but we've seen brands have a lot of success generating new reviews for these types of products when they also chose a white glove delivery option to pair with the program. 
Before you start your sampling campaign, consider the complexities of working with multiple shipping and fulfillment providers to find the right solution – and consider working with a sampling provider that can remove this burden and manage the process for you. Bazaarvoice partners with multiple partners to handle multiple different types of fulfillment end-to-end, so you can focus on the more strategic elements of your reviews program.
Case study: How one marketing team made product sampling work for them
Product sampling isn't just for small brands or brands that are trying to get their name out; it's a powerful strategy for established brands as well.
One example comes from a sampling campaign run by TTI Floor Care North America, which owns iconic brands like Hoover, Oreck, and Dirt Devil.
Despite this, TTI Floor Care had a problem: Most people don't take great care of their vacuums, and only end up writing reviews when something goes wrong. In other words, TTI had a lot of bad reviews that weren't doing them any favors when it came to moving products.
To counter those bad reviews, TTI sent out free samples to Hoover and Dirt Devil brand loyalists. With an 86% response rate, TTI ended up picking up more than 700 reviews in a short period of time, and these reviews appeared on their own website, as well as being syndicated to dozens of major retailer sites where a majority of their sales occur. On Dirt Devil products alone, the average rating jumping from 2.8 stars to 4.5 stars.
"We're pleased with the increased review volume and higher ratings, because we know they have an impact on sales," said Jim Deitzel, the director of digital marketing at TTI. "When you start with more reviews and higher-quality reviews, you start seeing more people buy, which leads to more good reviews, which in turn generates more sales."
In addition to boosting review volume, sampling provided the company with an effective way to engage with and reward its best brand advocates and gather valuable insights. By targeting demographic and interest parameters for each product, TTI ensured that only the right consumers received each sample and that feedback was used to inform potential product changes, packaging, and marketing messaging.
"It's not just the sales organization that benefits from having more reviews and higher-quality reviews," said Deitzel. "We're able to share content from reviews with other departments across the organization that benefit from knowing what customers are thinking, what they like, and what they don't like."
TTI Floor Care had a problem with a disproportionate amount of negative reviews, and product sampling allowed them to solve this issue by using the authentic voice of their own customers.
––––––––––––––––––––––––––––––––––––––––––––––––––––––––––––––––––––––––––––––––––––––––––––––––––––––––––––––––––––––––––
Want to learn more about how product sampling can elevate your user-generated content and increase conversion for your business? Connect with us here.