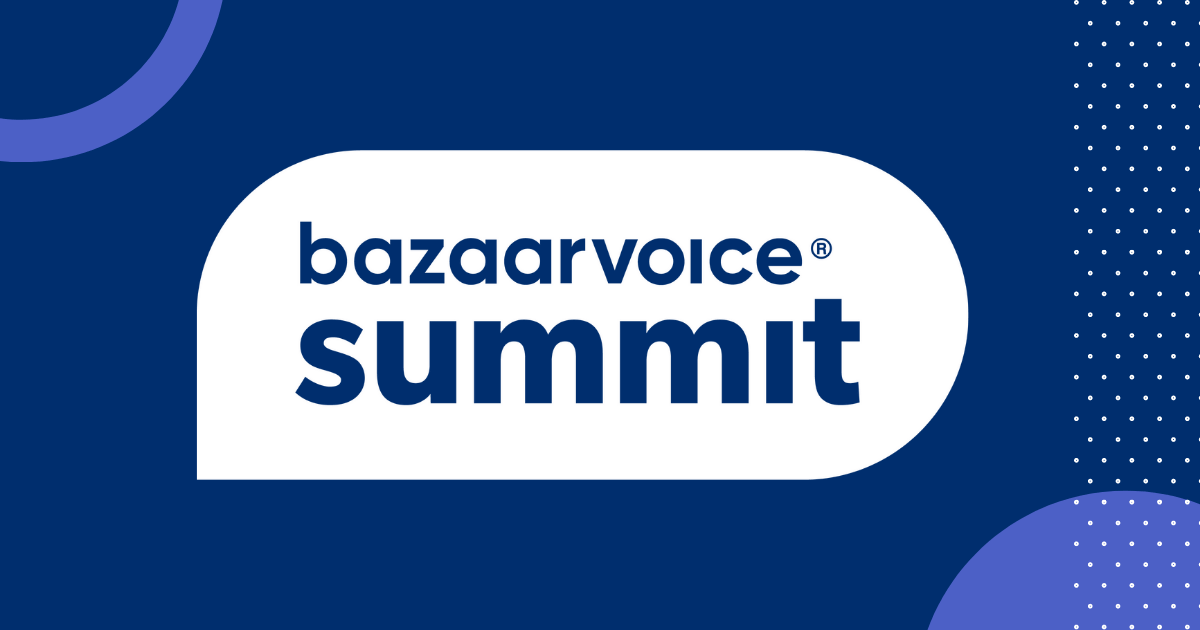 Below is a playlist of all our written content from this year's Bazaarvoice Summit. If you prefer to watch your content, you can find our video playlist here instead.
---
Another year, another Bazaarvoice Summit, another resounding success (got to be your own cheering section!) This year's event was arguably our best yet. In the words of Zarina Stanford, Chief Marketing Officer here at Bazaarvoice:
"In the making of Bazaarvoice Summit 2022, the power of imagination, teamwork, and partnership reigns loud and clear. My deepest gratitude to all the speakers and behind-the-scene heroes inside and outside of Bazaarvoice in elevating the authentic marketplace conversations, which continue beyond Summit."
The Bazaarvoice Summit is an annual, two-day, virtual event for retailers and brands of all sizes to learn how to create the experiences customers crave, from some of the brightest minds in retail, this year including Johnson & Johnson and JP Morgan Chase. Not to mention thought leaders and industry experts from our very own Bazaarvoice.
"Damn" I hear you thinking, "I wish I hadn't missed that event." Well you're in luck, this year for the first time we live-blogged every single one of our presentations for your on-demand reading pleasure. Not only that, but we've compiled them below for extra connivence.
That way, you can jump straight to subjects that catch your eye. Or you can do the whole "right click and open in new tab" tactic, plough through all of them in one go, and get a comprehensive education.
Bazaarvoice Summit articles
Below is the list of all the wonderful live-blogged articles from Summit. Remember, if reading blogs isn't your cup of tea, you can always jump to our handy video playlist instead.
Bazaarvoice CEO Keith Nealon kicks-off the Bazaarvoice Summit 2022!
We've lived in times ruled by lawyers, doctors, and bankers. We've moved onto a time ruled by coders, engineers, analysts, and mathematicians. The challenge that faces individuals today is how to be a connected thinker. People who can bring together mindfulness, with modern psychology, and trending technology, and use it for social impact will see limitless possibility where others do not.
This year's Shopper Experience Index helps us to hone in on what shoppers truly care about. Staying on top of rapidly changing consumer behavior is a full-time job in itself. The only thing that's consistent about change is that it's constant (which explains why we're able to release this report every year!) Amidst all of the rapid changes, where are shoppers looking for us to evolve and innovate? Join Zarina to find out.
As millennials age, how should marketers be thinking about Gen Z? How does Gen Z behave? How different are they from millenials? And what about Gen Alpha? Where is the future of consumer interaction headed? And what does it all mean to us as marketers, as brands, as colleagues, and as employers? So many questions. Read on to find the answers.
In a digital-first world, it's our duty to meet consumers where they are, and provide a relatable, authentic, and engaging journey on their path to purchase. Hear how Johnson & Johnson is leveraging user-generated content (UGC) across the consumer journey while always ensuring that we remember that we're, in fact, consumers too.
Through this customer-driven demonstration, Marissa Jones, Senior Vice President of Product, Bazaarvoice, highlights how Bazaarvoice products help you leverage consumer content to drive everything from awareness on social media to checkout on your site.
As a leader in the industry, Redken believes in focusing its strategy through a consumer-first lens. See how the global brand prioritizes the top needs of shoppers and building modern strategies that move the needle forward.
What does it take to build (and sustain) communities that people love? Well, you'll have to read to find out.
When we dare to lead with authenticity, the world follows. What customers truly want is for us to be as human as them. When we become a role model of authenticity with others, and most importantly ourselves, we begin transforming for good. Standing out in a crowded market can be as simple as letting your actions become your voice.
This piece dives into the art and science of humanising your brand, leading with trust and transforming with authenticity.
One of the main attractions of Bazaarvoice Summit is the array of keynote speakers. This year, we were priveleged to have Michelle Poler:
"The enemy of success is not failure, it's comfort. Michelle shares her 100 Days Without Fear experience, and will show you how to push outside your comfort zone. You'll leave energized, empowered and ready to tap into your full potential."
A common misconception about social commerce is that it's as simple as selling on social media. However, a successful social commerce program must create the best of both worlds on social and e-commerce channels. In this session, learn how to innovate your content and channel strategies in the world of social commerce.
With rising inflation and supply chain disruptions, brand loyalty is on the decline as consumers chase products that are more readily available and affordable. Enter: Private label. These store brand products are not only more desirable in today's market, they offer higher margins and greater profitability for retailers—a gold rush opportunity.
It's always been illegal to be misleading and deceptive in advertising. How do we apply these old laws to meet changing consumer expectations, new technologies and channels? Find out for yourself.
Ratings and reviews drive smarter shopping experiences and increase your business's bottom line. To what extent, depends on the strategies you've implemented for maximizing engagement with your consumers and informing your business decisions. In this session, learn how to build a solid collection process.
---
And there you have it. The entire collection of the Bazaarvoice Summit 2022. We hope you enjoy it as much as we did! If desired, you can find every on-demand webinar session right here. See you next year!