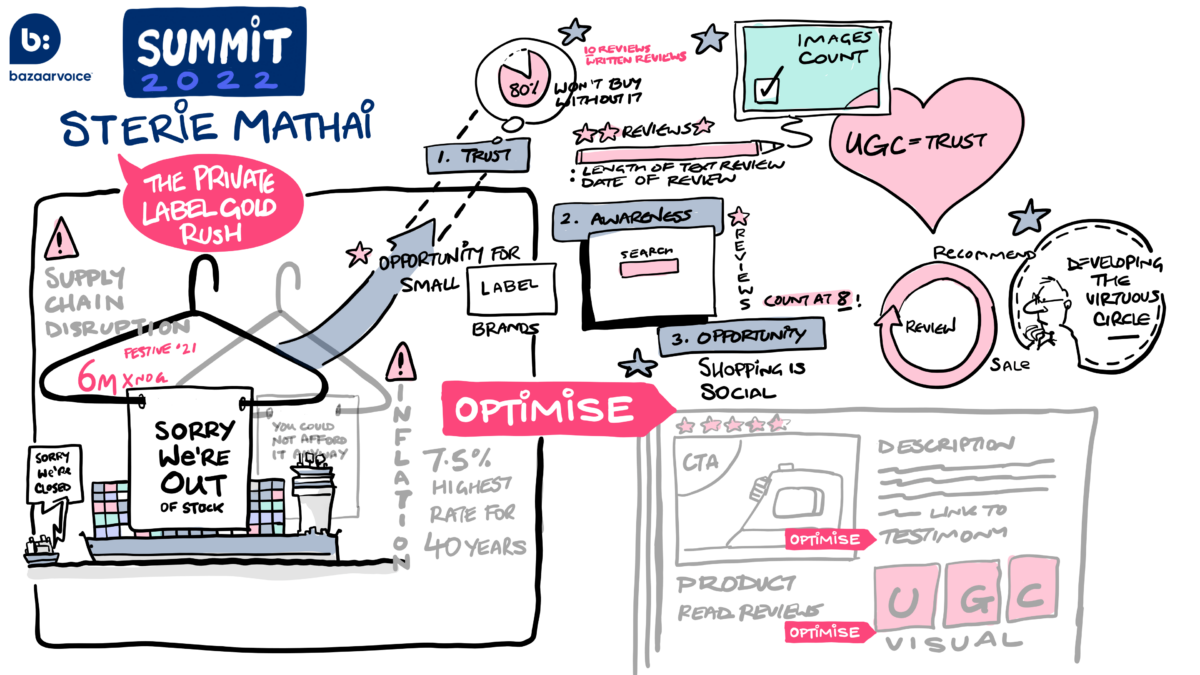 These are live-blogged notes and sketches from a Bazaarvoice Summit session, delivered by Sterie Mathai, Senior Retail Account Executive at Bazaarvoice, on April 7th, 2022. The rest of our Summit content can be found here.
---
Why are retailers investing in store brands? It's a direct result of the cosmic shocks the whole industry is dealing with. The retail industry has been hit with two big disruptions through the pandemic. First of all, lockdowns and widespread infection have lead to supply chain issues, which are still a major issue for most retailers. As recently as the 2021 holiday shopping season, consumers saw a staggering 6 billion out-of-stock messages.
On top of that, inflation is on the rise. In the US, it's sitting at 7.5%, the highest in 40 years. People are feeling that in their wallets already.
There's a brighter side to this — or an opportunity, at least. Shoppers are shifting to buy store brands and products, due to a combination of their lower prices and greater availability.
90% of consumers are currently purchasing store-brand products
50% say they're increasing their purchase of them in recent months
What's great is that this will help retailers grow, in difficult economic times. The greater profit margins benefit the retailer, while lower prices and more reliable availability keep the customer happy. That drives both acquisitions, as customers seek out retailers with good offers, and loyalty, as they grow used to buying them.
You can capitalize on this gold rush by focusing on three areas:
Building brand trust
Growing brand awareness
Prioritizing product innovation
Let's dive deeper into each of these.
Brand trust
Perhaps not surprisingly, back in 2019, Gartner found that 81% of consumers refuse to buy from brands they don't trust. So, the big question is how do we build trust? You know the answer: Ratings & Reviews.
But to benefit from that as a store brand, you need the same volume, quality, and recency of reviews as national brands. How many reviews should launch with? Look at your national brand competitors, and make sure you align with them.
94% of shoppers say they need at least 10 reviews to consider the product credible. 75% of shoppers look for reviews with three or more sentences. And, yes, 85% of shoppers do look at how recent reviews are as part of their decision-making process.
There's a drop-off in customers' perception of relevancy when reviews get over three months old. That might be the reason that your sales are dropping. for example. Keep those reviews current.
So, if you're serious about your store brands, you need to be serious about developing your review and rating content.
The good news is that this effort won't just fuel online sales. 40% of consumers that buy offline — in retail stores — read online reviews first. And reviews with images are even better. Shoppers want to see real photos and real feedback from people like them:
62% are more likely to buy after viewing product images of videos from customers
150% increase in conversions when there are user products on a page
The more UGC you have, the better.
Grow brand awareness
Are you meeting your consumer where they are online? For example, think about search. We all use it, so you want to rank well. 43% of global e-commerce traffic comes from organic search.
Believe it or not, reviews help you rank higher on Google because they're loaded with rich keywords. You start getting SEO benefits once you have eight reviews or more.
And, of course, social media is no longer an option, it's a necessity:
70% of consumers discover products on social
50% are influenced by social in their choice of products
1 in 3 have bought on social in 2020 and 2021
Prioritize product innovation
Data rules everything, it's how we measure the impact of what we do on our businesses, However, if data is king, the customer feedback you get in reviews is its queen. 78% of business people say that customer feedback is the most important data to drive innovation.
We see that again and again, with our customers using the themes in negative reviews to generate very specific feedback to the product teams, allowing rapid iterative improvement of our products:
4% of reviews point out manufacturing flaws.
2% suggest useful product improvements
Our tools make it easy to surface this information and get it to the teams who can act on it, making your store brands better, and faster. For example, one of our customers, Oliso, used feedback to improve its iron with a longer cord, extended shut-off period, and greater power. They went from selling a couple a week to dozens a day at one retailer.
And that's the sort of speed you need to capitalize on the own-label gold rush.
Key takeaways
Optimize product pages with customer content to build trust and increase conversion
Show up strong on channels like social media and Google search to grow brand awareness
Use customer feedback and sentiment to improve products
---
The retail industry is as strong as ever. And consumers hold the power like never before. They decide how a brand is perceived, and the risk of boycott in today's cancel culture is very real. The dramatic power shift to customers has led to heightened actions and vocalizing for authenticity, improved experiences, and above all, for consumers to feel heard. Catch up on Bazaarvoice Summit to see how to win hearts and minds of today's consumers.