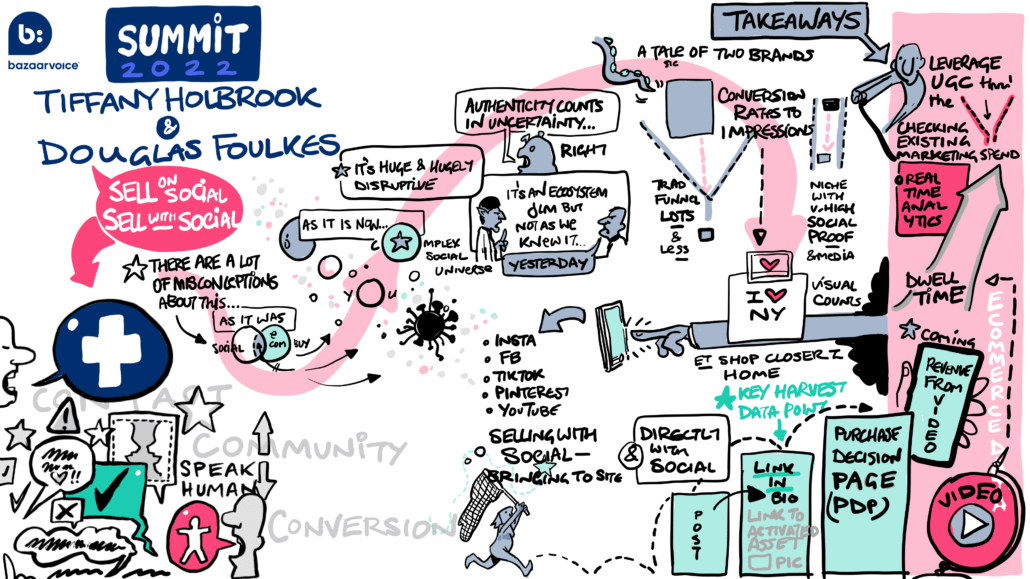 These are live-blogged notes and sketches from a Bazaarvoice Summit session, delivered by Tiffany Holbrook, Senior Product Marketer and Douglas Folks, Enterprise Account Executive at Bazaarvoice, on April 7th, 2022. The rest of our Summit content can be found here.
---
In the traditional take on social commerce, e-commerce merges with social media to create an integrated experience. But that's not what experienced practitioners experience these days.
What we've seen through the pandemic is a massive shift from buying in-store to buying online. Your visual content is becoming more and more important — it's the window display to your online store. But it surfaces in places that weren't designed for commerce: In amongst people's baby photos and kitten videos.
So, we've got a new approach to sell on social for you.
Disruption of social commerce
There's so much disruption and chaos going on. Social commerce has both been disruptive and been disrupted. New platforms, new approaches, new marketing strategies, they're creating a chaotic environment.
There's been big changes through the pandemic, with Instagram and TikTok seeing huge increases in shopping volumes — but buying directly from your own site is still the biggest channel.
We're also seeing disruption in the ad space. Professional photography doesn't have the impact it used to. Shopper photos and reviews have more impact on most buyers. Authenticity is your currency.
64% of customers want to see other users' content on social media in preference to professionally-shot content. And 69% of shoppers have been inspired by social media to make a purchase through another channel.
Let's explore what that looks like for real companies like yours.
A tale of two brands
A story from Doug:
Brand A has a massive following on social of over 5 million people, while poor Brand B has a mere 30.9k. So, the funnel's absolutely in Brand A's favor, right?
Well, by mid-funnel, A has way more customers getting down there towards conversion. But down at the product description page (PDP) level, Brand B was delivering way more conversions. What was the formula for their success?
A simple insight: follower quantity does not translate to follower quality. It's not always the case that the more people you have at the top of the funnel, the more you have at the end, whatever you might have been taught. Brand B has encouraged a small, more loyal follower base, and is using fan UGC to drive their campaigns — and follow them right through to the product pages.
This is a classic example of social proof giving people the confidence to purchase. Social proof is a trend we're hearing more and more of in the industry. Shoppers are telling us they expect to see social content on your site. 64% want to see it on social, but 74% want to see it on your website.
That's a really exciting opportunity to change your brand image.
Why let social have all the fun?
E-commerce is optimized for buying and search, but not as much for discovery and shopping. User content from social integrated into your website can change that. Shoppable social galleries provide a new point of entry to your website and trump staged photography with user-created lifestyle imagery.
Let's talk omnichannel
Social media just influences your social audience. Your website brings in people from multiple acquisition sources.
At Bazaarvoice, we've really thought about how to integrate these ideas and channels. We divide up your approaches into categories like Promote on Social and Sell on Social, which goes way beyond Link in Bio solutions to truly shoppable content. But then there's Selling with Social – which allows you to inspire purchases and drive sales with social content on site.
And yes, with our visual syndication network, you can use that social content to increase conversion and drive sales at retail.
Rise of the social PDP
Content that people create for themselves, to validate themselves and their lifestyle, can be incredibly powerful because it's created with passion and is truly authentic. Using that across your funnel can really increase conversions.
For example, Yamazaki used TikTok videos to create a shoppable on-site experience based on influencer, brand, and user-generated content. It's shoppable and fun!
When you provide inspiration, customers reward you by opening their wallets. Shoppable social drives a 275% uplift in time on site, a 169% conversion lift, and a 14% average order value increase. That social proof is following the users right to the PDP, increasing their confidence in the product, and creating the impetus behind these figures.
The connected commerce universe
Oh, and on-site social content is also a goldmine for consumer insights. What makes them buy? We can define your ideal customer profile, identify the kinds of content they engage with — and ignore — and then measure the types of content that sell.
For example, one brand found that product laydown shots worked better than Instagram videos to convert people — and another did the reverse. You'll only find out with insights.
You really need to know which content is actually driving revenue, not just interaction.
The right content at the right time holds the key to delivering conversions. So, the lines between teams' strategies are blurring, as these elements come together. It's not easy to break down these business silos — but if you don't you miss revenue opportunities.
Calls to action
Leverage social UGC everywhere — shopping anywhere requires content everywhere
Learn from challenger brands — inning via content and communities
Measure what matters — develop an understanding of the entire shopper journey
---
The retail industry is as strong as ever. And consumers hold the power like never before. They decide how a brand is perceived, and the risk of boycott in today's cancel culture is very real. The dramatic power shift to customers has led to heightened actions and vocalizing for authenticity, improved experiences, and above all, for consumers to feel heard. Catch up on Bazaarvoice Summit to see how to win hearts and minds of today's consumers.