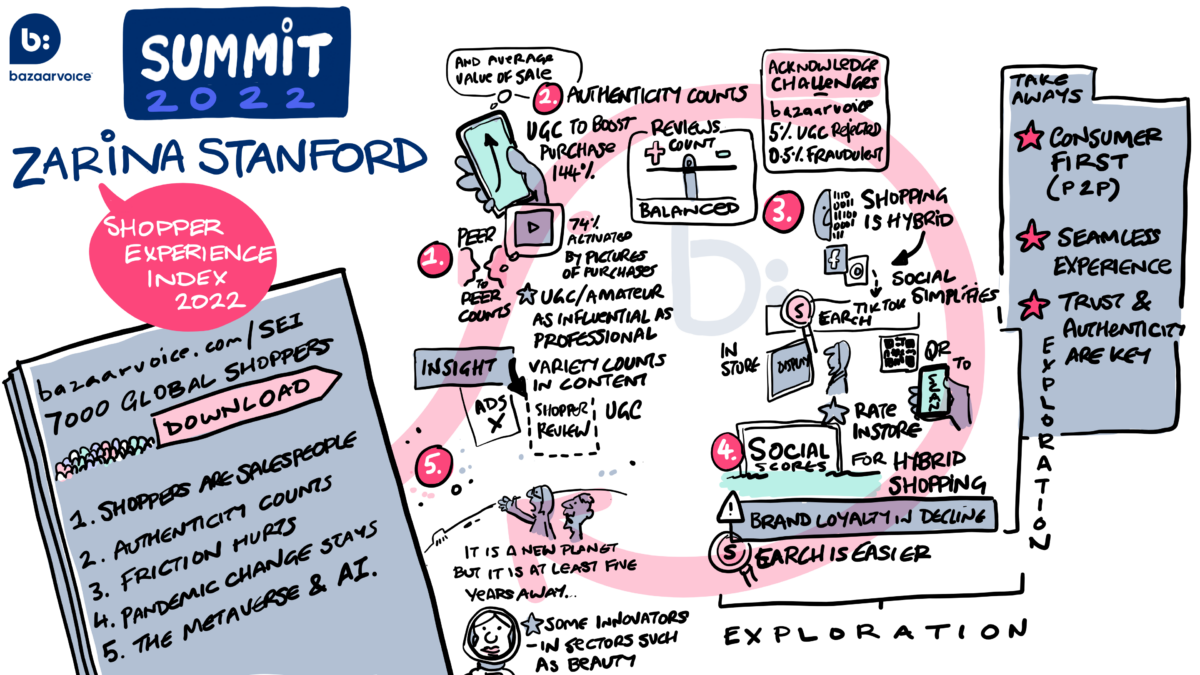 These are live-blogged notes and sketches from a Bazaarvoice Summit session, delivered by Zarina Stanford, Chief Marketing Officer at Bazaarvoice, on April 6th 2022. You can catch Zarina's on-demand webinar version here.
---
Shoppers are changing, and we need to understand how. And that's why Bazaarvoice invests in regular research to highlight trends that emerge globally. Let's explore what's happening with shoppers right now.
The Bazaarvoice Shopper Experience Index is conducted annually — most recently between December 2021 and January 2022 — and is based on 7,000 global shoppers.
The five key trends that emerged are:
Shoppers are your new sales people
Authenticity is every brand's most important asset
Friction is your worst enemy
Pandemic-inspired shopping behaviors are sticking
The metaverse is here
Let's dive into each of these in turn.
Shoppers are your new sales people
When we asked the question, "What are the must-haves for your daily purchases?" two of the top five had to do with user-generated content (UGC):
Ratings and reviews
User photos
74% of shoppers think that user photos increase the likelihood of them making a purchase — it's astounding. Interestingly, 42% of people will buy a product without professional photos, if user photos are present. And 53% — over half! — say that UGC is the most important way to make them more confident in purchases.
This is pointing out clearly that you need a good mix of content at your fingertips, so that you can serve the right people at the right time. And that can be content from you, the retailer, or the agency — but also the consumer, the expert, or the influencer. Maybe even celebrities, depending on the product.
Another surprise: 32% of those surveyed said that ads do nothing to make them purchase a product. 22% respond to ads with shoppers' reviews in them, and 18% to those with shoppers' photos — the same percentage that respond to professional photos.
Lots to digest there. But our practice to is have more and more content from shoppers. Peer-to-peer and word-of-mouth marketing are powerful.
Authenticity is every brand's most important asset
The cliché of saying that not all content is equal is totally true. Shoppers value authentic content, hence authenticity is your most important asset. In a recent Bazaarvoice webinar, Alyssa Thomas, Director of Product, Content as Commerce, at Walmart.com, said that she was unwilling to sacrifice authenticity:
"One of the really important parts of customers reading ratings and reviews is that they trust they're authentic and relevant to the item. Otherwise, we potentially lose the trust that customers were look for from reviews in the first place.
An aggregate of research, studies, and benchmarks right across Bazaarvoice globally shows that UGC uplifts conversion by 144% and revenue per visitor by 162%. This is truly best in class. The average order value also increases by about 13%.
60% of people see that negative reviews are as equally important as positive reviews — it's the combination of both that makes it trustworthy. That's the customers clearly telling us they want us to be authentic and paint a true picture.
We really want to begin a movement towards authenticity. Through our tools, we reject, on average about 5% of user content, for language or appropriateness. We find about 0.5% of content is what we think is bot-created, fraudulent content. That process protects all of us and, particularly, your authenticity.
Friction is your worst enemy
What would shoppers like their favorite brands to do? They want the experience to be:
The last is critical because they're all shopping both online and in-store now. And they want both those experiences to be equally good. 69% of shoppers have been inspired by social content to make a purchase. Social has become an event for shoppers.
Amongst our 7000 shoppers, 52% of them had bought something via social media. Facebook dominates as their platform of choice, with 44% shopping through it, with Instagram next at 32%. 33% of people didn't buy via social.
Amongst those who do, they're looking for content, for information, and then to transact. Fascinatingly, 69% of shoppers have been inspired to make a purchase through other channels by something they saw on social media.
Oh, and shoppers even want UGC in-store. 36% want to see virtual displays with reviews, photos, and videos from other consumers. Other wanted QR codes to read reviews, and others live, in-store star ratings for products.
Pandemic-inspired shopping behaviors are sticking
Are pandemic-inspired behaviors sticking? Yes. We're proving to be creatures of habit. 80% of shoppers thought their shopping time via social media has increased. 30% of them are buying online once a week, and 63% of consumers research online before heading to a store. That's really important — this hybrid behavior is going to continue. Where do we want to be omnipresent?
Are shoppers sticking with the brands they were loyal to before the pandemic? No, they're not. 39% of consumers bought new brands during lockdown — and 83% of those will continue to buy from their newly-discovered brands.
This is an interesting twist for all of us to think about.
The metaverse is here
Is the metaverse a controversial topic? Perhaps. Only 10% of those we spoke to believe there is a reality to the metaverse. But it's up to you: Are you going to capitalize on this emerging $800 billion over the next five years business — or, at least that's what Bloomberg predicts it will be.
We have a seven layer model of the metaverse, that explores everything from connectivity to the experiences, and every layer between. But only one in 10 brands has a strategy right now, and yet 12% of shoppers are interested in augmented reality as part of the confident decision making process. There's potential, and we can learn from the early adopters.
You can look at the Pinterest collaboration with Crate&Barrel as an example, or the work Snapchat is doing with lenses to create serious revenue for cosmetics brands.
It's for all of us to explore this new technology and see what could be done.
Shopper Experience Index 2022 takeaways
Here's three key takeaways for you:
1. Plan with a consumer-first mindset
Peer-to-peer and word-of-mouth is incredibly powerful. Put the shopper front and centre in everything you do, and it'll help you win hearts and minds.
2. Create the seamless experience shoppers expect
Shopping, buying, transacting: Shoppers expect this all to be frictionless, online, in-store, and everything in between.
3. Build your brand on authenticity and trust
Trust and authenticity is vital for every brand.
---
The retail industry is as strong as ever. And consumers hold the power like never before. They decide how a brand is perceived, and the risk of boycott in today's cancel culture is very real. The dramatic power shift to customers has led to heightened actions and vocalizing for authenticity, improved experiences, and above all, for consumers to feel heard. Catch up on Bazaarvoice Summit to see how to win hearts and minds of today's consumers.