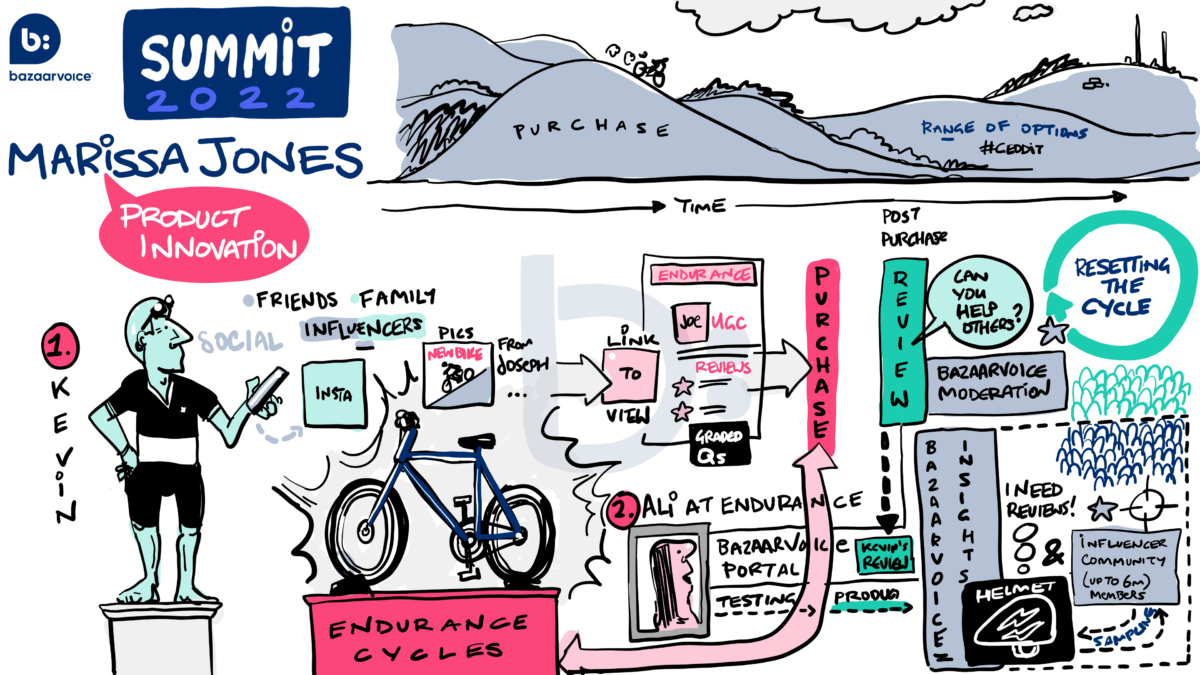 These are live-blogged notes and sketches from a Bazaarvoice Summit session, delivered by Marissa Jones, Senior Vice President of Product at Bazaarvoice, on April 6th 2022. The rest of our Summit content can be found here.
---
Without even actively looking for something to buy, consumers are out there being influenced by friends, families, and brands like you, with more subtlety than we see in direct marketing tactics. Let's look at an example of how Bazaarvoice's product innovation can help both the shopper and the brand.
The consumer experience
Meet Kevin. He's on Instagram, where he stumbles across his friend Steve's post. Steve has recently bought a new ultra-endurance, rugged bike. Seeing the shout-out from his friend, Kevin thinks about his own aspirations to get back out on his bike, so he follows the tag through to the EnduranceCycles page.
He likes what he sees, so he follows the link (powered by Bazaarvoice) at the top of the page. And he arrives at a shoppable version of the the Instagram feed. His awareness of the product was made by social, but now he gets the details from this page he needs to have confidence in his purchase. Scrolling down, he comes across his friend's photo, which has been product tagged, and put with other consumer photos, on a social gallery on the page.
He could leverage the social power of the service to ask questions, but his focus is on what's good and bad about the bike, so he opens the reviews to see what others have to say. EnduranceCycles asks reviewers questions about their skill levels, so Kevin can even filter down to see reviews from casual bikers just like him.
He's convinced. He buys. And two weeks later, he's been hitting the trails, but he's back to scrolling the 'gram. An email pops into his inbox, encouraging him to share his experiences via a simple form embedded in the email. With his review submitted, it passes through Bazaarvoice moderation.
Perspective shift
The client experience
Ally at EnduranceCycles logs into the Bazaarvoice portal. Kevin's new review shows up at the top of her feed. She can take actions, such as responding to the review — an easy way of interacting with Kevin. This is a subtle way of driving brand loyalty, by bringing delight to the customer experience.
She wants to understand where else to focus her energy, so she dives into Bazaarvoice Insights, and looks for products which lack content. There's a helmet that has no reviews. Well, that's clearly unacceptable. Ally needs to fix it. Since they're not getting organic reviews, she turns to the Bazaarvoice Influenster community to start the process of generating some. Her account manager helps her find the people who will be a best fit for this product.
Products samples get shipped out, and the reviews start coming in — to Ally and to the network. However, Ally also asked people who got the helmet to post on social about it, too. Simon got a helmet. Simon posts the picture of his helmet on Instagram.
And we're back to the beginning of the cycle(s).
This is just the start
Simon's photo could also have been syndicated to retail partners. Ally could have shared it out to their Instagram feed. Or Kevin's encounter might have been in-store.
This combination of data, content and tools gives you an endless range of possibilities. Ready to try it out?
---
The retail industry is as strong as ever. And consumers hold the power like never before. They decide how a brand is perceived, and the risk of boycott in today's cancel culture is very real. The dramatic power shift to customers has led to heightened actions and vocalizing for authenticity, improved experiences, and above all, for consumers to feel heard. Catch up on Bazaarvoice Summit to see how to win hearts and minds of today's consumers.