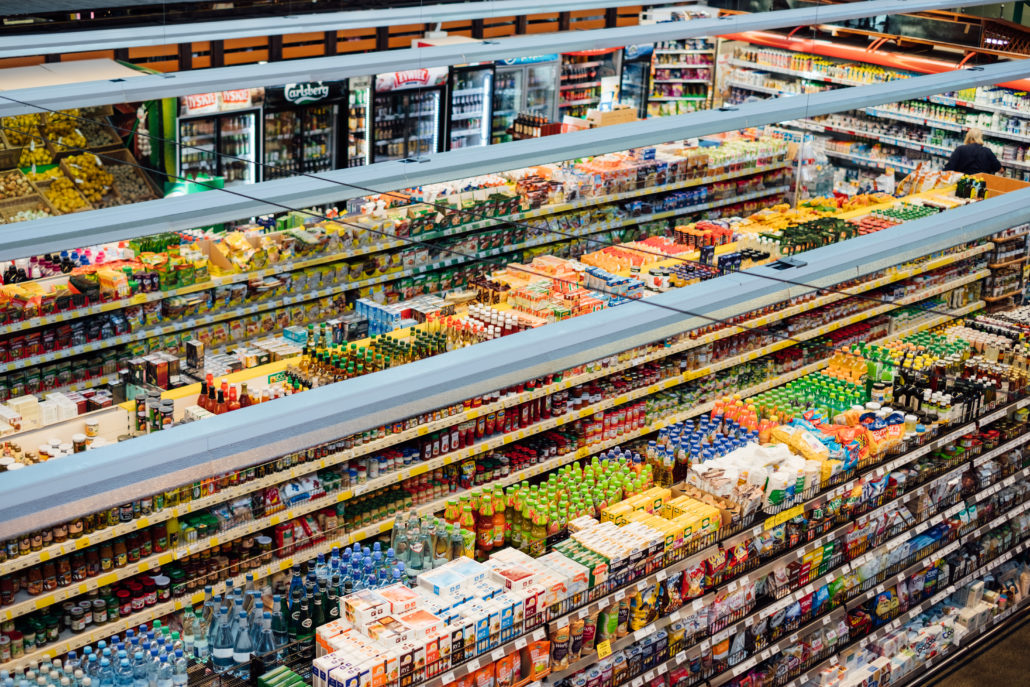 While in-store shopping experiences were once the main factor in customer loyalty, consumer preferences and expectations are starting to shift. The experience you offer your shoppers is still greatly important, but offering unique, private label brands they can purchase only at your store is now a key to keeping customers coming back for more. 
Private label no longer conjures up thoughts of plain, uninspired packaging with the label "generic." Instead of serving as a less desirable, low cost option, some private label brands have evolved to be seen as equal to, if not better than, national brands. Not only do owned brands increase revenue, but they have become a key driver of retailer loyalty in the past few years. 
According to Nielsen, owned store brands were "trading negatively in the last quarter of 2016, starting to outpace national brands in early 2017, and by the end of 2017, were posting dollar growth of more than three times the rate of branded products." In fact, across U.S. outlets, private label have amassed over $143 billion in sales over the latest year, an increase of nearly $14 billion since 2015.
From newcomers like Brandless and Thrive Market to retail giant Amazon, retailers of all industries and sizes are experimenting with and investing in private label brands. Private label brands allow retailers to control everything from pricing and packaging to marketing and display, all while driving brand recognition amongst consumers. While there is no one right approach to private label, one thing is clear — retailers should treat them with a similar strategy and resources as a national brand would treat its products. 
Here are a few examples of the way retail giants have incorporated (and sometimes failed!) to make private label part of their overall brand strategy:
Trader Joe's
Grocery chain Trader Joe's has shown the power of private label since its inception. The retailer has no e-commerce presence, and, unlike any other grocery retailer, more than 80% of Trader Joe's products are private label. In the company's podcast, "Inside Trader Joe's", they explained that their strategy is a big part of what keeps their prices so low. Trader Joe's has ranked in the top three grocery chains for overall customer satisfaction for many years running, and customers are maniacally loyal to its products. 
Amazon
As of earlier this year, Amazon has over 144 private label brands ranging from organic baby food and furniture to electronics and clothing. Amazon was relatively slow about its private label growth up until 2017. The e-commerce retailer launched its first three exclusive brands in 2009 and didn't introduce any additional private label lines until it rolled out 11 more between 2014 and 2016. And then came 2017, when Amazon unleashed a staggering 66 private label brands to the market. How has the retailer been able to successfully launch so many brands in such a short period of time? 
Due to its massive customer base, Amazon has access to an equally massive amount of consumer data on shopping behavior. By analyzing trends within its own data, the online retailer could be able to see what shoppers are searching for, categories and products that sell well, and what features customers like and dislike. But, despite previous reports of it doing so, Amazon claims to not use sellers' data to launch their own products.
With or without that data, Amazon tests and retests private label brands and products before a full-scale launch. To do this, the retailer releases a handful of various sample products within a product line to market and watches their performance closely. These initial releases are often only available to Amazon Prime members, so that the retailer can test products and collect feedback from a smaller audience. 
Once Amazon has tested a product line and determines its top performing items, it rolls these products out to the full market — and makes sure they perform well. Amazon changed its search results last year to boost more profitable products, which is said to often have the effect of boosting their own products in search listings. Previously, it heavily invested in paid media for its own private label brands. Last year, their brands Goodthreads, Buttoned Down, and Amazon Essentials owned 16% of Sponsored Products on search terms related to wovens (e.g. dress shirts). For polo-related keywords, they owned 13% of Sponsored Products. But, earlier this year, after increased scrutiny, the online giant significantly scaled down or relocated promotions of its private label products.
Whole Foods
Even before it was acquired by Amazon, Whole Foods built a strong private label strategy and continues to experiment with its owned products. The grocery chain's private label brand, 365 Everyday Value, sold $10 million in products on Amazon in the first four months alone following the acquisition.
The 365 Everyday Value brand helped solve a main consumer complaint against the chain: high prices. But they don't sacrifice quality for price; food products are certified organic or enrolled in the Non-GMO Project, and health and wellness products have a similar standard of quality. In 2015, Whole Foods announced the next iteration of its private label strategy with its 365 by Whole Foods Market stores, which solely sells the retailer's private label products. The stores, in addition to selling lower cost products, are smaller in format, and incorporate more technology into the in-store experience, all characteristics that appeal to younger demographics. 
But, in January of this year, after opening 12 of their Market 365 stores, Whole Foods announced it will not open any more. According to the company, the strategy shift was due to price. In the year previous, Whole Foods had been lowering their prices, and they no longer believed the price distinction between their core stores and Market 365 stores was relevant. This company is continuing to work on lowering prices, making a joint announcement with Amazon in April that prices will be reduced by an average of 20% on select items throughout the store. 
Walmart, Sam's Club, and Jet.com
Walmart has long understood the value of private label — their first foray, dog food brand Ol' Roy, launched in 1983. Today, 84% of Walmart customers purchase private brands from the retailer. As their CEO Doug McMillon said, private label brands play a big role in their strategy for driving loyalty: "If we have engineered our specs so that you really love our granola, then there's a loyalty there that passes not just through the store but into the e-commerce business as well. Product-driven loyalty becomes even more important than it was in the past."
In the last 10 years, Walmart ramped up its launch and production of private label brand products in an effort to stay competitive amidst the changing landscape of retail. In 2009, Great Value, its owned food brand, was relaunched with more products, improved ingredients, and consistent packaging. Since then, the retail giant has released private label lines in everything from clothing to technology and furniture.  
Walmart's investment in private label extends even further to its subsidiary retailers, Sam's Club and Jet.com. In 2017, Sam's Club announced that it had both consolidated all of its private label products under a single brand, Member's Mark, and launched 300 new products. With one label, rather than its original 20+ lines, the retailer hopes to drive stronger brand recognition and loyalty. A few months later, Jet.com introduced its first private label brand, Uniquely J, targeted at the urban millennial audience. As part of the launch, the online retailer had a tattoo artist design the packaging and included complimentary product samples in customers' shipments. 
Target
Target has stocked a multitude of private label brands for decades and has seen much success. In 2016, it took their children's wear brand, Cat & Jack, only a year to surpass $2 billion mark. But recently, the retailer made one of their biggest waves in the space, launching their their new flagship food and beverage brand, Good & Gather. By the end of 2020, the brand will include more than 2,000 products, from milk to avocado toast, and will be Target's largest private label launch. Although food and beverages represented just 20% of Target's sales last year, grocery is an increasingly competitive field in the retail landscape, and competitors like Walmart and Amazon are gearing up as well. 
Last year, about one-third of the retailer's sales came from its private label or Target-exclusive products. In 2019 alone, Target has also launched Everspring, a household brand that caters to shoppers looking for 'clean products', and three new lingerie and sleepwear brands that are inclusive of all body types. These are just a few of the 25 new owned and exclusive brands the retailer said it will have by the end of this year.
In May, Target reported its eighth straight quarter of same-store sales growth. Comparable sales rose 4.8%, with a digital sales surge of 42% and store visits up 4.3%. While Target has made changes in a variety of areas over the last couple years, including store format, private label has played a large role in the retailer's growth and loyalty strategy. 
Aldi and Lidl
Although the private label industry is making leaps and bounds of progress in the US, it still has a way to go to catch up with the European market. In the UK, Germany, Belgium and Portugal, the market share for the private label sector is over 40%, while in the US, it's still around 18%. Two great examples from Europe are Aldi and Lidl, who keep their prices low by limiting their stock to almost entirely private label brands.
Both companies are enjoying explosive growth, especially in the UK; in 2017, Aldi overtook the Co-op to become the UK's fifth largest retailer. Today it has a 7.5% market share, while Lidl sits at 5.3%. The two stores are opening an average of one new location every week. Their massive gains in popularity have forced competing supermarkets to take drastic measures. Morrisons has closed stores and laid off workers. Sainsbury's and Asda attempted a £13bn merger, which ended up being blocked by the UK government. Tesco slashed its product range and bought the discount wholesaler Booker before launching its own discount chain, called Jack's. This is all proof in itself of how powerful private label products can be.
The two chains are beginning to creep into the US as well, and American grocers are responding, as the above examples show. Retail grocery giants are also lowering prices on staples such as milk and eggs and adding more products the two German brands aren't known for, such as fresh foods, to stay competitive. 
These retailers are just a few of the many that are owning the owned brand space. Retailers can't afford to let their private label strategy go stale. Traditional retailers must acknowledge that private label is not just an opportunity for increasing revenue but also for driving loyalty, reaching new audiences, and staying competitive.