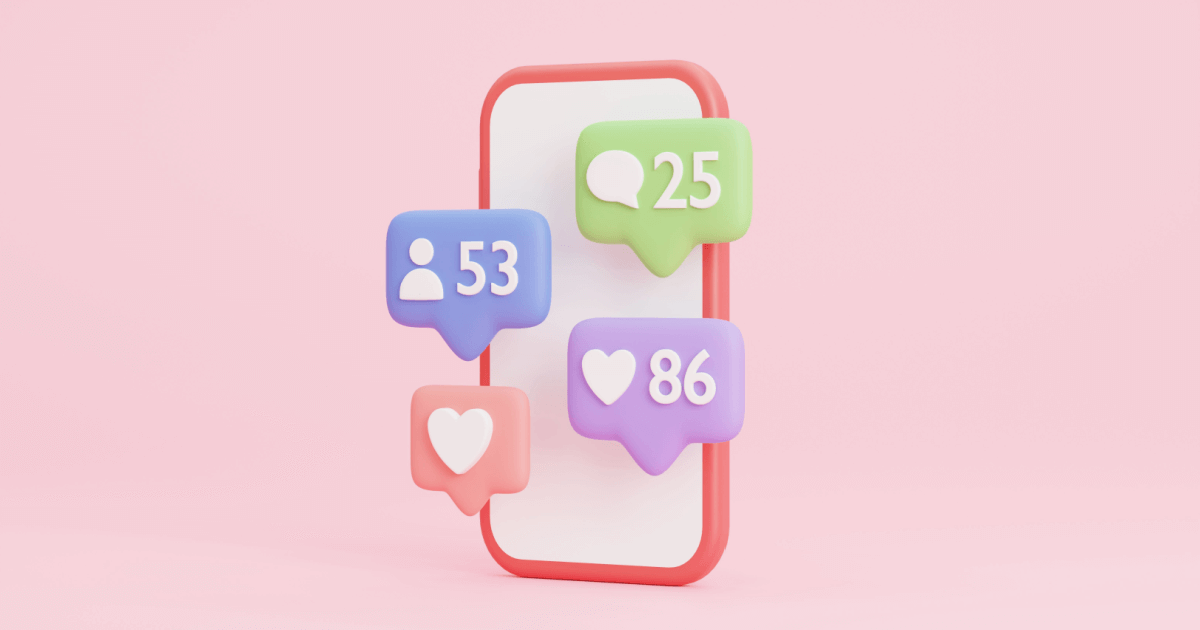 We're going to talk through three different influencer marketing case studies because regardless of what you think of influencers and creators, they're fully embedded into the zeitgeist. Influencer marketing is too lucrative to go away, and brands are taking note. 89% of marketers say the ROI from working with influencers is comparable to, or better, than other marketing channels.
But with so many different types of influencer out there, not to mention the sheer volume of influencers, it can be difficult knowing how to put influencer marketing into practice. The best way to get ahead is by looking at case studies of those who have already achieved influencer marketing success.
According to our influencer research, there's four types of influencer to work with:
Subject matters experts are experts in a specific industry or topic
Celebrities who have become known outside of what they're famous for
Social media stars are well-known with large followers, often paid to promote products
Every day social media users like me and you who post authentic user-generated content
While different influencers have different influence for different audiences, it's the everyday social media users who have the most sway with audiences. It's easy to assume that more followers = more sway, but according to the 9,000 global shoppers we asked, that's not the case.
So then when it comes to getting started with influencer marketing, where do you begin? Because there's multiple avenues to go down. Let's take a look at three of the best influencer marketing case studies we've seen, for the best strategies for you to emulate.
Top 3 Influencer marketing case studies
The following case studies all use influencer marketing, but all use a different type of influencer and a slightly different strategy. But they all have one thing in common: success.
1. BEMZ
Have you ever spent a lot of money on a piece of furniture only to stop loving it after a year or two? A lot of customers have. Which is why they turn to companies like Bemz to update their pieces. Bemz is a Scandinavian design company that specializes in creating made to order, high-end covers for IKEA furniture so people can update pieces in their homes to reflect their personal style better.
Over the past year and a half, Bemz has been populating its marketing channels with more visual user-generated content (UGC) to show potential customers what its products look like in real-life homes. A crucial part of Bemz's strategy is its use of influencers. The brand relies on them to create evergreen content that Bemz continually collects and integrates into marketing programs.
But, the way Bemz partners with influencers is a little different than some of the other brands out there.
A unique partnership
Bemz mainly works with influencers in its core markets, like Sweden, the United States, France, Germany, and the United Kingdom. However, it doesn't go after the biggest names in interior design like you may think it would.
Instead, Bemz chooses to work directly with influencers that already have an Ikea product in their homes to make for a more natural collaboration and build trust with customers. Many of the influencers it works with are in the interior design space, but it also goes after those in other sectors like fashion and beauty.
"We pick influencers on a case-by-case basis depending on what the profile looks like, if we can get content out of it that matches our brand aesthetic, if they have great engagement, or if are really relevant in a certain sector," said Alexandra Öhrlund, Social Media Manager at Bemz.
Seeking out influencers who already own Ikea products is a more natural fit for Bemz. The brand ensures that its covers are shown repeatedly when the influencer posts photos of them hanging out at home on the couch, even if it's not a Bemz sponsored post.
Capturing the authenticity movement
In some cases, Bemz will work with influencers who don't match the brand's aesthetic. For example, the brand doesn't showcase shabby chic looks or farmhouse interiors on its own site and channels. But they still choose to work with a leader within an influencer's sector to build brand awareness and trust within that influencer's community.
"It's not necessarily something that we then incorporate into our content strategy, but we work with them because they have a great profile. They're very genuine within their field," said Öhrlund.
This strategy works because it taps into the rising authenticity movement. 72% of shoppers now choose products based on a brand's reputation. Consumers are fatigued by insincere, fake, untrustworthy content and crave authentic UGC from real people — partly why they consider every day social media users the most trustworthy influencer.
Bemz has found that this kind of content resonates much more with its followers. The brand continues to collect this evergreen content and display it on social media, which has seen click-through rates increase by 41%.
You can read the full Bemz influencer marketing case study here to learn more.
2. QUIZ
Before the COVID-19 pandemic, global fashion brand Quiz primarily focused on the in-store experience at its 250 brick-and-mortar locations. However, when stores started to close, Quiz knew it needed to focus more on its social and e-commerce strategies to increase engagement.
To start, the brand began posting more user-generated content (UGC) images from customers on its social feed, because those types of posts have always had a very high engagement rate for Quiz.
The team also knew that they needed to make these images shoppable to guide interested consumers from the social feed to product pages on Quiz's site. But they didn't stop there.
A micro and macro strategy
One unique aspect of Quiz's new social media strategy is its use of micro- and macro-influencers to increase engagement.
Micro-influencer: Has a social media following between 1,000 and 100,000
Macro-influencer: Has a social media following over 100,000
For a recent winter party collection, Quiz put together a list of micro- and macro-influencers it wanted to get UGC from for that collection. Then, Quiz shipped those influencers outfits from the new collection, and the influencers took photos of themselves in the clothing and tagged Quiz in the images.
"As soon as the collection is live, we can look through our gallery feed and pull the strongest images into the homepage gallery to showcase different influencers," said Megan Ashurst, Senior Social Media Executive at Quiz.
Quiz uses a mix of micro- and macro-influencers to maximize the impact of campaigns. Macro-influencers have a lot of followers, so their posts see a wider reach. But micro-influencers have smaller fanbases, so their followings are typically more loyal and tend to engage more with posts. Instagram's own research of 8000,000 accounts supports this:
"We tend to find that we do get really valuable content and engagement from smaller influencers as much as we do from the big influencers," said Ashurst.
Quiz's use of influencer content — on its website and social channels — led to a 276% increased time on site, a 23% higher average order value, and a 154% increase in conversion rates, making them one of the great influencer marketing case studies we've seen.
You can read it in full here.
3. RIMMEL
There's only one thing better than an influencer marketing strategy: an Influenster marketing strategy. The Influenster App is a community of over 7.5 million every day creators, eager and willing to create authentic content about your brand.
Actually, they're already creating this content. You just need to activate the community, which is exactly what British beauty brand Rimmel London did.
Rimmel activated the Influenster community through a hyper-targeted sampling campaign, where samples of products are sent to community members in exchange for honest reviews, product imagery, and social posts.
Because of the ability to choose a highly-specific audience, Rimmel was able to send products to an audience of 18-30 year old beauty enthusiasts in key markets. Recipients were asked to share their thoughts and feedback through reviews and social media posts.
The campaign led to over 1,200 product reviews and 15.7 million impressions on social, driving brand awareness and sales along the buyer journey. Incidentally, the campaign led to a 44% higher sales lift for the featured products.
Learn more about how the campaign led to increased advocacy, brand awareness, and a 69% higher sales lift for the product categories in which the sampled products compete by reading the full case study here.
Become an influencer marketing case study
Play your cards right and it could be your brand featured here amongst the other successful influencer marketing case studies. We continue to see the rewards our clients have from working with influencers and content creators, so we know it's the way forward.
Last year, influencer marketing spend jumped from 3.69 billion to 4.14 billion in the U.S alone, according to HubSpot. It's past time to get started with influencer marketing. But whatever avenue you choose, you'll first need to know how to reach out to influencers and get a yes in return.