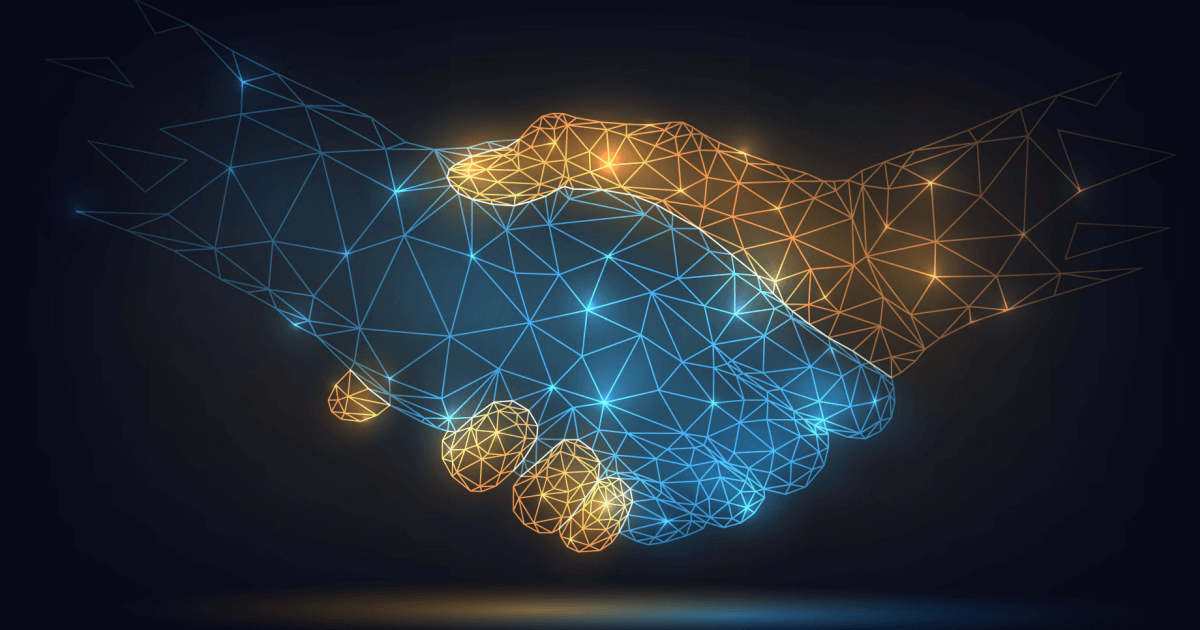 There's a number of obvious benefits to retail partnerships with brands, including but not limited to:
Increased brand awareness
Attracting new customers
Accelerating technological capabilities
Driving sales
But what's not obvious is what a successful partnership looks like to achieve these goals. We're going to outline the tactics you need to focus on by demonstrating how retailers can collaborate with brands on marketing campaigns and showcasing retailer-brand partnership examples.
Chapters:
---
---
Hershey's and Betty Crocker: a combination made in heaven for chocolate and dessert lovers. When it comes to brand partnerships, these kinds of pairings are great for fueling growth thanks to cross-promotions and shared resources. But it's not just grocery store megabrands. Retail can benefit from brand partnerships, too.
For example, the department store Kohl's partners with Amazon to process Amazon returns in-store. Kohl's then ships the package back to Amazon and gives the customer a $5 Kohl's Cash coupon. That entices people to stay and shop — because who turns down $5 in free money? Not me. Kohl's gets new business, while Amazon has a simple way to process its returns. And the customer wins twice.
So what can we learn from Kohl's and Amazon? That a retail partnership brings you new customers, more brand awareness, and more sales.
What are retail partnerships?
A retail partnership is an alliance between a brand and a retailer that have overlapping target audiences — but isn't going to lose business to each other. Instead, they work together to attract a bigger, new audience.
Think of GEICO and Helzberg Diamonds: neither competes with the other. You're buying diamonds from one, insurance from the other. But it benefits GEICO because it wants to advertise to the consumer who is out there buying high-ticket items like jewelry so that it can get its business on larger umbrella policies. Meanwhile, Helzberg gets product placement in GEICO's commercials, helping to keep its name fresh in people's minds.
Types of retail partnerships
There's a few types of retail partnerships. The size of your business and your sales goals will determine the one that will work best for your brand. For example, shared ads and cross-selling are great for brands that share target customers, while a co-branded event may work better for a pair of local retailers.
For already-established brands, like Target and CVS, sharing retail space might be the best option. The only rule when it comes to brand partnerships: both brands and the customer benefit from the collaboration.
1. Co-marketing with other businesses
When you find a partner to advertise with — like GEICO and Helzberg Diamonds — you're able to reach new customers while you share each other's marketing campaigns. This is great for companies that need to be careful with their marketing budget, like small businesses. Brands can afford more ads with pooled resources. However, a shared campaign also benefits larger companies because they get their names out to each other's target audiences. Customers of each brand transfer their trust in one brand to the other because their brand has endorsed it.
Joybird and Sherwin-Williams recently partnered for a campaign featuring interior design ideas. Joybird sells furniture for living rooms, home offices, bedrooms, and more. Sherwin-Williams sells paint. The duo collaborated to come up with furniture and paint colors that complement each other. They advertise on each other's sites and work together to sell their products. The customer gets unique ideas to help them create a trendy new space in their home.
Or have you ever ordered a subscription service? Monthly deliveries contain products and discounts for related brands. For example, HelloFresh sends its customers coupons from other businesses, like a $100 Naked Wines card, that relate to HelloFresh but don't directly compete with it. It's an easy way to create brand awareness with an audience that appreciates the convenience of home delivery.
2. Co-sponsored events or pop-up shops
A limited-time event, like a pop-up shop, is another way to share audiences. In 2015, Target sold designer brand Lilly Pulitzer's dresses, sunglasses, tumblers, and other products — the collection sold out online almost immediately.
Of course, not every business has the advertising power of Target or the brand reputation of Lilly Pulitzer. But even SMBs or local stores can partner with other local brands for an event. Maybe a wedding dress shop partners with a local photographer and other vendors for a wedding expo. Or create a town art walk with nearby businesses willing to co-host the event. Together, businesses create events that provide value for the consumer and also bring new business to your stores.
3. Branded products 
Walmart carries Better Homes & Gardens products, including furniture, bedding, hand towels, and more. Their partnership began in 2008 and is still going strong.
Take a page out of Walmart's book and reach out to some direct-to-consumer (D2C) brands. Walmart also sells various D2C brands, like Dollar Shave Club products and Billie razors, through its store, which means customers don't have to leave Walmart's site. Reach out to your favorite D2C brands. They might be interested in partnering with your store and selling their products with you.
Again, this brings in new business to your store through their customers and helps you get your name out to people who use that brand. Your partner gets valuable retail space that their e-commerce shop otherwise wouldn't have.
4. Share space with another retailer
Yes, we're using Target a lot as an example — but emulating a big-box store isn't a bad thing when it comes to partnerships. After all, Target is the king of shared retail space partnerships. Inside a Target, you'll find a CVS as the pharmacy. These two retailers work together to offer an overall better customer experience. Plus, Target saves on operating costs because CVS manages the pharmacy. And while you're in Target waiting on your prescription, you might head over to the in-store Starbucks to grab some coffee or browse the Ulta mini-shop in the beauty department.
Shared spaces might not work for every business, but if you can find a retailer that's on the same level as your store and complements the products you offer, it could give you more foot traffic.
5. Cross-selling with online businesses
If you're strictly an online retailer, then partner with other online retailers to advertise and sell your items. This works great for smaller businesses that don't have as much of an online presence. For instance, a company that sells cat toys could partner with a company selling customized cat food or kitty litter subscriptions.
Cross-selling campaigns often feature bundle pricing or discounts for new customers. These brands benefit from each other and can help each other cross-sell their products to the same target market. You can also use the opportunity to promote your loyalty program.
6. Loyalty programs 
Let's say a customer is redeeming their American Express rewards and sees a gift card for your store on the list. You've boosted your brand name. With each redemption, you've got a chance to upsell.
You're also able to share valuable insights with other businesses — and then you benefit from theirs as well. It gives you another chance to get your name out there and expand your target market.
Benefits of retail partnerships
Partnering with another business may take some extra work to get going — especially if you have creative differences or vastly different products — but there's lots of benefits, including brand awareness, new customers, increased sales, and fewer returns. Consider how to use these advantages as you choose potential partners.
1. Increased brand awareness 
For both brands and retailers, a partnership can lead to increased brand awareness. OLIPOP, a soda that boasts probiotics and other health benefits, saw huge benefits when it partnered with Target. Yes, we're seemingly obsessed with Target, but with good reason. A small test program in around 170 Target stores during a three-month test period exceeded OLIPOP's goals, and it expanded to 1,500 stores across the nation.
"Almost every Target in the country now sells our top-selling flavors. It's the perfect partnership for us because it expands our reach. While you might not have headed to Target for a healthy alternative to soda, once you're there, it's easy to reach for one of our cans in their refrigerated section."

Melanie Edwards, Senior E-commerce and Digital Product Manager, OLIPOP
Granted, Target already has brand awareness on lock. But if OLIPOP customers know that Target's selling the soda they like, they might head there to get some. And then purchase other products along the way. You can work with companies like OLIPOP to increase brand awareness and also boost your shop's presence and average order value.
2. Attract new customers
Getting customers to your store isn't as easy as it once was — they're overloaded with marketing from other e-commerce sites and retail brands. But partnering with those brands means you have a way to bring their customers to you. If you know JCPenney is selling your favorite Sephora makeup, you can pop in and grab what you need and browse JCPenney's sales while you're there.
3. Reduce shrinkage and product returns
Verizon is working with Walmart to upgrade its infrastructure with high-powered cameras that help it monitor shoplifters and even offer more medical services to its customers.
Of course, not everyone is Verizon or Walmart. But you can still find tech partners to help protect your revenue. Augmented reality (AR) uses technology that lets a customer see a virtual example of what your products will look like in their home. Companies that offer AR might especially benefit from a retail partnership. Advertise for them on your product pages with a caption that reads "AR powered by XYZ, Inc." so that they get a shoutout and get business from your site.
AR can be a big investment but can pay off in the long run. In 2020, customers returned over $420 billion worth of products. But when you find the right tech partner, you could reduce those returns. By using augmented reality or even virtual reality, you give customers a better view of what you're selling. In a recent study, Shopify said product returns decreased by as much as 40% when 3D visualization was available.
6 examples of outstanding retailer-brand partnerships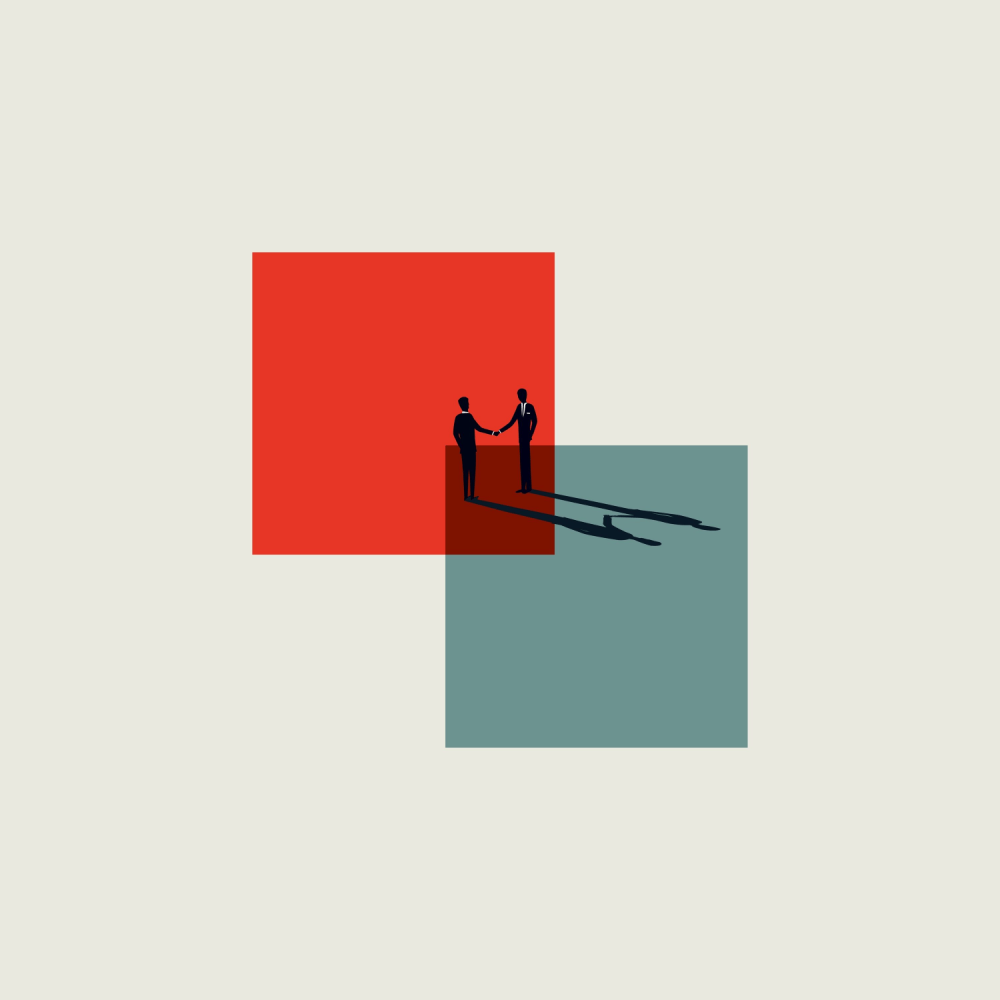 While most of these brand and retail partnership examples are larger, they do offer inspiration for SMBs as they brainstorm possibilities for their partners. Maybe your indie shoe brand isn't Adidas-level (yet), but you could find a company to help advance your goals — and vice versa.
1. GE and Google
GE and Google recently inked a multi-year deal to create next-gen appliances for homeowners that run on Google Cloud. GE will use Google's resources in artificial intelligence, machine learning, and more to inform the entire appliance-making process from ideation to the end.
Customers will be able to personalize their appliances on a whole new level using insights from their appliance data and can implement energy-saving tactics that the appliance recommends. Both companies recently also joined Princeton on a research project to help develop low-carbon innovation.
2. Harley-Davidson and Marvel
Back in 2016, two iconic brands combined their superpowers to create 25 different custom motorcycles that have superhero vibes: Marvel and Harley-Davidson. Marvel has also gone on to feature Harleys in its movies, including a custom motorcycle that was featured in "Captain America: Civil War." The LiveWire motorcycle, which got hype in 2015 when Black Widow rode it in "Avengers: Age of Ultron," was finally available for sale in 2020. Harley built up some serious customer suspense for this electric, futuristic motorcycle.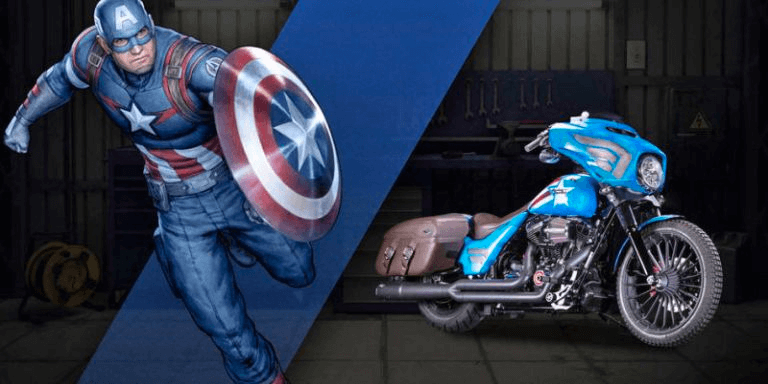 This partnership gave Marvel a chance to advertise to Harley-Davidson customers, and the motorcycle company got valuable product placement in blockbuster superhero movies, increasing its already-high brand recognition.
3. Adidas and Allbirds
Popular footwear brands Allbirds and Adidas are working together to create running shoes with a low carbon footprint. On the surface, they may seem like direct competitors. But Adidas and Allbirds are using shared materials like Adidas' PrimeGreen sustainable, recyclable materials and eucalyptus tree fiber from Allbirds for the shoe.
By using components from each company in the shoe, they're able to create a sustainable shoe that also only weighs 5.3 ounces — perfect for a runner — that neither company could create on its own. Plus, both brand names are on the shoe, which gives both companies a chance to advertise. And it's the perfect example of sustainable branding.
4. MAC and Disney
Makeup brand MAC and entertainment titan Disney partner to offer makeup based on different Disney characters. In 2019, MAC released makeup inspired by the live-action version of "Aladdin." They've also released other makeup lines based on Disney films, like "Cruella," to add hype for the film and give MAC customers more options when choosing makeup color palettes.
Also, the audience who likes Disney and likes makeup are likely to overlap, which gives these companies a stronger target market.
5. Coach and Disney
Disney also partners with luxury handbag and apparel company Coach, which uses Disney logos and characters on its products. Coach also created a special line for Disney World's 50th anniversary, including a set of Coach Mickey ears that cater to Disney aficionados. Doing this helps Coach stand out from other brands in its space and, in turn, helps Disney to market to the "Disney adult" crowd that's popular (even a bit infamous) on social media.
6. Taco Bell and Doritos
Who hasn't ordered a Doritos Locos Taco at 2am? If you haven't, you're missing out. Back in 2012, Taco Bell was looking for a new menu option to compete with Chipotle and other Mexican fast-food restaurants. It also wanted something that would cater to its target demographic of 20-somethings who needed a little boost after a long night out. Enter the Doritos Locos Taco. A decade later, it's still one of Taco Bell's top sellers.
At one point, it was also selling Cool Ranch Doritos tacos and now offers a fiery Doritos taco to keep catering to the crowd that loves these tacos. It also benefits Doritos since it gets its brand put all over the taco wrapper and into the mouths of its ideal customer.
How to make your retail partnership successful with brands
The path to successful retail partnerships starts with finding the right opportunity for your company. Do you want a partner who offers a similar product so that you can both up each other's game? Or do you want a company with complementary products, like makeup and a women's wellness vitamin? Once you do that, there's other best practices you can follow to make sure your partnership is successful.
Optimize product pages for search and customers
Keep your product pages looking refreshed and new, especially the ones that relate to your brand partnership. If you have potential customers coming to your store from your retail partner's site, you need to make a good impression with reviews and other content. And make sure to link back to their site, too — those backlinks only help increase your online presence (and your partner's, too).
Plus, if your product pages are optimized for search, you've got a better chance of bringing in organic search engine traffic. A visual content solution (like the one from Bazaarvoice 😌) could help you out here. One brand, DSW, saw a 2x uptick in conversions after using this tool.
Solicit and syndicate user-generated content
To keep your new product pages looking fresh, you need to encourage your customers to leave reviews, whether they're text-based or videos.
Have your users review you and your brand partner if they buy from both of you. That helps to build up much-needed social proof. About two-thirds of shoppers prefer user-generated content (UGC) — like reviews — over professional content. You can even get UGC before your site launches when you look for customers who are likely to buy your products using a sampling community.
Once you've collected that UGC, you need to syndicate it. Syndication is the distribution of a brand's UGC, like reviews, to the websites of retail partners who sell that brand's products. (As demonstrated there 👉).
Doing so significantly increases the quantity of UGC on product pages, which can double your conversion rates.
Another added benefit of having UGC on your product pages is that it also boosts your SEO. That, in turn, benefits whoever you partner with since they're working with someone who ranks well. For example, Australian retailer Andi-Co leveraged syndication and gained 1,400 new reviews in a year, which boosted its products position in Google search results.
Focus on messaging to reduce returns
Returns happen. But you can tweak your product pages and messaging to help reduce those. With the right technology, you can show off your products using augmented or virtual reality to give customers a better picture of the item.
Also, display that UGC on every product page and provide answers to your most frequently asked questions so that your customers get all the information they need before purchasing.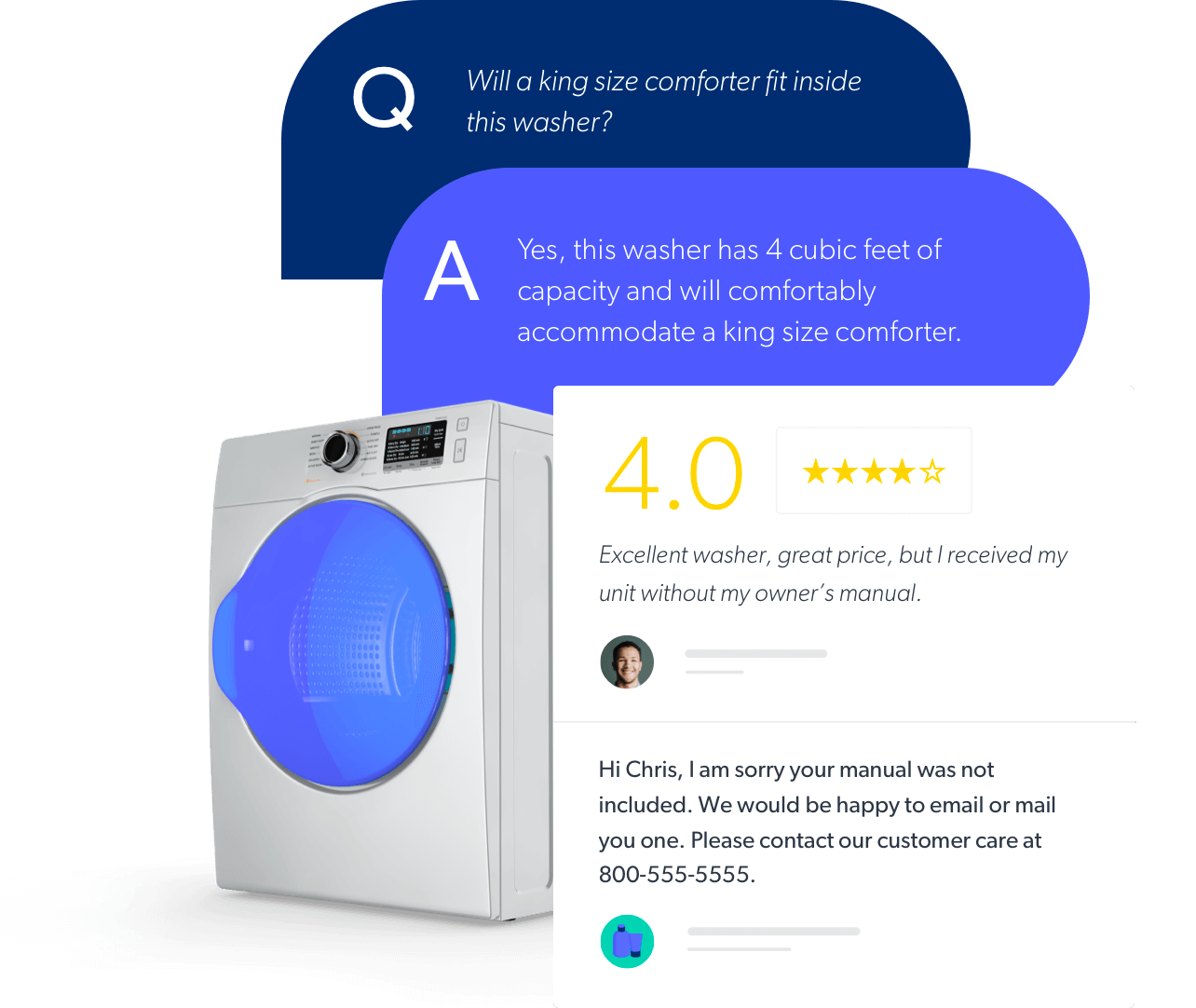 If you do get returns, then engage with your customer feedback and use it to help improve products in the future. If there's something that isn't working with your product, you won't know unless you listen to what your consumers are saying.
Use tools like Connections, pictured above, to easily track that feedback and respond to questions.
Execute a winning retail partnership by avoiding pitfalls
Yes, there's undeniable benefits to partnering with the right business. But there's some pitfalls to watch out for too. First, make sure that you and your potential partner align on goals for your partnership. While you likely don't have the same exact goals, you'll need ones that help grow your respective businesses.
Next, examine the value proposition of any proposed partnership. Does it make sense to partner with that brand? Will it bring relevant traffic to your retail store, or will it just be a fruitless endeavor?
Finally, you need to avoid a partnership that could drain your resources or harm your business in any way. This can happen if you're the weaker party in the partnership and the other brand starts to take over. But it can also happen if you're the stronger party and you're putting in more time and money. Examine all relevant data to make sure this is a partnership that will benefit you.
Now you know how to implement a successful retail partnership, the next step is winning over shoppers. 98% of consumers value experience over price — so give it to them.
---
When you're ready to implement your partnership, we're here to help you avoid potential pitfalls and optimize that opportunity. Contact Bazaarvoice to learn how our tools can help you.