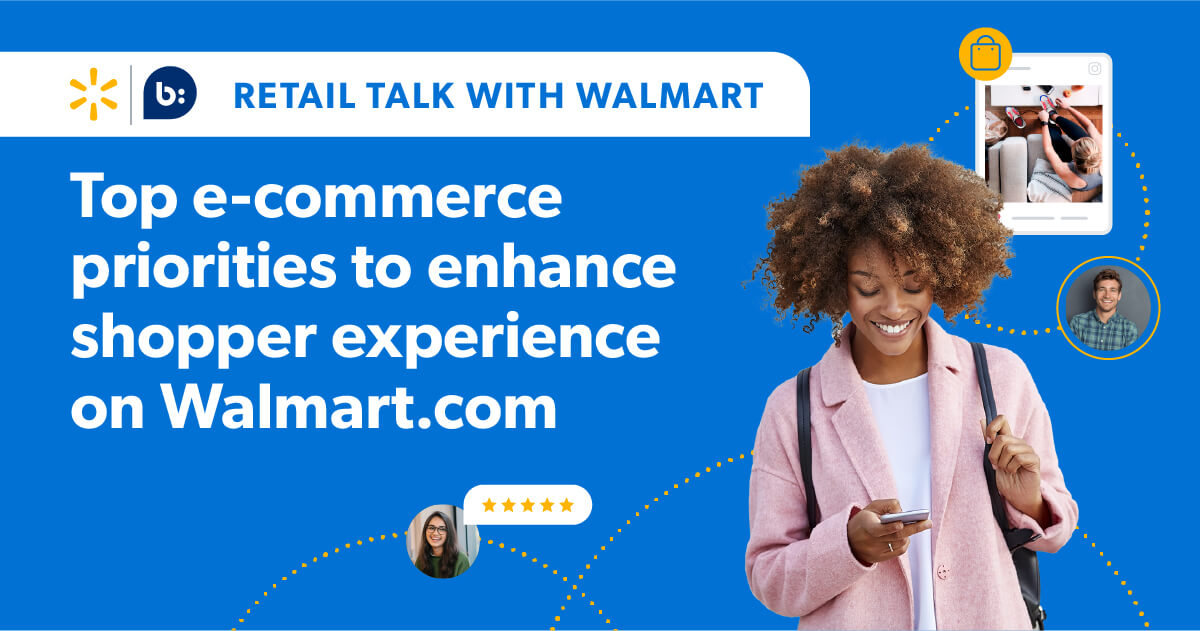 We were recently lucky enough to sit down with Alyssa Thomas, Director of Product, Content as Commerce, at Walmart.com, to discuss current e-commerce trends and priorities. For retailers like Walmart, constantly keeping an eye on new trends is essential for ensuring a high-quality shopper experience.
We explored Walmart's top e-commerce priorities headed into the new fiscal year, shopper behavior trends shaping the future product page experience on Walmart.com, and insights into how brands can win at retail. Here's our key takeaways.
1. Focusing on the growth of online shopping
Online shopping was already a growth area for most retailers pre-pandemic. Walmart, for example, was seeing consistent growth in online grocery shopping, mainly because of the convenience it brought to people's lives. Busy Mom or Dad who doesn't have time for a grocery shop after the school run? No problem — just order online.
Walmart predicted exponential growth in this area for the next three to five years. And then the pandemic hit. As a direct result of that, Walmart's growth predictions occurred within a month's time frame. So it's safe to assume this growth is here to stay.
With this increased adoption in online shopping, customers are increasingly relying on social proof, aka the opinions of other customers, to filter through the millions of items available and to make confident buying decisions. Which brings us to trend number two.
2. Leaning into social commerce
E-commerce is great at selling you products, but social commerce is great at inspiring you to purchase products you never knew existed. Customers spend 3.7 hours a day on their phone, most of which in what Thomas likes to call the "infinite scroll." Aka, content that is constantly being refreshed. These are apps that provide an endless stream of new content at your fingertips, with TikTok being the latest and fastest growing. Consumers scroll an average of 300 feet per day, in fact.
Because of this, Walmart is looking at how to meet the customer and allow social content to seamlessly integrate with the shopping experience. Walmart knows user-generated content (UGC) has a strong impact on shopping experience and purchase intent. That's why ensuring all SKUs on Walmart.com have an abundance of UGC is top-of-mind for the leading retailer in the new fiscal year.
Brands will soon be able to display social UGC on Walmart.com to inspire Walmart shoppers like never before.
3. Keeping breadth, depth, and authenticity top of mind
Getting more reviews on more products across the entire e-commerce site is a priority for Walmart, so Walmart has focused on continuing to build programs that drive authentic reviews. "Authentic reviews" is key here. This is by no means a quantity over quality situation. It's quantity and quality. According to our own consumer survey, once a customer suspects a product has fake reviews, 36% wouldn't buy the product and 47% wouldn't trust any other reviews on the site.
When it comes to ratings and reviews, one aspect that can't ever be overlooked is review quality. Because once you lose that authenticity you lose consumer trust, which defeats the purpose of UGC in the first place. As Thomas puts it, "…we'll continue to build our breadth and depth across our catalogue, one of the things that we are not willing to sacrifice is authenticity."
Individual brands also play a key role in Walmart's UGC success. While Walmart has its own strategies to collect UGC, brands with their own UGC strategies set themselves ahead of the rest.
4. Ongoing approach of testing and learning
It's not enough to just have "UGC." As in, "we use lots of UGC on our site." Walmart understands it needs to incorporate multiple types of UGC — ratings and reviews, visual content, and social content, etc — on multiple channels. Knowing the impact of all types of UGC and tapping into the highest opportunities is essential for a positive shopper experience on Walmart.com.
For example, it knows that often it's easier to look at a photo to get a sense of an item, rather than read 500 reviews. So consistently testing the effect of different types of UGC is important. Walmart will never make an update just for the sake of it — decisions are based on data.
To upkeep a high shopper experience, Walmart rigorously tests all forms of written and visual UGC to gain a deep understanding of the real-time impact on conversion, basket-size, in-store and online purchases, loyalty, engagement, and SEO.
Watch our full conversation with Alyssa below to learn more.