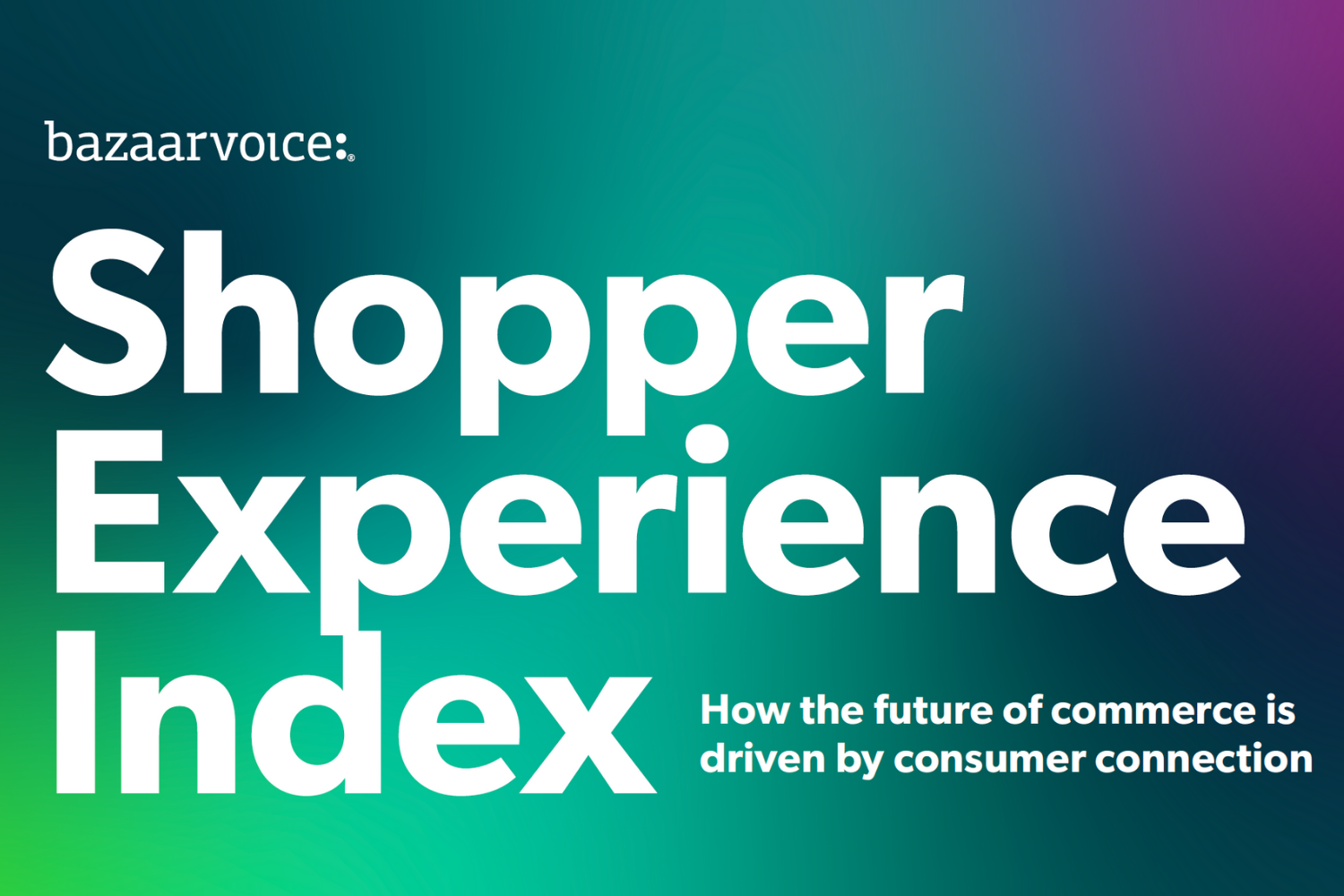 Every year, the shopper experience evolves. Some years, at a natural cadence – slowly, as trends emerge over the course of 12 months. But in a year like 2020 with a global pandemic looming over shoppers and business owners alike, the shopper experience is evolving at a rapid rate. Instead of slowly winding and changing, we saw COVID-19 act as an accelerant, kickstarting shopper behaviors that were in their incipience and accentuating other behaviors already well in progress.
Whether a trend forms overnight or over the course of several months, if they're not already ahead of it, brands and retailers need to take action to keep up with what shoppers want and need. And now more than ever, consumers want to feel connected to each other and the brands they're buying from.
To better understand what today's consumers are looking for, we surveyed over 5,500 consumers and gathered shopping behavior data from more than six million Influenster community members and a billion monthly shoppers across the Bazaarvoice Network of 6,200 brand and retailer sites.
2020 is setting itself up to be unlike any year we've seen yet in commerce – and these are the 5 trends we're watching drive shopping forward.
Want to read the full 2020 Shopper Experience Index? Download it
here
. 
Age isn't just a number when it comes to shopper behavior
More than location or gender, our survey has shown age to be the biggest differentiator in how, why, and where customers shop. Understanding customer demographics is crucial to landing your messaging, especially in a time where shoppers are being even more deliberate with their dollars.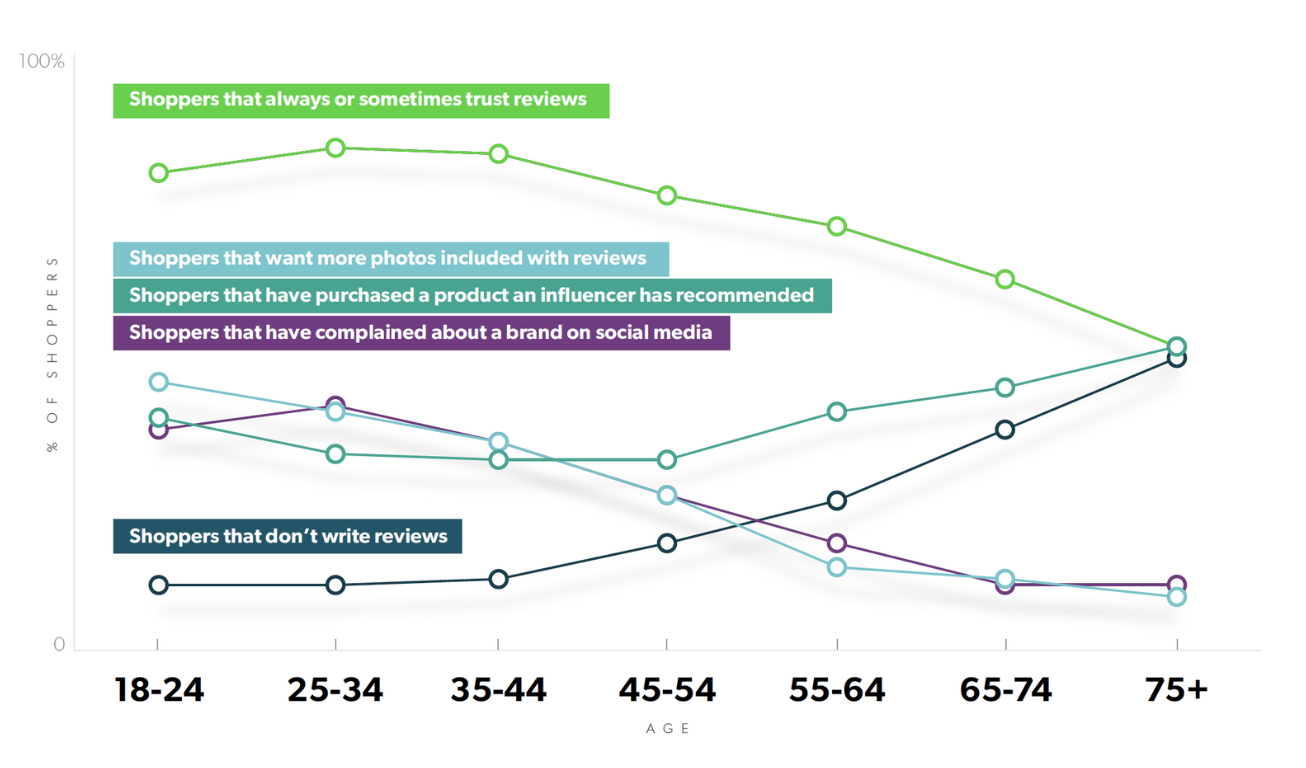 While some behaviors are to be expected – like younger shoppers being more likely to complain about a brand on social media or older shoppers being less trusting of reviews – our survey uncovered some surprises, like shoppers becoming more likely to purchase from an influencer as they get older.
And as COVID-19 has forced shoppers to shift their purchasing to largely online, there are some generational differences popping up as a result. For instance, 26% of shoppers used an online grocery shopping option for the first time, and that number jumps to 39% when you look at shoppers over 60.
Understanding not only the age differences, but regional and gender differences as well, is crucial now more than ever as your business navigates the months ahead.
Consumer trust is nuanced and not binary
Consumers have a wide variety of resources to turn to when gathering information to make a purchase – reviews, recommendations from brand employees, content from influencers, and more. This begs the question — who do shoppers actually trust?
Trust is a foundation of buying decisions for most shoppers. If they can't trust the product information, or the brand, or the person providing it, they're less inclined to make a purchase.

First and foremost, shoppers don't trust reviews they perceive to be fake. The rest of consumer trust is nuanced. They find super influencers (think celebrities) and employee recommendations to be somewhat trustworthy, while subject matter expert reviews and consumer reviews to be very trustworthy. Micro-influencer recommendations fall somewhere in between.
With COVID-19, brands and shoppers have had to rely more heavily on digital channels to communicate and receive information. We've seen customer reviews having more of an impact on order totals, and brands and influencers have had to reevaluate their influencer marketing campaigns. 
Brands need to continue to share their story in an authentic way shoppers can trust. Be it through reviews or micro-influencer recommendations, understanding how to authentically connect with consumers is crucial. Finding a balance between everyday brand advocates, like shoppers leaving reviews, and partnership-based brand advocates, like influencers, can support an authentic way to connect with shoppers and share your message in a time where you can't connect with shoppers in-person.
Consumers control the future of the product page
Since COVID-19 was declared a global pandemic by the World Health Organization, our network of clients has seen significant increases in page view and ordering activity. For many businesses right now, shopping is happening exclusively online – making the future of the product page even more pertinent. 
Presently, product pages prioritize professional photos and product descriptions, and user-generated content (UGC) is secondary or, in some cases, non-existent. We predict the future will be flipped, with UGC taking center stage. Even prior to the pandemic, 39% of shoppers globally said reviews were the feature on product pages that helped them make an informed shopping decision the quickest, and the one thing they want to see more of on the product page is customer photos. Brands should take this into consideration, as UGC can have a significant impact on revenue.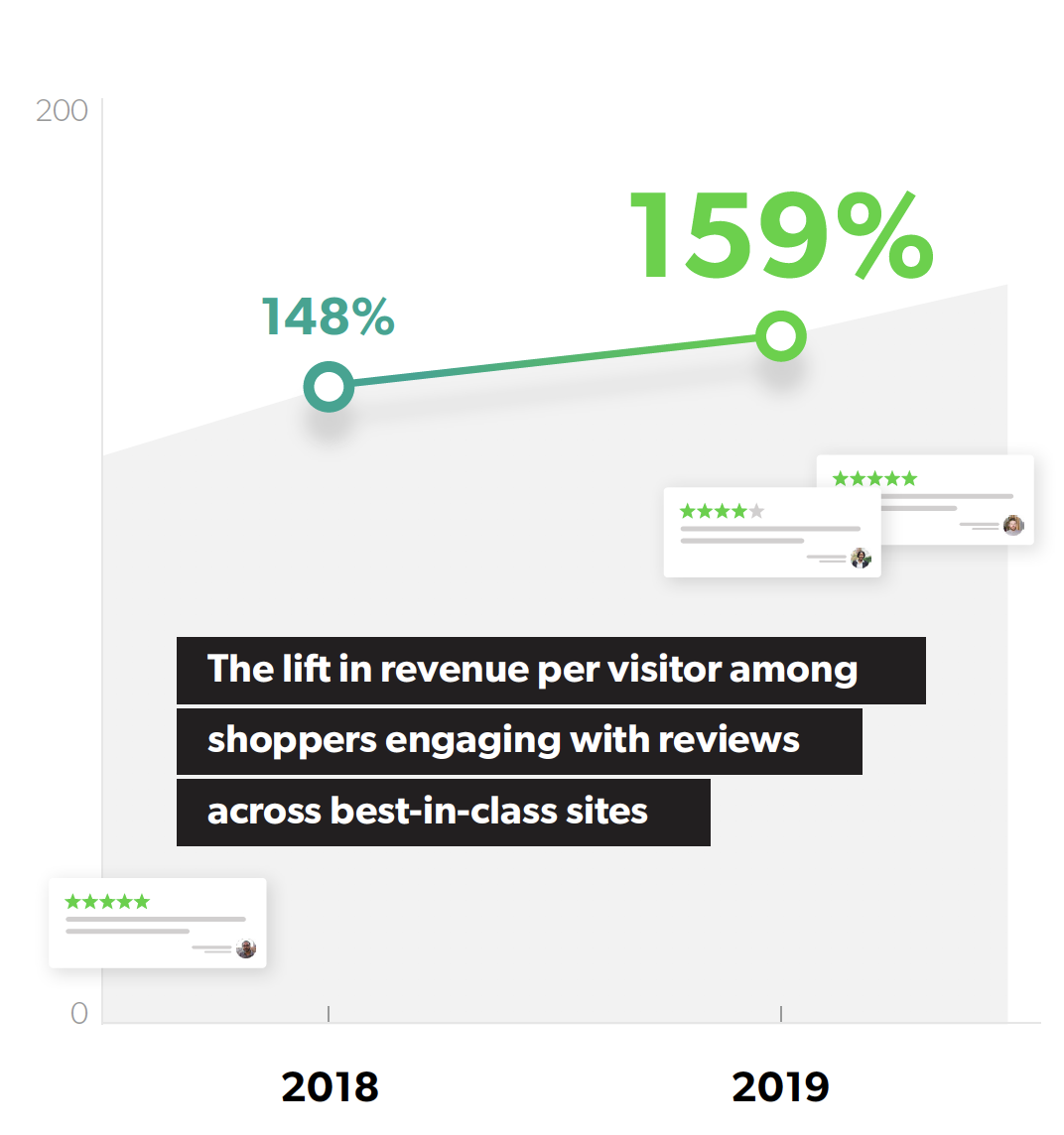 Many shoppers are spending more time on the product page than ever before, as online shopping becomes the primary form of shopping for most. Since mid-March, we've seen triple digit growth in page views and order count across many different product categories. 
We expect this trend to accelerate even faster. Brands will be forced to branch out to meet their customers where they are – on websites and social media platforms. The evolution of the product page can also be seen in social commerce, which takes purchasing off the traditional product page and integrates it into the social media feed experience. Social commerce was a trend that seemed to be slowly taking off, but we expect more brands to invest in it going forward. 
Lots of brands have been experimenting with their social media campaigns and incorporating more video and live content into their strategy; it will be interesting to see how brands invest in UGC and social commerce going forward, once the world has returned to a more normal state. 
Use customer feedback to your advantage
Your customers want to communicate with you. They're eager to share their product feedback, ask for help using an item, and engage in your social campaigns. And with so many shoppers sheltering at home, online platforms are the increasingly popular mediums for communication.
According to our survey, a majority of shoppers agreed that all reviews require some kind of response, like a public reply or private message, from a brand. And with that, consumers expect fairly immediate action: when a customer asks a question to a brand via social media, 91% expect a response within the same day – 40% of shoppers say that response needs to happen even sooner, within the first hour of the request.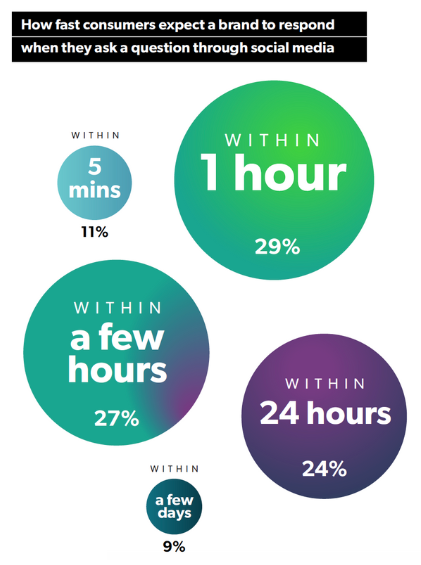 Now more than ever, shoppers are dependent on their ability to connect with brands online for support, product information, or, honestly, just a positive interaction reminiscent of different times.
Brands are likely experiencing higher volume of customer questions and feedback as everything shifts online, and brands are dealing with a variety of issues that may negatively impact their customers' shopping experience (slower delivery, product availability, etc.).
Especially right now, as brands of all kinds are figuring out how best to navigate or adjust their marketing tactics, it is really critical to keep a pulse on your audience. Consumers are especially sensitive to brand missteps right now — and they express their displeasure publicly.
Take note of where you're receiving the highest number of questions, understand what's inspiring most of your customers to tweet at your brand, and identify common praise and complaints. Responding to and acting upon this feedback will help you not only connect with your consumers, but strengthen your products and brand story as well.
Convenience and cost are top of mind for shoppers — as is brand trust
Shoppers exist in a perpetual dilemma: Finding an item at the lowest cost, with the most convenient procurement, and from a brand they find ethical and trustworthy. It's often easy to meet one or two of these criteria, but can be tricky to find a business balancing all three. Because of this, shoppers often lean toward convenience and cost as the two biggest deciding factors when buying, with brand trust hovering in the back of their minds.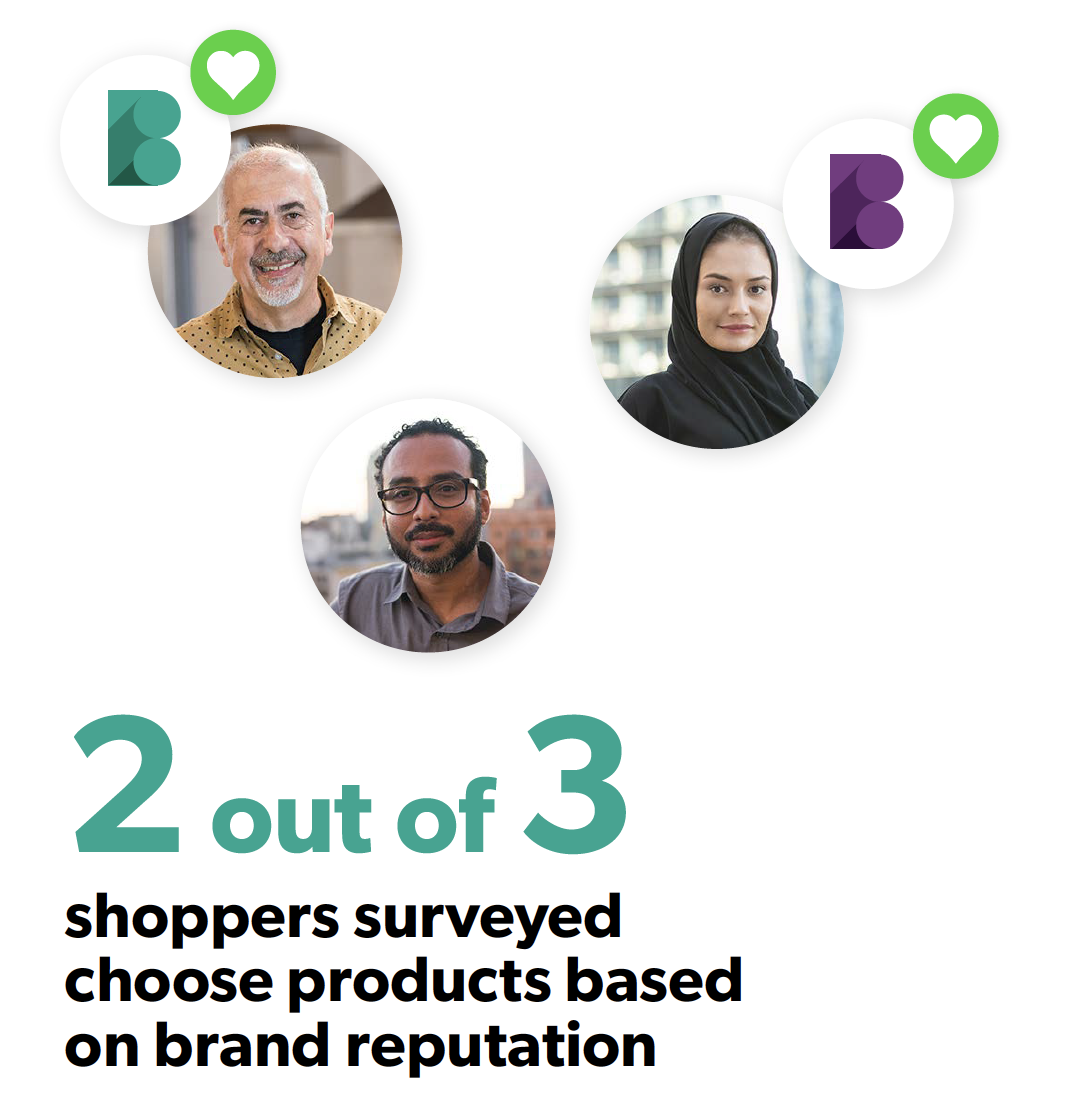 This paradox is illustrated well by how consumer shopping behavior shifted during the spread of COVID-19. 
At first, consumers scrambled to get what they needed and to get it fast and conveniently – and maybe at any cost and from any supplier. Prior to the pandemic, only 31% of shoppers in our survey had used a buy online, pick up in-store (BOPIS) option in the last year, but since the start of the pandemic, BOPIS orders jumped 87% year over year between late February and late March, according to data from Adobe Analytics. Similarly, only 30% of shoppers had tried a subscription service prior to COVID-19, but since mid-March, meal kit subscription services like Blue Apron and Hello Fresh are reporting surges in subscriptions that are higher than they were staffed to handle. This illustrates how fluid shoppers' priorities can be depending on their needs, but it all comes back to convenience, cost, and trust.
After COVID-19 was declared a global pandemic, we surveyed the Influenster community to ask how their shopping priorities have shifted due to the virus. One in two members feels their purchase priorities have shifted from quality, price, and brand to now availability, price, and quality.
But as many shoppers realized the impact coronavirus was going to have on businesses, they began evaluating how they were spending their money — and chose to support businesses that they wanted to see survive, instead of just worrying about cost and delayed fulfillment. On the other hand, more people are experiencing job and economic uncertainty, making them more conscious of price than ever and even more deliberate with their dollars.
Will COVID-19 force a tipping point in this paradox? Only time will tell as shoppers work to keep their favorite businesses afloat while simultaneously not emptying their bank accounts and making sure their toilet paper package arrives before they're on their last roll.
For brands navigating what's to come, aiming to strike a balance between convenience, cost, and trust is a way forward that your customers will appreciate. Setting a solid foundation for your business will make any future pivot easier – after all, it's easier to pivot on something stable than on a moving target. Listen to your customers as you decide what your foundation will be; they'll make it clear to you through reviews, social media posts, and more.
––––––––––––––––––––––––––––––––––––––––––––––––––––––––––––––––––––––––––––––––
Interested in the complete set of insights and data? Download the 2020 Shopper Experience Index here.