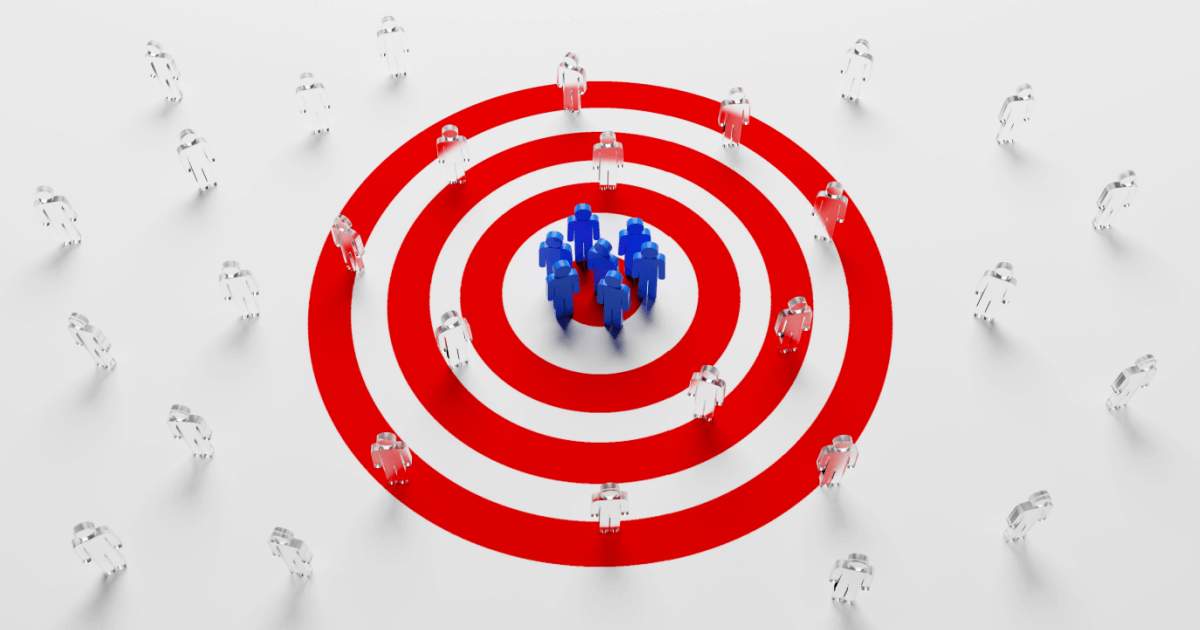 This guide will demonstrate the benefits of identifying and targeting your niche audience and the traits that brands should define for it, including their pain points, interests, demographics, the spaces where they're active online, and shopping habits.
Beyond how to reach your niche audience, we'll also demonstrate how to drive engagement by tapping into the voice of the customer and maximising your ROI.
Chapters:
---
---
Story time. In 1950, the U.S. Air Force set out to redesign its cockpits to work for the "average pilot." Believing that a more-average cockpit would fit more airmen and reduce crash rates, researchers measured 4,063 pilots and calculated average dimensions for things like chest circumference, ear-to-eye distance, and torso length.
At the end of the research stage, they cross-referenced individual measurements against the average. They found there was no average. Not a single one of the pilots fell within the "average" range for every dimension.
In its attempt to create a cockpit that worked for everyone, the Air Force might have designed something that worked for nobody. Instead, it went niche, requiring manufacturers to support wider chests, longer torsos, and shorter heights. While manufacturers were reluctant to comply at first, they eventually introduced options like adjustable seats to support the individual dimensions of each pilot.
The Air Force learned a valuable lesson — focusing too strongly on an aggregate blend of numbers, behaviors, preferences, or tendencies can hide critical nuances within a population and leave an organization vulnerable to critical errors.
In the case of the pilots, lives were on the line. For marketers inside consumer businesses, the stakes are (usually) lower, but the lesson is the same: nuances make the niche, and niche audiences make up your market.
What makes a niche audience different?
There's no "average" consumer. At least not anymore. There's only a collection of individual tastes, preferences, and needs that we can segment into niche audiences.
Often (but not always), niche audiences aren't ideally served by the mainstream space. That could be due to the fallacy of averages that the Air Force stumbled upon. It could be because a different cohort gets all the attention from brands. Or it could be a new consumer trend that brands didn't see coming.
Take plus-size apparel, an estimated $288 billion market. At that size, it's hard to fathom plus-size apparel as a "niche" market, especially given that the average American woman wears between a size 16-18. And yet traditional retailers don't prioritize plus-size inventory as highly as straight sizes, leaving pent-up demand, frustrated consumers, and untapped opportunity — three hallmarks of a niche audience.
In 2022, InStyle estimated that only 9% of Fashion Week retailers offered clothing in a size 20 or above. Not just runway styles. Clothing, period. Traditional retailers like Gap and Loft are scaling back their plus-size offerings instead of expanding inventory. StyleSage estimates that, "only 13% of products in the market were plus-sized" in 2020.
Meanwhile, the plus-size apparel market is growing: According to The NPD Group, "Sales revenue for women's plus-size apparel grew by 18% in 2021, compared to 2019, which is over three-times faster than consumer spending on the remaining women's market."
When a market's needs are not ideally fulfilled by existing options, consumers make do with what's available, using a brand's products in unexpected ways. Niche brands pop up to fill the gap between availability and desire. Once bigger companies catch on to the opportunity, they follow suit with the right product, positioning, messaging, and marketing strategy.
Define your niche audience with quantitative research
Success with a niche audience requires a clear understanding of a group's needs and wants, then applying those insights with a consistent, committed, and cross-functional approach. But you don't have to start with a cross-functional plan that includes product changes. Marketing research and experimentation will help you validate your niche audience before making them a focus of your brand.
For example, say you noticed a curious buying pattern in an end-of-month report. Or maybe you saw a trend you didn't expect in a few customer reviews. Those moments of curiosity could point to an untapped niche audience. Use your quantitative research to determine if these patterns are real effects that you need to understand or just random occurrences that can be ignored.
If you're looking inside your existing customer list, try running a customer survey that includes one or two questions about a niche audience characteristic. Use the results to determine what percentage of your audience belongs to the niche you're examining, and compare the niche cohort to your entire list to see how other characteristics differ from your customers as a whole.
If you're looking for new customers outside of your customer base, leverage tools like Glimpse or SparkToro to identify emerging trends, flag niche behaviors to measure and optimize, and find niche conversations to engage with online.
Understand your niche audience with qualitative research
Use quantitative analysis to create an initial audience profile — but don't stop there. Use your qualitative data to support and enhance your quantitative data. Utilizing both will give you a well-rounded picture of your niche audience.
Spencer Lanoue, head of growth at Sugardoh, uses this combination to get a well-rounded picture of his niche audience.
"Quant data tells you what's happening, qual tells you why," Lanoue said. Qualitative techniques give you a richer picture of your niche audience, which feeds into marketing messaging and even product iterations.
To answer big-picture questions with real customer insights, conduct 1:1 interviews with people in your niche audience. If you're already planning to run a customer survey, include a question like, "Can we follow up with a 1:1 interview?" so you can easily contact relevant members of your niche audience and ask them about their preferences. When it comes to the interview, engage with respect, let the customer fill the silence, and come with curiosity instead of answers. Remember: you're there to learn, not to sell (yet!).
Depending on the audience, Reddit is also a haven for niche audience research. Niche fragrance fans have found community in places like r/IndieMakeupandMore, whose subscribers also pop up in Discord communities like Scented Waters, where they discuss fragrance trends, trade recommendations, and share their thoughts on the industry.
You can also spot unsolved problems, identify market trends, and validate hypotheses about niche audiences through existing niche communities.
How to engage with niche conversations online
If you're just getting started with your niche audience, social media is a great place to start. Niche audiences talk to each other and bond on platforms like TikTok and Instagram, which means there's lots of existing conversations that you can join.
Once you've started to create your own conversations on social media, you can repurpose that content as social proof on your website and in email marketing.
Partner with niche influencers to fuel awareness
Influencer collaborations usually involve a brand sending free products to an industry influencer or paying an influencer to promote its products. Influencers are a great way to find your audience online, as they often have a niche audience themselves already. Check who they're interacting with regularly to expand your footprint in the space and generate new ideas. If you're just getting started with social media, it makes sense to explore the classic influencer model.
If you've targeted a niche audience for a while with success, it's time to take it one step further.
Consider bringing influencers inside your company to work on a collaborative project, then releasing that project to your customers and the influencer's audience at the same time. Your brand gets a bit of social proof in the form of a trusted tastemaker, your company gets an influx of new customers, and the tastemaker gets a payday for their help. Done right, it's a winning proposition. Handled poorly, influencer marketing can be a PR nightmare — so tread carefully.
With bigger consumer companies, this looks like releasing a collection of products, like:
Lulu and Georgia's collection with celebrity interior designer Sarah Sherman Samuel
Loloi Rugs' collaboration with DIY Instagrammer Angela Rose
Target's long-running partnership with interior creator Emily Henderson.
But this strategy scales smaller, too: Snif, a favorite independent fragrance brand among niche perfume lovers on TikTok, recently partnered with Emelia O'Toole. O'Toole, better known as @professorperfume on TikTok, collaborated with the brand to release a scent called Vow Factor designed for her wedding.
It featured the notes like fig and citrus that Emelia regularly touts on her channel, and her followers often share her taste. Emelia's audience flocked to Snif, and Vow Factor sold out the same day it launched.
Scale organic social with user-generated content
User-generated content (UGC) is the rare marketing tactic that can fuel both discovery and conversion.
It increases intent-to-purchase by instilling trust — 84% of consumers are more likely to trust a brand's marketing campaign if it features user-generated content. UGC reduces operational onus by delegating content creation to customers, which makes scaling social content a lot easier on a small team. Done well, UGC feeds the entire marketing engine with the authentic voice of the customer, something that can be hard to achieve organically.
Saltair, a personal care brand, uses UGC to increase awareness and build trust with customers on TikTok and Instagram. Partly due to its popularity on social media, Saltair recently formed a wholesale deal with Target, fueling revenue growth, which allowed it to expand into more product categories.
Every time Saltair launches a new product, whether a new scent (like Exotic Pulp) or a new category (like serum deodorant), it hands the mic to its niche audience and niche influencers to explain the benefits. In doing so, Saltair is harnessing a powerful tactic in modern consumer marketing: manufactured word of mouth.
Let your niche audience help you position your product
Before committing to a direction for the entire brand, test and iterate inside of niche communities to clarify your positioning, ensure product-market fit, and seed engagement.
Marketers who engage with modern community channels have built-in testing grounds for niche messaging. For example, beauty brands are starting to experiment with Discord as a new way to engage with niche audiences in the places they already hang out.
According to McKinsey, a haircare brand identified a "new niche of users who were proactive about preventing animal cruelty" through user research and community analysis. It implemented cruelty-free messaging and content for those users, which could be extended to other channels and other customer segments.
A brand in a similar position could run a sampling campaign with animal advocates to determine whether its new messaging would resonate with members of that niche audience who weren't already customers, run A/B tests with anti-cruelty messaging on the website, and test PPC campaigns with similar messaging.
Depending on the results, the brand might extend messaging to things that are slower to change, harder to reverse, and more difficult to measure (like packaging).
If you're testing a product with a niche market instead of a message, consider a sampling program using the Influenster community. Like Rimmel London did when they tested a new eyeliner with a hyper-targeted niche audience of beauty enthusiasts through a custom sampling box, which led to a 44% sales lift and generated more than 1,200 product reviews, teeing up the product launch for higher performance in the market as a whole.
Utilize your niche audience insights
Sampling can also generate valuable product insights on what might prevent traction in a niche audience. For example – Vertbaudet, a leading European retailer of baby clothes and maternity wear, learned of an area for improvement for one of their products from insights found in negative reviews.
Feedback from customers left in product reviews revealed the need for the retailer to adjust the design of a certain maternity line. Multiple customers commented that the dresses were too small and the fit needed to be improved. Seeing the repeated reviews of this issue, Vertbaudet responded by altering the measurements of the maternity line and fixed the cut, leading to a 12% increase in sales.
Sampling helps brands learn quickly and iterate before an expensive launch, reducing sunk costs and increasing the speed of product adoption.
Build cross-functional commitment to deepen niche impact
Staying on top of your niche audience's wants and needs requires consistency across functions. If marketing makes a claim on the website that isn't supported by product or customer support, niche audiences will see through the shallow attempt to engage and find alternatives. Niche marketers should leverage customer support and product teams to build a shared system of discovery so that they can operate cohesively as a brand.
Customer support teams are the "first responders" — the people who notice when a niche group is or isn't happy for a specific reason. Their insight should be tapped for continuous discovery. Product teams are experts in qualitative research and excellent allies in answering deep questions about customers. When marketing operates in harmony with both teams to create a research-based, cohesive brand experience for a niche audience, customers notice.
Deep engagement with a customer is a brand's dream, one that is fueled by cross-functional focus. When an entire team is committed to understanding and serving a niche audience, customers reward the brand with loyalty and revenue.
Niche audiences fuel market trends
Niche aesthetics — and the audiences that participate in them — aren't just passing fads. They're tastemakers, influencers, and market movers.
If your brand becomes a favorite of a trendsetting niche audience, rapid growth can ensue. Take Hydro Flask, a water bottle that went from selling at farmers' market booths to a household name, in part thanks to 'VSCO Girls.' Aka, "young women who embrace a beachy, easygoing, 1990s-inspired aesthetic," according to the LA Times.
When brands turn pent-up demand and consumer frustration into commercial opportunities, new product categories start to emerge. The 2020s have brought us a slew of new products in anti-pollution skincare, non-alcoholic aperitifs, and gender-neutral fragrance, all fueled by niche audiences that caught on with larger markets.
Niche audiences share online to create communities, reflect their identity, and show support for things they believe in. Since UGC feels more like talking to a friend than listening to a sales pitch from a brand, it's a natural fit for niche audience engagement. Learn more ways UGC can help you find the voice of your niche audience and drive conversions with this ultimate guide.
Or better yet, try the free Bazaarvoice UGC value calculator to find out the revenue impact UGC could have on your brand.