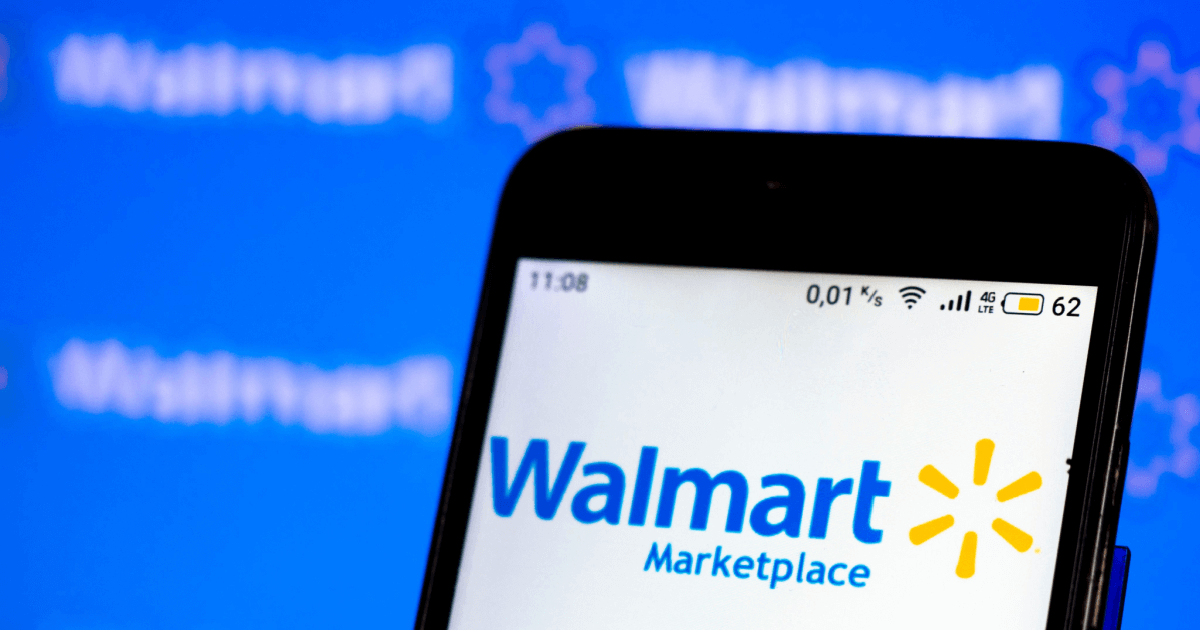 For you and I, getting into Walmart is as easy as stepping through the door. But for many brands, getting into Walmart is a faraway dream. One of the best ways to make that dream a reality is to start selling on Walmart Marketplace.
The Walmart seller Marketplace is an online platform that allows third-party sellers to list their products on Walmart.com. Selling on Walmart Marketplace lets you tap into the retailer's massive customer base and reputation as a well-known, trusted source for high-quality items. It will also help you grow your audience, build a following of your own, and drive sales.
Walmart.com sees 100 million unique visitors each month, and it keeps growing. Recently, Walmart CEO, C. Douglas McMillion, said that online sales during the pandemic accelerated by "two to three years in some cases," and he expects that growth to continue.
First steps for selling on Walmart Marketplace
Begin the application process, where you tell Walmart about your business and the kinds of products you sell (that can be found

here

)
Wait for approval
Once approved, register and create an account on the platform
Set up your profile for shoppers to see
It's time to list your products!
Now that you have your product pages up, there's several ways to optimize your Walmart Marketplace listings.
4 ways to sell on Walmart Marketplace
As a business that partners with Walmart, we're well positioned to guide you on how to sell on Walmart Marketplace. Here's our best practices to follow.
1. An SEO strategy ensures your products get noticed
To increase sales, your products need to show up in a shopper's search results. So, you need to optimize your product pages for SEO. Walmart uses algorithms to rank products based on the number of sales and views, and how your page displays the product name, images, features, description, and attributes.
Product names should be 50 to 75 characters and clearly state exactly what you're selling. The suggested naming structure includes the brand name, size specs, a defining quality, the item's name and style, and quantity.
Getting more reviews is one way brands can improve where their products show up, giving them more clicks to their products

Shariq Hasan, Associate Manager, E-commerce Merchandising Operations at Walmart Canada
Include multiple high-quality, professional images on each product page and consider adding a video showing the product in action to increase traffic. In the product descriptions, add several relevant keywords. You may need to do a little research — such as checking out your competitors' product pages— to find which keywords will work best.
Using the right keywords to highlight a few product features also helps shoppers browse easier. Adding the relevant Walmart Marketplace built-in product attributes, such as clothing size groups or colors, helps your items stand out when consumers search.
The higher you appear in search results, the more products you will sell on Walmart Marketplace.
2. Use user-generated content to enhance product discovery 
Ensuring that your product pages feature user-generated content (UGC) offers a wealth of benefits. For one, it enhances the discoverability of your products and boosts sales.
For two, UGC helps brands boost their SEO traffic. Encouraging UGC and customer reviews keeps your product pages fresh with new content, and websites with regularly updated content that's rich in keywords rank higher.
Customer ratings, reviews, and social content also let you foster a dialogue with shoppers and reduce return rates. 78% of shoppers worldwide trust online product reviews, and nearly 40% rely on reviews to inform purchase decisions, according to Bazaarvoice research. And using data from the Bazaarvoice Network, we found when shoppers engage with UGC on best-in-class sites, brands and retailers experience a 144% lift in conversions.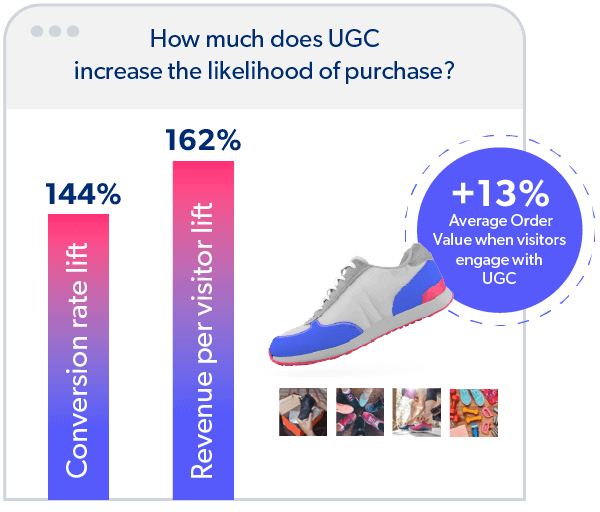 Shoppers also respond to visual content from their fellow consumers, as they consider photos and videos as authentic and helpful in their shopping journey. Visuals, combined with detailed product descriptions and reviews, provide a more engaging shopping experience.
3. Increasing your review volume on Walmart Marketplace drives purchases
The more reviews your products have, the better. Getting just one review can increase purchases by 10%, according to Bazaarvoice research. A hundred reviews can bring a 37% purchase increase, along with insights into consumer sentiment about your products. Increasing your review volume helps grow your Walmart seller marketplace presence.
One of the best ways to increase your Walmart Marketplace reviews is through Spark Reviewer, a review-seeding program created by Walmart and Bazaarvoice. The sampling program gives brands access to a vast community of loyal shoppers, who receive a product sample and provide an honest review in exchange.
Bazaarvoice helps brands choose items to sample — whether it's a new, seasonal, or exclusive product — and the audience segments best suited to sample and review the product. Within just three weeks, you can see authentic reviews and images start flowing in. And then your revenue increasing.
4. Optimizing reviews helps brands succeed on Walmart Marketplace
Collecting a trove of Walmart Marketplace reviews is just the start. You need to optimize your reviews, too. Bazaarvoice offers several products to help.
Collect + Distribute equips brands with tools to collect reviews from customers who make a purchase and share those reviews across different retailer websites, like Walmart.com. For Walmart Marketplace sellers, this boosts sales, expands the impact of each review collected, and enables you to connect with consumers.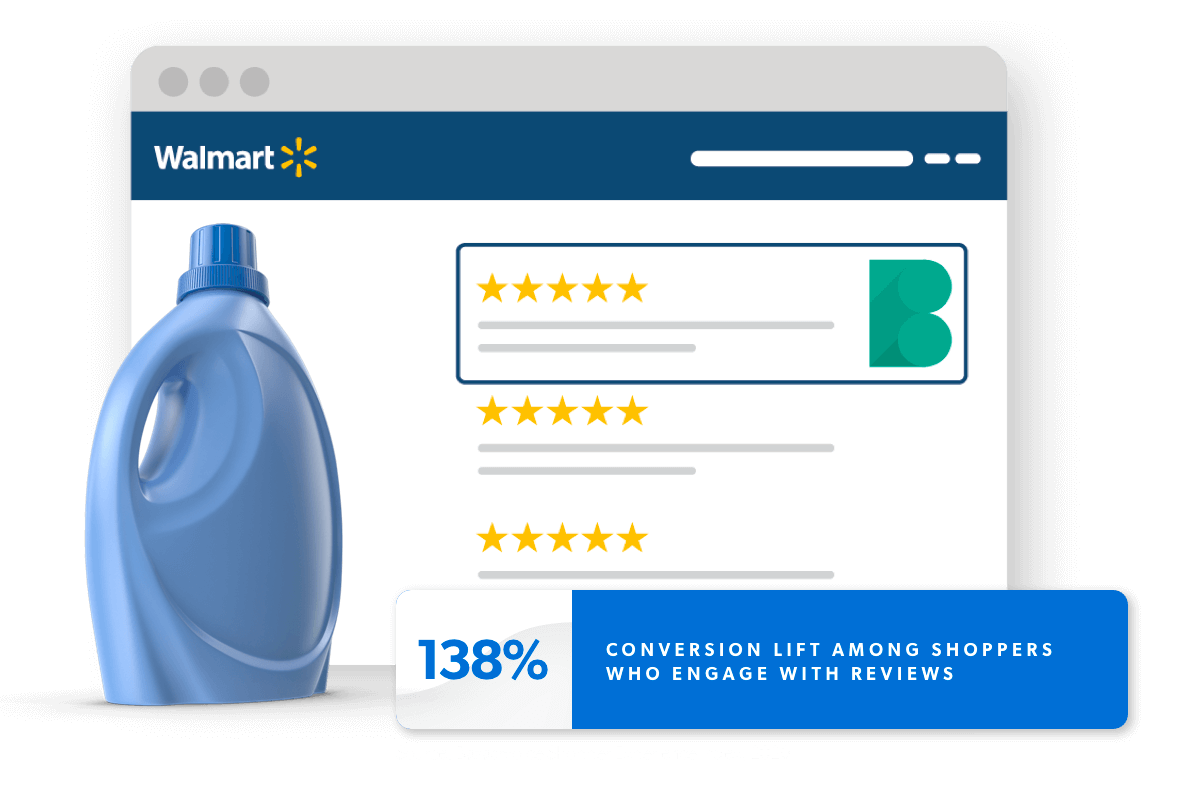 Engaging directly with shoppers through reviews lets them know that you're listening and care about their feedback. Answering questions and responding to reviews on the Walmart seller marketplace helps you build relationships and deepen connections with your most loyal shoppers. Brands that interact via Questions & Answers see a 150% increase in conversion.
Brands can also tap into the more than 7 million members of the Influenster community, who can be engaged to create content about the products they love.
Start selling on Walmart Marketplace
Selling on Walmart Marketplace gives brands an opportunity to engage with a huge group of shoppers and link up with one of the most recognizable retailers in the world. The key to getting noticed, driving sales, and building a following is increasing and optimizing Walmart Marketplace reviews.
Getting started with Walmart and Bazaarvoice
Now you know how to sell on Walmart Marketplace, all that's left to do is get started. Walmart partnered with Bazaarvoice so we could help brands build UGC programs on Walmart, through Sampling, Questions & Answers, and our Influenster community. That means we're best positioned to help you succeed.
Learn more ways to drive Walmart sales on our co-marketing page. Or get in touch below to get started.
Request a demo