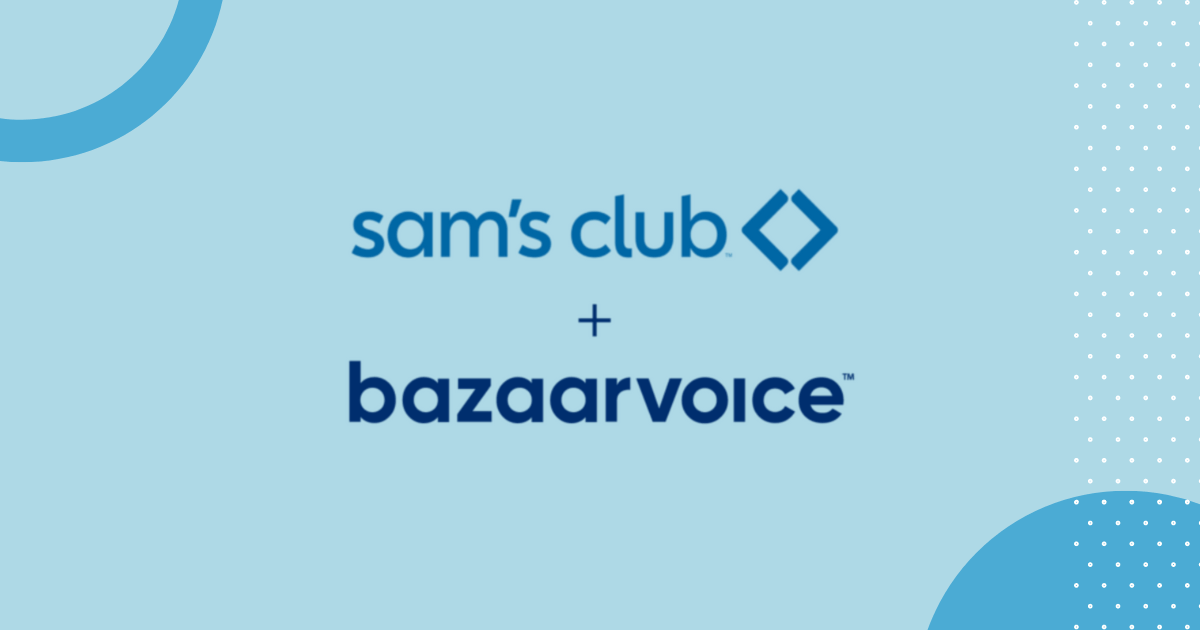 Star Reviewer might sound like the newest NASA rocket ship or the latest editing software out of Silicon Valley, but it's actually Sam's Club's new sampling program.
Stock images and catalog-esque product descriptions used to be the way to win over Sam's Club members shopping online. But today they crave more inspiring, authentic content. Most notably, they crave the opinions of fellow Sam's Club members. User-generated content (UGC), including ratings, reviews, and member questions and answers, is the prime way to connect and engage with them.
UGC builds trust, inspires loyalty, and has a significant impact on product discoverability and purchase decisions. It's a key conversion driver on SamsClub.com product pages, so brands that sell products on the site must focus their UGC strategies to stay highly competitive. UGC can't be an afterthought.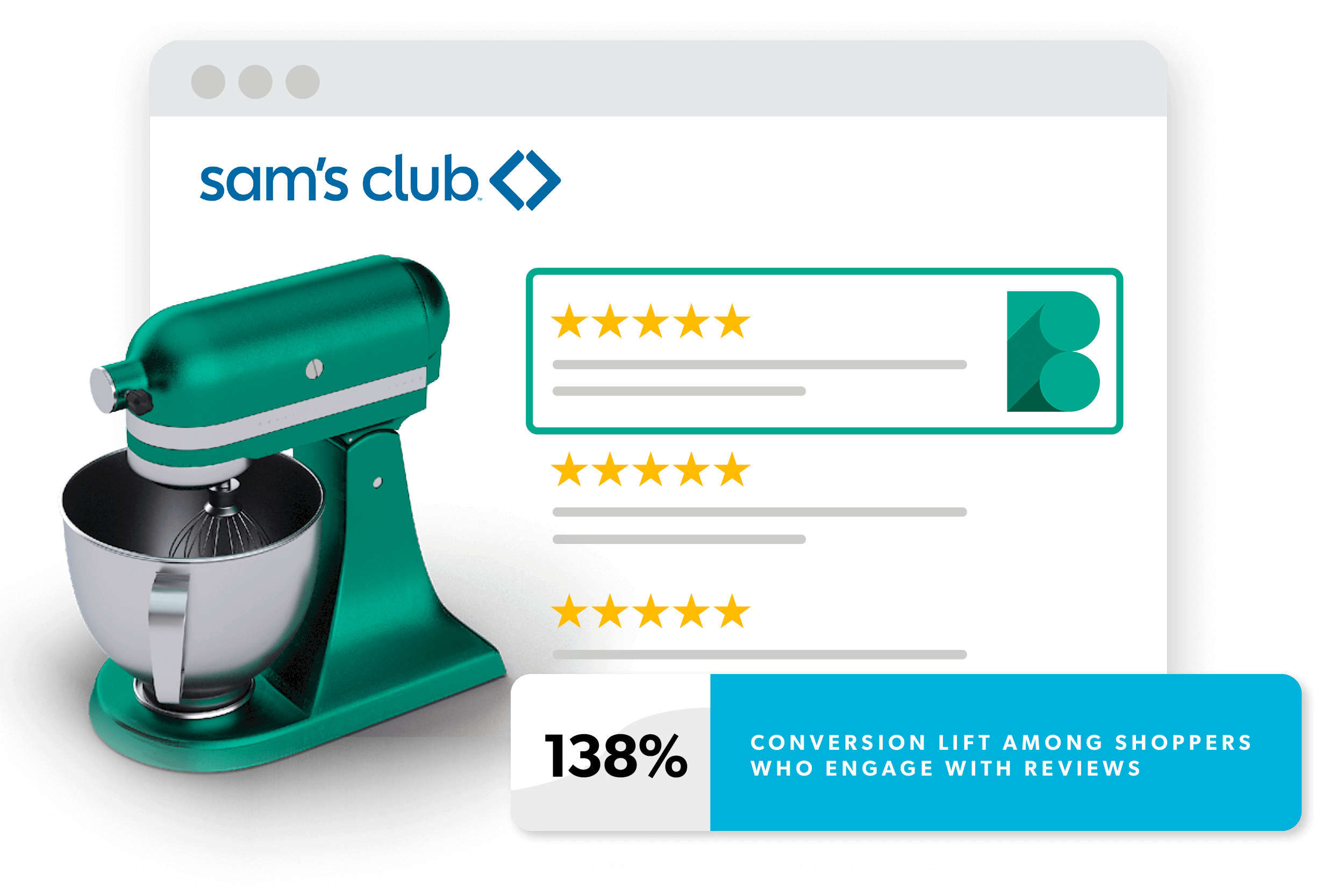 Our research shows that just one customer review on a product page can increase purchase likelihood by 10%. Plus, 88% of shoppers rely on reviews to discover and evaluate products and 89% always consult them before making a purchase. Shoppers pay attention to the quality, volume, and recency of reviews, so keeping reviews flowing and fresh will help your products stand out. 
Bazaarvoice, Sam's Club's preferred ratings and reviews partner, leads the industry with best-in-class UGC solutions and services. Not to mention unparalleled review content authenticity and moderation standards. Bazaarvoice offers a range of solutions to help Sam's Club suppliers optimize their product pages with content to boost discoverability when shoppers search and drive revenue. 
What is Sam's Club Star Reviewer sampling program?
The newest solution in this realm is Sam's Club Star Reviewer, a turnkey sampling program developed with the aim of helping brands big and small collect more written and visual product reviews on SamsClub.com. Check out the video below to learn more about how the sampling program works: 
4 reasons every Sam's Club supplier needs the Star Reviewer sampling program
There's multiple benefits to uitilizing Sam's Club Star Reviewer and these are just the top four. But they all have one thing in common: helping you stand out and drive sales on Samsclub.com.
1. Boost sales of your seasonal products 
Whether it's Halloween costumes, patio furniture, or winter apparel, there's often a short window to drive sales for seasonal products. Star Reviewer helps Sam's Club suppliers get ahead of the peak sales curve. Collecting reviews before seasonal shopping begins aids consumers in making quick decisions once they're ready to shop. Especially when the UGC includes written and visual reviews. 
About half of shoppers want more photos in the reviews they consult. Visuals offer a real-world glimpse into how a product looks or works. This lends more authenticity to the shopping experience, and persuades your customers to click add to cart.
2. Market new items and collect reviews prior to product launches
Shoppers are often very wary of purchasing new items with zero reviews. Running a pre-launch promotion using Star Reviewer helps suppliers to boost review volume quickly, in turn increasing conversions at a faster pace once these products are available on SamsClub.com.
Gathering reviews from Sam's Club members before a product launch also provides Sam's Club suppliers with valuable intel. You'll gain insights into how shoppers actually use the products, and it can reveal use cases that you haven't thought of. Is a line of clothing running too small? Would a product suit a different color better? Customer frequently leave these details in their product reviews.
Reviews also identify problems or issues with a product and inspire new product innovations. Consumers appreciate brands that listen to their feedback and actually make product improvements based on their reviews.  
3. To highlight Sam's Club exclusives
The ability to drum up excitement for products available exclusively at Sam's Club is key to a product's success. And the best way to drive visibility, discoverability, and sales is by increasing a product's review volume. Brands can see a 138% lift in conversions when shoppers engage with reviews on best-in-class Bazaarvoice sites (such as SamsClub.com!)
Quality reviews build trust and exude authenticity. And you shouldn't worry if reviews aren't all positive. 71% of consumers say that negative reviews are as important as positive reviews in their purchasing decisions, according to a Bazaarvoice study. Most shoppers feel that negative reviews actually contain more details about a product's best and worst attributes. 
4. Freshen up reviews for legacy products 
To keep tried-and-true products relevant in shoppers' minds and keep sales up, make sure that you have a fresh crop of new reviews coming in. Star Reviewer helps identify a brand's loyal shoppers or those who've purchased similar items to sample your core products and review them.
Review recency matters to shoppers. 85% of shoppers look at when a review was written before they buy an item, a Bazaarvoice study found. Shoppers are turned off when products have no recent reviews, as they think the item isn't popular. Many consider reviews written within the past three months to be most reliable.
Boost sales with Bazaarvoice + Sam's Club
Increasing the number of product reviews you have, ensuring review content is authentic, and keeping reviews fresh builds trust with Sam's Club members and will help you stand out among competing products/brands.
Ready to sign up with Star Reviewer? You can learn more on our Sam's Club + Bazaarvoice brand invite page. Or get in touch directly below to get started.
Request a demo
---
Bazaarvoice recently met with Oliver Richard, Senior Manager of Site Merchandising Operations at Samsclub.com, to learn first-hand how brands can win at SEO, prepare for large promo events, and become best-in-class using Sam's Club new vendor scorecard. You can watch the full on-demand conversation below.