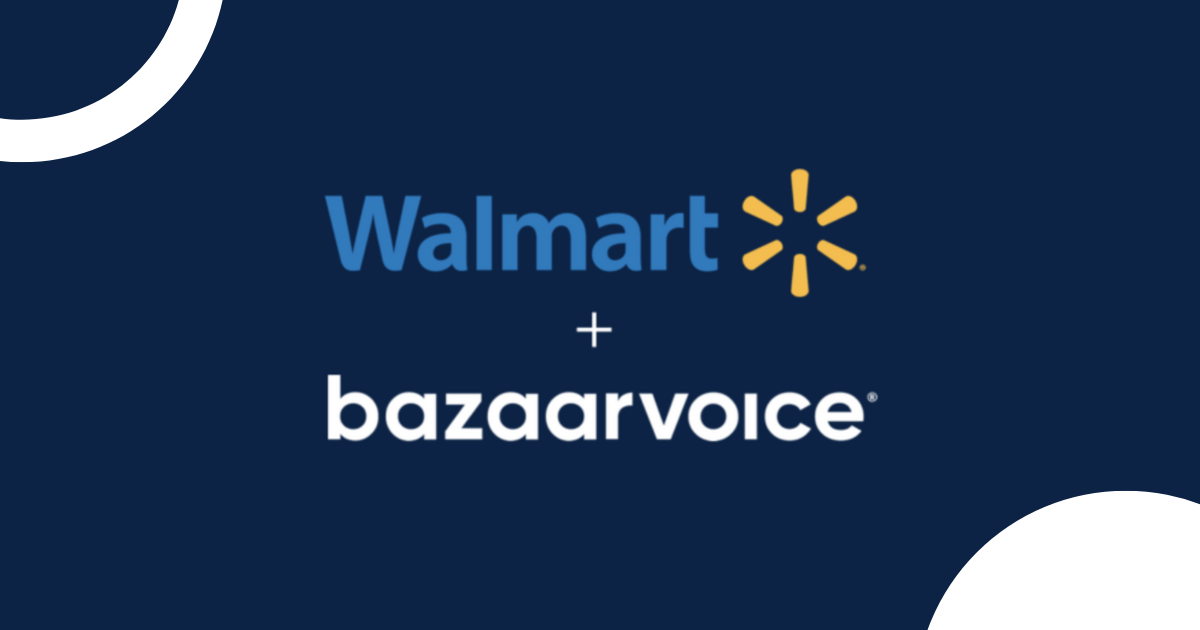 Browsing Walmart shelves in-store. Shopping for items on Walmart.com. Discovering all the best new deals on the Walmart app. Scrolling Walmart's Instagram feed for shoppable items. Whatever the channel, you'll notice something in common with all of these platforms.
Across every touchpoint, Walmart commits to providing its customers with the most inspiring, informative, and frictionless shopping experience. It has continued to optimize these offerings which has helped solidify its spot as an industry leader.
Walmart is especially committed to exceeding expectations with a world-class experience on Walmart.com. And it's paying off. In Q3 of this fiscal year, Walmart U.S. e-commerce sales grew by 79%.
User-generated content, like ratings, reviews, visual content, and Q&A not only validate product quality and customer affinity, but also have a significant impact on the shopper experience and ultimately purchase decisions.
According to the our Shopper Experience Index, when shoppers engage with user-generated content (UGC) on best-in-class sites, brands and retailers see a 138% conversion lift and a 159% RPV lift. For those interacting with Q&A on best-in-class sites, brands and retailers see a 114% conversion lift.
What is Walmart Spark Reviewer?
The Walmart Spark Reviewer program is a review-seeding sampling program co-created by Walmart and Bazaarvoice. It's one of the many solutions available to help brands optimize their UGC on Walmart.com is Spark Reviewer.
The sampling program offers brands the opportunity to easily sample their products in exchange for honest reviews on Walmart.com. More importantly, is also offers brands access to Walmart's sampling community — a community comprised of Walmart's most loyal shoppers.
Walmart Spark Reviewer lets brands easily sample their products to their desired shopping demographic in exchange for honest reviews on Walmart.com. Here's how to utilize Spark Reviewer to elevate your Walmart.com presence.
How to get the most out of Walmart Spark Reviewer
Since Walmart Spark Reviewer launched, over 1,370 brands have participated in the program. It's already collected over 378,000 reviews to date. And the Walmart sampling community continues to consistently grow, with over 10,920 active members today.
Walmart Spark Reviewer is a turnkey solution to quickly boost review volume and recency for specific items sold on Walmart.com. Because of this, brands leverage the program for high-priority items year-round. Bazaarvoice helps brands select key items to sample, segment best-fit audience(s) within the Walmart sampling community, and helps guide brands through fulfillment options if needed.
Once products are shipped to members within the Walmart Spark Reviewer community, brands can start seeing authentic UGC on Walmart.com in just three weeks.
Watch the short video below to learn more:
How to effectively leverage Walmart Spark Reviewer
New products: Brands can collect high-quality UGC for products before launch. Understanding customer sentiment before products go live will help future shoppers feel confident about purchasing your new products
Seasonal items: There's a limited amount of time these products are front and center – both online and in-store. So optimize product pages with UGC to boost discoverability and increase conversions during this limited time
Walmart exclusives: If your brand only sells products through Walmart, then Walmart.com is the only place where shoppers can see that valuable, peer-trusted UGC
Products with outdated reviews on Walmart.com: Fresh review content not only increases customer trust in your products but also helps push more traffic to your product pages. Search engines like Google favor pages with fresh content
Start driving more valuable UGC creation for your products on Walmart.com
Shoppers rely heavily on UGC to guide their purchasing decisions. They feel empowered by brands that help them access the opinions of their peers effortlessly. According to a Bazaarvoice and Deloitte study, nearly half of shoppers say they're less likely to buy from a brand or retailer if they don't have reviews on their sites. And another 70% of shoppers use reviews to evaluate similar products before buying.
With online shopping continuing to soar, now's the perfect time to analyze your UGC performance and gaps on Walmart.com.
Identify where your UGC program can be improved. Consider leveraging the Walmart Spark Reviewer program to quickly boost review volume for key items on Walmart.com
Choose the right ratings and reviews provider. A true partner invests in helping your brand achieve its goals, from implementation to growth
Tap into Bazaarvoice's retail network and best-in-class solutions. Because it gives you the competitive advantage to serve the needs of your shoppers and ultimately, drive Walmart sales
Learn more about Walmart Spark Reviewer and more Walmart best practices at www.bazaarvoice.com/Walmart. Or get in touch directly below to get started.
Request a demo