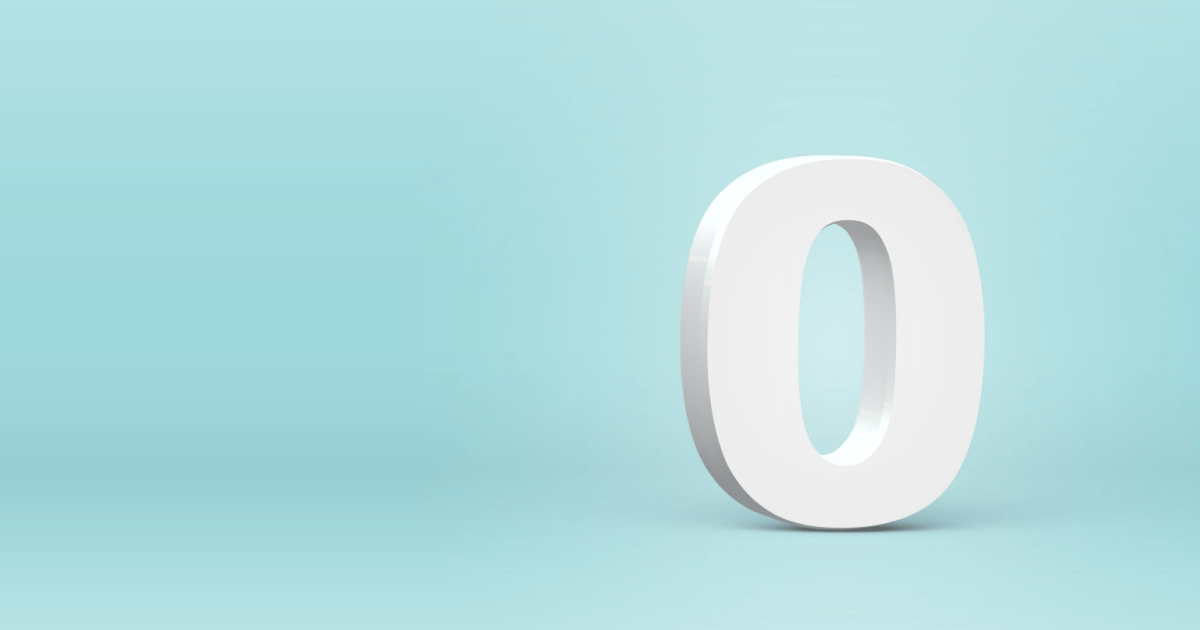 Zero-party data is the newest kid on the block when it comes to customer data. But don't let its youth fool you. Zero-party data isn't just a buzzword — it's the future of personalized marketing in a world of strict privacy regulations.
In this Long Read, we'll discuss what zero-party data is, why it's essential in a privacy-first world, and how you can use it to create personalized customer experiences.
Chapters:
---
---
Data collection can be a tricky subject and at a time where data is increasingly-protected, it can be even trickier to source and collect. But it's important because personalization is how you reach consumers. The fastest-growing companies drive 40% more of their revenue from personalization. That's the beauty of zero-party data collection — it's a personalization powerhouse for e-commerce.
Without zero-party data, you're like a salesperson in a shop trying to guess someone's needs just from their looks. With zero-party data, you're talking to the person to form a complete picture of them and then offer the perfect solution.
What is zero-party data?
Zero-party data is information a customer willingly shares with a business. Examples include communication preferences, interests, and product feedback.
Zero-party data has a low legal risk and is generally more accurate than other types of information as it's collected directly and with consent from the consumer. (Zero-party data does have some flaws, which we'll get to later.)
Examples of zero-party data is information collected through: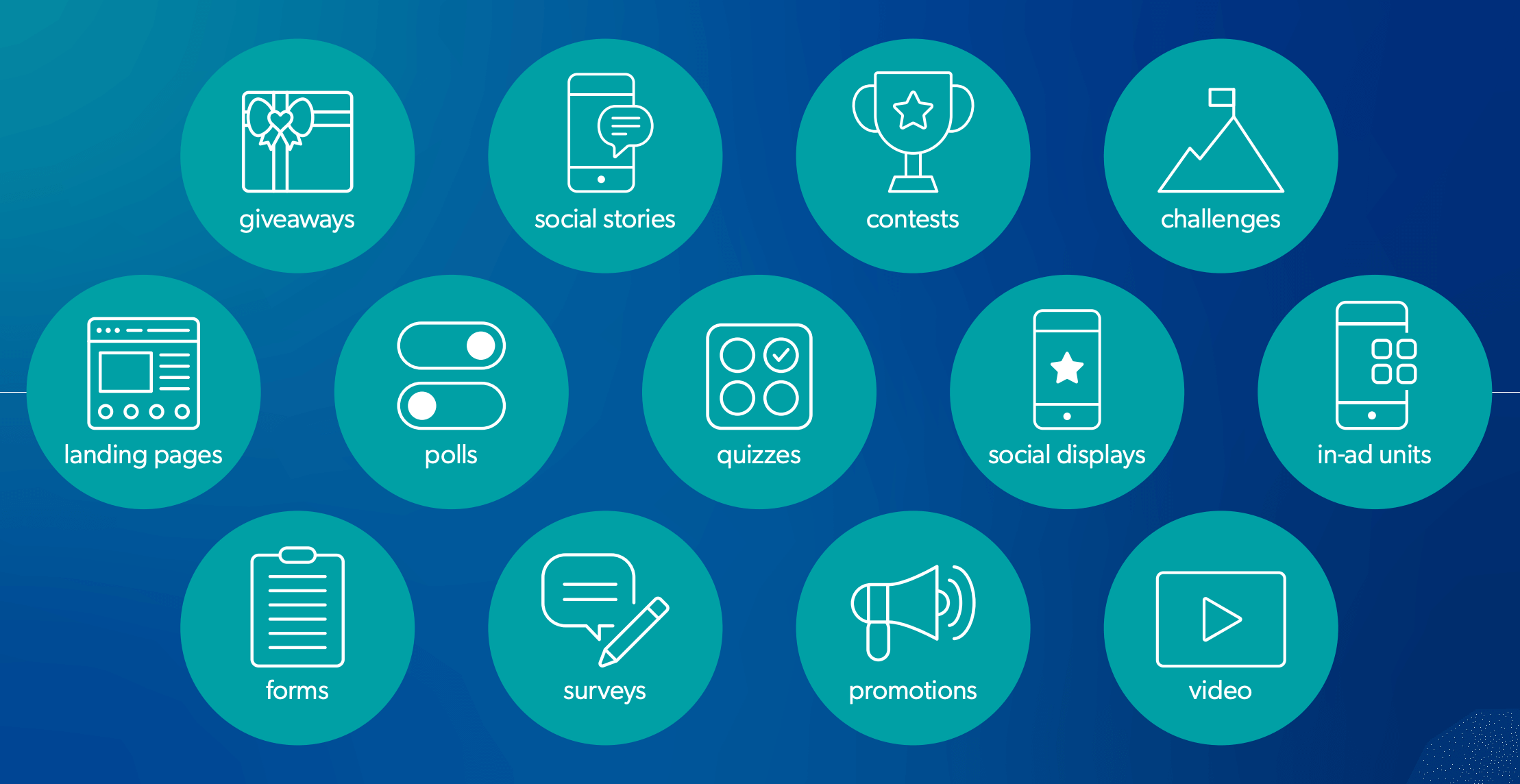 Understanding the difference: Zero-party data vs. first-party data
Not so long ago, there was no distinction between zero- and first-party data. But shifting consumer expectations around personal data collection and privacy have created a need for a more granular classification of the types and methods of data collection by corporations.
Zero-party data is what someone tells you. First-party data is what you infer from someone's actions and behavior. Understand the exact definitions of each term, their differences, and why these data types are becoming increasingly important.
First-party data
First-party data is information collected from customers' interactions with a business, such as website visits, purchase history, and customer service conversations.
You collect first-party data with cookies on your own channels and platforms, so it's as reliable as zero-party data since you're the source. First-party data carries a slightly higher legal risk since customers may be unaware you're collecting this information about them.
💡 Head over to the section Start collecting first-party cookies in place of third-party cookies in our article "Privacy regulations: How to build a first-party data strategy" for more details on how to get started with first-party cookie collection.
Examples of first-party data is information collected through:
Website visits
Past purchases
Product analytics
Marketing campaign metrics
Customer response time (on marketing outreach or customer service interactions)
In-store data (like how much time a customer spends in a store)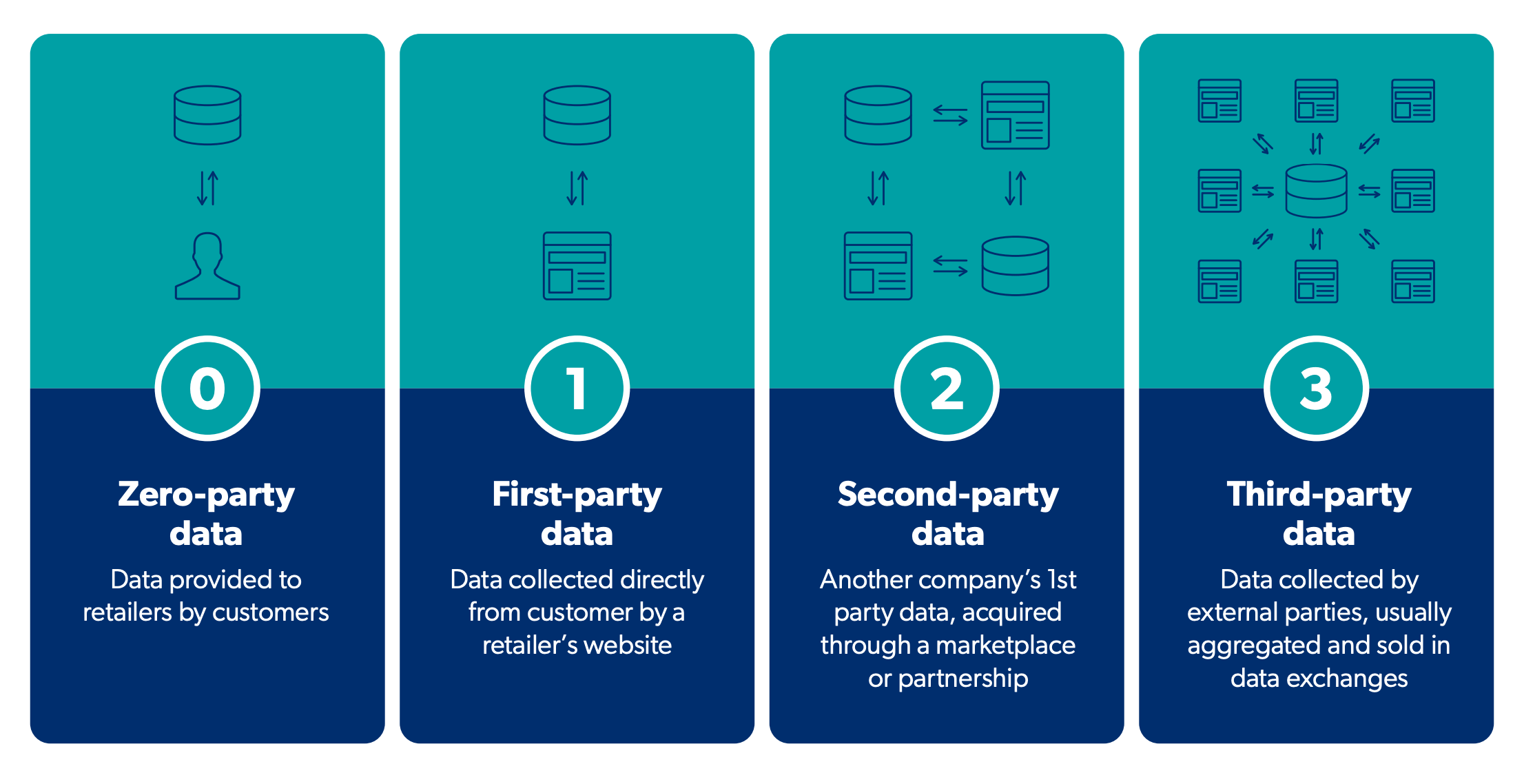 The increasing importance of both data types
Accurate and extensive customer data is essential for creating personalized marketing and excellent shopping experiences. Stricter privacy regulations mean zero-party and first-party data are the only viable sources of information for such initiatives.
Regulations like the GDPR and CCPA, plus Google and Apple's phasing out of third-party cookies, are forcing companies to turn to zero- and first-party data.
Gartner estimates that by 2023, 65% of the world's consumers will have their data protected by regulations. They also found that 82% of marketers have access to zero-party data, but only 42% know how to put it to good use.
How to collect zero-party data
Planning is essential when collecting zero-party data. You must have the right tools and privacy policies. But it's also necessary to understand the weaknesses of zero-party data and what information you need to achieve your business goals.
Collect data intentionally
First, know what information you want and why. Without this intention, you may not get the data you need. Or worse, hoard info you don't use or aren't allowed to store.
Create a plan to figure out what zero-party data you need and where to get it by following these steps:
Identify the points in your customer journey that can benefit from personalization. For instance, if conversions in your shop's checkout are satisfactory but you lose many new customers during onboarding, then focus your personalization efforts there
Determine which data you need for such personalization. Which information would help create a better experience at the point you selected in the customer journey? In the onboarding example, this could include the types of products your customer is interested in or their familiarity with your company and services
Plan when and how you can ask for the required information. Look at the customer journey again and determine the best places to ask for data. Sometimes this is the same as the point of personalization. In other cases, asking for the data a step earlier may be more effective, for example, through a welcome email campaign, which then personalizes the subsequent onboarding experience
Ensure all stakeholders agree with your plan. Stakeholders from all areas of your business should review and approve your plan, such as Legal, Product, and Customer Support. They may identify potential issues you overlooked or need to authorize the use of properties they manage.
Avoid collecting and storing data you don't need. Doing so reduces legal risks and makes finding, analyzing, and using the information you need more straightforward and cheaper
Pick a collection method that suits your goals and audience
Deciding how to collect your zero-party data depends on two factors: the type of information required and the format customers are most likely to respond to, like surveys, quizzes, or sweepstakes.
For example, surveys are well-suited for gathering detailed information, while quizzes are good for extracting general preferences quickly. But young people might prefer a fun quiz over a long survey. And someone on a laptop might have more time to complete a survey than a person doing a quick visit to your site on mobile.
You need to consider all these factors when deciding on the best collection method. Here's a list of the most critical aspects to take into account, each with an example:
Where you're asking for the information. Typing a lot of text can be cumbersome on mobile
The age and interests of your customers. Younger people may be more likely to play a game than older customers
Your brand's style and tone of voice. A playful quiz isn't suitable for a formal, corporate business
The type of information you need. Surveys are more effective than other methods for gathering detailed information
The available time. A happy customer may be more willing to spend time filling out a questionnaire than an unhappy one when providing feedback
Familiarity with your company. Loyal customers are more likely to trust your brand and share information
The need for incentives. New visitors or customers who have churned may need incentives, such as discount offers, to provide information
The ease of data analysis. Analyzing data from multiple-choice questions is easier than from open-ended ones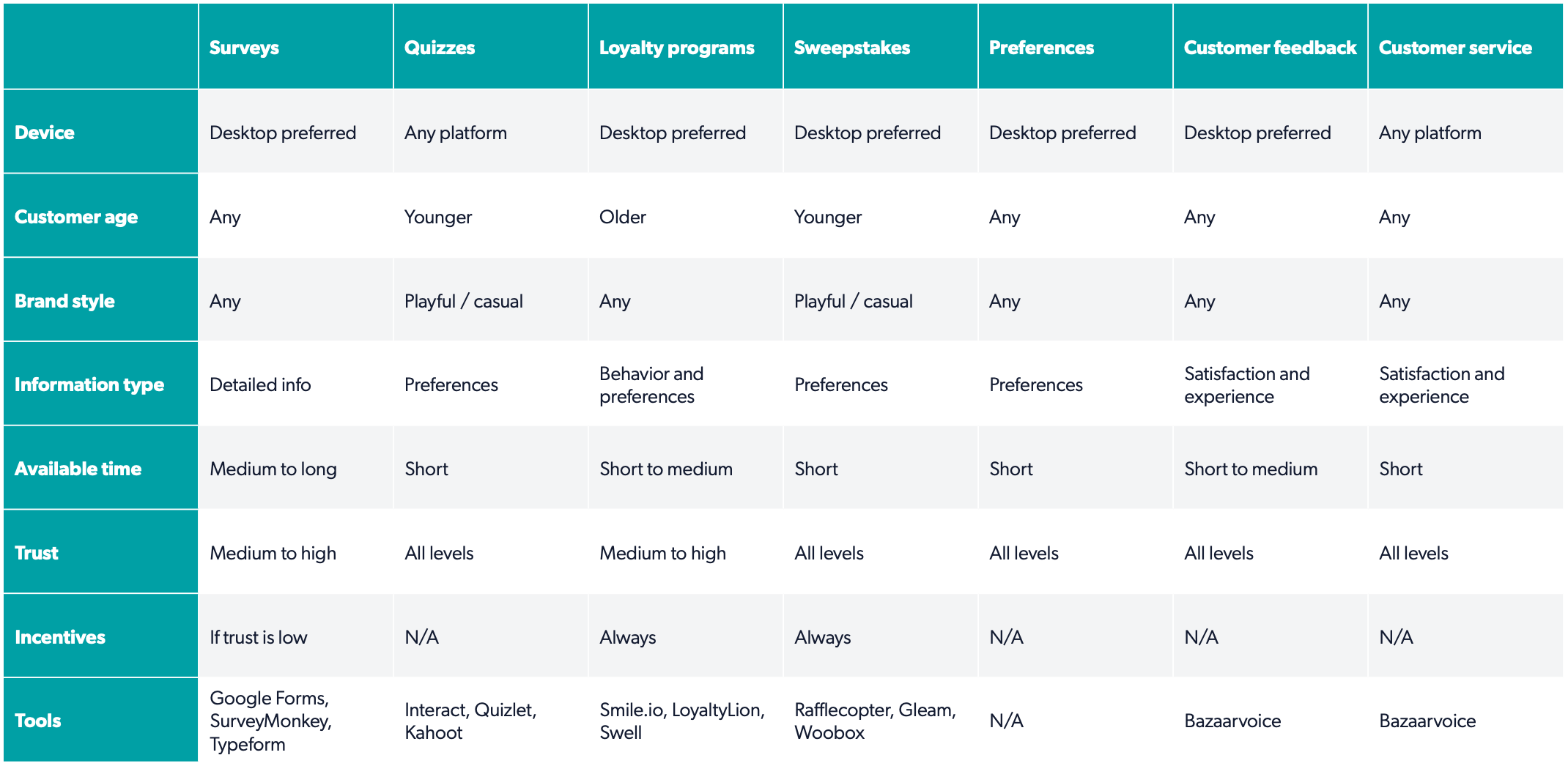 Have the right tools to collect zero-party data
Collecting zero-party data requires tools that are both capable and compliant. Capable means you can get the data you need in a way that customers are comfortable with. Compliant means the tools adhere to privacy regulations, creating an auditable trail of how information was collected and allowing customers to delete their data.
To make sure a tool is capable, check whether it has:
The functionality to collect the data you need
Integrations with the rest of your tech stack, like marketing automation and analytics platforms
A straightforward and smooth user experience for your customers, and accessibility options for customers with disabilities
The flexibility to customize its look and feel for your band and audience.
An easy implementation process
To ensure a tool is compliant, audit its security and privacy features by asking:
What data encryption and access control mechanisms does the system provide?
Are there audit logs to track who accessed data, when, and how?
Does the platform comply with applicable privacy regulations?
Does it offer customers control over their data, including the ability to delete their information?
💡 See the table in the previous section for specific tool suggestions, such as for running online surveys, sweepstakes, or quizzes. We also recommend Google Analytics 4 for collecting first-party data. To learn more about setting it up, read the "Update to the latest Google Analytics data model" section of our first-party data article.
Use your first-party data to start collecting zero-party data
Strange as it may sound, you often begin collecting zero-party data by using first-party data. For instance, you could send out a survey via email using contact info from their account. Or you launch a chat window with a question triggered by a product someone viewed on a webpage.
Analyze what first-party data you have to use for collecting zero-party data. Common sources include:
User accounts to collect contact details, communication preferences, and interests
Email marketing opt-ins to send emails for promotions, discounts, gathering feedback, and other marketing initiatives
Social media interactions to gain feedback and insights into what content (topics) customers engage with
Customer service conversations and support tickets to ask questions and identify common issues customers are having
Mobile app push notification opt-ins to send mobile promotions, polls, and other short requests
In-person or phone interactions with customer service or sales representatives to collect feedback and preferences
Use data to follow up or personalize immediately
Don't let data sit idle once you have it. When customers see the information they provided benefits them immediately, they're more likely to share even more data in the future.
A popular approach is sending people a discount or reward straight away, like access to exclusive content. You can also personalize product recommendations or the shopping experience itself, say by hiding or highlighting specific sections of your website or app based on people's answers to a poll or a question you ask during onboarding.
Other options are to personalize search results, emails, and even prices based on the zero-party data you collect from people.
Complement zero-party data with first-party insights
Zero-party data is what someone tells you, while first-party data comes from people's actions. Action sometimes speaks louder than words, and words might occasionally speak louder than action. But mostly, actions and words together speak loudest.
Combining first-party data with zero-party data can provide more context about customers' behavior and actions. Generally, zero-party data gives more insight into why people do things, and first-party data helps you understand how and what people do on your platforms.
Say you notice customers abandoning their shopping carts. In that case, you can use web analytics (first-party data) to see what pages they visited and how long they stayed on each before leaving. To understand why they left, you can use a survey (zero-party data) to ask what made them abandon their cart.
Know the weaknesses of zero-party data
We're big fans of zero-party data because it's usually more accurate than information collected in other ways. Still, recent research suggests zero-party data can be prone to various flaws you need to be aware of.
Zero-party data relies on people telling you about their own behavior or thoughts. Decades of social and cognitive studies have shown that the way you ask questions affects answers and that people often struggle to understand the true motivations behind their actions.
Typical causes for inaccurate zero-party data include:
Careless responding. People often respond randomly toward the middle or end of a long survey. Even short questionnaires can lead to incorrect responses. Accepting privacy policies without reading them can also fall into this category
Vague questions. Ambiguous wording may cause people to give different answers because everyone understands the prompts differently; vague questions generate vague answers
Uncommon words. Brands should use widely known words when collecting data, and non-native English speakers have an even higher chance of being unfamiliar with unusual words
Faulty scales. Multiple-choice questions with not enough answer options can lead to inaccurate data. For example, not having a "Don't know" option can force people with no opinion to make a choice that doesn't reflect how they feel. (💡 For a comprehensive overview of answering options for different types of questions, use

article on survey answering scales

)
Desirability biases. People may give answers they think are desirable rather than their true preferences. This phenomenon is known as social desirability bias
Affective forecasting. Studies on "affective forecasting" show people are poor at predicting their future choices and emotions. This finding is significant for brands and retailers collecting zero-party data. Answers about future desires and behaviors give limited insight into what consumers will want, like, and do in the future
Protect your zero-party data
You must protect your customer information from cyber attacks, data breaches, and other external threats. But don't forget to pay attention to what happens inside your company. Rules for your employees on accessing and storing data are also critical.
E-commerce companies can start to protect themselves from these threats by taking these three steps:
Implement a security program with strong authentication, encryption, and access control for all customer data
Monitor networks and systems for suspicious activity, like abnormal login attempts or data leakage
Educate employees on the importance of data security and the steps they can take to keep customer information safe. Such precautions include using strong passwords, being aware of phishing emails and unsecured Wi-Fi networks, and not sharing customer data via email or instant messengers (even internally)
Establish operational procedures for when an attack or breach does happen
Finally, explain how you use people's data and your procedure for deletion requests, a right many consumers have under privacy regulations like the GDPR and CCPA. Doing so can help you avoid potential legal issues with customers.
Zero-party data examples
Many businesses use zero-party data to improve the outcomes of their marketing and sales efforts. Here are two e-commerce brands that do it well.
Quotatis uses zero-party reviews to enhance its services and customer satisfaction
Quotatis connects homeowners with construction professionals, so its customers can easily find the ideal tradesperson for small to medium-scale home improvement projects.
At the end of each assignment, Quotatis sends customers an email asking them to share their opinion of the construction professional through Bazaarvoice's Ratings & Reviews solution. To get more zero-party data (i.e., the number of collected reviews), Quotatis has added SMS as an additional channel for collecting feedback.
A team at Bazaarvoice moderates all submissions to ensure that only customers who have purchased an installation package can leave a review. Once collected, Quotatis publishes the reviews on their platform and on the affiliate website where tradespeople offer product installation services.
When a service gets a score lower than four out of five, Quotatis customer service contacts the customer and tradesperson to investigate the problem.
The Quotatis algorithm uses customer ratings to identify the ideal professional for a particular assignment. The company also chooses their "Tradesperson of the Month" based on these zero-party customer reviews.
💡 Read the entire case study here
Oak Furnitureland collects zero-party product photos to boost sales and engagement
Oak Furnitureland is a furniture retail chain with 75 locations in the UK. In these stores, customers can inspect the product quality by trying items like sofas and dining chairs. However, creating the same experience online was a challenge for the retailer.
So the brand partnered with Bazaarvoice to find a solution. They began collecting zero-party data in the form of pictures taken by customers of the furniture in their own homes, which they sent to Oak Furnitureland. The company used these images on its Instagram page to create social proof for potential customers by giving them an idea of how the furniture would look in their homes.
"We find that UGC is just a lot more relatable for our audiences," said Laura Quigley, head of PR and communications for Oak Furnitureland. "It provides inspirational content that they can see and they can engage with. Real pictures in real settings show how our furniture blends seamlessly into customers' everyday lives, where you've got dogs jumping on the sofa and children chucking their school bags in the hallway at the end of the school day."
Bazaarvoice's Galleries makes it easy for Oak Furnitureland to curate pictures customers share quickly. Instead of spending hours selecting photos manually, they can now have an attractive gallery with the best images online in minutes.
The conversion rate from Oak Furnitureland's social program has doubled since they started using zero-party pictures in this way. Customers who interact with their website galleries also have a 21% higher average order value than others.
💡 Read the entire case study here
Make the most of your zero-party data with Bazaarvoice
Stop relying on first-party data — or worse, third-party sources! — to personalize your e-commerce experience and marketing. With Bazaarvoice's suite of products, you can collect, analyze, and use zero-party data confidently while keeping your customers' data secure and compliant with privacy regulations.
Through Product Sampling, our community of engaged shoppers can try out your offerings, give feedback, write reviews, and make recommendations to others
Ratings & Reviews helps you collect authentic ratings, reviews, and product photos. Displaying these on your product pages can help convince other shoppers to purchase
With Questions & Answers, you can quickly answer customer inquiries with automated alerts, question routing, and Salesforce plugins. The tool also makes it easy to uncover seasonal trends, track sentiment, and monitor mobile traffic. This data allows you to adjust product page messaging and boost sales
Click each link to learn more. Or get in touch with us directly below to get started.
Request a demo