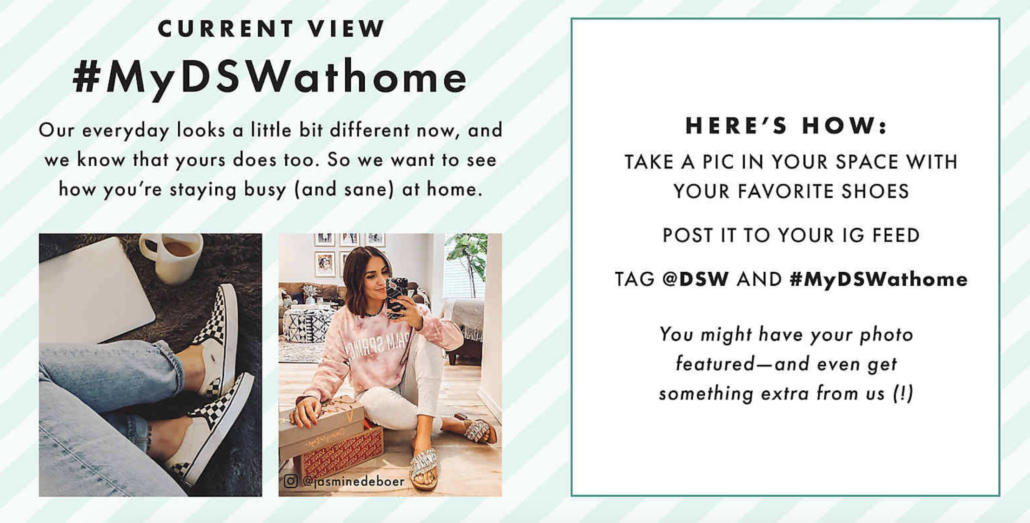 In response to COVID-19, consumers have completely changed their priorities, and marketers have too. As a result, brands of all kinds are figuring out how best to navigate or adjust their marketing tactics. Social and advertising campaigns that once seemed like a great idea, may now come off as tone deaf and inappropriate, forcing brands to make a quick pivot on their advertising and social media strategies. One way to create relevant, engaging marketing campaigns is by incorporating user-generated content (UGC).
Ask consumers for photos and videos of themselves using your products in fun, creative ways and incorporate that content into your email, social media, and other campaigns. Not only are you producing an engaging campaign that will help you connect with shoppers, you are also strengthening your relationship with the brand advocates who submit their photos and videos. Below are a few uplifting examples of campaigns that brands are running right now using customer photos or videos. 
David's Bridal — #DBLoveStories
Due to social distancing measures, just about everything is canceled – including weddings. After months of planning, thousands of dollars in down payments, and a myriad of travel arrangements made, this is sure to leave countless brides and grooms devastated. While some have opted to postpone, others are continuing on with their weddings, albeit, in a modified fashion. David's Bridal has begun to gather photos from these at-home weddings and post them on their Instagram, using the hashtag #DBLoveStories. They also publish a blog post that goes in depth about each couple and their story.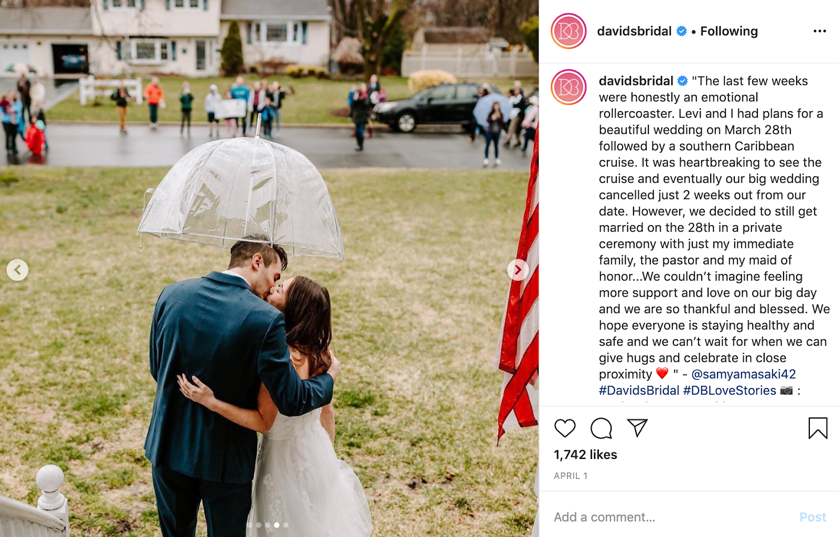 DSW — #MyDSWAtHome
Since we're all at home right now, our shoes have been getting a little less wear as we binge Tiger King on Netflix, tackle DIY projects that have been put off, or pick up a book to read for pleasure for the first time in a long while. No matter how you're spending your time (and staying sane), DSW wants to see how you're incorporating their shoes. They're asking their customers to take a picture in their space with their favorite shoes and post it on Instagram using #MyDSWAtHome for a chance to have their photo featured on DSW's Instagram page and earn a prize.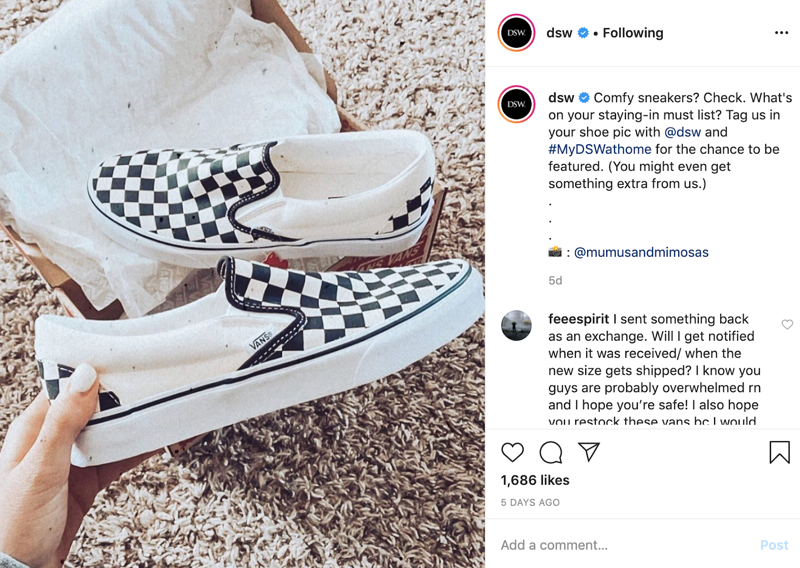 Lowe's — #BuildThanks
Around the world, people are doing whatever they can to help and give thanks to healthcare and essential workers who are on the front lines of this crisis. From clapping out of windows in the evening to show appreciation to sewing face masks to donate, there are a variety of ways to lend a hand and show your support. Lowe's wanted to share a few simple ways that their customers can use their DIY skills to give much-needed recognition to the heroes risking their lives. They wrote a blog with instructions on how to create various projects that can be displayed on home windows and front lawns, giving thanks and praise to healthcare and essential workers, and first responders. They also encourage those who do the projects to post them on social using the hashtag #BuildThanks.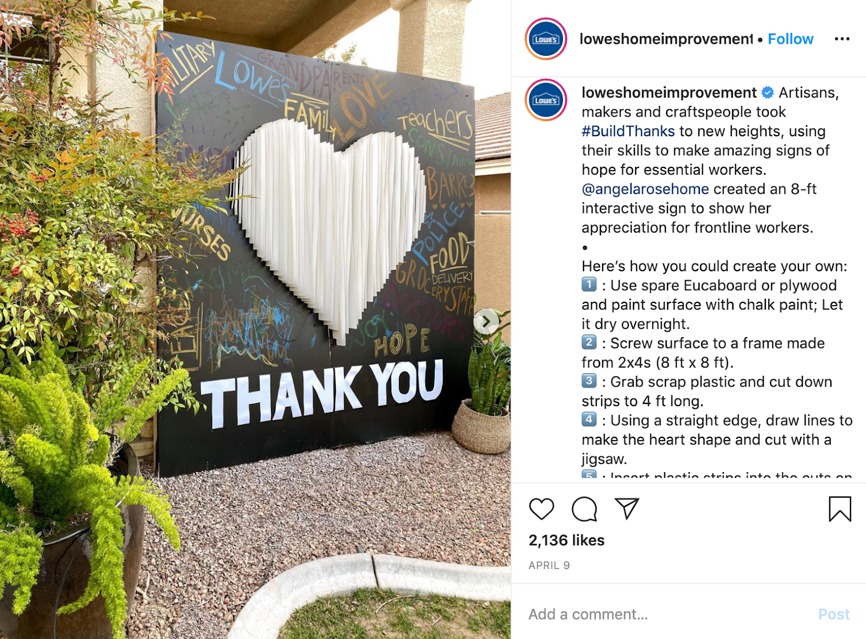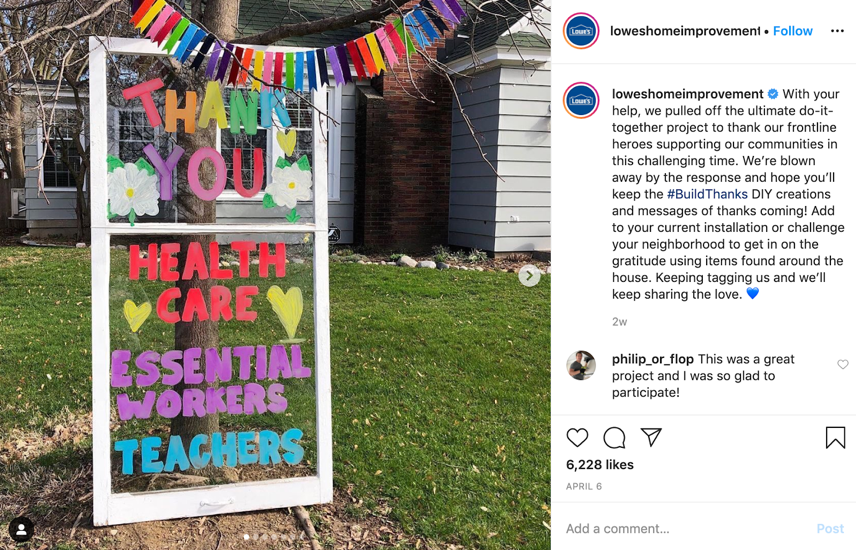 ADT — Safe at Home
UGC doesn't just have to be reserved for social media campaigns; it can be used in your advertising as well. Home security firm ADT launched a TV and social media campaign using UGC to help promote a feel good message during this difficult time. The "Safe at Home" campaign includes everyday videos of people during lockdown — parents teaching and entertaining housebound kids, children video chatting with older relatives, and people making safe-distance visits to the elderly by showing them signs or playing music outside of their windows. The relatable campaign gives a sense of solidarity, as we all are finding ways to stay connected while staying at home. 
Buffalo Wild Wings — #SportsLiveOn
It has now been over a month since professional sports leagues of any kind have played a game or match, and some people have decided to take this absence into their own hands. Buffalo Wild Wings is working hard to televise these solutions — in their latest ad, they scoured the internet and unearthed some truly unique ways people are replacing live sports. From playing a modified version of golf in which each "hole" is a different household item to a rendition of basketball in which the basket is a wastebasket, sports lovers are getting creative and using the hashtag #SportsLiveOn.
____________________________________________________________________________
In a time when you can't utilize a studio for professional video and photoshoots and consumers are especially sensitive to brand missteps, using user-generated content in your marketing campaigns is a smart and authentic way to connect with your audience.