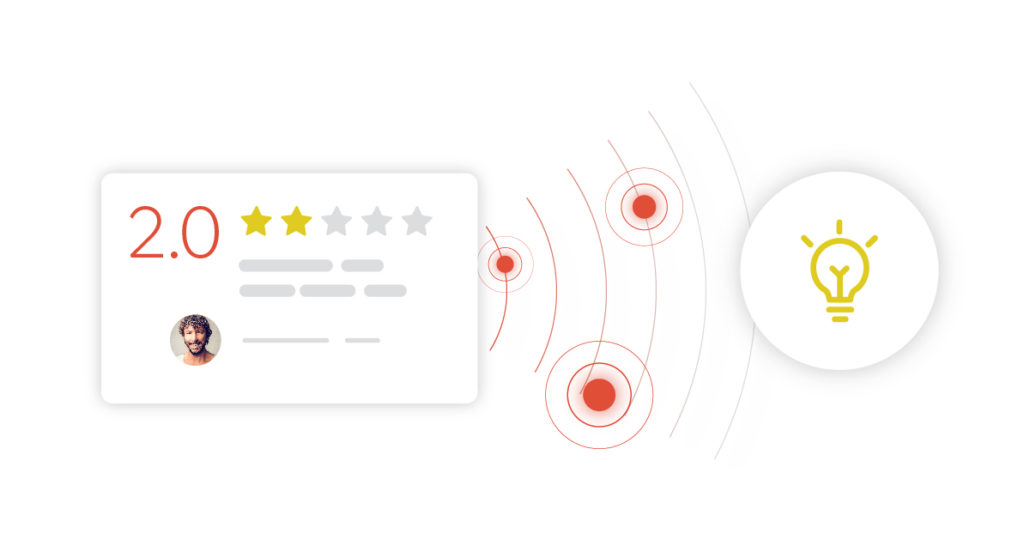 Understanding your customers — who they are, how they shop, what they like or don't like about your products — is critical to your business. Customer data and insights should inform how you build marketing campaigns, design your products, and grow your business.
In part one of this series, I walked through three tips for collecting customer insights. Once you have collected data and feedback from your customers, the next step is turning these insights into action. Below are three examples of how both positive and negative feedback can lead to opportunities to better serve and engage your customers.
1. Mine customer pain points to identify new opportunities
Whether it's an incomplete product description or a packaging issue, customer pain points open up a plethora of opportunities because they allow you to see where you can better serve your shoppers. When analysing your product reviews, question and answers content, social media, and other feedback, are certain pain points emerging again and again?
For example, Zinus, a manufacturer of comfort sleeping products, read their ratings, reviews, and Q&A content, they realised shoppers were concerned about not being able to experience mattress firmness when buying online. Zinus responded by developing a online "Mattress Finder" tool with a national retailer, which compared mattress firmness to tangible things, such as a hammock or firm pillow, and suggested matches between specific products and various types of sleepers.
Similarly, beauty brand Burt's Bees used insights from consumer-generated content (CGC) to make improvements to their website. Based on customers' feedback, they identified the need to add a foundation shade finder tool, making it easier for customers to pick the right product based on skin tone. The company also revamped product description pages, adding larger product images and moving star ratings higher up the page to increase visibility of CGC.
"This was the first time burtsbees.com would play a huge part in the launch period. Gathering learnings and understanding our customers and their shopping behaviors based on early feedback helped inform changes to our site that made it easier for cosmetics customers to find what they were looking for." — Taylor Steele, Assistant eCommerce Manager, Burt's Bees
What are your customers saying? Do they wish your products came in more colors? Are they telling you that the product description doesn't match their purchase? Are they using your product in an unexpected way? Look for recurring pain points and areas of feedback — these can often lead to opportunities to better refine your products or even create new ones.
2. The positive power of negative feedback
Despite how difficult it may be to receive negative feedback, it's where you can find some of your most helpful customer insights. A powerful customer reaction is often a sign that something is amiss.
Negative reviews are an opportunity for engaging with consumers and identifying potential product improvements. We are firm believers that instead of trying to suppress negative comments, companies and business owners should embrace them.
"Responding to negative reviews gives us the change to shift the way the customer feels toward us based on the way we handle their concerns. They might still share their negative experience about a product or service, but they also immediately follow with how they will always buy from us because of how well we handled the issue. We respond to reviews to get involved in a conversation with our customers." — Bonnie Berrio, Customer Service Specialist, Boots Retail
Beyond this positive engagement, the best brands listen to feedback and make the changes necessary to solve customer issues. For example, The Container Store noticed a trend in feedback about one of its products:
"We started seeing a trend of customers saying in reviews that they wished our shoe boxes were taller, so they could use them to store high-heeled shoes upright. As a direct result of customer-review feedback, we started offering a tall shoe box, and it's been a major hit from the get-go by every metric imaginable." — Patrick Burk, Customer Content Manager, The Container Store
All feedback, negative and positive, has an important place in the customer experience. Brands who respond to and take action on negative feedback will build trust with their customers and improve future products.
3. Understand what makes people love you
On the flip side, positive customer feedback shines a spotlight on the areas of strength for your brand. Pay attention to what customers like — how can you keep that going or double down on it to create new products that will be similarly loved?
In fact, not understanding why customers love your product can be just as detrimental as ignoring negative feedback. Tommy Bahama, a classic manufacturer of sportswear, footwear, and home furnishings, discovered this when they discontinued their Bahama Survivor Shorts. The shorts were a customer favorite with high review volume and a 4.8 average rating. When the shorts were discontinued, customers vocally rebelled. Tommy Bahama had set up automated reports to discover trends in their customer feedback and sentiments, and they watched as negative customer feedback came through. Based on that feedback, Tommy Bahama chose to re-release the shorts and included customer reviews in its messaging. The Bahama Survivor Shorts became one of the company's most lucrative products, beating the performance of the same product in years prior by 629%.
Once you can discern why your customers like your brand, you can continue to deliver positive experiences and build brand loyalty.
---
Customer insights combine data, market research, and sentiment to give your company a look into how your brand and its products are perceived by shoppers. The best brands constantly collect customer information and feedback, digest and analyse it, and then act accordingly.
To learn more about building a customer insights strategy, download our guide.