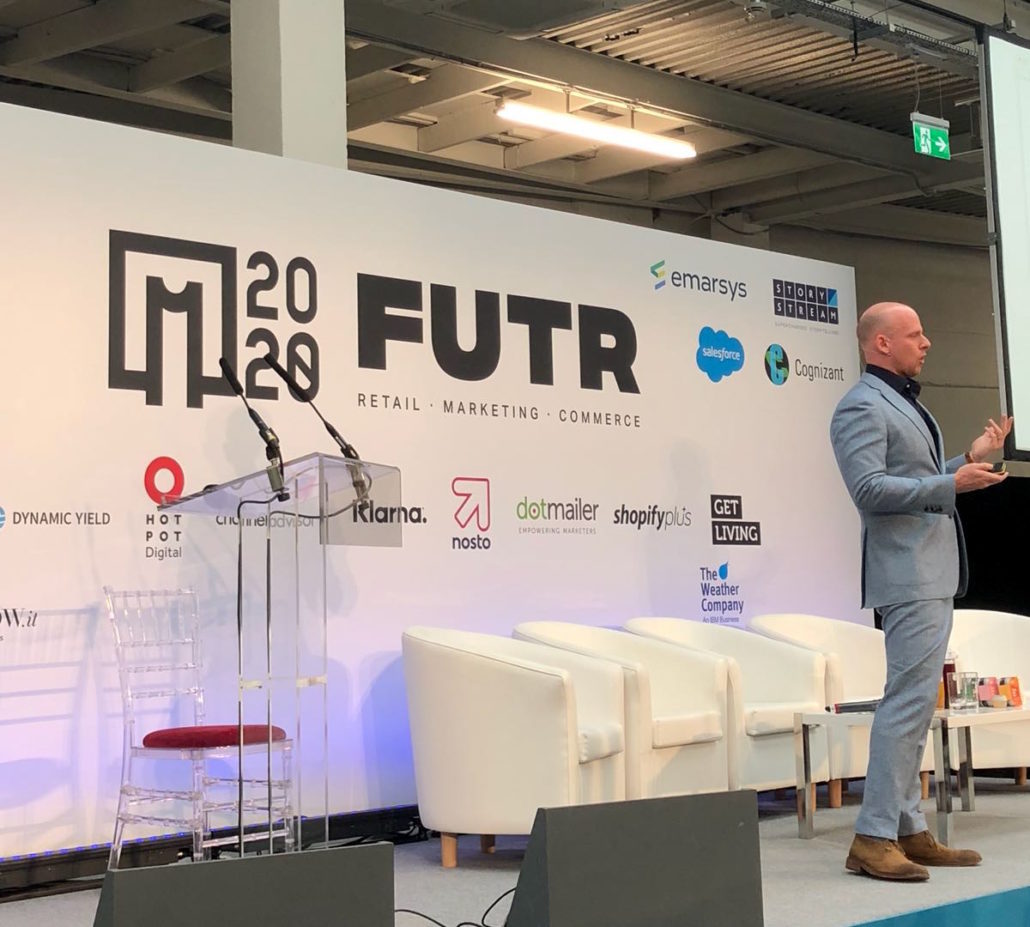 Last week, we wrapped up the FUTR Millennial 20/20 Summit in London and had a great time hearing our customers and industry experts speak on the #FUTR of retail. As most digital marketing conferences go, transformation was at the core of each talk.  Not just the transformation of brands and retailers in a digital world but also of a more informed and demanding consumer. Price transparency used to be the biggest fear in e-commerce, but shoppers have proven they are willing to pay a premium for brands they trust, brands with purpose, and brands who enable them to buy how they want with the least friction. This was the overarching takeaway from the two-day conference.
1. Trust and authenticity
Consumers have learned to tune out brand noise in social media. They have even grown savvy enough to sniff out seeded influencer content and have grown weary of undisclosed endorsements. This has eroded their trust with brands, and they've shifted their attention from the macro-influencers that are pushing brands they don't actually use back to the "real people" in their network who authentically gush about brands they love.
Great panel on 'Authentic marketing – building an engaged community for ur brand'. CEO of Lifestyles put it well – "Authencity cant be faked. Millennial's can see fake from a mile away." Lego Insights Director – "Lego's Brand engages thru play that transcends generations" #FUTR pic.twitter.com/BCS73wHWqc

— Alisa (@Alisa_anan) March 14, 2018
Brands can amplify these authentic human-to-human interactions, but they can't fake them. The most authentic brands have changed their role from content creator to content enabler, giving their consumers a platform to share their views. Speakers shared many ways to share consumer-generate content. Our General Manager of EMEA, Joe Rohrlich, shared how our best-in-class clients share reviews to influence shoppers wherever they shop from on the product page, to social media, and in brick-and-mortar stores.
Reviews and UGC are important on web, but it's also about connecting touch points in-store. @LEGO_Group @sutchandsutch on authentic marketing at @Millennial20_20 #FUTR #ROBO pic.twitter.com/tqKoprS9e9

— Bazaarvoice (@Bazaarvoice) March 13, 2018
2. Data-powered personalization
Data can be a scary word to consumers; in their minds, they often associate it with fraud or data breaches. However, when it comes to personailised experiences, consumers expect all of their technology platforms, like Facebook and Spotify, to remember who they are and serve them up with the most relevant content. The best personilised experiences are the ones where a brand recommends something a shopper didn't even know they wanted. Retailers have an abundance of data, but CIO and CMOs alike spoke of challenges on how to use it to build personalised experiences that are helpful, human, and not creepy.
"Data and insights will help us build new personalised experiences" @martin_wild from @MediaSaturn speaking about retail transformation at @Millennial20_20 #FUTR pic.twitter.com/uztkZ8D1uk

— Bazaarvoice (@Bazaarvoice) March 13, 2018
Brands without a direct-to-consumer business model, such as Arla and Kellogg's, are struggling to get access to data from retailers and are considering new business models to be closer to consumers. Another challenge is the rising popularity of virtual assistants. These artificial intelligence-powered machines are another form of personalization; they choose brands for you based on your preferences. This can threaten the consideration phase for many brands because consumers are not choosing on their own. These were just two of the challenges mentioned by brands at the conference. It was clear that while many of us are still working out the best methods, personalization was a worthwhile strategy to reach consumers.
At @Millennial20_20 conference in London. Afternoon session has panel including @ArlaFoodsUK and @KelloggCompany. Both companies cite voice tech as a challenge for FMCG brands at present – but key digital trend to watch #FUTR

— Dean Best (@dean_best) March 13, 2018
3. Responsible business
Lastly, the topic of conscious marketing and sustainability were surprising reoccurring themes for a digital marketing conference. However, with so much access to information, sustainability is going mainstream, and consumers are holding brands, and each other, accountable to responsible business practices.
#FUTR #M2020 on the future of business: a shift from educated consumers to responsible businesses, be part of the solution with a role in the #CircularEconomy, Transparency is the new green, Issue advocacy vs cause marketing. @Millennial20_20#TOMS #EllasKitchen pic.twitter.com/LFnhtt2cgS

— Josh Chi (@joshchi) March 14, 2018
Brands like Ella's Kitchen and TOMS who said that social good is at the core of their business. On the flip side, the democratisation of sustainable business has also forced the hand of less idealistic businesses to be transparent and make changes.
Should brands have a conscious? Ultimately, consumers are voting with their dollars and expecting responsible and thoughtful practices from their brands and retailers.
---
Of course, with the rise of retail innovation labs and incubators investing in start-ups for AI, augmented reality, and voice, there was plenty of retail disruption to be seen and discussed at Millennial 20/20. However, beneath all of that, there was a growing rallying cry for a human element in an increasingly digital world.