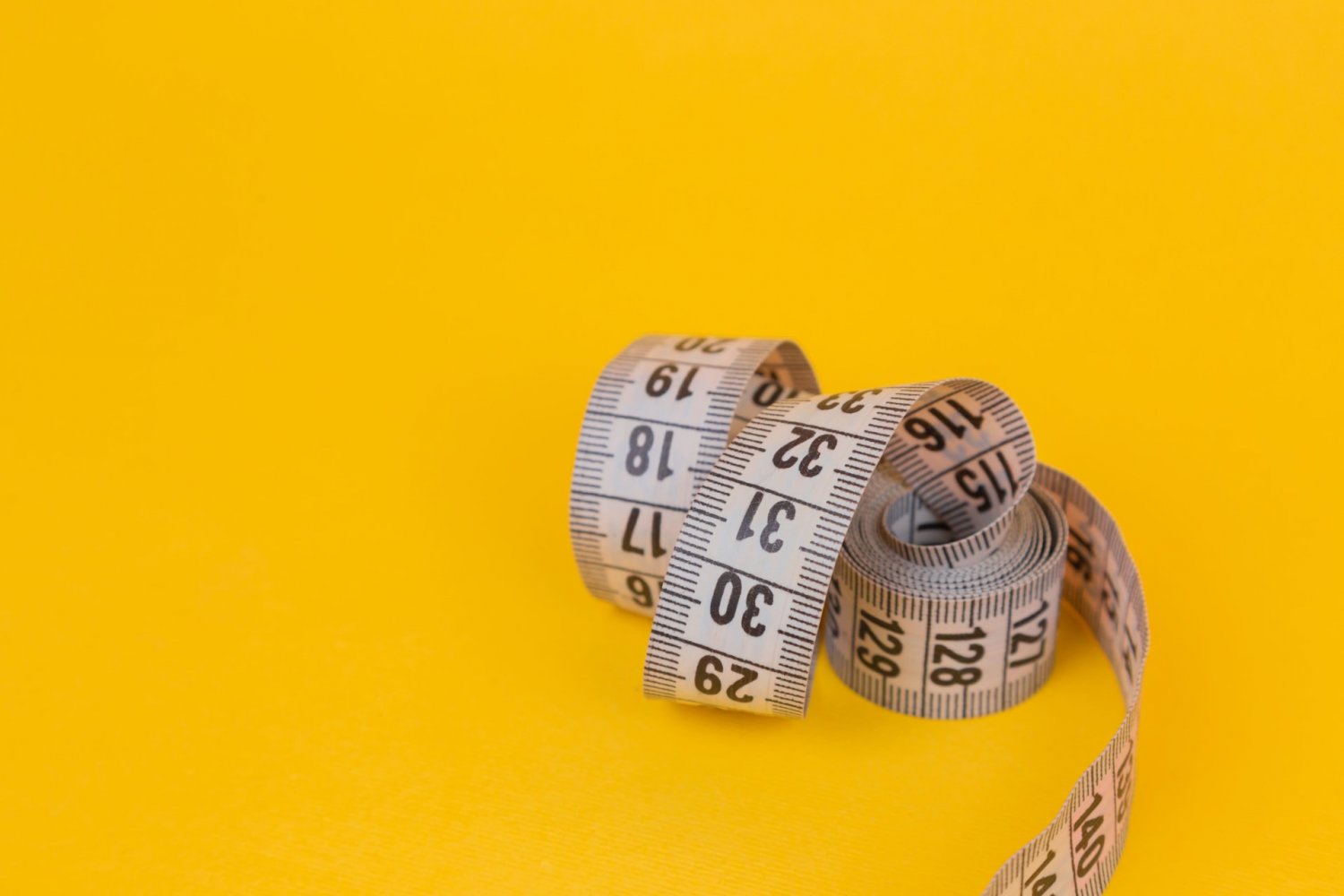 Lights, camera, upload!
With all the new ways to post photos and videos on Instagram, creating unique visual content can make you feel like you're on a production set.
Gone are the days of being limited to the 1:1 Instagram aspect ratio — aka the traditional square. Now there's portrait and landscape photo options, and Instagram Stories and Reels. Not to mention IGTV, which was designed with vertical in mind.
But as any good producer knows, the quality on the screen can only truly shine when the technical aspects are met. (Imagine if Rose told Jack she'd never let go…except the infamous raft was cropped out of the Titanic scene.)
Good visuals are powerful. (That's why over two decades later, we're still talking about the fact that Jack could have totally fit on that raft.) And knowing the ideal Instagram sizes and dimensions is the key to making your images, and ultimately your brand, stand out.
Read on for our complete guide on everything you need to know about Instagram sizes and dimensions. Or you can jump straight down to our cheat sheet. We've snuck some Facebook, Twitter, TikTok, and Pinterest image sizes on there too. 🤫
Instagram sizes and dimensions for photos
There's two main things to keep in mind when it comes to Instagram dimensions: aspect ratios and size.
An aspect ratio refers to the width of an image in relation to its height. Just like its name, it's expressed as a ratio — think 1:1 for square photos.
Size, also known as resolution, is the number of pixels that make up the width and height of an image. It's also expressed as two numbers — like 1080 x 1080 pixels.
Instagram post dimensions for photos
Back in the early days of Instagram, photos could only be posted in a 1:1 aspect ratio. This meant gorgeous mountain landscapes and cute pup portraits had to be cropped into an exact square.
While there's more size options these days, with vertical landscape and portrait photos, there's still limitations.
Sticking to Instagram's guidelines for both aspect ratio and size will help you avoid unwanted cropping and keep the quality of your images sharp. Here's a breakdown of the Instagram dimensions for each photo and video type.
Instagram profile photo dimensions
Ideal profile photo size: 320 x 320 pixels, 1:1 aspect ratio.
Your Instagram bio helps customers quickly recognize your brand. And with 90% of Instagram users following at least one business, it makes sense to make your profile photo pop.
When selecting the resolution for your profile photo, make sure to hit at least 320 x 320 pixels. That way your image stands out on both the mobile and desktop browser.
Instagram thumbnail photo dimensions
Ideal thumbnail size: 161 x 161 pixels, 1:1 aspect ratio.
First impressions matter. And thumbnails are what Instagram users will most likely notice when they first land on your profile — ultimately determining whether or not they'll dive deeper into your content.
Since Instagram stores versions of thumbnails as large as 1080 x 1080 pixels, you'll want to upload images that are as large as possible to prevent pixelation.
Instagram square photo size
Ideal square photo size: 1080 x 1080 pixels; 1:1 aspect ratio.
Square photos, the OG of Instagram, are still popular — particularly since their display is the same as the profile grid. They're also usually pretty easy to edit. Instagram's auto-cropping function makes it a snap to get the sizes and dimensions right. And nearly all smartphone cameras let you take the photo directly on the platform.
Aim to size your photos between 320 x 320 pixels and 1080 x 1080 pixels. Uploading photos above or below these parameters may cause your images to blur and pixelate.
If you're struggling with the compression on your mobile device, try using your desktop. You may have better luck with Instagram's web version since it conserves photo quality better than the mobile app.
Instagram portrait photo size
Ideal portrait photo size: 1080 x 1350 pixels, 4:5 aspect ratio.
Portrait photos are one of the ways to post full pictures on Instagram without cropping them. They're also pretty easy to edit as well. Simply use Instagram's full-size button to auto-adjust your photo into the perfect vertical post.
Just make sure to stay within Instagram's size and aspect ratio requirements. Otherwise, you'll be prompted to crop a part of your photo to make it fit.
You'll also want to stick closely to 1080 x 1350 pixels to avoid automatic compression.
Instagram landscape photo size
Ideal landscape photo size: 1080 x 566 pixels, 1.91:1 aspect ratio.
Perfect for group shots and scenery snaps, landscape photos are another method for uploading full-size photos. Getting the right horizontal photo dimensions, however, can be a bit of a challenge. That's because the ideal aspect ratio is a tricky 1.91:1.
But if you hit the aspect ratio perfectly, your horizontal photo will display beautifully on Instagram without a border — chef's kiss! (Instagram automatically adds a border to images that don't fit the correct dimensions.)
Instagram sizes and dimensions for videos
If using videos to connect and engage with your followers is more your speed, you'll also want to stay on top of the correct size and dimensions. Similar to photos, you can take your pick between square, horizontal, and landscape videos in your feed. The ideal dimensions for each are:
Square and carousel: 1080 x 1080 pixels, 1:1 aspect ratio
Portrait: 1080 x 1350 pixels, 4:5 aspect ratio
Landscape: 1080 x 608 pixels, 16:9 aspect ratio
Instagram Stories and Reels dimensions
Ideal Instagram Stories size: 1080 x 1920 pixels, 9:16 aspect ratio.
From hosting Instagram live streams to uploading text and remarkable photos, Instagram Stories are an excellent tool to connect your followers with your brand. Especially since more than 500 million Instagram users watch Instagram Stories on a daily basis.
When it comes to sizing, you'll want to use portrait photos and videos. They're what Instagram initially intended for Stories. While you can use landscape sizes, visuals that fill up the entire Stories screen are more likely to capture attention.
For Instagram Reels, you'll use the exact dimensions as Instagram Stories. Two things to note — the preview of your Instagram Reel will show up in your feed at a 4:5 portrait size, and the caption will be displayed in the bottom corner of the video.
IGTV dimensions
Also known as "YouTube for Instagram," IGTV is a fantastic way to keep your audience returning to your profile.
Initially debuting with only portrait videos, Instagram has since expanded the feature to allow landscape options — opening up a ton of new ways to create IGTV content.
Here's a few ideal post dimensions to keep in mind:
Portrait IGTV: 1080 x 1920 pixels, 9:16 aspect ratio
Landscape IGTV: 1920 x 1080 pixels, 16:9 aspect ratio
IGTV cover photo: 420 x 654 pixels, 1:1.55 aspect ratio
Social media image size cheat sheet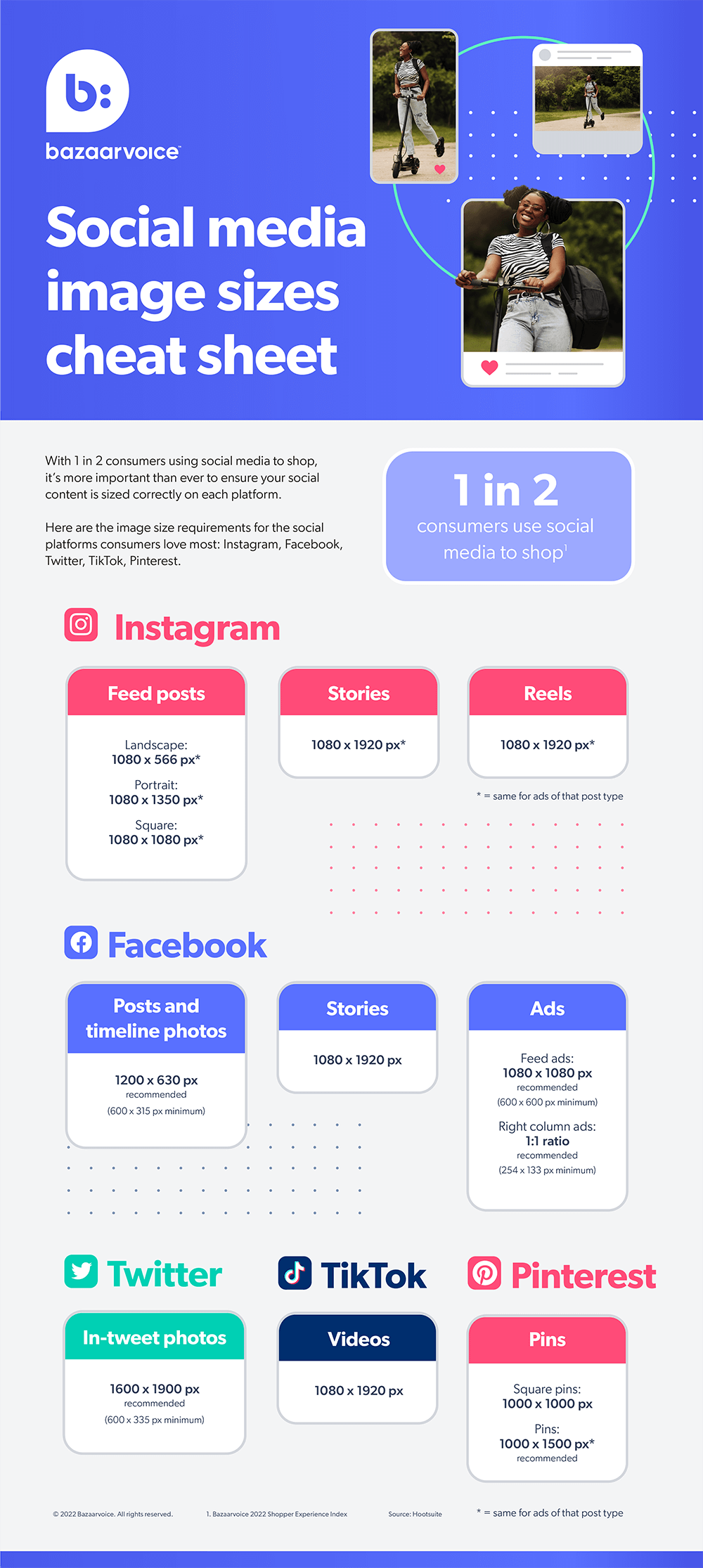 Achieving Instagram benchmarks one visually engaging post at a time
And, that's a wrap! You're now up-to-speed on the latest Instagram sizes and dimension requirements.
By keeping these parameters top-of-mind, you'll not only increase the quality of your visuals but also the credibility of your brand — helping achieve your Instagram benchmarks one visually engaging post at a time. Now you know the right Instagram sizing, see which Instagram metrics you should be using.