Report
The social media marketer's guide to Instagram analytics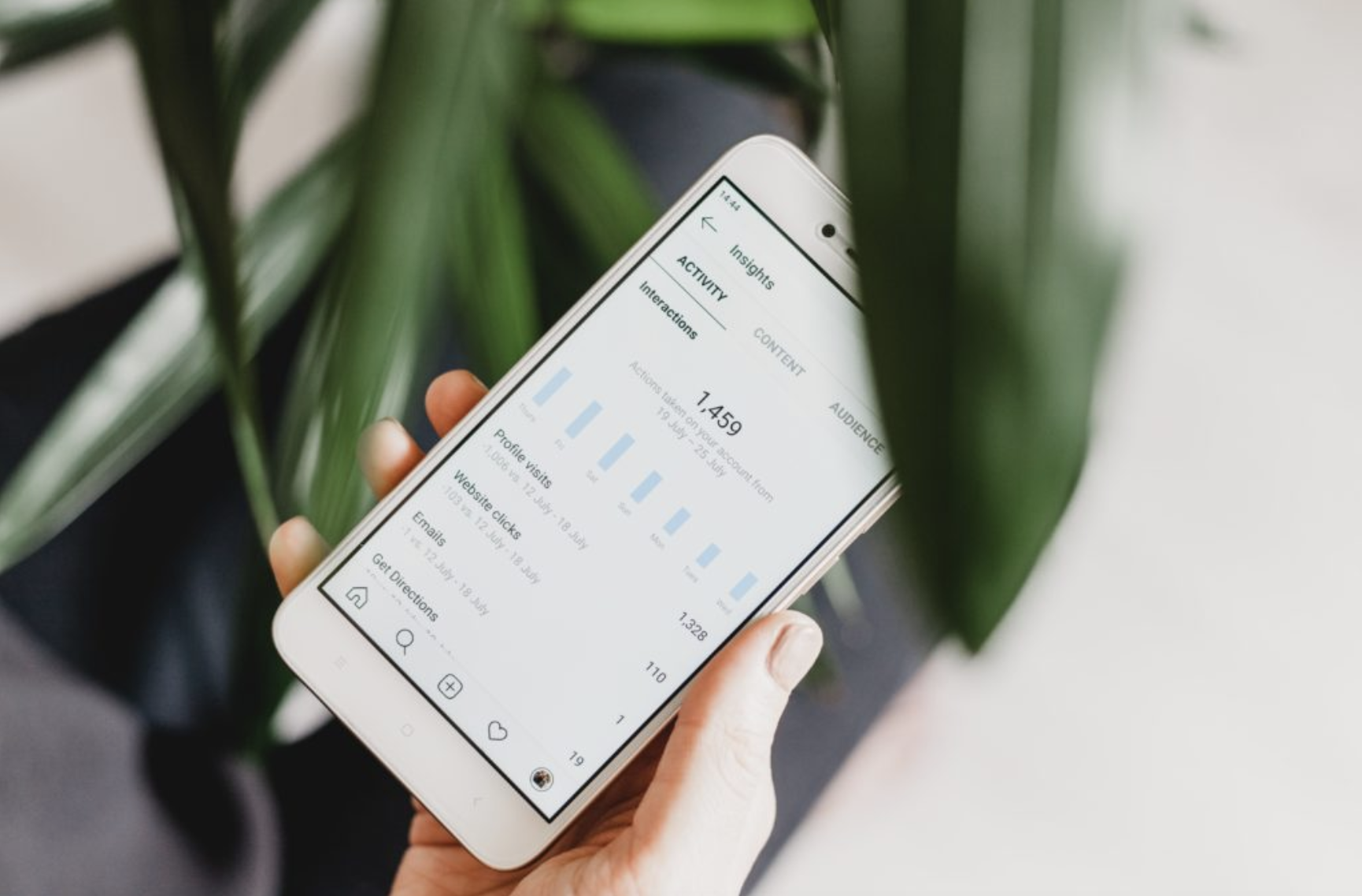 When Swiss chocolatier Lindt wanted to determine which images of its delectable products most resonated with its social followers, the brand turned to Instagram analytics. What did it find? That photos of simple, unwrapped chocolate bars outperformed everything else in its feed.
Using this insight, Lindt began giving its followers more of what they wanted. And the move paid off: The chocolate company's website visits increased by 130%, and its clickthrough rate climbed by 178%.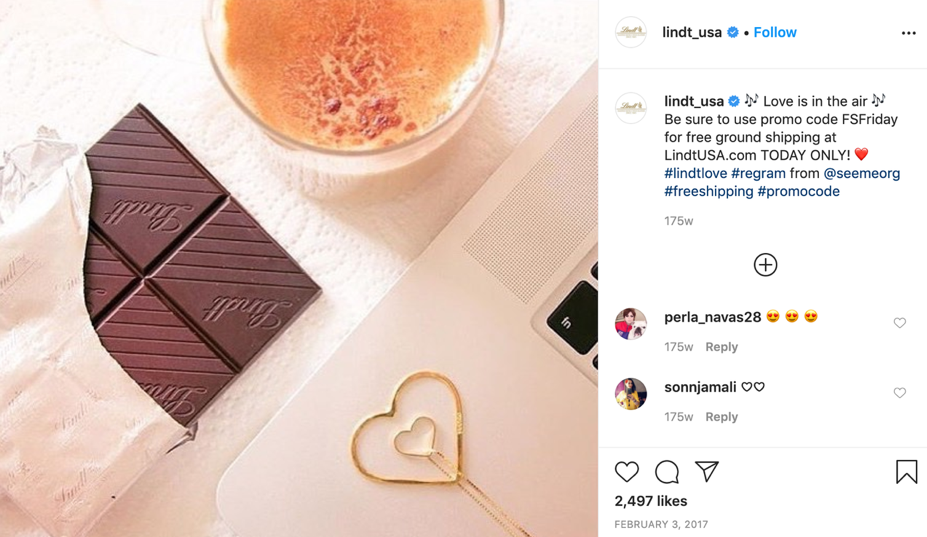 Whatever your brand's goal for Instagram—whether it's to grow followers or increase sales—you not only need to keep an eye on analytics, but you also need to truly understand them. Knowing how to examine this data can help you reach your target audience better, post more engaging content, and develop a more effective social strategy to help reach your goals.
However, sorting through data in Instagram analytics and determining how it informs your social decisions can be overwhelming. This comprehensive guide will explain why Instagram analytics matter, and walk you through various metrics so you can develop a winning Instagram strategy.
Why you should use Instagram analytics
Instagram analytics help marketers understand three important things:
People:

Who's engaging with your content?

Content:

What content is engaging?

Products:

Which products within that content are getting the most engagement?
When you consider these collectively—who's viewing your posts, how your is content performing, and what value your content is driving—you'll be able to curate your feed in a smarter way and improve your overall content strategy.
Plus, if you're not looking at the numbers regularly, you may miss key insights and opportunities. For example, you could be posting too frequently or not enough, targeting the wrong audience, or even overlooking comments or mentions that could lead to future partnerships.
Instagram post analytics
First, let's take a look at how to use Instagram analytics to assess the posts that appear on your bio page.
How to access Instagram analytics
Instagram analytics, which are known as Instagram Insights, are available to business profiles only. You can access analytics from your account profile in one of two ways.
You can access Instagram analytics directly from your profile, as illustrated below.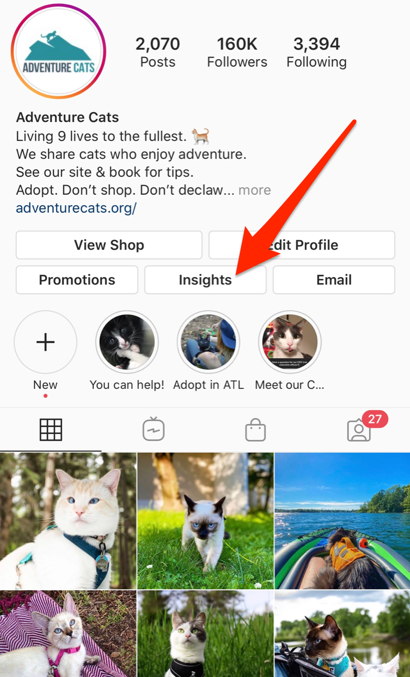 You can also access Instagram analytics by clicking on the three horizontal lines in the top-right corner of the screen and then selecting "Insights," as illustrated below.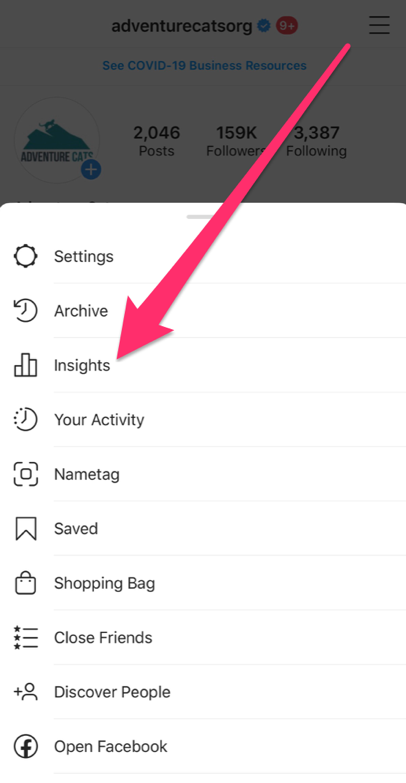 If you don't yet have a business profile, follow these instructions to make the switch. If you only recently transitioned to a business profile, you may not yet have data available on Instagram Insights. Also, keep in mind that Instagram can provide you with analytics information about posts and stories that you published only after you switched to a business profile.
You can view insights for the past week only, so it's essential to regularly view and assess this data to see how your content is performing. However, while a week's worth of data is useful for analyzing current performance, focusing on this short period alone is the social media marketing equivalent of operating with blinders on.
There's undeniable value in having access to all your analytics, so you can identify trends and modify your social strategy accordingly. Having access to all your data allows you to identify historical and seasonal trends and gain long-term community-building insights. It also allows you to marry historical and short-term data so you can modify your content strategy based on what's currently working and what has performed well for you in the past. Providing this long-term and in-depth data is just one of the perks of
Bazaarvoice.
But even if you're only using Instagram Insights, there's still a lot of valuable information you can glean, which we'll explore in more detail below.
Metrics you can view by tab
When you access Instagram analytics, you'll see three tabs: content, activity, and audience. Within these, you can dive deeper into specific types of data.
The content tab
The first tab that appears is your content from the week. Here, you'll see the number of posts you made that week. These posts aren't displayed in chronological order; they're displayed by the number of times they were viewed, allowing you to easily determine which recent content has had the greatest reach.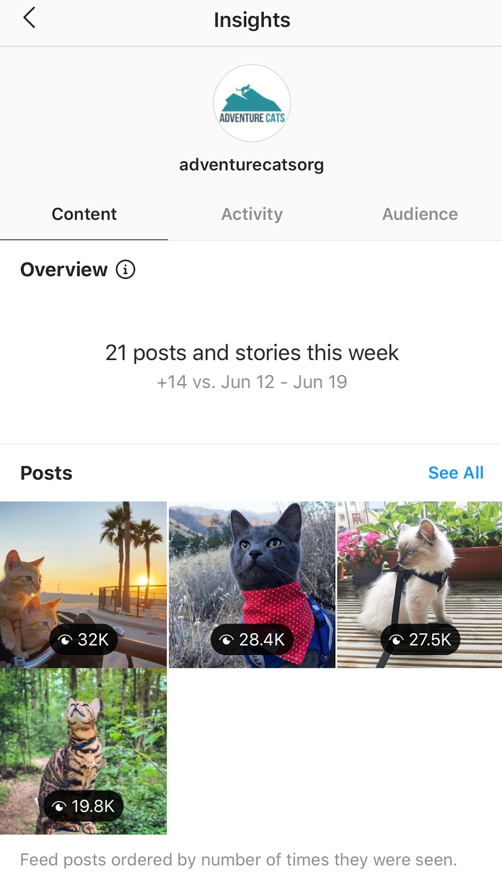 If you click "See All" on the content page, Instagram Insights will provide you with a bit more historical data by displaying all of your posts from the past year.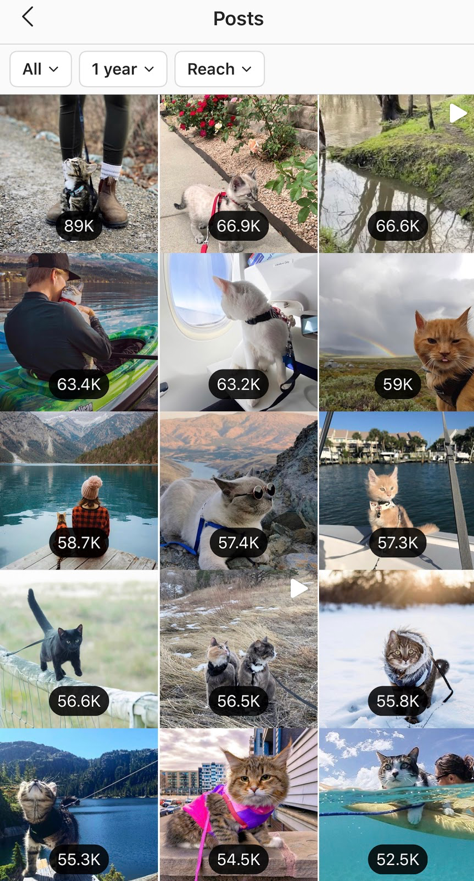 Here, the posts appear in the order of how much engagement they received.
Why the content tab matters
Engagement with posts is important because it reveals what type of content is getting your audience's attention, allowing you to tweak your strategy. For example, if you notice that photos that have a certain style or use a specific filter perform exceptionally well, you may use that tactic more frequently in the future.
Engagement is important for e-commerce brands to track because users who are engaging with your brand are more likely to make a purchase. So, if you have a post that has high engagement, for example, it's clearly resonating in some way. But can that engagement be translated to conversions? In other words, is there actual engagement with your products?
The activity tab
When you click into the Activity tab in Instagram Insights, you can view data about your account's discovery and interactions.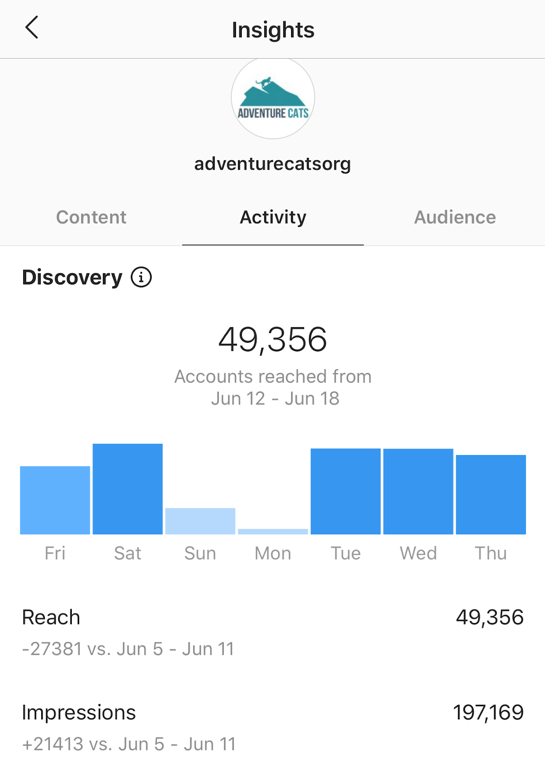 Discovery refers to the Instagram accounts that your account has reached within the specified time period. The Discovery section of analytics provides you with the following:
Reach:

How many Instagram accounts your posts reached

Impressions:

Number of times your posts were viewed
Why discovery matters
These numbers provide a good overview of how your content is performing, in terms of how many people it's reaching and how many views it's receiving. For example, in the screenshot above, you can see that reach decreased from the previous week.
You can use this data to try to discern what may have prompted the change in impressions. Perhaps you launched a new product that week, or maybe you hosted a giveaway that enticed users to share a post to increase their odds of winning. Identifying what's working—or not working—for your audience empowers you to improve your strategy.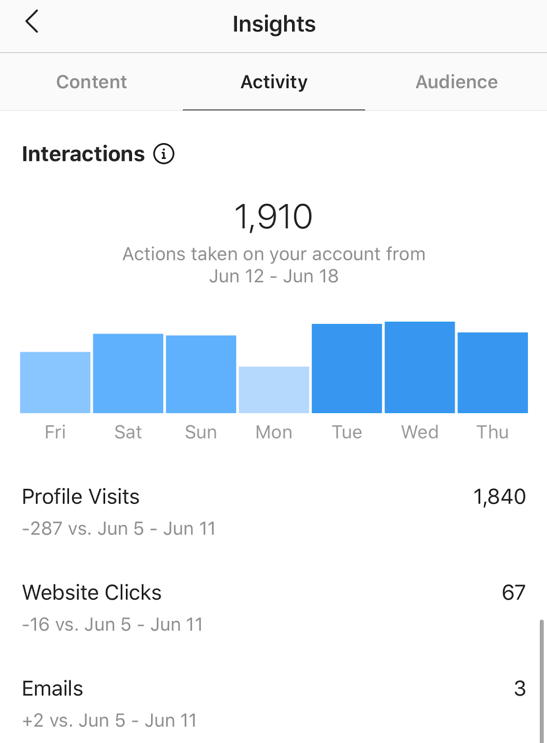 Scroll down past Discovery to view Interactions, which are the actions taken from your account within a specific week and include the following:
Profile visits:

Number of profile views for the week

Website clicks:

Number of times users clicked the link on your profile page

Emails:

Number of times users clicked the "email" button on your profile page
Why interactions matter
This data provides you with an overview of how your audience interacts with your brand each week. For example, if you find that profile visits and website clicks are growing, it's clear that your audience is active and engaged with your brand. However, if these numbers remain low or even decrease, you'll want to adjust your strategy and find new ways to get your audience involved.
The Audience Tab
The tab to the right of "Activity" provides information about your account's audience and includes the following information about the users who follow your account:
Top locations

of your followers by city and country

Age range

of your followers

Gender

of your followers

Average times when your

followers

are on Instagram by hour and by day of the week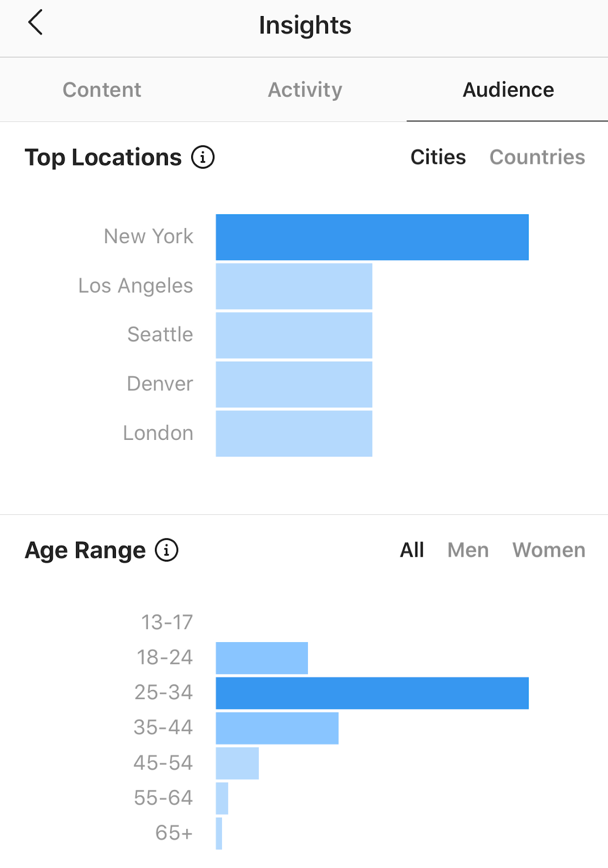 Why the audience tab matters
This data can inform you if you're reaching your target audience or perhaps if there's an audience for your content or product that you weren't previously aware of. Or, if your audience is in a younger age range, you may want to post to Instagram or Instagram Stories more frequently, because younger demographics tend to be more active on Instagram.
Once you understand more about your overall audience, you can look at individual posts to see how your content resonates.
Understanding the Data
When interpreting data from Instagram analytics, it's important to have goals in mind, so you can determine if your content is accomplishing them:
If your goal with Instagram is to build brand awareness, you'll want to pay particular attention to metrics like your follower count, impressions and reach, and the number of likes and comments your posts receive.

If you're trying to drive traffic to your website and you have high engagement but no profile clicks, you may want to consider ways to use your posts to entice followers to visit your profile and click.
While there's a lot of information available in Instagram Insights, keep in mind that you're limited to data within the past week, so, although you're seeing a part of the puzzle, it's not the whole picture.
For a more comprehensive and user-friendly view of your Instagram data, take a look at what Bazaarvoice's dashboard offers.
Questions to Consider
Is your follower count growing, shrinking, or remaining stagnant?

While some fluctuation in numbers is normal, if you see a sudden

increase in followers

, it's worthwhile to determine what led to it. Did an influential user tag you in a post? Has the type of content you're posting changed?

Which posts receive the most impressions or have the greatest reach?

Do your posts about products get a lot of attention, or do posts by

micro-influencers

perform better? Are users engaging with your branded content, or do one-off posts outperform them? If it's the latter, how can you optimize branded content for engagement?

Are you reaching your target audience?

Look at your audience data to determine whether you're reaching key demographics. If not, what adjustments should you make? What audience are you already reaching, and how might this affect your brand?

How often should you post?

Experiment with posting just once a day, and then try posting more often. Compare the amount of engagement that you get at different posting frequencies, because different audiences will have different appetites for content.
Individual posts' analytics
If you want to take a look at how a particular post has performed, you can easily do this by selecting the post and clicking "View Insights," as illustrated below.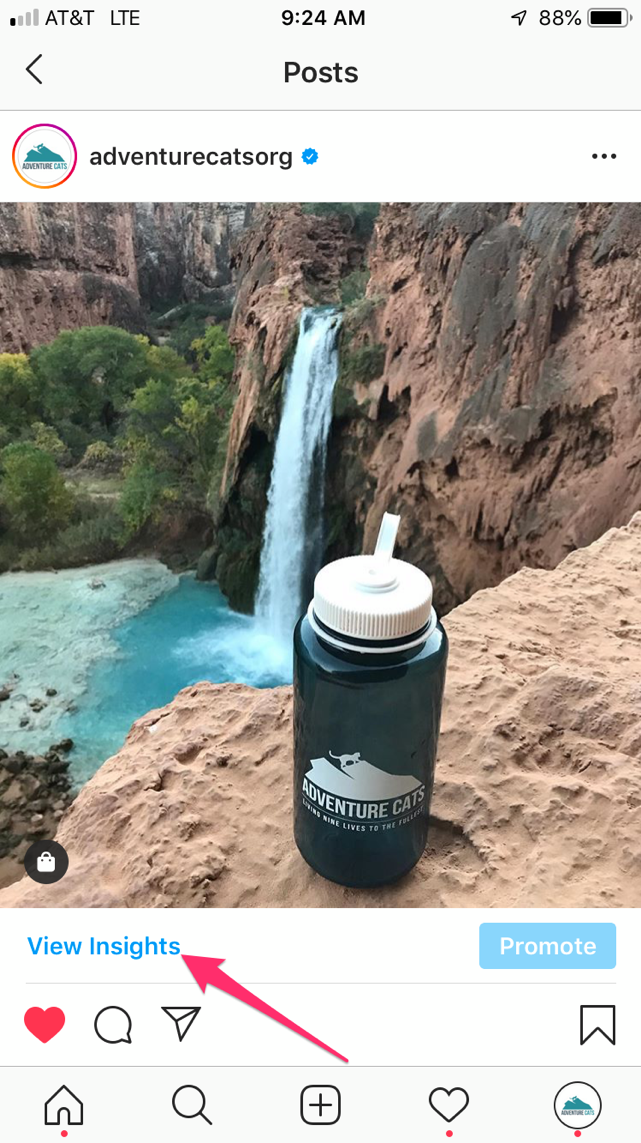 Here, in addition to viewing how many likes, comments, shares, and saves a post has received, you'll be able to delve even deeper into the post's performance.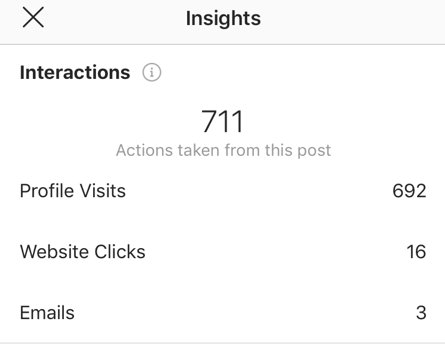 The information beneath the Interactions heading will show you how many actions were taken from your post, including profile visits and clicks to your website.
Below this, you'll see a heading for Discovery. Here, you'll see how many unique Instagram accounts you reached, how many users followed you from that post, and where the post garnered impressions, as illustrated below.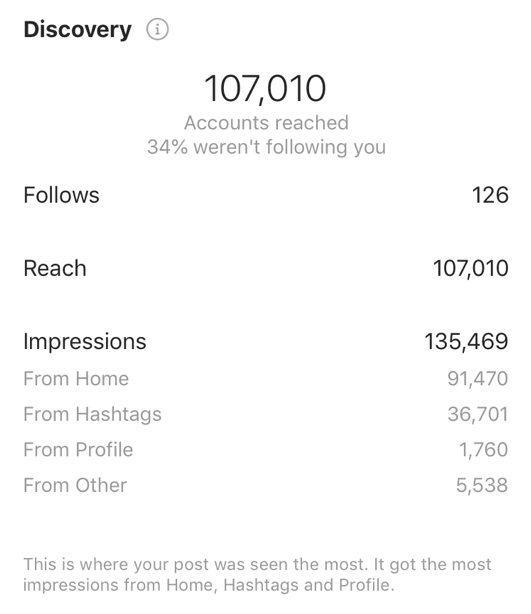 Understanding the Data
Drilling down into how a specific post performed can reveal a great deal of information:
If certain types of posts, such as product photos, lifestyle photos, or graphics, are receiving more engagement, you'll want to post more of these and see if you can recreate that success.

If your Instagram is

shoppable

, you may find that close-up photos of your products get more clicks than images featuring lots of different products in a "shop this look" format.
Questions to Consider
Which posts are generating the most interactions?

Which ones are garnering the most profile visits, website clicks, or emails? Which ones are getting the most reach and attracting new followers?

How are users finding your posts?

Are they coming to your profile and viewing content from there? Or are they discovering your content through

hashtags

?
Instagram Stories analytics
There are a couple of ways you can see how your stories are performing, depending on whether you want to view data on current stories or see historical data from stories after the 24-hour period. To see historical information about stories, simply access Instagram Insights the same way: by visiting your account profile, clicking on the three horizontal lines in the top right corner of the screen, and selecting "Insights." Then, scroll past "Feed Posts" to "Stories."
Here, you can view the number of impressions your stories received for the past two weeks. To see how an individual story has performed, simply select it and then swipe up to reveal more in-depth data.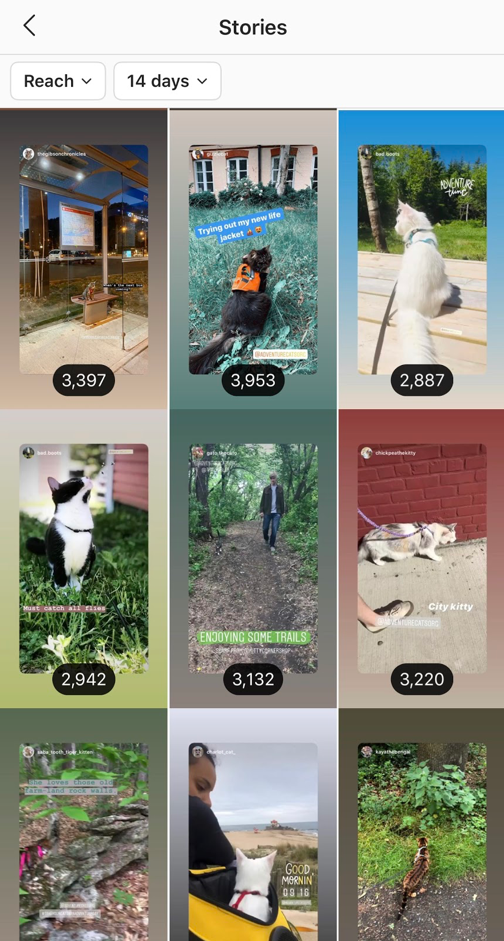 To access information about an active story, simply tap on the story you're interested in, and either swipe up or tap "Seen by" in the lower left-hand corner, as illustrated below.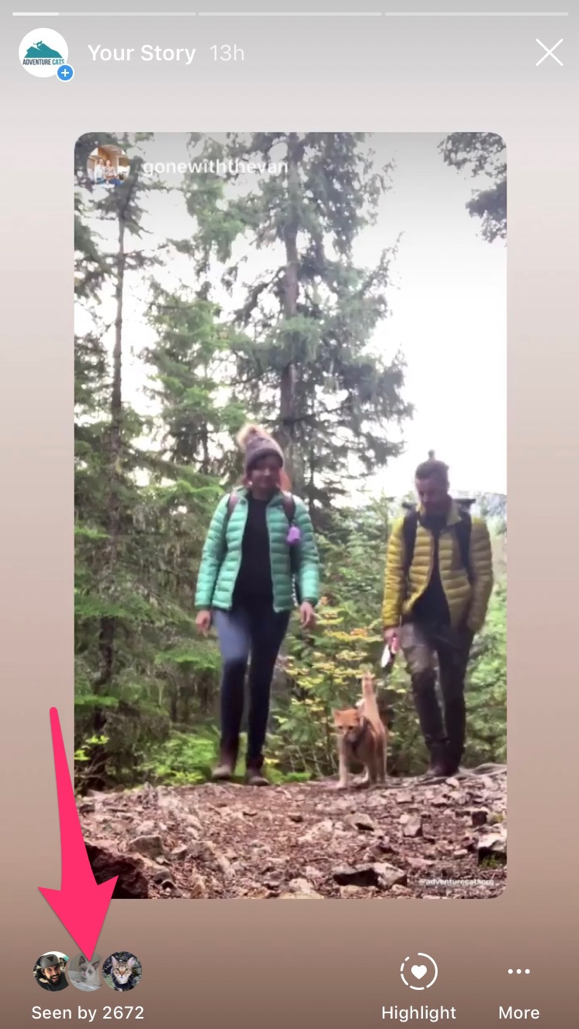 From here, you'll be able to view a variety of data, which is outlined in the following section.
Story metrics you can view in Instagram Insights
Instagram provides a lot of information about who's watching your stories and how those viewers are interacting with them.
Viewers
To see who viewed an individual story on your account, click the eye icon. This will display a complete list of every Instagram user who saw the story.
Interactions
Tap the chart icon to the left of the eye icon to view the actions taken from an individual story. Here, you can see the number of shares and replies your story received, how many people visited your profile from the story, and how many sticker taps occurred. If you have more than 10,000 followers or are a verified user, you can also add links to your Instagram Stories, and you'll be able to see how many users swiped up to visit the URL.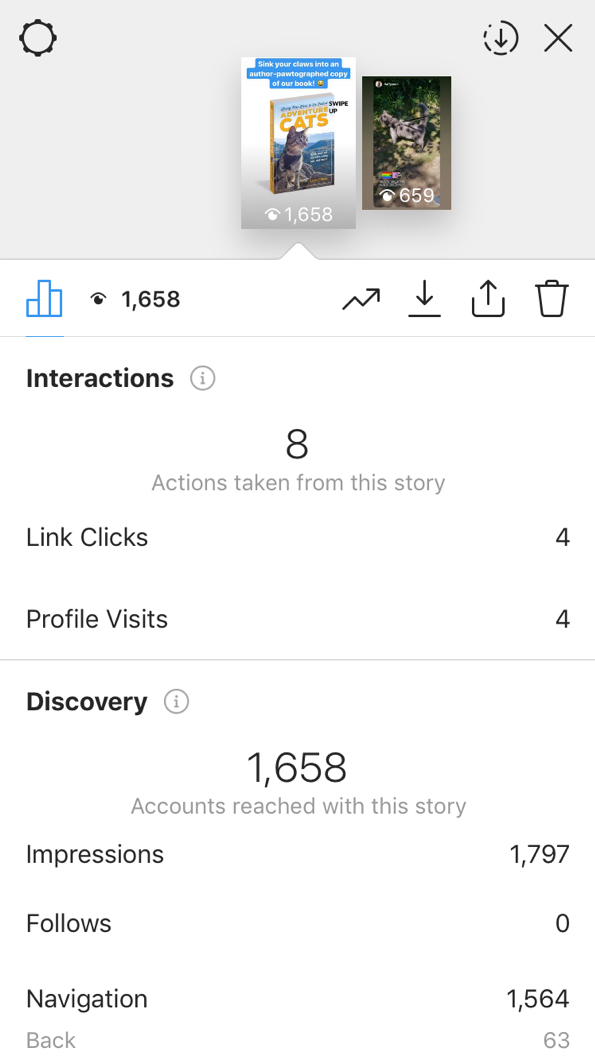 Why it matters
There's a lot you can learn from how users engage with your stories. For example, you may discover that lifestyle photos of your products get more website clicks than product photos on a neutral background. This indicates that your brand should share more lifestyle content or user-generated content.
Discovery
Beneath Interactions, you'll find a section of data called Discovery, which details the number of accounts reached with an individual story. Here, you'll find the following metrics:
Impressions:

Number of views the story received

Follows:

Number of users who followed your account from the story

Navigation:

How many users did the following:

Clicked back

Clicked forward

Clicked to your next story

Exited your story (tapped the x icon, swiped to another account's story, returned to their own feed, or closed the Instagram app)
Why it matters
These numbers indicate how engaging your stories are. For example, if you find that users watch your stories when you post behind-the-scenes updates but exit quickly when you promote products, you may determine that users want to engage with your brand but are put off by your sales tactics. Or if you discover that certain stories get substantially more clicks back, meaning people are watching the story again, consider what about that content is appealing to users so you can recreate it in future stories.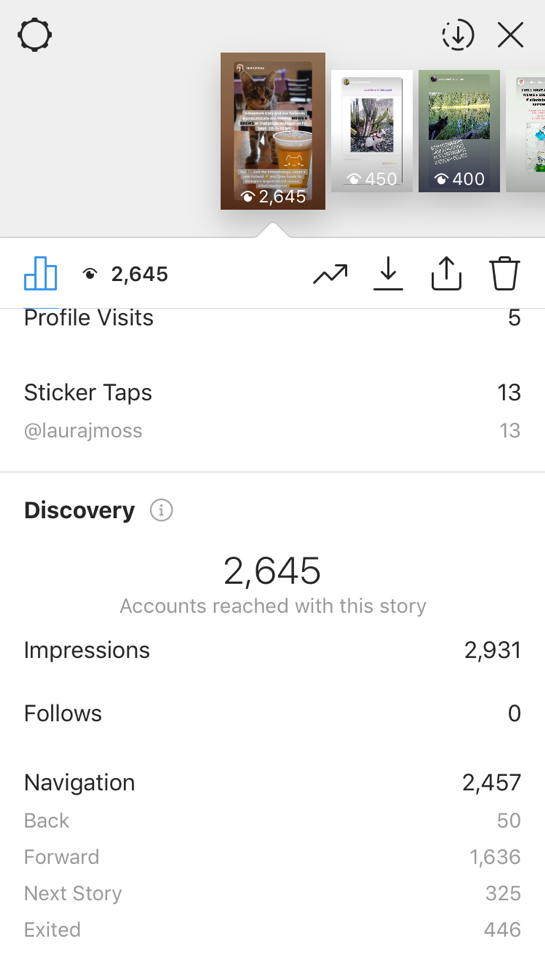 Understanding the Data
When considering your Instagram Stories analytics, again, consider your goals for the platform:
If your goal with Instagram Stories is to engage with users in a more personal way, pay attention to how many users are sharing or replying to your stories.

If you're using Stories to drive traffic to your website, you'll want to see how many people are swiping up to visit the URLs you're linking to within your posts.
The downside to the data available on Instagram, though, is that it's so limited—to consistently see how your stories perform over time, you'll have to check each story's performance within that 24-hour time frame.
Bazaarvoice offers the solution to that.
Bazaarvoice's dashboard

provides unlimited access to Instagram Stories analytics. The data will never disappear.

You can even schedule Instagram Stories in advance to optimize views.
Questions to Consider
What kinds of stories are holding your audience's interest?

Experiment with a variety of story

stickers

—videos,

polls

, Q&As, and more—to determine what works best for your brand.

At what point are users exiting your story?

This information can help develop a strategy for your stories. For example, if you're uploading numerous photos or videos to tell a more lengthy or complex story overall, when do viewers lose interest? Would you benefit from keeping your stories more succinct?

What posts are enticing users to click?

When you include links in your stories, are there certain types of posts that lead to more clicks? If you're promoting a product, are people clicking to learn more? If you're teasing a blog post, are people swiping up to read the full post?
IGTV analytics
IGTV allows users to watch long-form videos both from the Instagram app and from the stand-alone app, and there are several reasons why brands should take advantage of IGTV.
You can access IGTV metrics from the Instagram app the same way you view other Instagram Insights—by navigating there via the three horizontal lines in the top-right corner of the screen.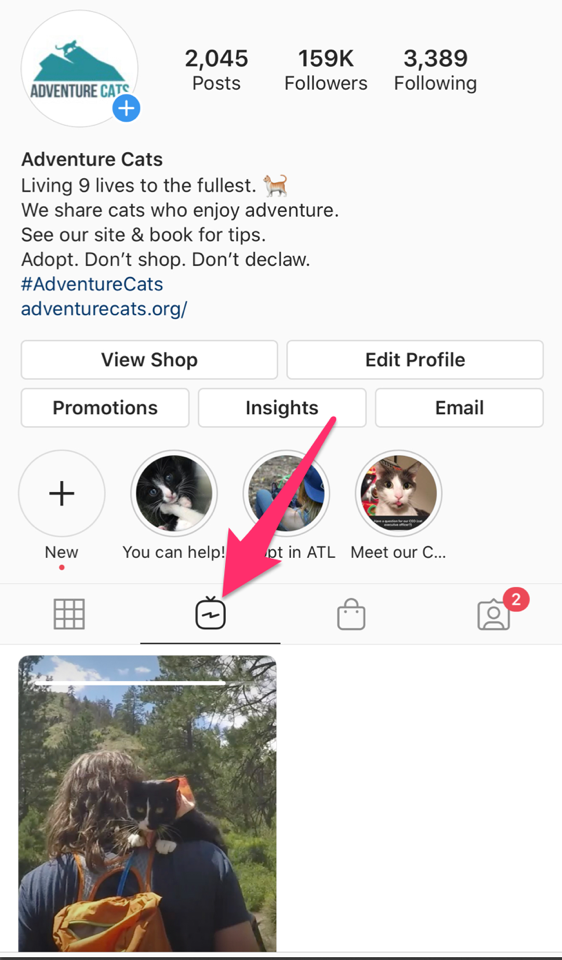 Or, simply click the icon for IGTV on your bio to see your videos, and select the one you're interested in.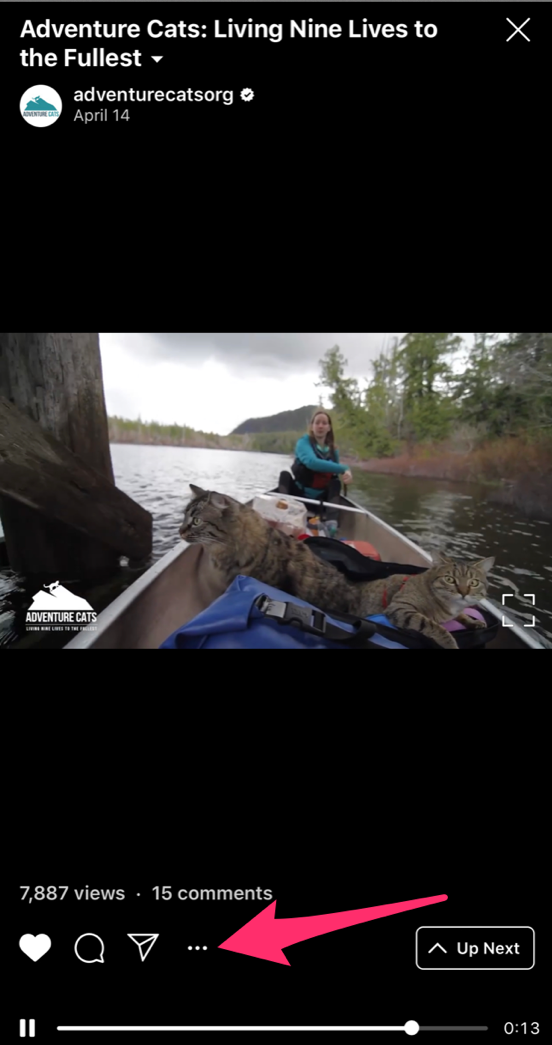 Then tap the three dots, as shown above, and select "View Insights" from the menu that appears.
IGTV metrics
From here, you can get more details about the reach and engagement of your IGTV videos.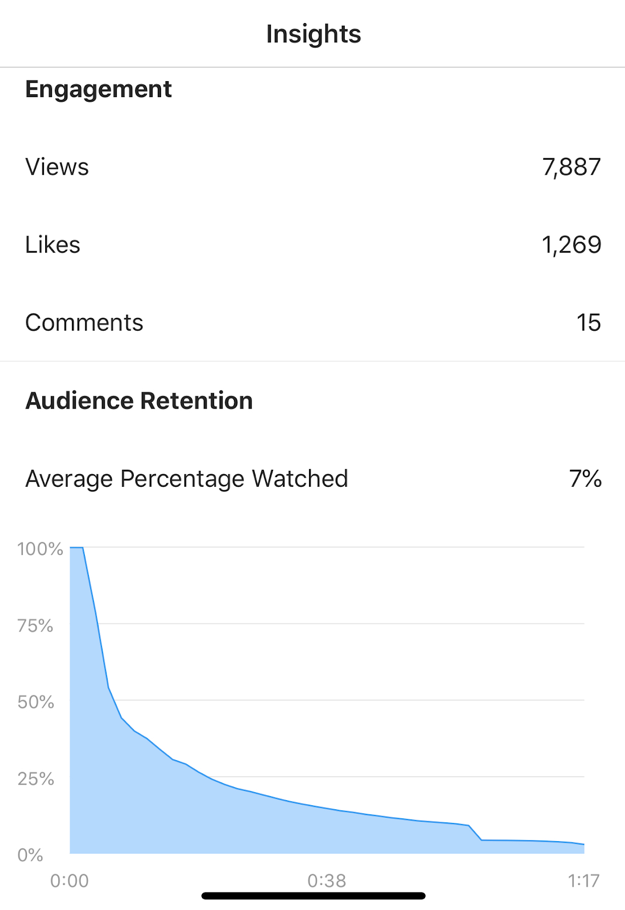 IGTV insights include the following:
Views: Number of views a video received (views are defined as lasting at least three seconds)
Engagements: Number of likes and comments a video received
Audience retention: Percentage of completed views a video received
Audience retention graph: Displays the point at which viewers quit watching a video
Understanding the Data
There's some overlap between the analytics for Instagram Stories and IGTV, but each of the platforms can be used in unique ways to help you reach your goals:
Keep in mind that a user must view a video for at least three seconds for it to be counted, so if your views aren't increasing, consider why people might be clicking away immediately.
IGTV can tell you the exact moment a user clicked away from your video, so you can draw conclusions about why a user lost interest.
Questions to Consider
Which videos are holding your audience's interest? You may find that some types of IGTV content keep users watching until the end, while other types don't perform as well. Perhaps people are watching and sharing your humorous content or product reviews, but they're less interested in educational content or Q&As with your team.
At what point are viewers clicking away from your video? Because IGTV pinpoints the second that a user stops watching a video, you can use this information to inform future content. For example, if a lot of people click away from your video at the 20-second mark, consider what's happening at that moment that makes them lose interest.
Product tags analytics
Product tags on Instagram allow businesses to tag items for sale in both posts and stories, making them easily shoppable. Users simply tap on the product's picture to learn more about the item and make a purchase. This has three key benefits:
It allows businesses to showcase products.
It enables businesses to drive sales directly from Instagram.
It empowers the buyer to quickly and easily make purchases.
Product tag metrics
The metrics available for product tags are essentially the same for Instagram posts or stories; however, you can also see how many clicks your product has received. For example, in the screenshot below, you can see that the product button received only two clicks from this Instagram post.
The screenshot below is from a product post in an Instagram story, and you can also easily view the number of product button clicks here as well.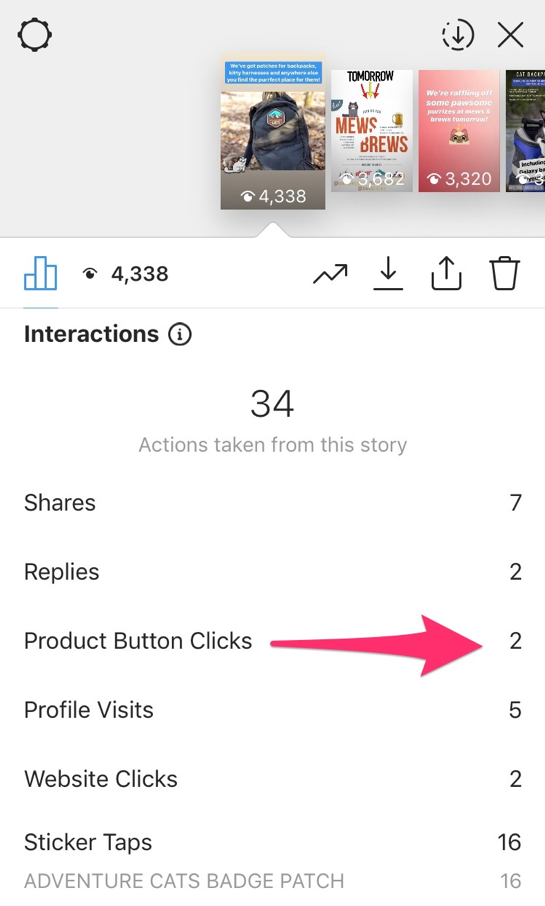 Understanding the Data
This feature provides an additional way to evaluate how your business performs on Instagram by allowing you to see which product posts generate the most interest. However, while Instagram's native shopping feature enables you to make your account shoppable, Bazaarvoice's shop tags feature enables you to truly maximize the value of your content by distributing it among various outlets.
Questions to Consider
Which products are getting the most clicks? You may find that some of your products simply get more engagement than others. Perhaps expensive items receive fewer clicks than more affordable ones because your audience is more likely to make an impulse buy on a less costly item. Or maybe your top-selling item isn't getting as many clicks on Instagram as a less popular item, and you need to determine why.
Which types of posts are getting the most clicks? Do your product tags perform better in posts or in stories? Is there something specific about the post that's getting your audience's attention? For example, is the product photo or video appealing for a certain aesthetic reason, or is the product teased or promoted in an intriguing way?
Making sense of Instagram analytics
Clearly, there's a great deal of analytics information available to Instagram users, and it can be challenging to know where to start when you're first looking at all the data and trying to make sense of it.
To help make your Instagram analytics experience easier, first consider what your goals are for the platform. If you're mostly interested in growing your audience and expanding your brand's reach, you'll want to focus on followers. Pay close attention to your number of followers, track how that number changes over time, and consider how your content plays a role in the increase, decrease, or stagnation of that number.
However, if you're using Instagram for ecommerce, you'll want to focus on other aspects of analytics and consider how you can increase sales, such as by making your Instagram easily shoppable.
Instagram Insights can only provide so much data, though, so if you're serious about delving into your analytics and genuinely understanding what your numbers mean, Bazaarvoice can provide you with the tools to do just that.
Related Content
Please complete our short form to carry on reading our Report