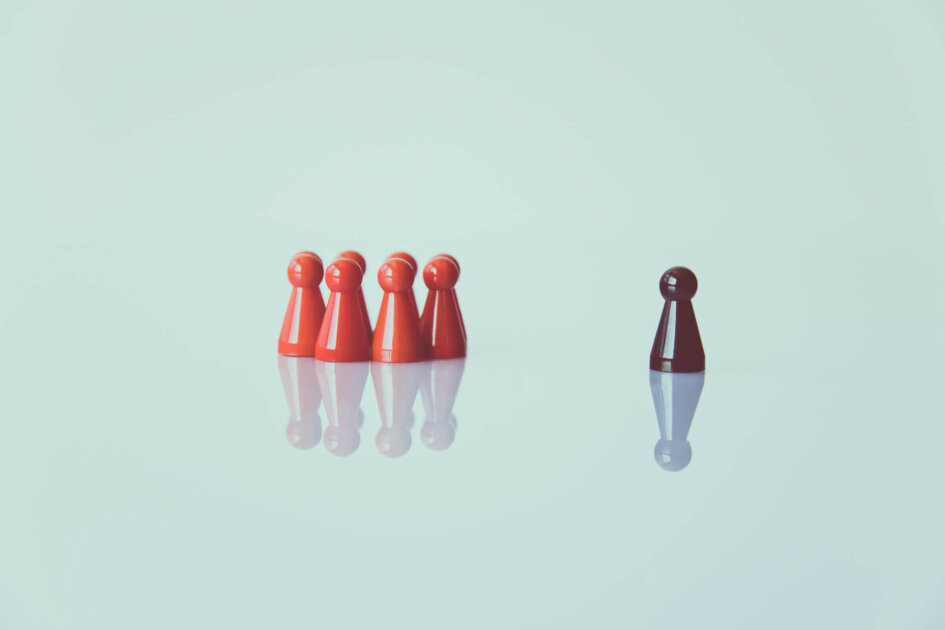 With over a billion monthly active users, Instagram offers incredible opportunities for up-and-coming brands to reach their target audience and drive sales. But figuring out how to get real followers on Instagram—for free—is no easy feat for brands with lean marketing teams. In fact, "not enough human and financial resources" is the top challenge businesses face with social media marketing. And with recent updates to the Instagram algorithm, brands that rely on shortcut tactics like buying followers or using bots are inviting more risk than reward.
If you need to quickly build a community of real followers on Instagram, but are strapped for resources, focusing on the right tactics is critical.
Here's our handy guide for how to do just that.
How to get real followers on Instagram
1. Define clear goals for your Instagram account
"Begin with the end in mind" is one of Stephen R. Covey's seven habits of highly effective people.
Before you dive head first into content creation and strategy, hit the pause button and ask some probing questions. Why do we want more followers on Instagram? What does a larger following help us achieve?
Your company may have already answered these questions for you by setting clear business objectives to work toward, like:
Grow brand awareness by 40% by the end of Q2
Increase sales for product X by 20% by the end of the year
If not, identifying these key objectives is priority number one.
No matter what your desired end result is, working backwards from there ensures every step you take is in the right direction.
2. Know exactly who you want to connect with
At its core, social networks are about connection, and it's nearly impossible to connect with people you don't know or understand.
Firstly, 61% of Instagram users are under the age of 34 and more than half are women. So the platform provides some baseline demographics about your audience. But it's worth digging in a little more to understand:
Where they live
Where they spend their time (online and off)
What they do for work and in their free time
How they communicate
What challenges they face
Their motivations
What they want
As marketers, we have to ensure we don't get so busy collecting fans that we forget to actually connect with them. Take the time to understand exactly who you're trying to reach so you can discover ways to truly connect with them—and give them what they want.
3. Research what your competitors are doing
Whether you're just starting out on Instagram or have been engaging on the platform for a while, competitor research should be an integral part of your strategy. Why?
An Instagram competitive analysis helps you:
Easily stay on top of relevant trends
Benchmark your performance in the industry
Identify opportunities to differentiate content
Understand what (and how many) hashtags work best
Staying on top of your competitors' performance is also a great way to learn what works (and what doesn't), so you can continue to optimize your tactics.
4. Make user-generated content a strategic priority
If you really want to accelerate organic growth on Instagram, make user-generated content (USG) a top priority. UGC is any content—social images, ratings and reviews, video, etc.—that's created by a person, rather than a brand.
Why make UGC a strategic priority? Because it's word-of-mouth marketing, which drives $6 trillion in annual spending. In other words, it's content that's perfectly designed for social sharing and it generates amazing results, including organic follower growth.
One year after implementing a UGC campaign, Buffer grew by almost 400%—from 4,250 to 21,000 Instagram followers and counting.
How can you use UGC on Instagram to boost engagement? Here's a great example of how Starbucks uses it: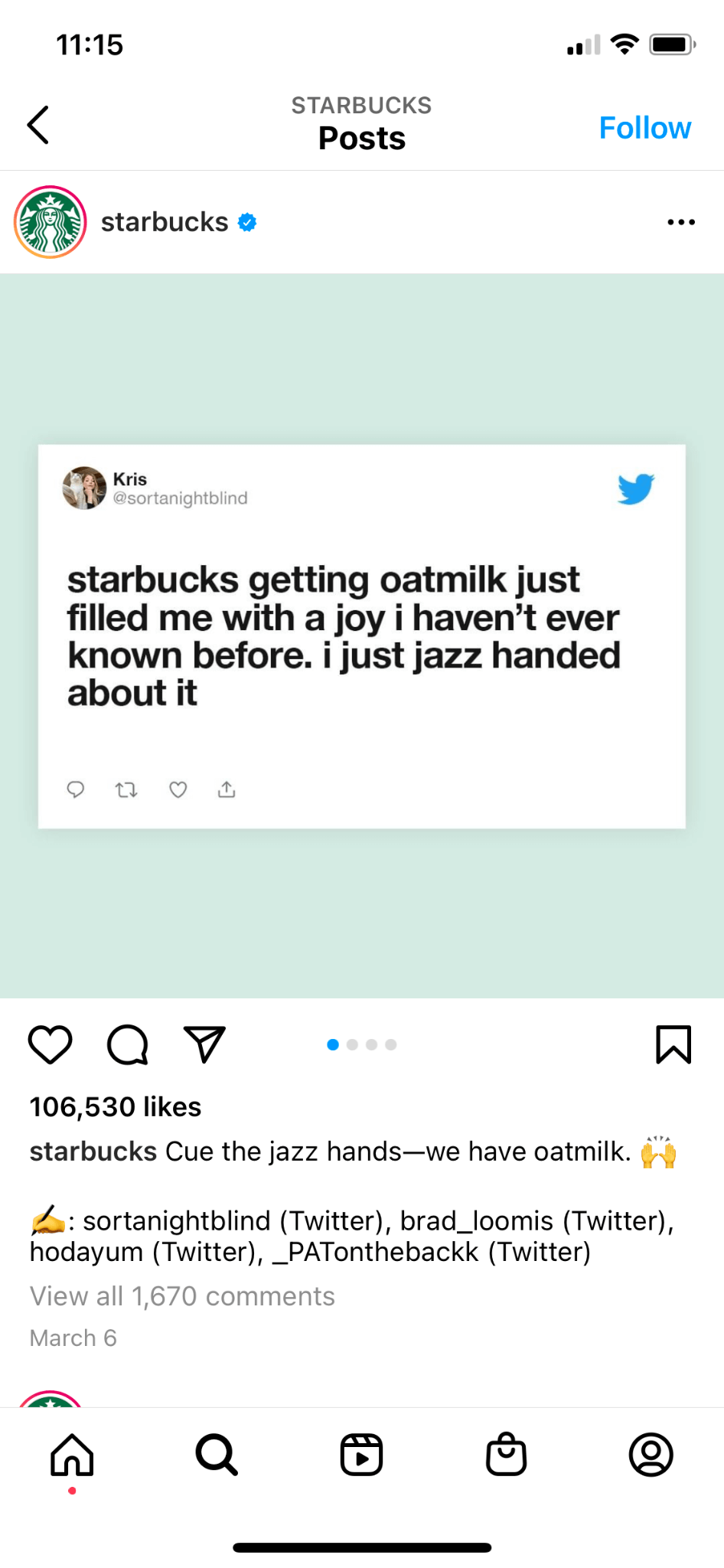 Instead of simply announcing a new menu item (oatmilk), the coffee brand repurposed customer tweets to spread the word—showcasing real and authentic experiences rather than promoting their own products. A powerful shift in messaging that generates much higher engagement.
How can you find (and encourage people to create) UGC for your brand? There are a variety of tactics you can use to source UGC. Here's a few examples:
Look for it across the web
Like our Starbucks example above, you may be able to find organic UGC on other platforms throughout the web—like Twitter, TikTok, Facebook, Reddit, or product review sites—that you can repurpose for Instagram. Look at your tagged posts, search your brand as a hashtag, check your Google seller ratings. Your UGC is out there. You just have to look for it.
Promote a branded hashtag
The easiest tactic to get started with UGC is using a branded hashtag. The fashion company, River Island, heavily promotes the hashtag #ImWearingRI. It includes the hashtag in all of its organic posts on Instagram and that persistence has paid off. The hashtag now has 182,000 posts, and counting!
Pro tip: River Island takes its hashtag game a step further than most brands by displaying customer images (through Bazaarvoice Galleries) with #ImWearingRI on the main pages of their website—converting active shoppers into social followers.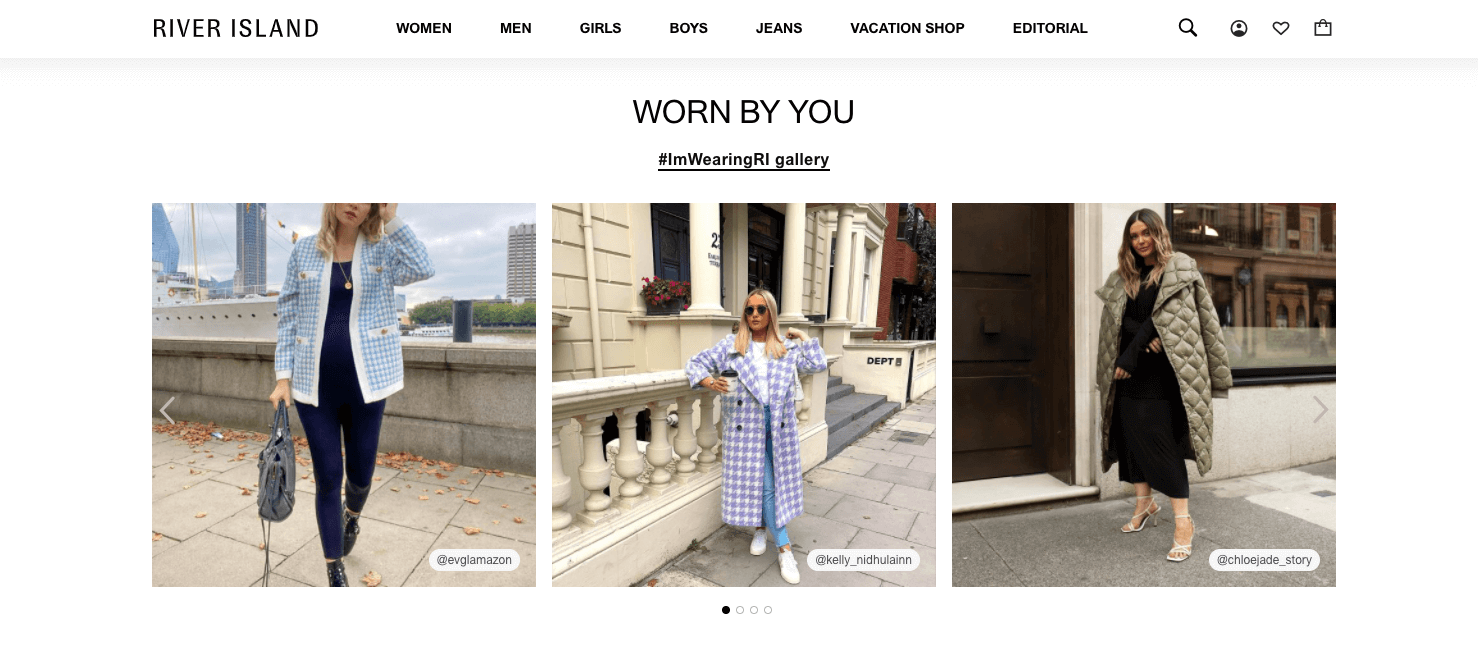 Run a contest
Who doesn't love free stuff? Really though. A well-created contest or giveaway is a win-win for everyone. Your followers get a chance to win some freebies and you get UGC in return. Check out this giveaway post example from Crate and Barrel: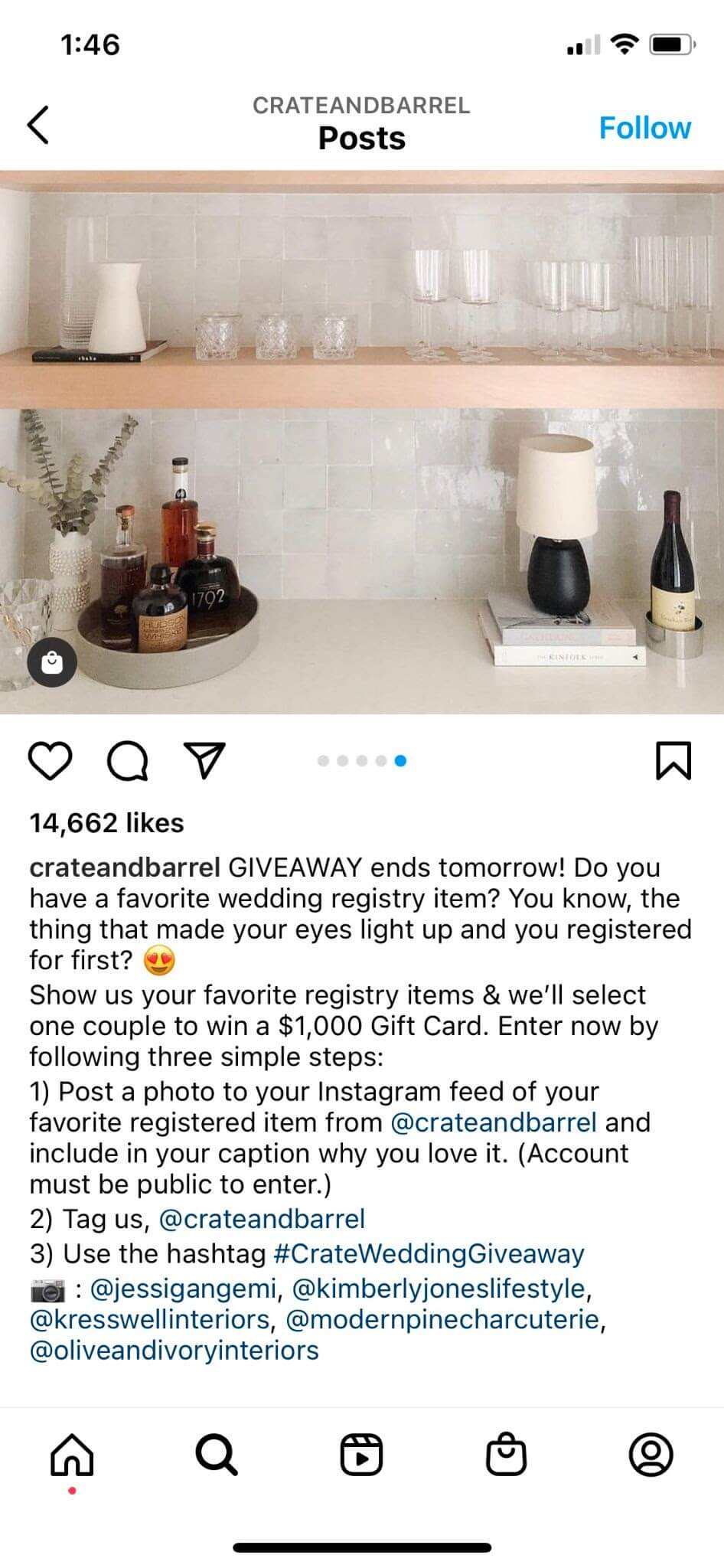 Giveaways posts are not just a great way to generate UGC, you can use them solely for the purpose of growing your following. Encourage people to tag a friend for greater reach and include a clearly written call-to-action. Something like, "follow our Instagram page for your chance to win."
Launch a sampling campaign
If you want to go a few steps further than social contests, you can launch a sampling campaign and send free products to target consumers in exchange for high-quality UGC.
We recently ran three sampling campaigns with Kraft Heinz, which resulted in 98,000 pieces of UGC, 20,000 reviews, and 39 million impressions from 369,000 social posts, shares, likes, and comments from consumers. Talk about growing brand awareness!
5. Personify your brand's content
The truth is, Instagram is a noisy platform. The number of shared videos increases by 80% every year and nearly 1,074 photos are uploaded every second.
With so much content circulating on Instagram, what can you do to stand out?
There's many different ways brands can leverage content to stand out, but one thing's for sure: The most effective content a brand can produce doesn't feel like it's coming from a brand. It's relatable and unique. It's human.
Brands that successfully personify themselves—by showcasing their unique style and personality—are the ones that rise above the rest.
Some tips for how to personify your brand on Instagram:
Create a unifying visual theme that puts your brand's style front and center
Connect your visual theme to a consistent story that reveals your brand's personality
Ensure that all content aligns with and promotes company values
The sparkling water company, Recess, stands out among its competitors on Instagram with its unique personality, color palette, and imagery. The brand launched at the end of 2018 and now has more than 95,000 followers on Instagram.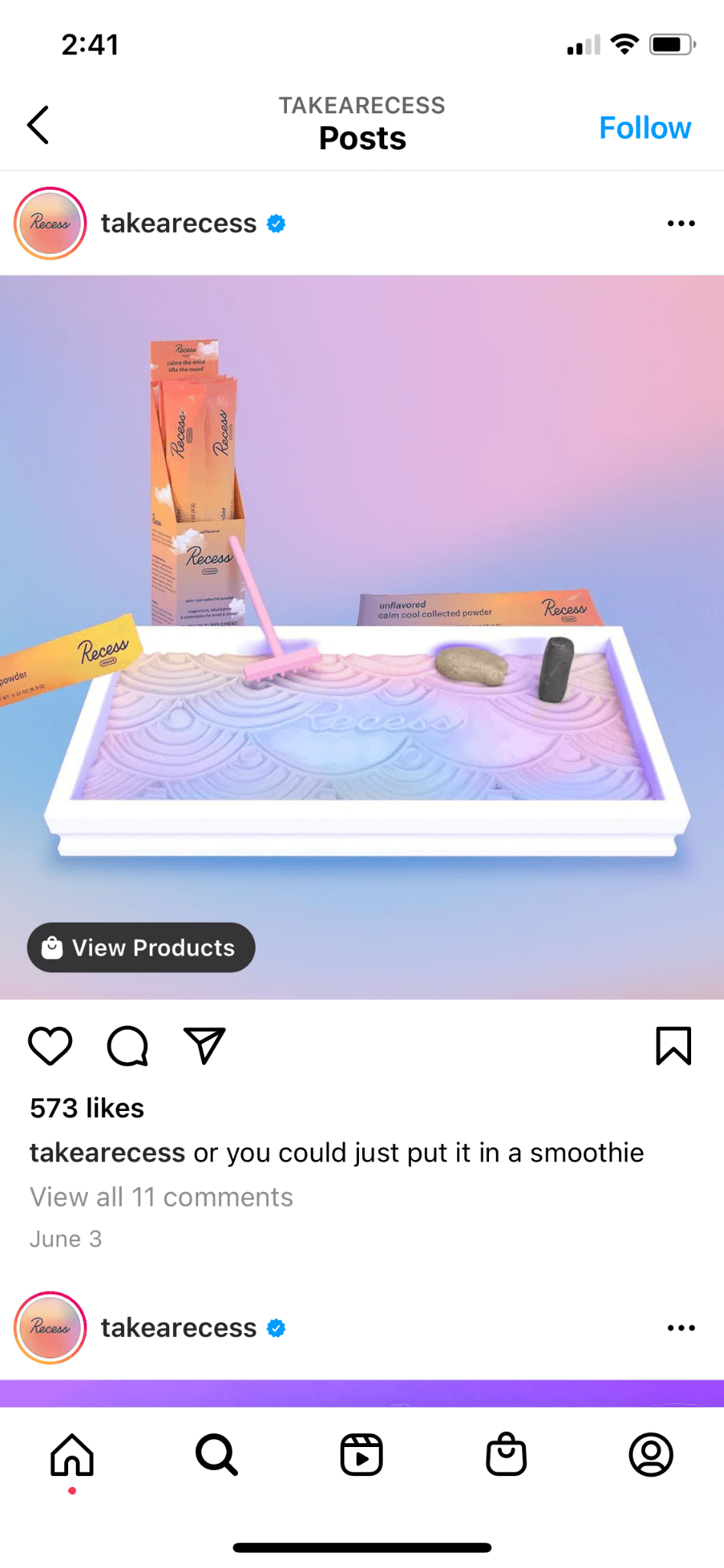 6. Determine what content to share and how often
When evaluating how to get real followers on Instagram, this step is critical, because there's no social media without content. As marketing thought leader and author, Rebecca Lieb, says, "Content is the atomic particle of all digital marketing."
It helps to begin your content planning process with these key questions:
What types of content does your target audience want to engage with on Instagram?
When do they want to engage with it? Under what circumstances?
What specific need will your content serve? What feelings will it evoke?
Thinking through these questions will help you keep your target audience in mind as you plan out what to create and how often to share it. This ensures your content is more relevant, valuable, and engaging. Why? Because it's not just speaking at your target audience but directly to them.
7. Partner with influencers
Instagram is notorious for influencer marketing and it's a tactic that continues to prove its value. 60% of consumers say they'd follow a brand on Instagram after an influencer they trust promotes it.
Many brands, like Burt's Bees, turn to influencer marketing to grow their following. The personal care brand often partners with beauty and lifestyle bloggers, both big and small, on Instagram.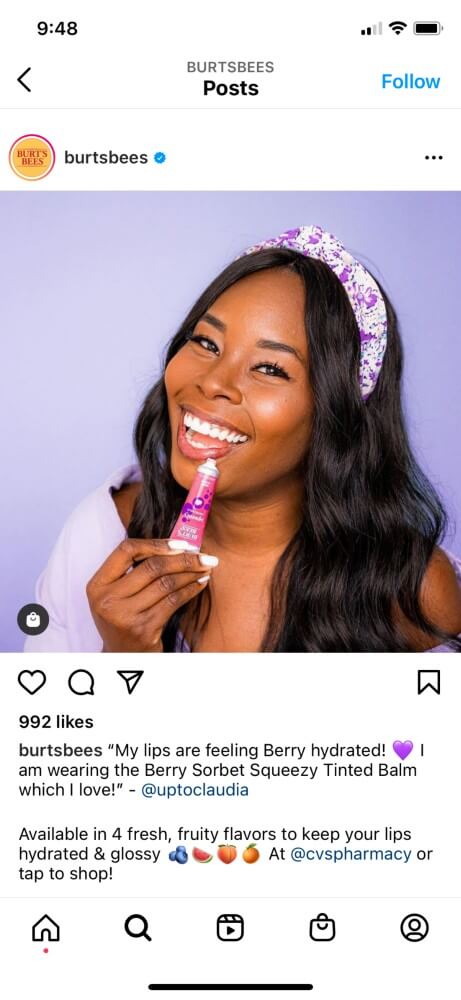 The trick with this tactic is to make sure you choose the right type of influencer for your brand and target customers. Check out our new research to learn more about the current state of influencers and discover which ones are the most valuable for your brand.
8. Promote your Instagram profile in other channels
If you really want to figure out how to get more followers on Instagram, try experimenting with cross promotion in other channels (both online and off).
Here's a few ideas to help you get started:
Add a "follow us on Instagram" call-to-action in your company-wide email signature
Add your Instagram handle to product packaging, receipts, and in-store displays
Use NFC sticker buttons at in-person events to easily share your account with attendees
Cross promote your Instagram content on Facebook and Twitter to maximize your reach
Embed Instagram posts on your blog
9. If all else fails, share cute dog pics
There's no problem a cute dog pic can't solve, right?
You can easily stage a pic with a cute dog if your brand is a consumer good (like the pic below), but there are plenty of other ways to incorporate dogs into your feed.
You can snap a pic of a furry friend in your office to show off your brand culture. Or make pet photos a regular theme with a branded hashtag, like JetBlue's #jetpaws—which is also used to collect tons of adorable pet travel pics by JetBlue customers (aka: UGC.)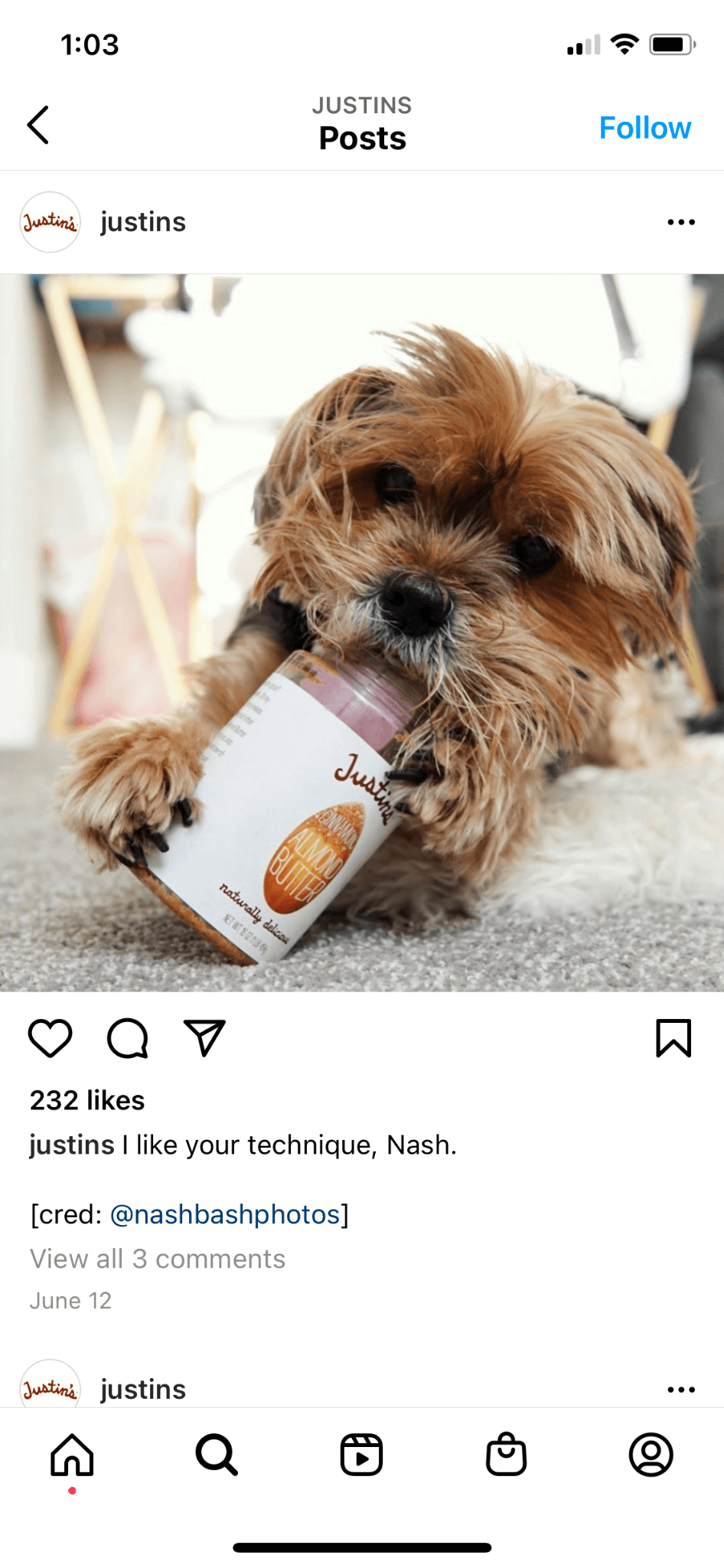 Ensure success by focusing on what works
After you've put these key tactics into action, make sure you allow some time to track results.
Even with a lean marketing team and limited resources, monitoring progress is important—so you can double down on what works.
Every marketer knows optimization is the key to success. Algorithms change. Best practices become outdated. New tools emerge. If you're not refining your tactics to adapt, you'll get left behind.
Here's a few key performance indicators to monitor:
Impressions. The number of times your posts are visible is someone's feed
Audience growth rate. How your follower count changes over time (new followers/total followers X 100 = growth rate)
Reach. How many people see a post since it went live (post views/total followers X 100 = post reach)
Click-through-rate. The number of people that click on your content
Interactions. Number of likes and shares a post receives
In the end, if you want to grow your Instagram (the right way), focus on authentic connection. Meet people where they are and give them a voice in your story. Because social media really isn't about you—it's about us.
Check out more of our Instagram best-practices here.