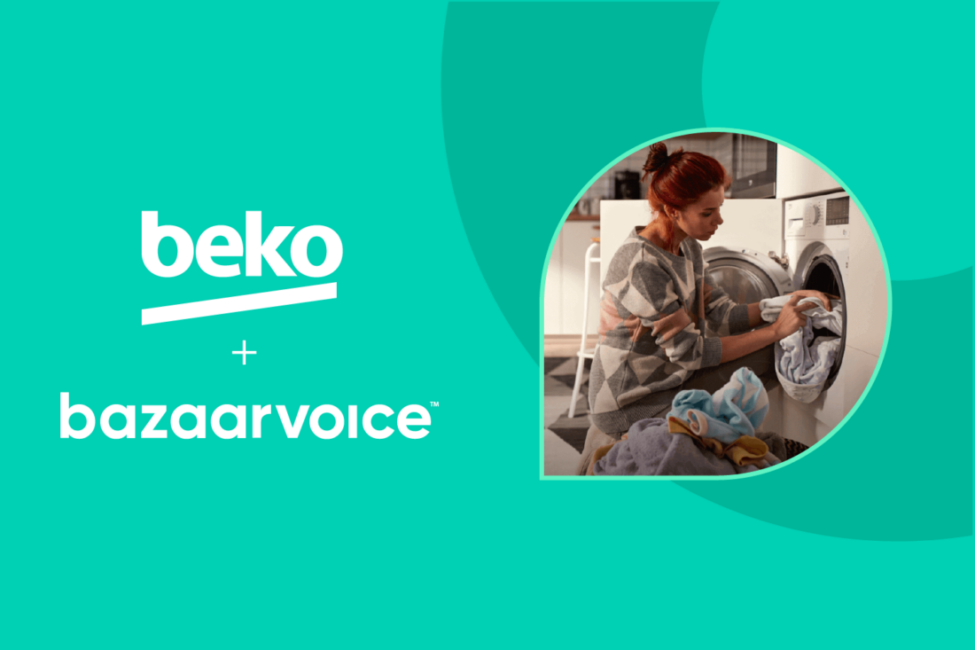 "We turned from being a brand that was of less importance to some retailers; we became of greater importance to them."

Amanda Hart, Marketing Manager at Beko ANZ
Launching a brand that's loved in one market into a new territory where it's not known at all is a huge hill to climb. As a product or brand manager, you'll need to convince new retailers that your brand is of good value and worth stocking to drive sales, strengthen retail partnerships, and increase distribution. You'll also need to create new brand advocates and increase lifetime customer value. 
Beko ANZ was trying to navigate this exact situation, and with Bazaarvoice's help, they managed to figure it out in just eight months. See how they:
Saved more than $100,000 a year on insights and analysis
Placed products into more stores and strengthened retail partnerships
Syndicated and distributed product reviews that elevated their brand and drove sales
Built and solidified connections with customers
Chatting with Amanda Hart, Marketing Manager at Beko ANZ
Beko is a leader in domestic home appliances, active in more than 140 countries, and Amanda's worked for them for just over four years.
"Beko is quite a small and new subsidiary in Australia and New Zealand. So, I looked at some of the bigger subsidiaries around the world for inspiration. I went to our Beko UK website and I noticed straight away on their homepage that it talked about how 96% of consumers recommend our products and I thought, well, that's pretty powerful; I want that too! Without reviews, no one in our part of the world and America too would know who we were."
Amanda's search to find the right ratings and review solution was kickstarted by a website relaunch.
"We were rebuilding our website and researching review platforms. We needed something affordable with a global reach and found that Bazaarvoice offered both."
What was the biggest obstacle?
"Finding a review platform solution with a global reach. A customer and our digital team recommended Bazaarvoice. Armed with feedback and research, I said I already know what I want, I've done the research, let's go."
Let your customers do the work
In order to introduce its brand name and products to the Australian market, Beko used what works best: User-generated content. By letting customers do the talking, they've been able to sell more online during the pandemic and get their products into more stores as the COVID-19 situation has improved in Australia.
The result? A whopping 30,000 product reviews on retail sites.
Beko now has more than 30,000 reviews on retail sites from syndication—mostly gathered from post-interaction emails sent to customers after registering their appliance—which accounts for more than half of all Beko product reviews on those sites. Increasing review volume has also helped Beko become retailers' favorite vendor.
And they achieved all this in a mere eight months.
"Retailers that we were only just starting to really talk to in New Zealand that have not really done work with us in the past, are looking at the numbers going 'Holy wow.' They're quite blown away with all the reviews that we've gotten and that they can get access to. We turned from being a brand that was of less importance to some retailers to one of greater importance."
Also not to be underestimated has been the power of reviews in nudging new customers towards clicking add to cart.
"Beko consumers have a very high loyalty rate once our products are in their home. So, that's where reviews become important to me because I want to give that first time consumer a bit more reason to buy us. The average amount of reviews on a washing machine is probably about 200 reviews. Our customers trust the word of 200 other individuals out there before they'd trust an ad."
$100,000 saved in consumer research
Beko have also saved $100,000 a year on consumer research using Bazaarvoice Insights & Reports.
"If you have 15 reviews and they all talk about the same product flaw then it needs to be looked into. Once we notice a pattern from our reviews we can take it back to the team. They're engineers and they want to do things right. Once they've got that data, they're able to implement changes," says Murat Doram, Product Manager at Beko.
Ask any brand or product manager and they'll tell you the same thing: Launching a well-known brand into a completely new territory is hard. Really hard. But, it doesn't have to be. Utilising the right global product reviews platform will drive your customer ratings and reviews, in turn increasing distribution, strengthening your retail partnerships, and boosting your sales. Just ask Beko! Read the full Beko success story now.