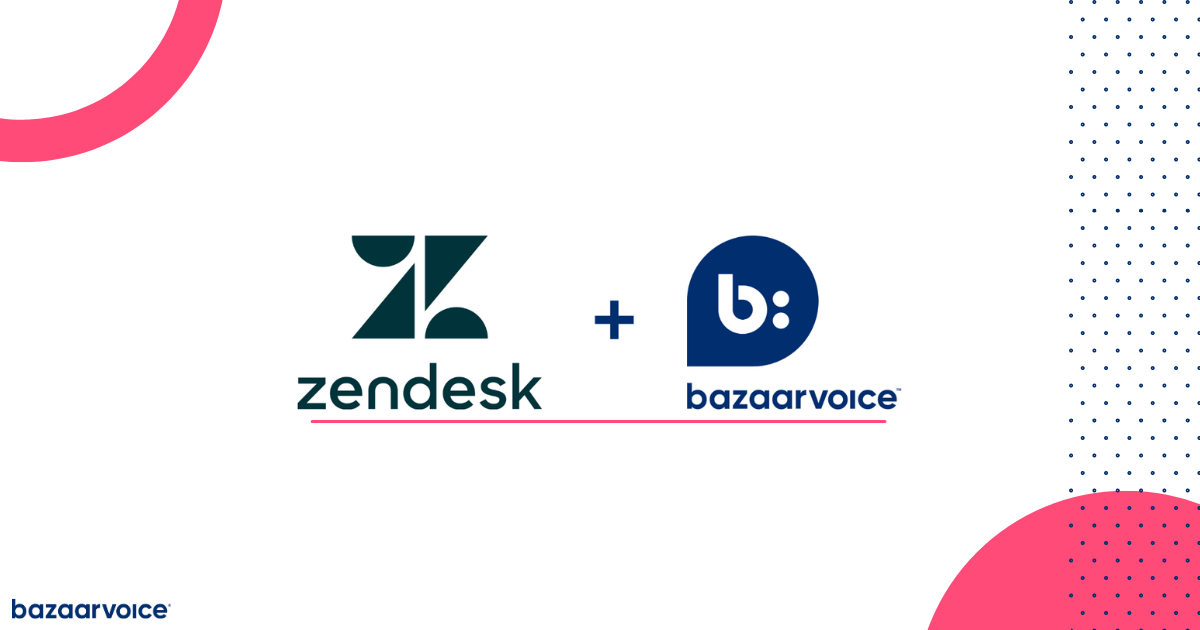 Bazaarvoice is pleased to have partnered with Zendesk for a new integration that builds smarter shopping experiences across the customer journey to improve your customer service. Here's everything you need to know.
---
People spend a lot of their time shopping online. And, they need your help along the way. Shoppers seek inspiration, good-quality information, and the perspectives of real people to help them feel comfortable making purchases.
The best way to improve customer service and offer the level of support shoppers crave is by responding to ratings, reviews, and other user-generated content (UGC). When you respond to UGC, you help your consumers feel confident they can get the help they need. Having a strong UGC response strategy helps you build relationships with consumers, which can improve consumer confidence in their purchase decision."
To help you build impactful UGC programs (and create deeper and more efficient customer engagements in the process), Bazaarvoice and Zendesk have partnered for a new integration.
As the leading UGC provider, that works with a large network of retailers, brands, and shoppers, Bazaarvoice offer Ratings & Reviews, Questions & Answers, and other UGC solutions. While Zendesk is a customer service platform connecting over 100,000 brands with hundreds of millions of customers across email, social channels, review sites, and more.
"Bringing together the power of Bazaarvoice and Zendesk, we are making it easier for our clients to be customer-centric," says Mark Drosos, SVP of Global Partnerships at Bazaarvoice.
"This integration is a game-changer, enabling businesses to seamlessly gather and harness valuable customer insights while delivering exceptional support. By uniting two industry leaders, we empower brands and retailers to build stronger relationships, drive growth, increase lifetime value, and elevate the customer experience to unprecedented heights."
How the Bazaarvoice + Zendesk integration improves customer service
The Bazaarvoice + Zendesk integration enables you to build an efficient, effective UGC program that delivers high-quality customer experiences and improve customer service across the shopping journey.
You're easily able to integrate your Bazaarvoice Ratings & Reviews and Questions & Answers data into the Zendesk platform. Here's how the Bazaarvoice + Zendesk integration can help you improve workflows, enhance your brand reputation, and improve customer service:
Build robust customer profiles: The UGC you collect helps you keep tabs on what consumers are saying about you and your products. You can also discover new customer profiles that aren't already in your CRM
Manage brand reputation at scale: Whenever a shopper leaves feedback or asks a question, thousands more are paying attention. You can prioritize high-impact reviews and questions with alerts and deploy a response interface that your team already knows well
Increase productivity: The integration lets you centralize customer interaction through your Zendesk platform. This helps maximize the workflow management your response team has already built, which drives efficiency and saves valuable time
Learn about your customers: Reviews (negative and positive) provide a wealth of information about your shoppers. You can learn about their pain points, where customer service is lagging, and any issues they're having with your products. You can also identify gaps in the market, where you could innovate and improve
Drive top-notch customer experiences and retention: Leverage your UGC to create informed, personalized customer support and increase the lifetime value of your customers. Improve customer satisfaction by responding to reviews and questions quickly and seamlessly tracking consumer correspondence in the Zendesk platform
Give consumer voices a boost: UGC is a true asset. Consumers who interact with UGC are 2x more likely to convert. Bazaarvoice's Ratings & Reviews tools let you collect authentic ratings, reviews, photos, and videos from consumers
Helping you respond to negative and positive reviews
UGC plays a huge role in consumers' purchasing decisions, with 89% always or mostly consulting reviews before buying anything. Shoppers value any and all reviews, both negative and positive. They also expect you to respond to their reviews and answer their questions.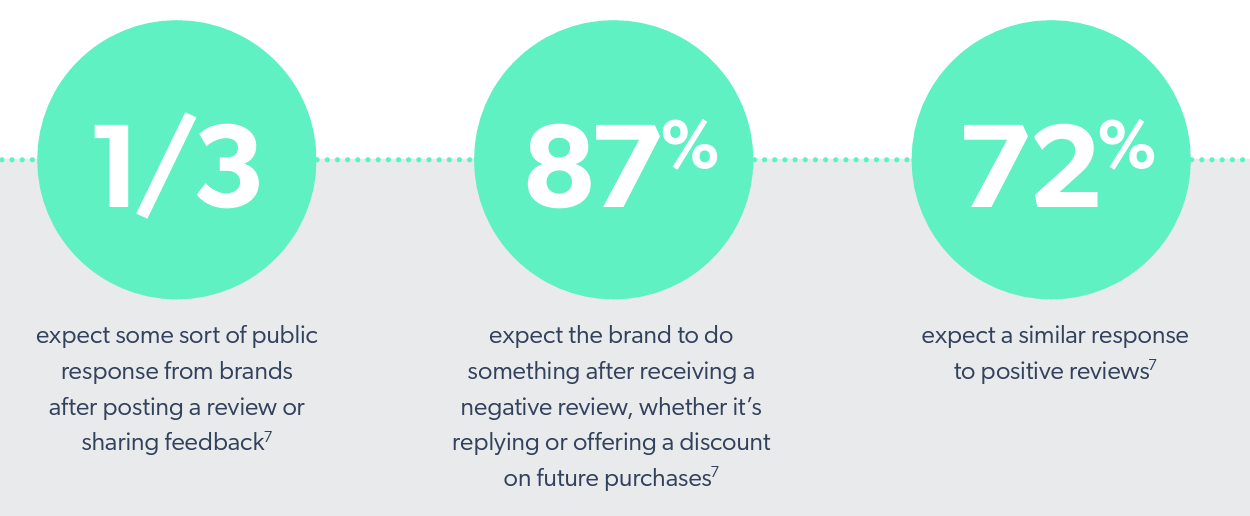 Review management is a key part of a successful UGC strategy. Letting reviews simply flow in isn't always enough. But, your response to all those reviews is everything when it comes to boosting your brand reputation, gaining consumer trust, and just giving shoppers what they want.
While negative reviews might seem like a turn-off for shoppers, they're actually much appreciated. 60% of shoppers consider negative reviews equally important as positive feedback, as they can provide just as much (or even more) information about your products. However, most shoppers expect you to respond and address the issues that they mention.
Responding to reviews makes shoppers feel valued. Even replying to positive reviews — which can be easy to take for granted — establishes trust and shows your customers that you care about what they have to say and are dedicated to ensuring the highest level of customer service.
The Bazaarvoice + Zendesk integration makes responding to customer reviews and questions more streamlined, giving you the opportunity to join the conversation with the native content on your own site. It's as simple as logging into our portal, where you can track and manage questions and reviews across the Bazaarvoice Network. You can choose how and when to receive notifications, so you can respond to consumers at the right moments.
Improve customer service with the Bazaarvoice + Zendesk integration
Our integration with Zendesk enables you to easily and efficiently respond to customer reviews and questions at scale, helping you turn customers into repeat buyers.
Ready to boost your UGC strategy, build smarter shopping experiences, and take your customer service to the next level? Learn more about the Zendesk integration here. Or get in touch directly below to get started.
Request a demo
Interested in becoming the next Bazaarvoice partner? Visit our partner page to learn more.