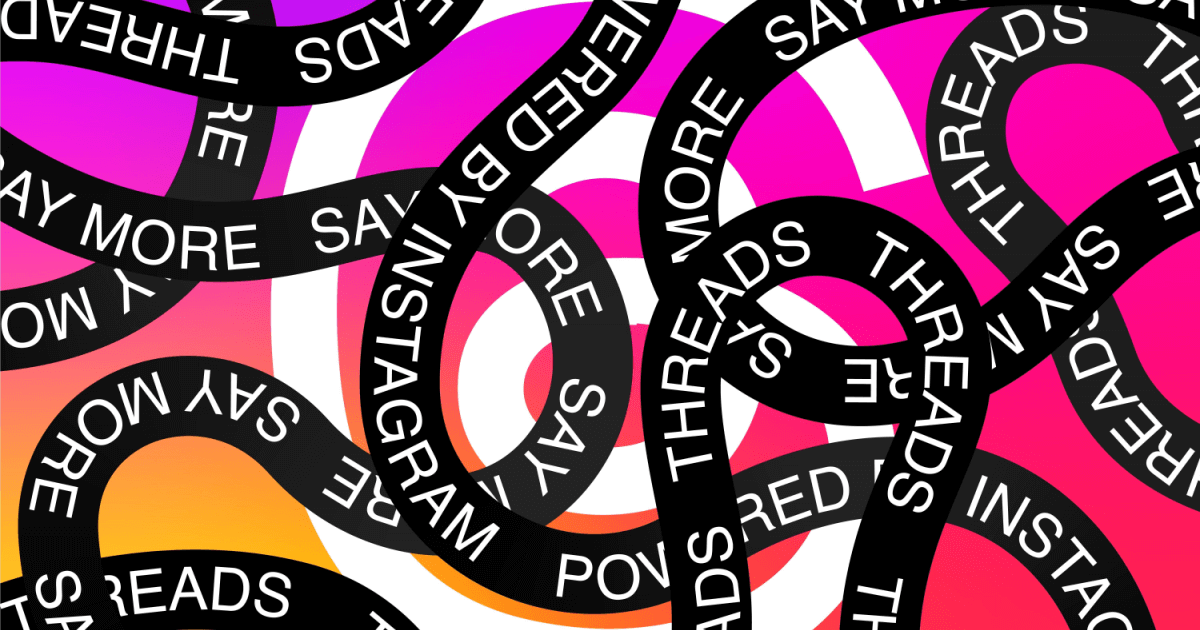 Instagram's Threads officially hit its one week birthday with over 100 million users (the fastest ever social media platform to hit that mark, by the way) and most of us in the social media world are unraveling.
Social media managers everywhere are asking, "How will we manage one more social platform?" Regular users ask "How is this different from Twitter?!" And brands and retailers want to know "What are we supposed to do here, we don't sell crafting goods!" Lots of questions, but not so many answers yet in this brave new world of Instagram Threads.
We've studied up and are here to help. If you're looking to jump on Threads for the first time, or develop your future strategy just one week in, here are the how-to's, strategic tips, and inspirational examples to guide you.
What is Instagram Threads?
Threads, or Instagram Threads, is a new social media app launched by Meta last week. It's similar to Twitter in its format — users share microblog posts up to 500 characters long with optional images and videos — and has been framed by some* as a Twitter copycat. It's not operational in the EU yet, but 100 countries including the US, UK, Canada, Australia, and Japan have access to use Threads (post threads? Go threading? Thread it up? Verbiage is TBD).
*Elon Musk
Unlike Twitter, though, Threads is built on and operated through another app's network (Instagram) leveraging its existing 1 billion user base to make signing up and using the features have nearly zero barrier to entry. While it has its own stand-alone app on your screen, your Instagram data, such as who you follow and who follows you, can be imported seamlessly.
It's never been easier to sign up and start using a social media platform.
How to use Instagram Threads
If you're not one of the 100 million users yet, don't fret – it takes less than 10 seconds to sign up and start threading. Here's how.
Getting set up
Meta has published their own how-to, but we've got the Cliffs Notes for you.
Assuming you have an Instagram account already, start by downloading the Threads app for iOS or Android
Ensure you're logged into the correct Instagram account on your phone and follow the directions on the Thread app to log in with your Instagram account (tip for social media managers: don't forget to switch from your personal profile to your business account!)
Customize your Threads profile name, bio, and any links. Your Instagram account info can be easily transferred over, which we recommend at first to keep things cohesive for your followers. (You can always edit this later)
Make your profile public or private. If you're managing a brand's Threads (Thread? Threader?), definitely make it public from the start. You'll want your fans to see your content!
Choose if you'd like to follow everyone you already follow on Instagram, or start fresh. We recommend importing your follows — it's advantageous to have existing connections off the bat.
Now, you're good to thread your strategic head.
How to post Instagram Threads
To thread, click the "create" button on the bottom center of your screen, just like you would on Instagram. You have 500 characters to make your point, and can add up to 10 images and videos to really prove your point further.
You can also customize who can reply to your Threads in the bottom left of the screen, and for brands, we recommend letting anyone interact with your content. The more replies, the merrier! Then hit "post" in the bottom right, and you're off to the races.
How to build your brand on Threads
Threads is sparkling new, so everyone's still in the testing and learning phase with their strategies. Some brands choose to recycle their Twitter content on Threads, saving time and repurposing tried-and-true text from one platform to another.
Other brands may try sharing less photos, or experimenting with totally new content. While there's no performance data to back up one strategy against another quite yet, we have a few suggestions.
Keep your voice cohesive across platforms
Despite this being a new platform, don't try to reinvent the wheel – you should have a cohesive brand voice and message across social platforms today, so continue with that. There's no need to create all new images, videos, or text-personas (yet, at least).
Emulate what your Instagram followers love
Although Threads has a more similar format to Twitter, nearly all of your followers on the app so far come directly from your Instagram. Your fans on IG followed you there for a reason, so continue to connect with them.
Study what performs well with your IG audience – humorous captions, repurposing user-generated content, educational videos – and start there.
Experiment with mixing images, videos, and text
Instagram users love videos and carousels, while Twitter users love short quippy text. Threads' users' preferred content type is yet to be seen, so try out mixed media and different quantities of imagery/videos in a post.
While experimenting, just make sure your content is cohesive with your overall brand message and voice.
Interact with your community
Threads currently provides a unique proximity between follower and brand due to its newness. When I joined Threads on its launch date, posts by Jimmy Fallon only had 30 comments, while his Instagram posts had hundreds or even thousands of comments.
That meant that if I personally commented on his Thread, Jimmy himself (or his social media manager) would notice me… talk about star struck.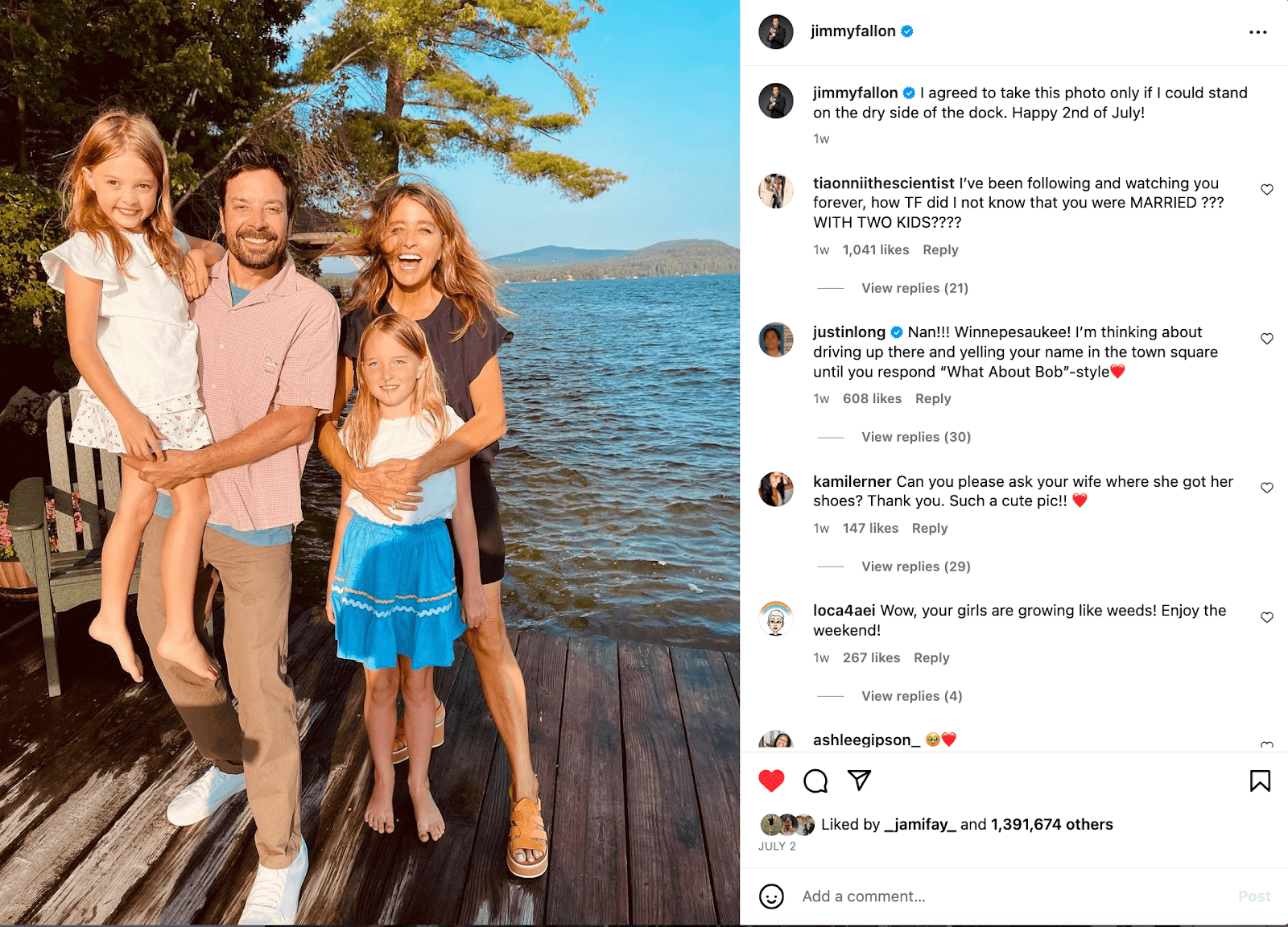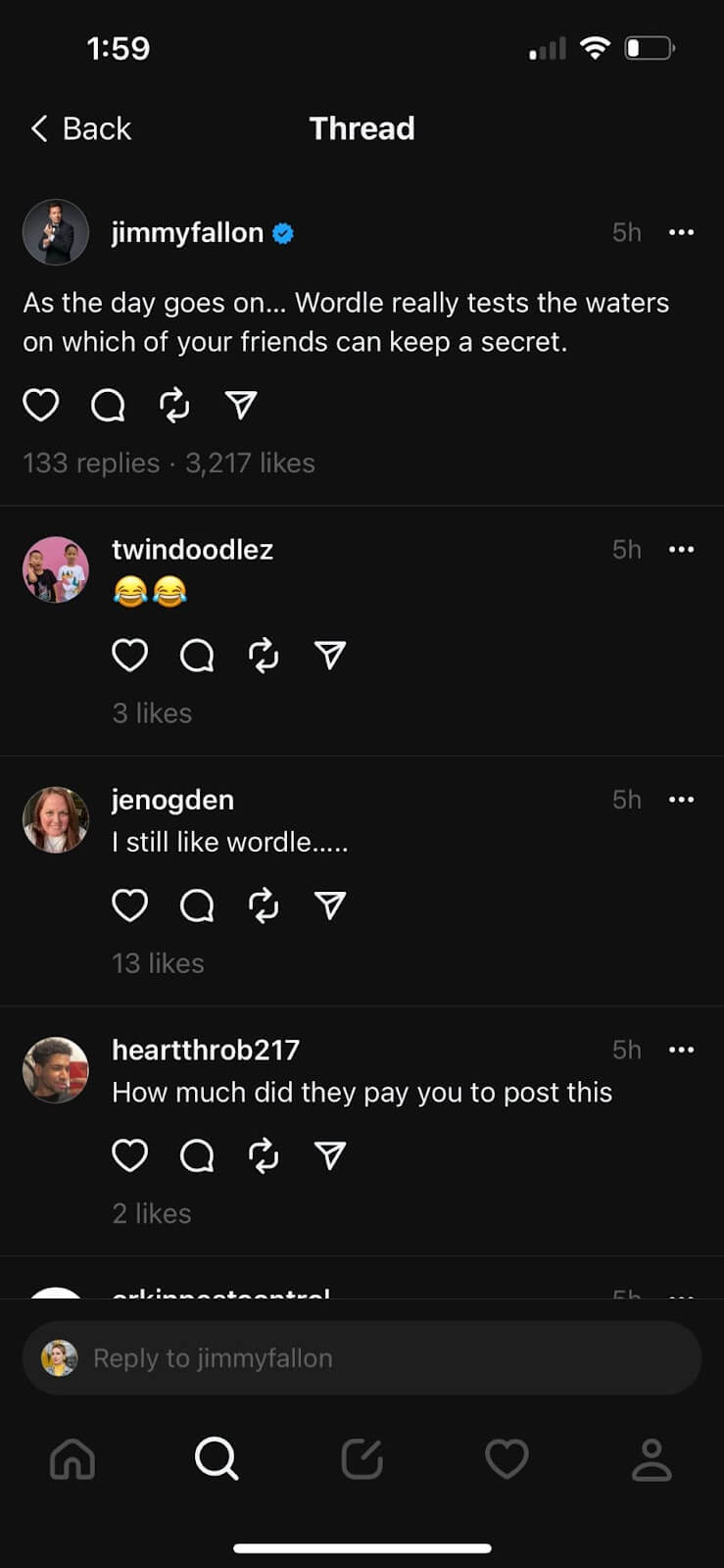 Despite the new app's quick success, big brands currently have much smaller followings on Threads than on Instagram. This allows you to interact with your community in a more intimate way than any other platform. Take advantage of this phenomenon while it lasts – respond to comments on your threads, repost their threads, and post their content to foster a strong sense of community.
How some brands are already sewing Threads
Looking for some inspiration to get started? Check out our favorite brand strategies we've seen so far.
1. Crumbl Cookies
Crumbl has started off strong on Threads by emulating their Twitter strategy full of humor without straight copy-pasting. Compare the brand's tweets and threads side by side, and they're similar sisters rather than identical twins.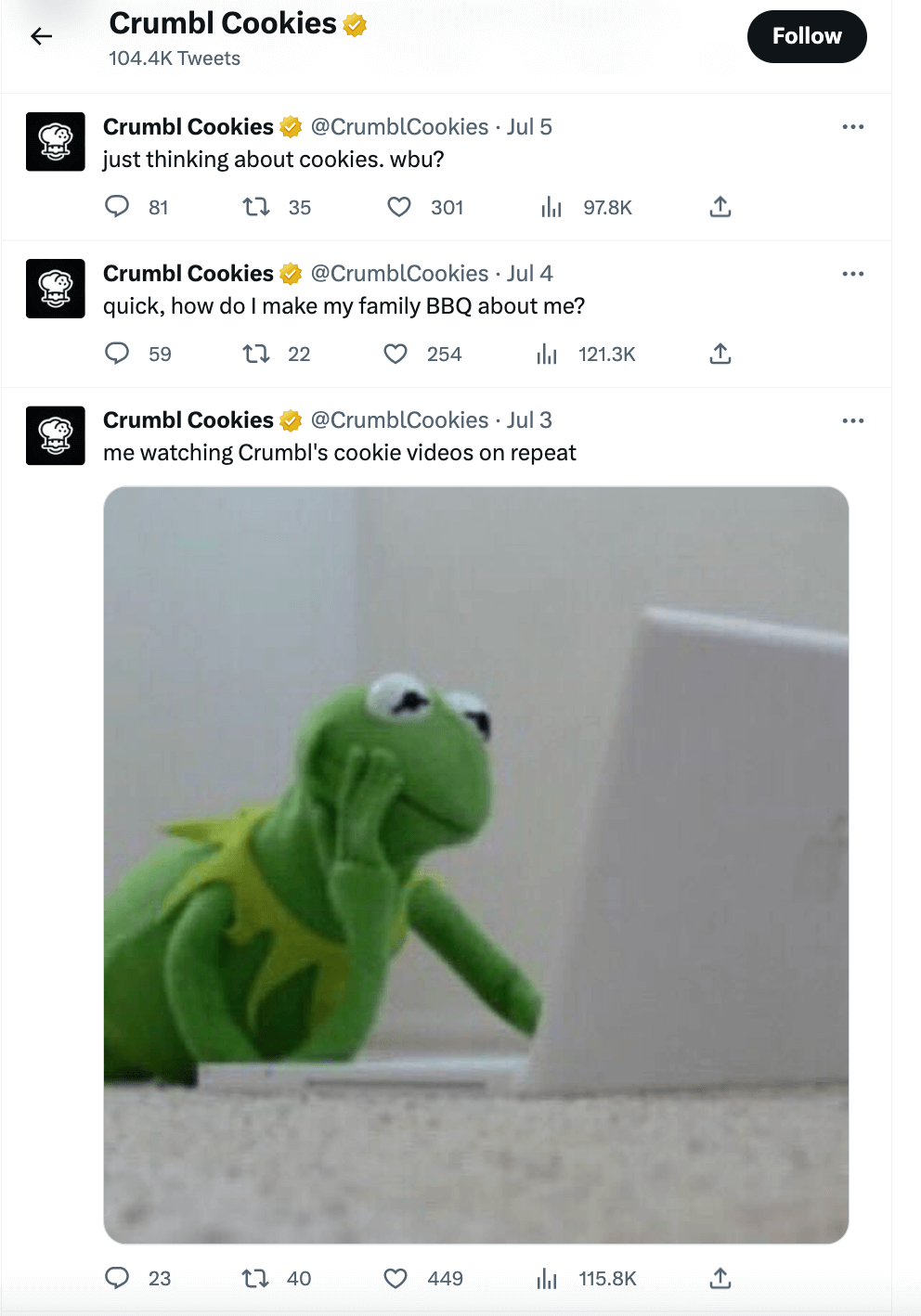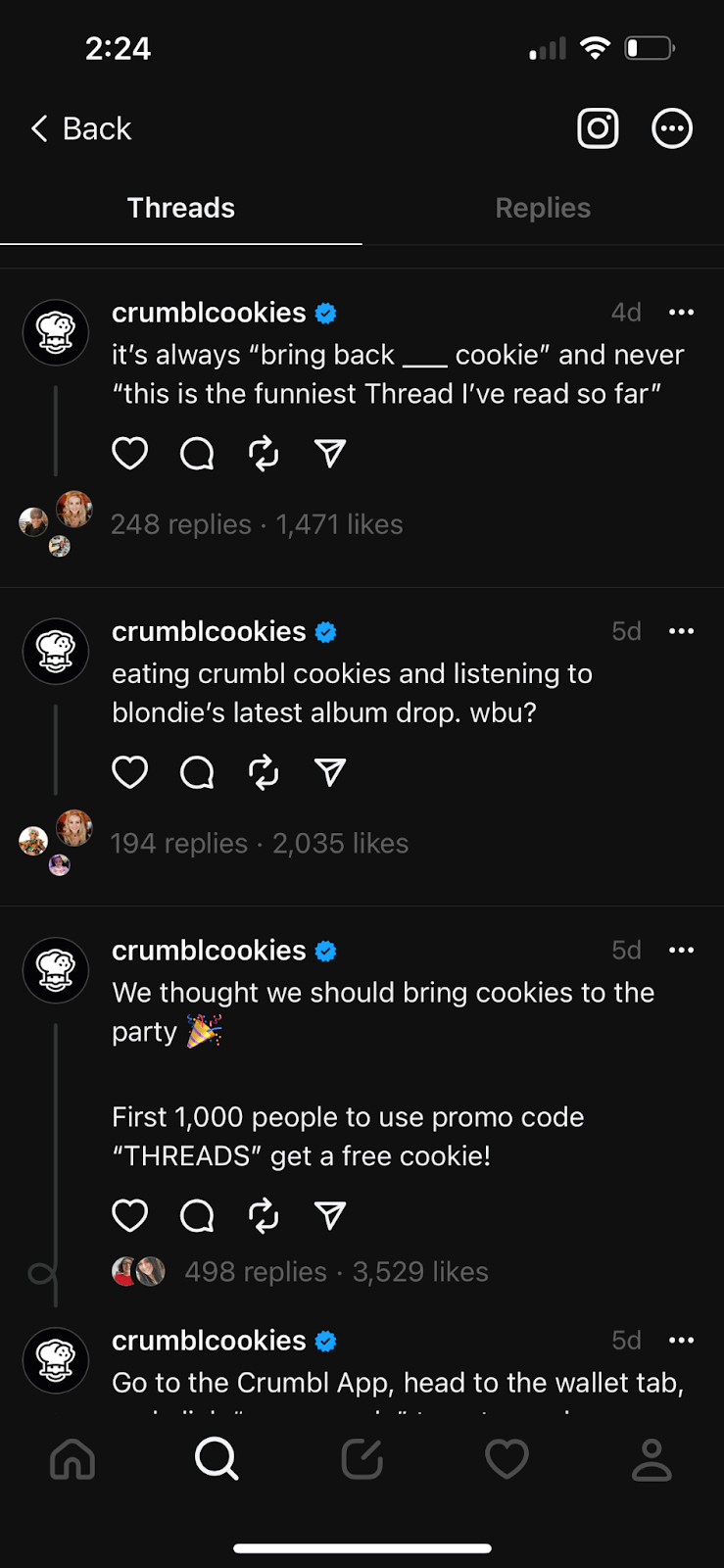 Crumbl also shows consistency in building hype for their weekly flavor lineups across Twitter, Instagram, and Threads, getting their fans excited to purchase cookies no matter where they scroll. While Threads may not have e-commerce features yet, this brand is still driving traffic and revenue via their posts.
2. Wimbledon
Given that Threads launched during the Wimbledon tennis tournament, their social media manager is surely working overtime. They're doing a great job of repurposing video content across Twitter, Instagram, and Threads with different captions to provide a new sense of excitement. Even if you've seen the clip multiple times.
3. Uniqlo
Uniqlo has multiple regional Thread accounts corresponding to their key Instagram accounts — UNIQLO Global, USA, Europe, and Japan.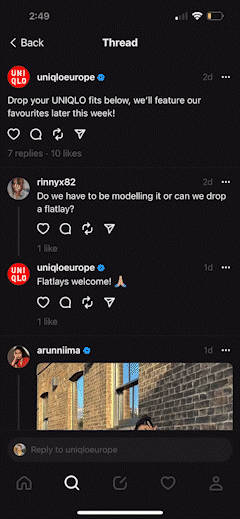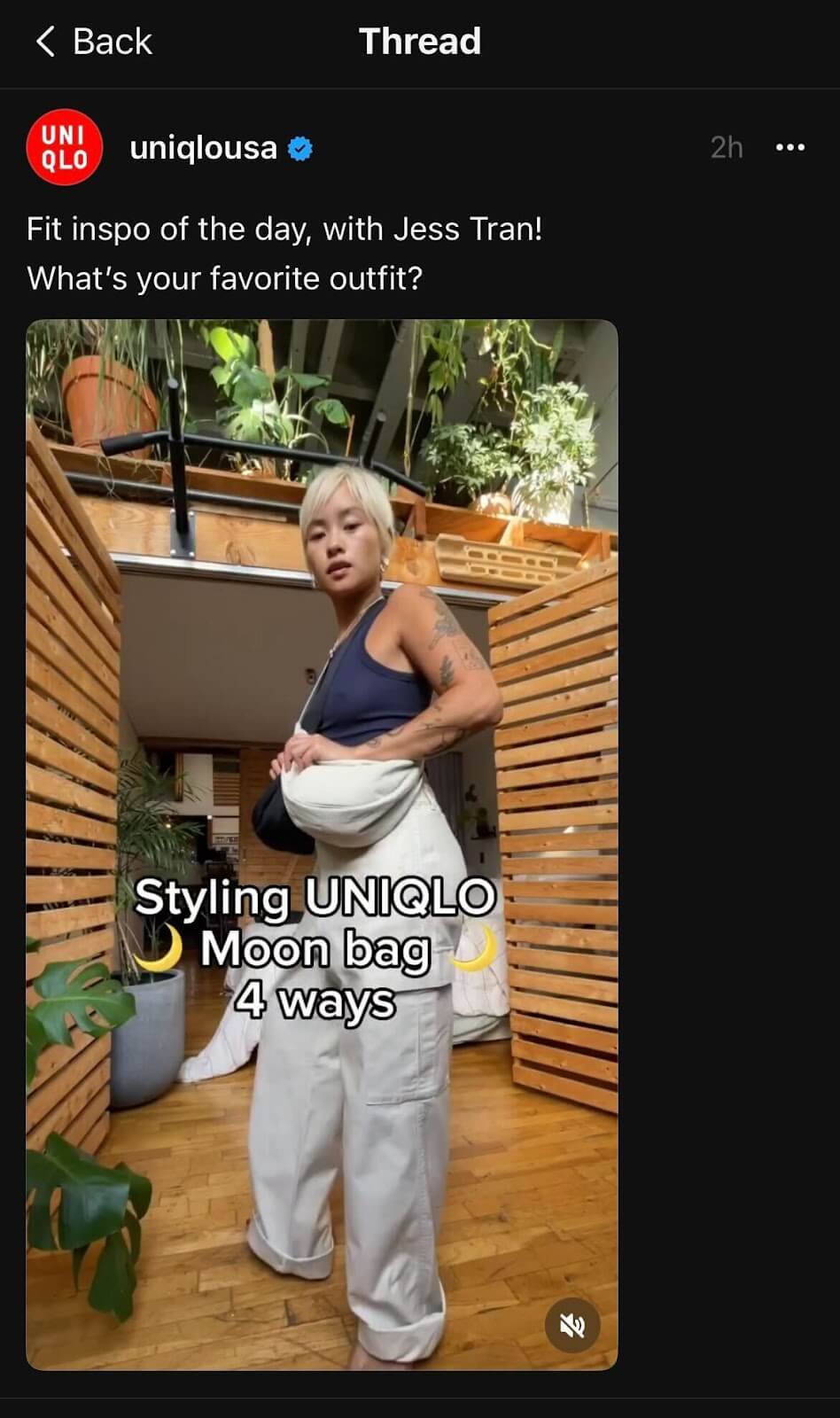 While each region may have different cultures and shopping habits, one unifying strategy by Uniqlo is posting tons of images and videos from their own brand, creators, and UGC. They've even collected summer "fit" UGC directly on the app!
4. Sephora
From birthday gifts to Insider sales, Sephora is well known for making their customers feel loved, and now they're doing it on Threads, too. Many of their threads are interactive questions for their followers, such as the punny "to thread or not to thread?"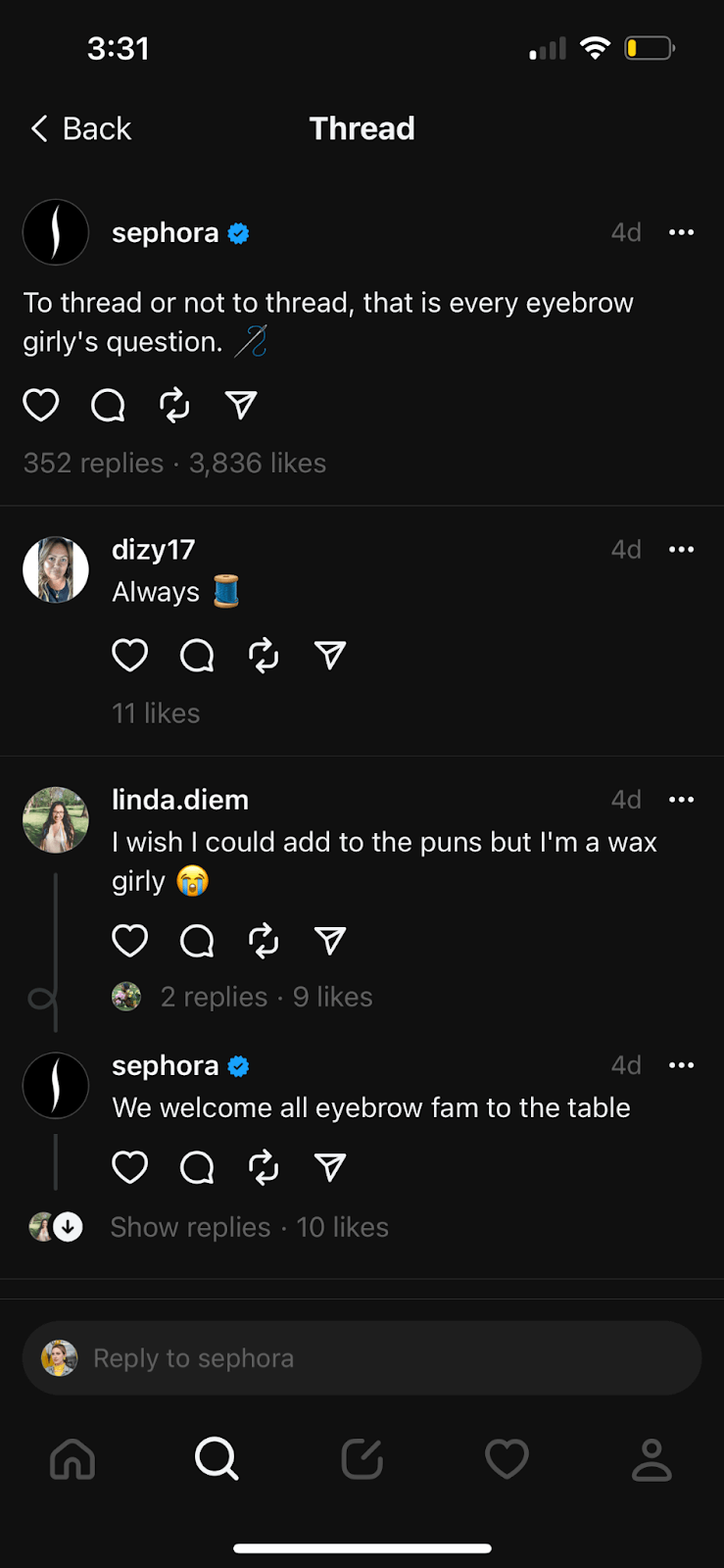 Amassing nearly 4,000 likes and 350 comments on a single post, their Q&A style strategy is working wonders in building community.
5. Bazaarvoice
We're up and running (sewing?) on Threads too! As the experts in the social commerce sphere, you'd better believe if there's a new social media app, we're going to be on it.
But it's more than jumping on a trend. We see Threads as a new and exciting way to connect with our community. So see you there (@bazaarvoice).
Focus on Threads, but don't forget the rest
To sew it up, Instagram Threads is the perfect app for your brand to be on. With so many users in such a short space of time, this is unlikely to be a platform you can ignore for too long. Here's a quick TikTok to sum it all up.
So try new ideas, maintain your brand voice, and engage with your audience. Repost their UGC and reply to their comments — make them feel welcome in your Threads space. We know how limited a social media manager's time is across so many platforms, so don't hesitate to recycle or refurbish popular content from Instagram and Twitter.
And don't forget your existing platforms. We all know how enticing it is to dive head first into something new, but don't neglect the platforms you're already on. If you're stuck, read our complete guide to selling on social media — wherever you are, we've got you covered.