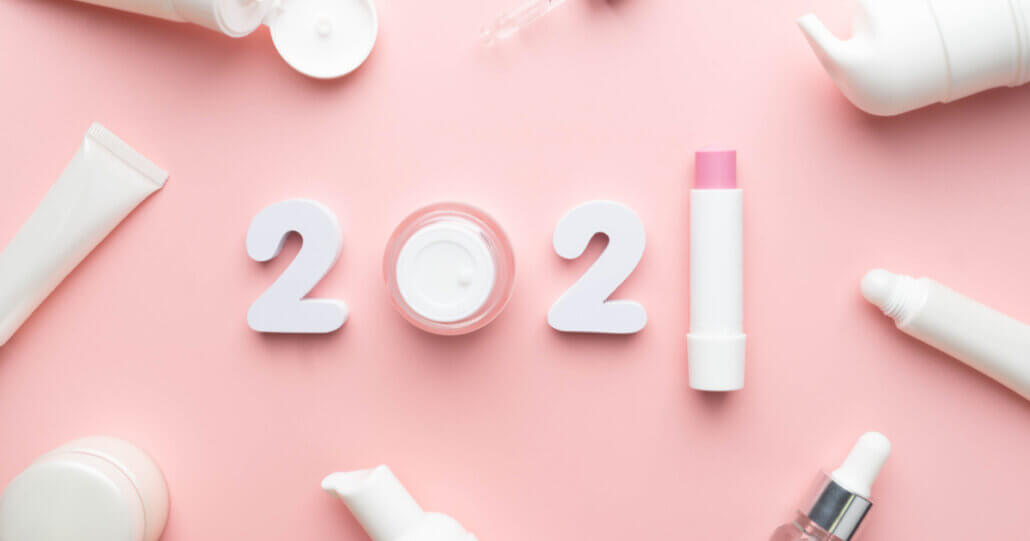 Beauty trends have evolved majorly over time. The '50s were all about bold eyes and red lips. The '70s saw the emergence of minimal makeup with shimmery eyes. The '10s were dominated by smokey eyes, heavy contouring, highlighting, and matte lips. And today?
To find out the latest trends and sentiments around cosmetics and skincare in 2021, Bazaarvoice recently surveyed over 10,800 Influenster members. The highest composition of respondents were Millennials, followed by Gen Z, Gen X, and then Boomers.
When asked what beauty decade they identified with most, 42% of respondents said they're all for the Kardashian-inspired looks of the '10's. This was followed by the '70s, with 21% saying that minimal makeup and shimmery eyes are their things (Boomers especially were more likely to choose the '70s).
In addition to these beauty-by-decade prompts, we asked questions about some of the trends that are resonating right now. What did we find? These are five big trends dominating the beauty world today that brands and retailers need to know about.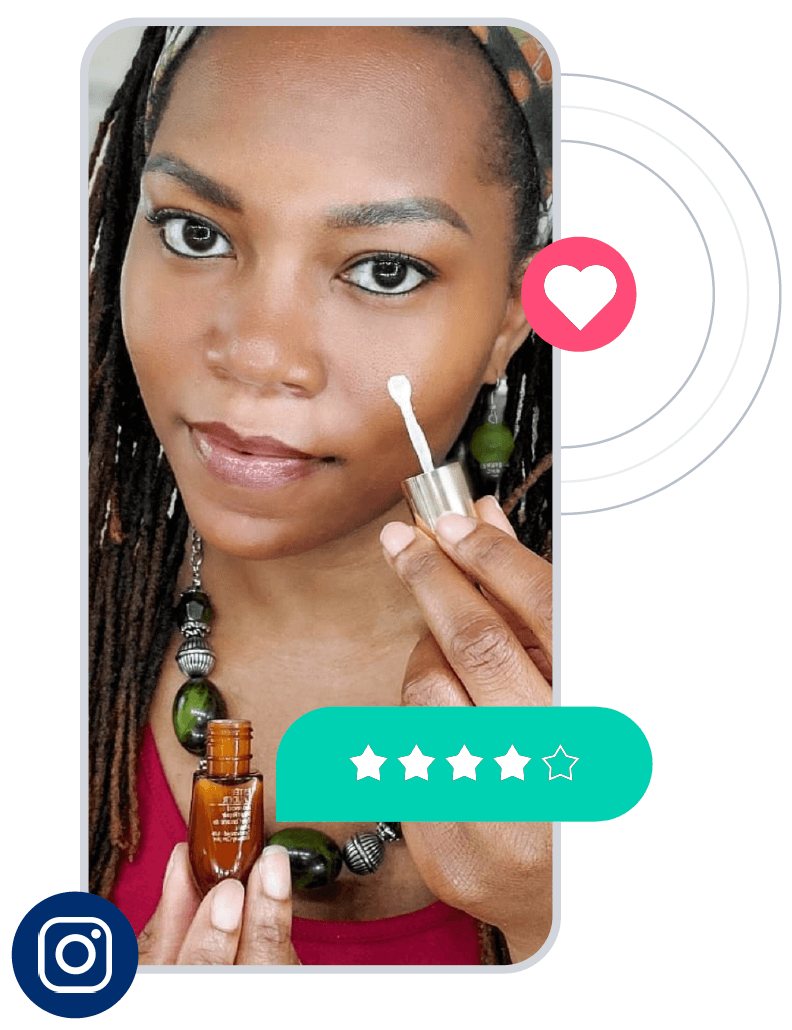 The current beauty trends consumers are following:
Sustained focus on skincare
Expressive cosmetics
Experimenting with new techniques and products
Personalized skincare and cosmetics
Demand for brand transparency
1. Sustained focus on skincare
A sustained focus on skincare has been a popular beauty trends for the past few years, but the pandemic has heightened this trend. In fact, close to 2 in 3 respondents said that they're more focused on skincare now than they were pre-pandemic. This makes sense because people have had more time to dedicate to this type of care during quarantines and stay-at-home orders.
In addition to educating themselves on how to best treat their skin, respondents also said that new ailments have led to this increased focus on skincare. About 56% of people said they're focused on targeted products for their specific skincare concerns. 42% prioritize purchasing cosmetics that offer skincare benefits.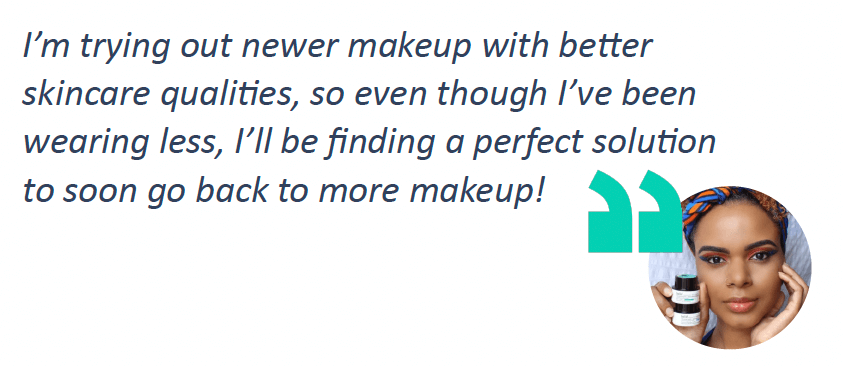 Many women told us that they're also now experiencing acne for the first time in their lives, likely due to stress and that dreaded "mascne" (mask + acne) the pandemic has brought on. Or they were starting to get more fine lines, which wasn't a previous concern.
How can brands and retailers meet this need? Showcase social proof from customers who have seen results from products on your Instagram and other social channels. This will help promote products for particular skin concerns, highlight loyal customers, and give followers the chance to engage directly with your brand. 
2. Expressive cosmetics
Because of the skincare focus from the past few years, minimal makeup has also been a beauty trend to let glowy, smooth skin shine through. However, through this most recent survey, we found that when consumers wear makeup, it's more a form of expression rather than an "everyday look." About 8 in 10 respondents said they're interested in makeup looks using color cosmetics, like bright eyeshadows, rosy cheeks, and vibrant lips.
Knowing this, brands and retailers should make an effort to focus on those bolder products in marketing and social media campaigns. Especially now the world has re-opened up and people start engaging in more activities outside again.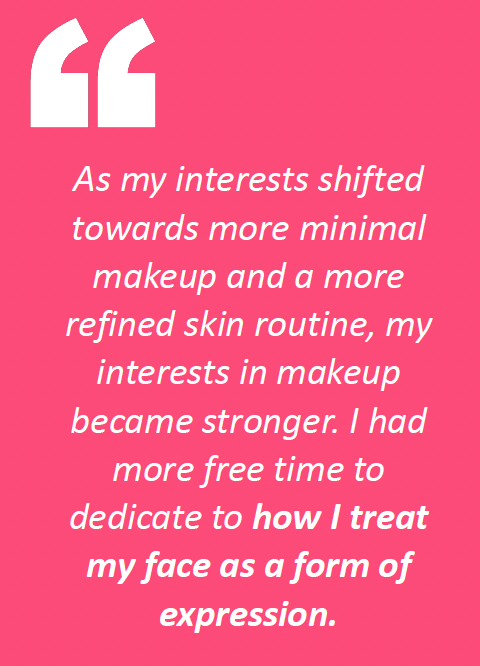 And while we've been observing a trend of "less makeup-wearing" at home (what's the point of doing a cat-eye when you're just binge watching that new show everyone's been telling you about?), over 25% of respondents said that even though they're wearing less makeup now, they'll return to 'full-faced' makeup soon.
3. Experimenting with new techniques and products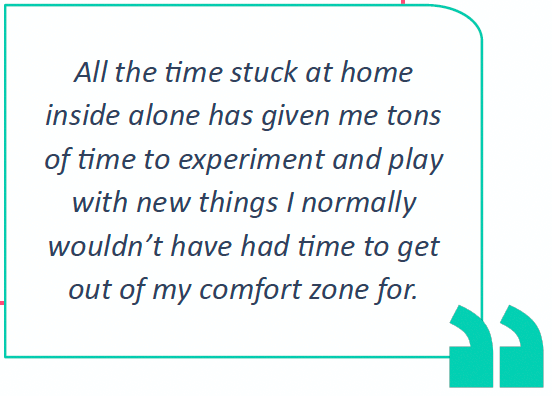 As we mentioned, consumers used all the extra time on their hands to experiment with new products and techniques. About 79% of shoppers have explored new makeup and/or skincare products and brands in the past year due to COVID-19, with close to 75% getting their inspiration from Instagram. (However, Boomers are more likely to choose a brand's website for their makeup inspiration).
Some proven ways brands and retailers can engage more consumers on Instagram are:
Creating product tutorials
Responding to user comments and DMs
Building a library of user-generated content (UGC) by asking customers to post using a branded hashtag
Sharing UGC on feeds and in stories
Hosting contests or giveaways
Teaming up with influencers
Going live occasionally
The other places people are seeking inspo right now? The second most popular answer was "Bloggers and influencers," followed by YouTube, friends and family, TikTok, and brand websites.
4. Personalized skincare and cosmetics
When stores were shut down at the height of the pandemic, shoppers had to rely on brands to virtually match them to the right product. In our survey, 2 in 3 respondents said they'd taken online quizzes on brand sites and apps to figure out the perfect shade of makeup or skincare formulas for skin concerns. And, people are trusting the results of these brand quizzes. 

For those who have taken these approaches to figure out their shade or formula, 55% said it helped them decide what to try and/or buy next. 30% said they would try these resources again. And finally, 29% found their perfect shade/or formula.
To establish even more trust with consumers, brands and retailers should understand the right audience specific to the respective skincare concerns. It's also important to have claims from consumers before, and at launch, so you have proofs of concept ready. Product sampling is a great way to get products into the hands of the right consumers and ask them about their experience, validate claims, and get testimonials that can be used in marketing materials and advertising.
5. Demand for brand transparency
One emerging beauty trend is transparency. In addition to finding the right shade or formula, consumers are also paying attention to a product's ingredients and how it's made. Nearly 66% of respondents said it's their priority that brands provide more information about product ingredients and their benefits. The following are the most important to today's consumers: cruelty-free, clean, hypo-allergenic, natural, organic, vegan, and green.
As well as transparency, consumers also care about the "behind the scenes" of a product's creation. We always ask shoppers questions about brand and product messaging, claims, and packaging, and we continuously see that consumers care about a product being cruelty-free and green.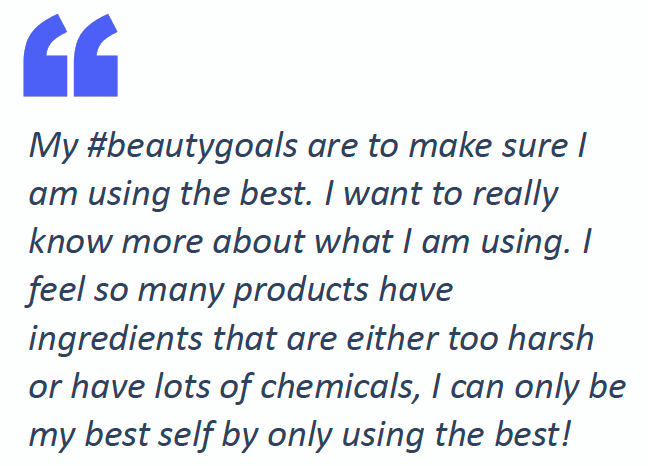 It's essential for brands to provide education and visibility to consumers. For example, one Peter Thomas Roth acne treatment showcases its ingredients on the packaging. Still, the brand also wants to ensure that its consumers understand how those ingredients are changing their skin.
Through a Bazaarvoice sampling campaign, it sent this treatment to women struggling with acne. The brand provided information on the packaging about each ingredient and its efficacy. Bazaarvoice prompted recipients to post their experiences with the product on social media and share their recommendations.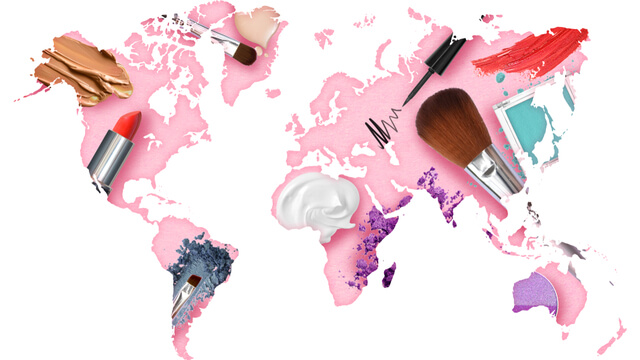 Beauty trends are always changing. But it's evident that the pandemic has rapidly changed the way consumers approach makeup and skincare. With endless products out there, your brand needs to take time to understand these trends and develop messaging, campaigns, and materials that resonate with today's consumers to stand out from your competition.