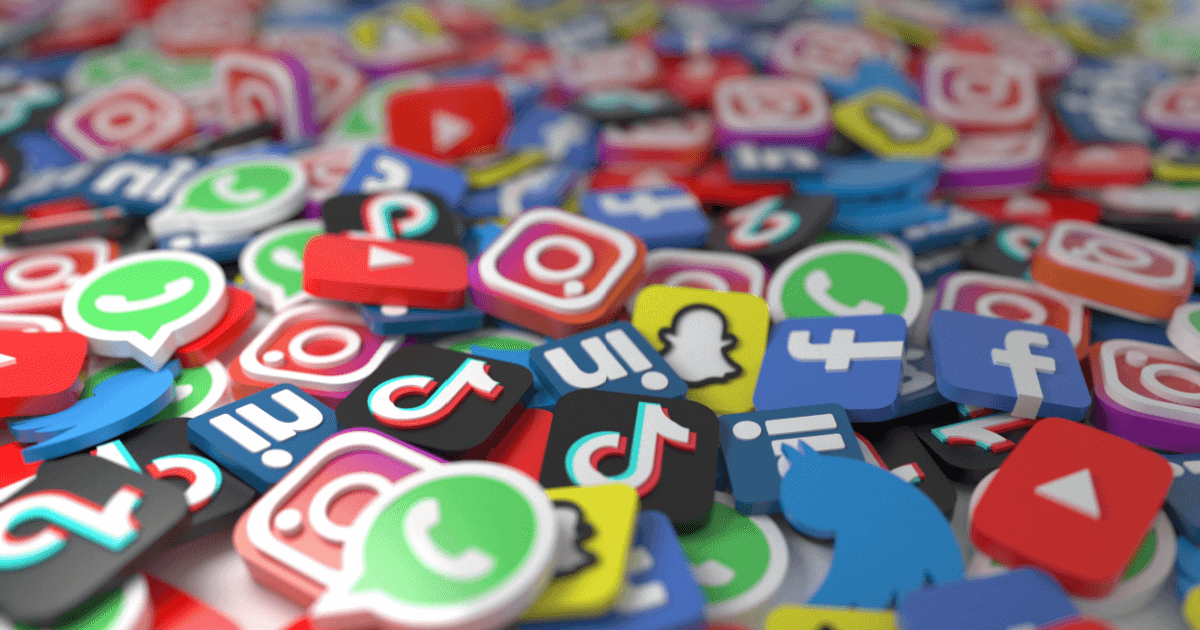 For years, SEO (search engine optimization) has been synonymous with "Google." But for brands that want to appeal to today's younger consumers, social media SEO is the new frontier.
According to new research, consumers, especially 16- to 34-year-olds, are more likely to turn to sites like Instagram or Facebook — instead of Google or Bing — to search for information about brands and products. And instead of clicking on keyword-rich landing pages, they're more likely to prefer short-form videos, like those popularized by the social media platform TikTok.
This shift in search preferences is in part generational. Younger people use social media more than previous generations do. Almost 85% of people aged 18 to 29 and 81% of those 30 to 49 are active on at least one social media site — compared to 73% of those 50 to 64 and 45% of those 65 and older.
But the shift toward social search is also powered by technological advancements, including voice search, AI-powered algorithms, and more intuitive video-creating and editing tools, as well as the rise of new social platforms. Since 2020, new sites like Threads and Spotify Live — as well as more niche platforms like Clubhouse, Lemon8, and Polywork — are giving consumers more options when it comes to connecting with friends, family, colleagues, and brands.
Brands and retailers that want to capitalize on the shift to social media SEO need to embrace these new search engines with a social search strategy that keeps up with consumers' evolving preferences for discovering new products.
What is social media SEO?
Social media SEO is the art of optimizing your profiles to reach customers who are searching for terms relevant to your products and/or services. In addition to the social media best practices of building relationships and engaging your audience, you also want to share content that addresses the queries your ideal customers ask throughout the buying cycle about products and brands like yours.
Consumers in general are increasingly turning to social for their search inquiries. 83% of shoppers use social at least one of the big eight social platforms for researching products.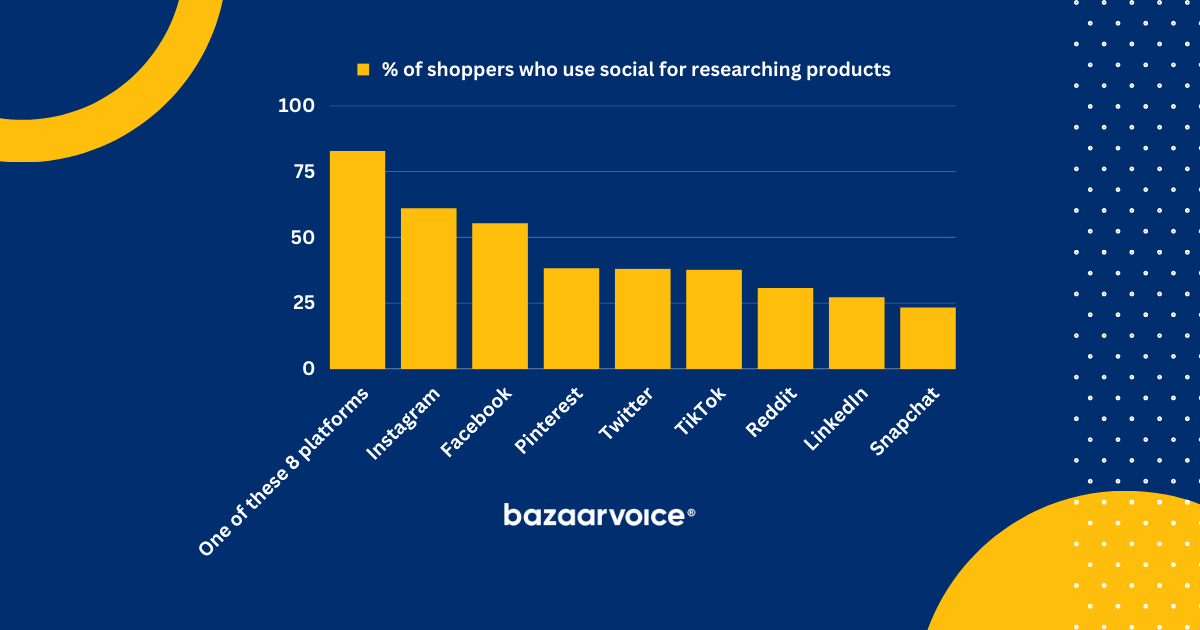 But social media SEO is especially important to companies that want to reach tech-savvy younger shoppers who are more likely to turn to social media, rather than Google, to find products. 40% of Gen Zers prefer to conduct research on platforms other than Google and a massive 90% say their purchase decisions are influenced by social media.
One of the reasons younger consumers prefer social search is because they're already active on sites like Instagram and TikTok. It's less hassle for them to simply scroll up to the platform's search bar than open a new tab.
Social media platforms are taking notice and keeping users on-site by embracing predictive text and other advancements that improve the search experience.
Another lure of social media SEO for younger generations is the visual nature of the search results. When asked why she stopped using Google, Anne-Christine Fignole, 21, told NBC News she prefers to watch, rather than read.
"It's one thing to read about … how this product works, but it's another thing to see it," said Fignole. This is also because the content found on social is much more authentic and relatable. Shoppers want to see visual user-generated content — real social imagery from fellow shoppers — over branded content because it's more genuine and easier to see how products look in the real world.
Snapchat, TikTok, YouTube, and Instagram are the top social media platforms used by Gen Z. All favor visual content over paragraphs-long captions.
How social SEO helps your business
With more consumers (especially aforementioned Gen Zers), turning to social media instead of Google to find information, investing in social media SEO can help your brand stay relevant to a new generation of consumers. But that's not the only way social SEO can help you reach and engage current and new customers.
Boost product discovery. Even if your target market still uses Google for search, chances are they're also active on social media. In 2022, more than 4.5 billion people used social media worldwide. That number is expected to grow to almost 6 billion in 2027. Having an active social media presence helps ensure you meet your customers on the channels they use every day.
Grow your social audience. The core of social media SEO is creating valuable content that's directly related to your customers' needs and goals. The more relevant and helpful content you create, the better your chances of growing and cultivating a highly engaged social media audience.
Boost your site's SEO. A social media SEO strategy can also help you boost your site's Google ranking. The social media scheduling platform Hootsuite recently conducted an experiment to determine if social media affects where a site shows up in traditional search engine rankings. The results showed a strong correlation between a brand's social activity and its rankings.
Drive more sales. 63% of shoppers are more likely to buy a product if they can view customer photos and videos. Getting this visual UGC in front of more shoppers will mean an increase in sales for your brand.
How to create a social SEO strategy
A strong social SEO strategy begins with the same solid foundation as a traditional SEO strategy. You need to invest time in keyword research to understand the exact words and phrases consumers are using to discover products like yours. SEO tools like Semrush and Moz Pro can help with this. You can also glean a ton of SEO insights from your user-generated content.
Like traditional SEO, you also want to embrace tools that help you measure your impact. By tracking comments, likes, and shares, you can find out what content resonates with your ideal customers — and double down on those types of posts. Some of the more popular social media management platforms include Hootsuite, Buffer, Sprout Social, and our own suite of social publishing and insights tools.
Once you have the basics in place, here' are's a few tips to help you boost your search ranking on each of the most popular social media platforms.
Social SEO tips for each major platform
Social media platforms are the new search engines and while there'll be similar SEO tactics across all of them, there's a number of nuances specific to each one. These the social SEO tips you'll need for the top social media platforms.
Instagram
Instagram SEO is its own ball game. Use keywords in your company's profile name and description. This helps new-to-you users understand who you are and what you do — while increasing your chances of being discovered for relevant queries.
Further boost your social SEO by weaving keywords into your hashtags and video subtitles. Instagram will also let you edit its AI-generated photo alt text to include relevant keywords (while offering a better experience to those with visual impairments!).
Facebook
When you first set up your business page, Facebook assigns a generic URL that typically consists of an unrelated string of numbers and letters. You can optimize your social SEO by creating a vanity URL that includes your company name and ideally a target keyword.
You can also optimize your Facebook SEO by including keywords in your page's "about" section, description, headline, and captions, as well as your photos' alt text.
TikTok
TikTok's search bar and trending topics can provide a wealth of SEO inspiration for future posts and content.
Once you know what your consumers are looking for, create videos that appeal to these searches and make sure the relevant keywords are prominent in your captions, titles, and voiceovers. Having the most important keywords appear in a text layover also helps boost your discoverability. It will also significantly boost your chances of standing out in search by verifying your TikTok account.
YouTube
YouTube isn't always considered a social media platform but it's the 2nd biggest search engine in the world, behind Google, so requires a strong SEO strategy. Just like TikTok, the YouTube search bar is a fantastic source of SEO content ideas. Because the recency of videos can play a factor in where they appear in YouTube search rankings, consider targeting keywords that don't bring up a lot of new results.
After you create your content, make sure your keywords appear in your video's file name, title and description, cards and overlays, chapters (aka timestamps), as well as your tags and video script.
You can also create keyword-optimized playlists and embrace YouTube's organizational tools like hashtags and categories to boost your discoverability.
Unlike Google, you won't get penalized on YouTube for optimizing multiple videos for the same keyword. So have some fun and experiment to see what works best for your audience.
Pinterest
Setting your brand up as a verified merchant on Pinterest will boost credibility with consumers while giving you access to analytics that help you create more impactful content. As you learn more about your Pinterest audience's interests, make sure relevant keywords appear in your bio and display name, as well as the names and descriptions of any boards you create.
LinkedIn
In addition to optimizing your company page's headline and about section, LinkedIn lets you customize your company page's URL (just like Facebook), giving you additional opportunities to rank for relevant search terms.
But don't stop there. LinkedIn offers so many fields to personalize, from your company's specialties to its products and services. While most companies are content to just throw up a logo and drop a few sentences in their LinkedIn about section, you can set your brand apart — and boost your social media search rankings — by filling these sections out completely with keyword-rich content.
Twitter/X
Whether you call it X or Twitter, make sure your bio, alt tags, and hashtags feature the keywords your customers are searching for. To further boost your Twitter SEO, take advantage of Twitter's default sorting algorithm, which makes it easier for users to find posts and profiles that align with their interests.
By creating lots of keyword-optimized tweets about topics that are related to your company and relevant to your customers, you show Twitter you're an informed and authoritative voice on the topics your customers care about.
Heads up!
When it comes to using keywords, you don't want to overdo it. Consumers can smell a keyword-stuffed post from a mile away. Instead, use search terms carefully. If it sounds natural when you read it aloud, chances are the post is good to share.
Also, remember that social media SEO is not a one-way street. Most of the platforms listed above prioritize the content of active profiles that engage with other users and participate in community conversations.
Embracing social search
With more and more consumers, and almost half of Gen Zers, conducting searches on platforms other than Google, brands that want to stay relevant and connected have to embrace social media search.
The more you know about shoppers' preferences for finding information, the better positioned you are to meet them where they are — and provide the exact information they need to move forward in the buying cycle.