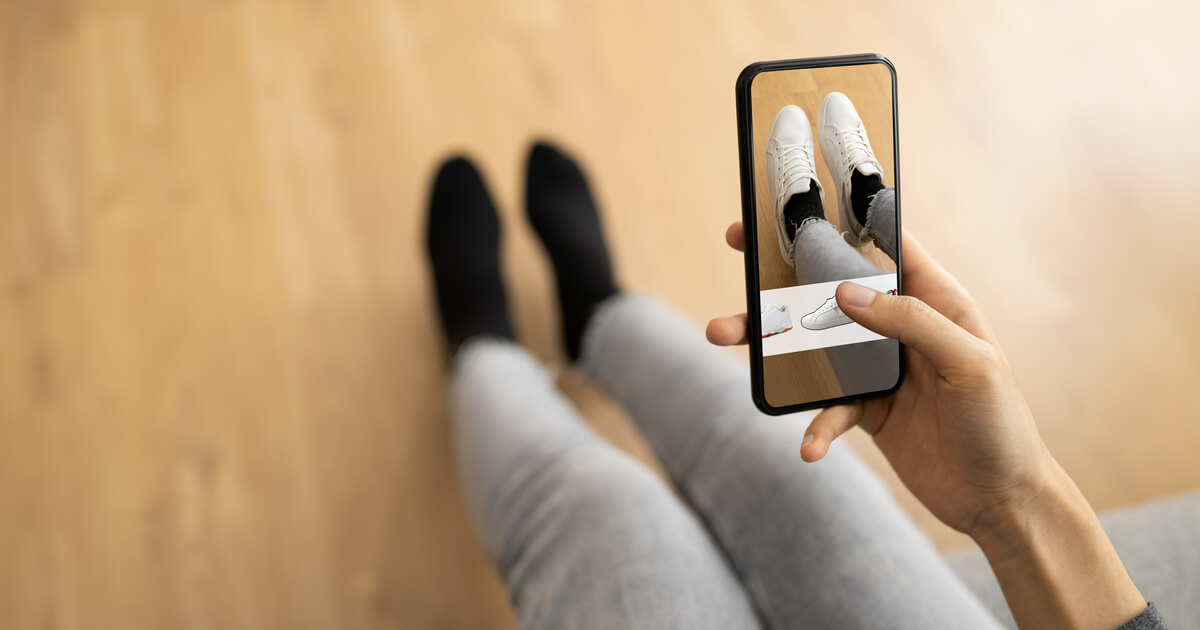 Ever since The Terminator was released back in 1984, there's been slight apprehension surrounding Artificial intelligence (AI) and augmented reality (AR). But they've been a part of our lives for years, whether we've realized it or not. And you know what, John Connor hasn't come back to warn us against it. If he does, it'll probably be to suggest "You should be using AI in your e-commerce strategy!"
Since 1914, AI has helped power commercial airplanes' autopilot functionality. Today, spam filters, mobile check deposits, and facial-recognition technology all use AI and AR to make consumers' lives easier.
Now, brands and retailers are tapping this technology to improve the shopping experience for customers in innovative new ways. Thanks to the growth of AI in e-commerce, shopping from home just got a lot more exciting.
AI in e-commerce: The past and the future
In e-commerce, brands and retailers have used AI and AR to improve their website's search functionality and make better recommendations based on recent browsing activity. The technology also helps power retargeting ads and chatbots.
But perhaps the most exciting developments were happening in brick-and-mortars.
The beauty industry was one of the early adopters of in-store AI and AR. Brands like Sephora and Ulta have used the technology to allow customers to virtually try on different shades of lipstick and eyeshadow.
Now, as technology becomes more powerful, and e-commerce companies more adventurous, customers can have the same experience at home, in the car, or anywhere they have an internet connection.
Is AI the future of e-commerce?
Like many trends, the COVID-19 pandemic accelerated this transformation.
Between concerns of the virus and local restrictions, shoppers are unable or unwilling to visit their favorite brick-and-mortars. Even those who do may be hesitant to enter dressing rooms, try on clothes that were recently worn by others, or use communal jars of Q-tips and tissues.
Consumers can get around this by ordering multiple shades of blush or multiple sizes of the same shirt online and returning what doesn't work. But the high cost of online returns makes this cost-prohibitive for those retailers already struggling to stay profitable during the pandemic and related economic crisis.
To combat this, more e-commerce brands and retailers are using AI and AR to create virtual fitting rooms and other online experiences. Early data from companies that provide the technology say it has helped reduce return rates by 36%.
We've been watching this trend closely over the past year. Here are some of the most exciting AI in e-commerce use cases to date.
AI in e-commerce examples
AI is already well underway and brands are taking note. Here's some of our favourite brand examples of AI in e-commerce.
Playing makeup at home
One of the best arguments for using AI in e-commerce is trying on items — virtually. NARS Cosmetics' virtual try-on uses a shopper's camera to instantly detect the contours of the face. As shoppers click on shades of lipstick, bronzer, and eyeshadow, the makeup is superimposed on their lips, cheeks, and eyes. Occasionally a set of bright red lips appear in the middle of the screen, but the experience is surprisingly smooth and accurate.
The technology also automatically evens out shoppers' skin tone, making the makeup extra flattering.
Home sweet (virtual) home
Target's See It in Your Space tool uses AR to allow shoppers to literally see how furniture and decorations will look in their home. Shoppers can either upload a photo of a room or use the Target app to access their device's camera. Then, they select furniture to overlay on the image.
The tool helps them see if items will fit in the space, coordinate with other items, and decide which finish or color works best.
Taking 'see it for yourself' to another level
Eyewear brand Warby Parker was an early adopter of AR. Its app, which allows shoppers to see how each frame will fit their face, was named one of Apple's 10 best apps in 2016. And now their in the AI game for their e-commerce strategy too.
The brand's Virtual Try-On feature also won a Webby Award. Shoppers can click through different styles and colors to see which best complements their face shape. Once they've picked their favorites, Warby Parkers allows shoppers to select 5 frames to try on at home for free.
An enjoyable earring experience
When the pandemic closed its physical stores, jewelry brand Kendra Scott launched its virtual try-on service. Their app uses AR to allow consumers to test out the brand's bracelets and earrings. Shoppers can see how the jewelry hangs as they move, almost relocating the in-store experience.
If a customer falls in love with an item, they can complete their purchase on the brand's e-commerce site.
Showing off on Snapchat
Retail chain Kohl's partnered with the social media network Snapchat to create its Augmented Reality Virtual Closet. Snapchat users can select from a variety of Kohl's products and "try on" items through the app. They can also make purchases through Snapchat.
3D luxury
Consumers looking for a new designer handbag or wallet can now view 3D images of their favorite Burberry products online. The items are scaled to size and then superimposed on the shopper's camera screen. Consumers can see what a purse looks like on their shoulder or countertop and see how it complements their favorite outfits.
AI: Adidas Intelligence
Before the pandemic, the athletic brand Adidas launched a virtual solution that allows shoppers to try on shoes through the brand's app. Shoppers point their camera at their feet and can see how the shoes might look in real life. Shoppers can then purchase the item through the Adidas app.
Optimize your AI in e-commerce strategy
AI is clearly here to stay in e-commerce. As is AR, fyi. Both are essential tools for future proofing your business and driving your revenue. If you don't know how to get started with AI, don't fret.
Bazaarvoice Insights and Reports tools seamlessly integrate AI to boost efficiency and optimize your marketing strategy. Whether for boosting sales, improving products, or competitor analysis, our tools have you covered.
Request a demo