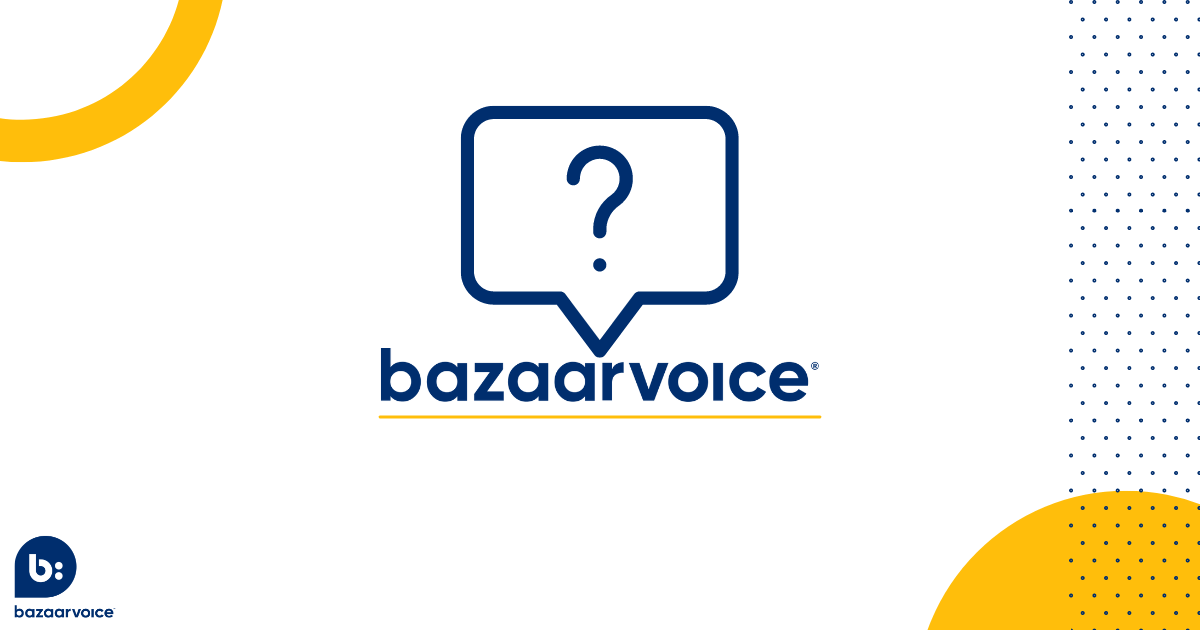 Before we jump into the alternatives, a brief history on who Bazaarvoice are. In 2005, our team launched Bazaarvoice, offering software for e-commerce brands and retailers to collect and display authentic user-generated content (UGC) on their websites. Since then, we've grown rapidly and improved our offerings, positioning ourselves as leaders in the UGC and social commerce industries — according to G2.
But while we may be the leader (again, not our words), we accept we're not the only option out there — there's a few alternatives to Bazaarvoice. But how do they compare?
9 Bazaarvoice alternatives
Are you interested in exploring different UGC providers? Here's nine Bazaarvoice alternatives and how they stack up to the Bazaarvoice platform.
1. PowerReviews
PowerReviews helps product-based businesses drive conversions by collecting, displaying, sharing, and tracking user-generated content. The app offers core features that support e-commerce growth, including customer reviews and ratings, UGC syndication, and product sampling.
Bazaarvoice vs. PowerReviews
Bazaarvoice offers a wider range of products and features. PowerReviews only collects and distributes UGC, while Bazaarvoice has other unique offerings for attracting and converting potential customers — from social media management tools to online and in-store brand activation events. With these additional features, Bazaarvoice reduces the need to combine multiple tools to perform tasks that can all be handled in one centralized provider.
2. Yotpo
Yotpo is an e-commerce retention brand that helps businesses collect online reviews and showcase visual UGC on their various website pages. It also specializes in SMS marketing, loyalty and referral programs, subscription offerings, and email marketing — all targeted at encouraging repeat purchases and boosting recurring revenue.
Bazaarvoice vs. Yotpo
Bazaarvoice is tailored to both customer acquisition and retention. Instead of focusing solely on retention like Yotpo, Bazaarvoice is a more holistic solution that prioritizes gaining new buyers just as much as retaining existing customers. Bazaarvoice's Influenster community — a large community of product-passionate consumers — is ever-ready to promote your products in video, image, and text reviews that display across multiple sales channels. This influencer collaboration and review distribution system aids higher search engine rankings and product discovery.
3. Emplifi
Formerly Pixlee TurnTo, before being acquired by Emplifi in November 2022, Emplifi is a platform for e-commerce brands looking to invest in large-scale word-of-mouth marketing. The company leverages influencer marketing, social UGC, and customer ratings and reviews to convince and convert shoppers.
Bazaarvoice vs. Pixlee TurnTo
Bazaarvoice delivers better ROI. Actually Bazaarvoice has the same offerings as Pixlee and more (like social media management and analytics features), so our customers get more value for their money faster. But with more integration options and an expert services offering for personalized support and guidance, Bazaarvoice also empowers brands to optimize their UGC marketing strategy.
4. REVIEWS.io
REVIEWS.io is a review management and retail syndication platform. It helps companies curate reviews and ratings across various platforms — Google, Shopify, Klaviyo, and more — to use on their sales channels and paid advertising. REVIEWS.io also offers a survey feature for customers to measure customer satisfaction and a loyalty and rewards tool for them to create high-converting referral programs.
Bazaarvoice vs. REVIEWS.io
Bazaarvoice is better suited for enterprise. Because of our platform's numerous functionalities and automations, Bazaarvoice is better suited for large businesses with extensive service offerings than REVIEWS.io. We also provide more sophisticated reporting options and a wider selection of marketing tools for social media management, product sampling campaigns, review monitoring, and more.
5. Trustpilot
Trustpilot is a well-known site for reviewing and rating the world's top SaaS and e-commerce products. The review platform lets customers post both negative and positive feedback about a brand, so other buyers can make more informed purchasing decisions, and it helps businesses improve their offerings.
Customers also use Trustpilot to research and learn more about certain products and services for personal or business use.
Bazaarvoice vs. Trustpilot
Bazaarvoice includes video reviews. While Trustpilot only lets customers drop text reviews, Bazaarvoice allows text, photo, and video product reviews, creating a visual way for customers to experience products before making a purchase. Brands can also leverage our dedicated and passionate community of everyday influencers to generate product reviews at scale and syndicate them across their top sales channels.
6. Sprinklr
A partner as well as an alternative to Bazaarvoice, Sprinklr is a customer experience management platform that provides tools for real-time data analytics, customer support, marketing, and social media management. One of Sprinklr's most relevant social commerce offerings is its ratings and reviews product, which lets brands receive, approve, display, and respond to customer feedback. The app also seamlessly integrates with CRMs like Salesforce, ServiceNow, and Zendesk.
Bazaarvoice vs. Sprinklr
Bazaarvoice is custom-built to drive e-commerce sales. If you're looking to attract more customers to buy your products, Bazaarvoice is your muse. Unlike Sprinklr, Bazaarvoice is tailored to e-commerce businesses — from its shoppable image galleries to product sampling campaigns and review sourcing offering.
7. Dash Hudson
Dash Hudson provides a hub of social media management tools for businesses of all sizes. With features for top social channels like Instagram, TikTok, and YouTube, the platform enables efficient post scheduling, social monitoring, campaign planning, performance management, and more. Dash Hudson also has influencer-tracking software for managing and growing successful content creator programs.
Bazaarvoice vs. Dash Hudson
Bazaarvoice is more proactive. Dash Hudson and Bazaarvoice are very similar in the influencer marketing realm, but our platform wins thanks to proactive features like product sampling. With this feature, Bazaarvoice incentivizes customers and influencers to create authentic brand content in exchange for free product samples, helping brands to start seeing results from UGC quickly. Bazaarvoice is also the only provider that has a visual syndication network for distributing social content to retailers as a way of supporting their marketing and sales efforts.
8. Social Native
Social Native is a UGC and influencer discovery platform that helps brands leverage authentic social content to drive awareness and sales. In 2020, Social Native acquired visual marketing tool Olapic to strengthen its content sourcing, performance management, and insights tracking functionalities for marketers.
Bazaarvoice vs. Social Native
Bazaarvoice includes revenue attribution. Unlike Social Native and other competing brands, Bazaarvoice is the first end-to-end UGC platform that measures revenue directly attributed to social content. With Bazaarvoice, e-commerce brands no longer have to depend solely on vanity metrics like engagement rates and follower growth to gauge campaign effectiveness.
9. Sprout Social
The final Bazaarvoice alternative on our list is Sprout Social — a social media management platform for online post scheduling, publishing, social listening, customer engagement, and insights tracking. Unlike other social media management solutions, Sprout Social also offers an employee advocacy feature for empowering team members to become online brand advocates and industry thought leaders.
Bazaarvoice vs. Sprout Social
Bazaarvoice leverages UGC seamlessly. Sprout Social is a great social media tool, but it does not have a clear-cut system for sourcing and utilizing UGC for business growth. Meanwhile, Bazaarvoice helps businesses provide rich shopping experiences that lead to purchases — using UGC. Our e-commerce marketing platform has smooth processes for creating organized product sampling campaigns, collecting and displaying customer ratings or reviews, turning social content into shoppable experiences, and more.
Bazaarvoice is your best alternative
Whoever your audience, Bazaarvoice is the ideal partner for collecting and leveraging UGC for customer acquisition and retention. With key products like Product Sampling, Social Commerce and Creator Partnerships, Retail Syndication, and more, our full-funnel platform makes it easy for e-commerce brands and retailers to leverage social content for reputation management and business growth.
And sure, there's some strong alternatives to Bazaarvoice out there. But none provide the full ROI that Bazaarvoice does. An independent Forrester Total Economic Impact™ of Bazaarvoice study found that Bazaarvoice customers can experience up to a 4x increase in conversion rates and a 400% ROI with "a payback period of less than three months." That's not something you can find just anywhere.
If you're an existing Bazaarvoice user who needs help with any of our products or services, log in to the Support Community for assistance.
And if Bazaarvoice isn't part of your digital marketing tech stack yet, or you're using an alternative but want to switch, get in touch with our team by filling out a contact form or calling to talk about how we can meet your business needs today.
Request a demo