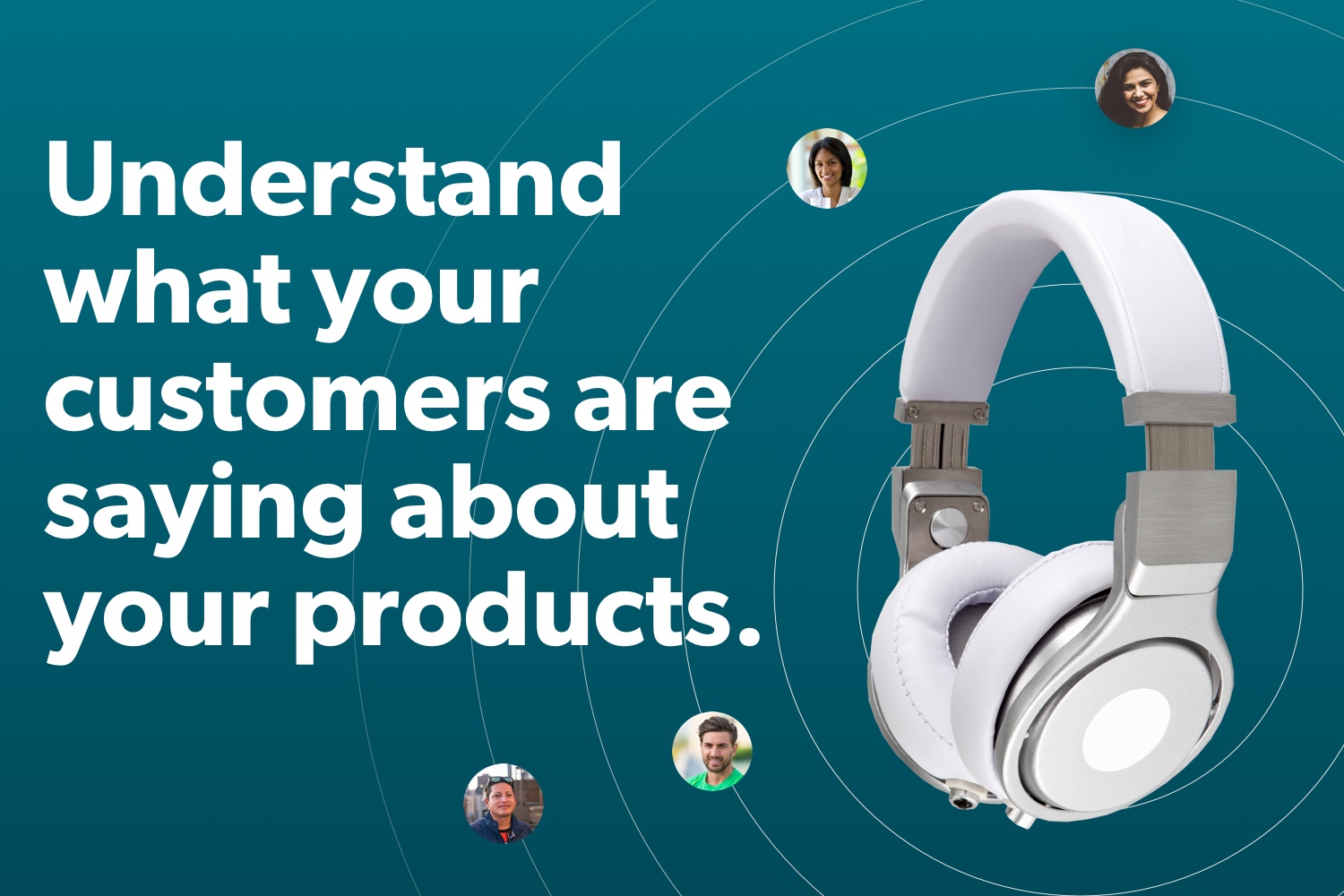 Your brand is only as strong as your reputation, and with more consumers than ever turning to online reviews to get fellow customers' feedback to help decide who to give their business to, understanding your online reviews and what your customers are saying about your products is the key to making better business decisions.
According to our annual Shopper Experience Index, shoppers submitted 66.8M reviews, 2.2M photos, and 6.3M questions to the Bazaarvoice Network on products ranging from clothing and electronics, to food and hardware, to pretty much any consumer packaged good that can be bought and sold. Today's consumers are more engaged, inquisitive, and reliant on user-generated content (UGC), and that's a win for your business.
Customer reviews and questions unlock feedback from consumers that in decades past may have never made it to you as the marketing executive, brand manager, or buyer. Collecting reviews and allowing product questions is a crucial first step in maximizing your ROI on this product feedback, but a close second is understanding what to do with this information once you have it.
Here are 10 questions about user-generated content that every business should be asking, and why it matters:
How many total reviews do I have?
There's strength in numbers, and the more reviews you have, the better your product and category pages will fare with consumers, in search, ROI, and more.

The more reviews a consumer can find on your site or on your products, the more money they likely are to spend with your business. We found a 157% revenue per visitor lift when shoppers engage with UGC content, like reviews, on retail sites.
How many of my products have reviews? Which of my products need more reviews?
From the time you start collecting reviews, you'll start to see a lift in orders, and at 8 reviews, SEO benefits start kicking in. The more reviews each product has, the more social proof each product has backing it, and the more benefits you can unlock.
Beyond the total number of reviews, it is important to have fresh reviews on your products. 
Customers look not only at quantity of reviews on your products, but when those reviews were left. As you evaluate which products have reviews, also check the recency of the content. 
Start with these areas as you evaluate where you need more reviews:
Popular products with low reviews

Products with zero reviews

Percentage of page view traffic with no reviews
While we recommend at least 10 reviews per product at the bare minimum, it's important to see what other players in your industry are doing. If a competitor has a relatively similar product at the same price point with a similar rating to yours, consumers will defer to the product with more reviews.
How do I generate more reviews for my products?
Once you identify which of your products need more reviews, you can build a plan to generate reviews to hit your targets. Rule #1 for generating reviews? Ask for them. Invite your customers to share their feedback – the good, the bad, and the ugly.
A few ways to ask your customers include: 
Email

all of your contacts in your CRM list and ask for reviews for items they've previously purchased

Automate an email

to go out after a buyer makes a purchase to ask them to review the product while it's top of mind

Include calls for reviews on product packaging or inserts

Offer special prizes or discounts

for shoppers who review their purchases

Sample products

to customers to prompt to share their honest feedback
How do reviews for my products compare against my competitors'?
Customers' feedback is great, and it's even better when the sentiment is better for your products than your competitors'. Every industry has different benchmarks, so it's crucial to know yours. The average number of reviews per product, average product ratings, number of reviews being submitted daily, and more can help you gauge the health of your UGC program and how you measure up to your competition. For example, we share industry and vertical UGC performance benchmarks to our clients, so they can have a frame of reference for their performance.
Which customer reviews should I respond to first?
In a perfect world, all customer reviews would be responded to within two to five days. But, if your time and resources are limited, it's important to prioritize reviews with 3 stars or less. The majority of customers say their perception of a business changes after they receive a response to their review, and replying to negative reviews shows future shoppers that you value customers' feedback and you are concerned about your buyers and not just your bottom line. 
Which customer questions should I respond to first?
Questions are generally from prospective buyers – they're well into the decision making process, and they're looking for some final validation before they pull the trigger on a purchase. If you can't get to all questions as they come in, prioritize the questions on your most popular, best-selling products and look for commonly asked questions to identify trends and possible gaps in your product descriptions. 
How do I find common themes in customer reviews?
It's easy to sort reviews by star rating, but it can be more difficult to sort them by insight. Bucketing reviews based on its overall theme gives you areas of improvement to focus on. For example, we analyze all published reviews and look for common words and ideas expressed and their corresponding rating. From here, we are able to provide our clients with specific customers' feedback as well as how they're achieving success in market.
Identifying themes and how widespread they are across your customer reviews makes prioritizing changes to the product or customer experience easier. It also gives you great insight into what your business is doing well and how you're delighting your customers.
What are my lowest-rated products?
Knowing which of your products have the lowest average ratings serves multiple purposes. First, it allows you to see which products your customers are not big fans of. Next, it shows you where to focus your attention in responding to negative reviews. And finally, it gives you a starting point to dig into why your buyers aren't having a good experience with your products.
Sometimes, a negative review can expose a flaw in a product's design, while other times, reviews for a product can mean there's nothing wrong with the product – it just didn't match the buyer's intent. 
For example, let's say a customer is looking for waterproof headphones and purchases a pair of yours that doesn't specify the headphones are waterproof. The customer makes an assumption the headphones are waterproof and ruins them on first use, so they leave a negative review for the product. As you read through the reviews on this lowly rated pair of headphones, you notice that several shoppers have made the same comment about how the headphones aren't waterproof and died on first use.
After you respond to the negative reviews, you can identify areas for improvement for the product and/or product description page (PDP). In this case? Adding a line on the PDP that the headphones are not waterproof can prevent future negative reviews for that reason.
Additionally, as you evaluate what types of products to produce more or less of, or what lines to introduce in the upcoming season, understanding what's not performing well can help you build more products that better suit your customers.
What should I do about negative ratings and reviews on my products?
Listen, respond, and iterate. Whether you agree with your customer or not, hear them out and make a genuine attempt to respond to them both on and offline. While it can be difficult to please everyone with your products, many negative reviews contain potential actionable items for you as the manufacturer or seller. While a star rating can flag a review for a second look, the content in a review tells more of a story. 
In addition to improving product design and website content, customer reviews and questions can help identify issues with customer service, pricing, shipping, or other areas of the customer experience. There are tools that pull out common sentiments from your reviews – that's a great starting point for deciding what to do next for your products. 
What else can I learn from my reviews?
A lot. Reviewing customer data and insights is one of the best ways to deepen your understanding of the customer experience, which is why all of the best-in-class brands do it. These insights often take too much time to procure manually, which is why investing in a software solution like Bazaarvoice can save you time and help you better understand your UGC data. And with the latest release of our Insights and Reports applications, all of these areas of comprehension and action can be unlocked for you. Connect with us here to learn more.