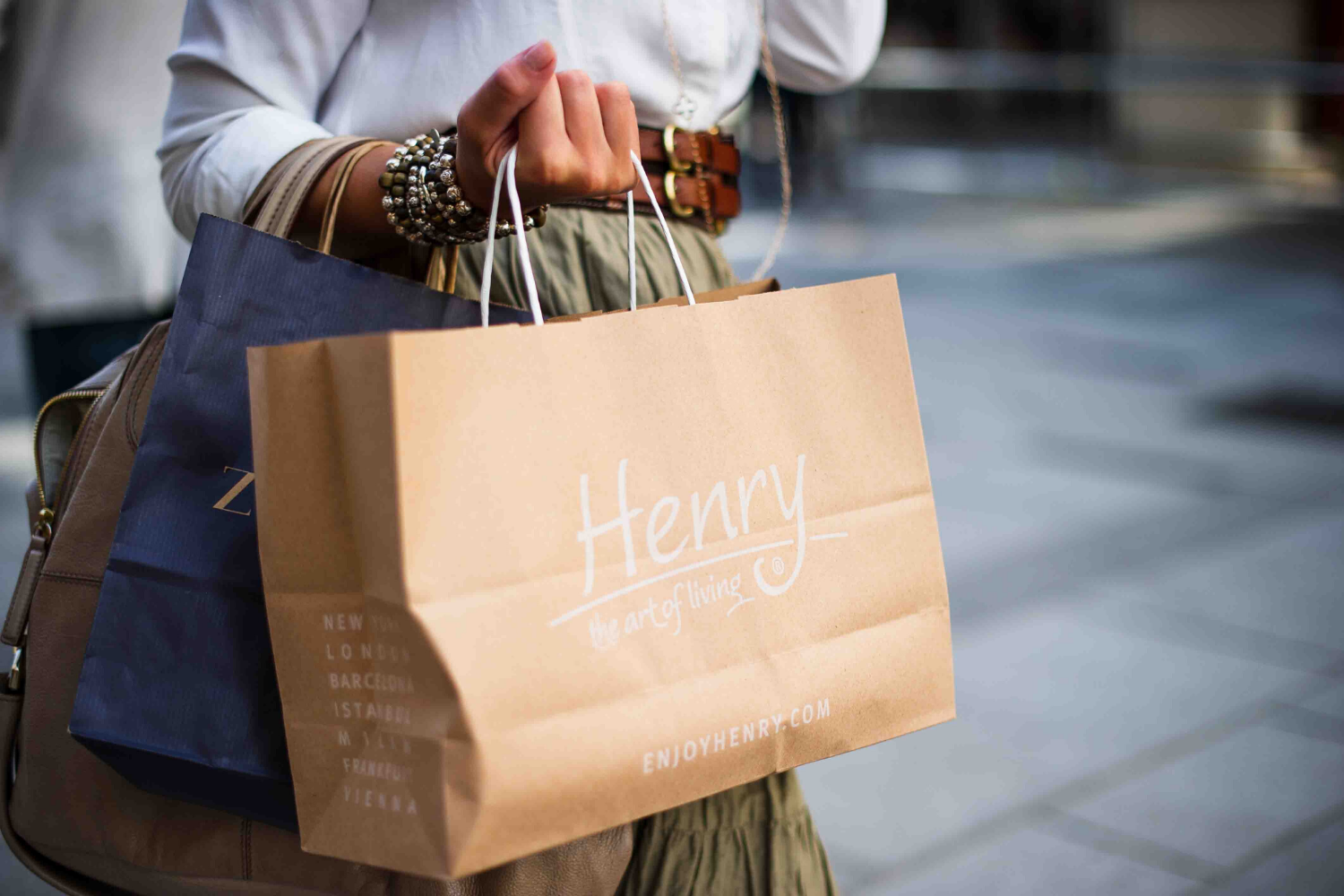 Consumers have long embraced the shop anywhere, anytime aspect of online shopping but are doing so now more than ever in the era of COVID-19. Prior to COVID-19 being declared a global pandemic on March 11, enabling consumers to buy online and pick up in store (BOPIS) was seen as a way to boost the shopping experience and provide instant gratification to shoppers. Now, BOPIS has become essential to businesses across a variety of industries. It helps keep shoppers and retail employees safer by reducing in-person interactions, allows businesses who can provide store pick up to continue to sell products despite store closures, and helps people to secure groceries, toiletries, and important must-haves in a timely manner.
BOPIS had already been embraced by major retailers like Target, Walmart, Home Depot, and Tesco. By 2021, 90% of retailers are expected to offer BOPIS, according to Digital Commerce 360.
Whether you call it BOPIS, click and collect, or trunk drop, this method of buying is helping shoppers fulfill their needs while enabling many retailers to diversify their revenue streams. And shoppers are taking to it – in just a few months, BOPIS saw a 62% year-over-year increase in shopping activity from Feb. 24 to March 21, 2020.
Before social distancing was put in place, Bazaarvoice research found the biggest in-store and online shopping pain points for consumers included long checkout lines, messy and crowded stores, and slow shipping times – all pain points that BOPIS can solve for. And in our current state, BOPIS eases those pain points tenfold.
Shoppers continue to show greater interest in BOPIS, with 50% of consumers basing shopping decisions on whether they have an option to buy online and pick up in store.
So, how can retailers shore up their BOPIS offerings and lure shoppers? Here's a look at some of the biggest BOPIS trends.
Grocery shopping via BOPIS will keep growing
Grocery delivery and pickup app Instacart recently called 2020 "the year of pickup" – and that was even before coronavirus. Grocery shopping was starting to gain ground in BOPIS shopping at the start of this year, and COVID-19 has accelerated that. Since mid-March, grocery has seen the largest surge in e-commerce activity compared to other industries. Rakuten Intelligence reports the dollar value of orders from full-assortment grocery merchants during March 12-15th alone were up 210.1%, while the number of orders grew 151.1%, both significantly higher than all industries combined.
One-third of shoppers surveyed by Gordon Haskett Research Advisors on March 13 said they bought food online over the past week, and of those, 41% were doing so for the first time. This trend in online grocery buying started as a result of the pandemic, and it has stuck. According to a survey of over 1,500 Influenster community members, 81% of respondents purchased groceries in the past week, and 86% of those shoppers bought their groceries online.
According to data from the Bazaarvoice Network of over 6,300 brand and retailer sites, there was an 85% increase in order counts year-over-year for food and beverage in March, and this YOY increase jumped to 159% in April.
Online grocery shopping is expected to keep growing, especially among adults 18 to 44, families with children, and urban shoppers. Grocery retailers are already preparing for this (possibly) permanent change in the grocery landscape by adding new BOPIS options.
Giving shoppers more discounts and incentives for using BOPIS saves retailers money
Free pickup is usually a given for BOPIS, and 35% say it's what they like most about this way of shopping, according to Offers.com. That said, free pickup alone may no longer be enough — consumers want more discounts or incentives for using BOPIS.
Nearly 60% percent of shoppers would use BOPIS more often if they were given a discount on their order or a coupon for a future order, according to Offers.com. Several retailers have experimented with BOPIS discounts. In 2017, Walmart introduced a pickup discount on certain items. Target has also offered discounts on pickup purchases over the years.
Incentivizing BOPIS may seem like a costly endeavor, but getting more shoppers to use the option is ultimately good for business. Target, for example, has reported a 90% drop in the costs of online orders when shoppers use same-day services, including curbside pickup, BOPIS, and same-day delivery. Also, fulfilling orders from store shelves versus distribution centers saves 40%, and Target reported a 31% jump in digital sales growth in the third quarter of 2019 with 80% of that coming from same-day options.
Fulfilling orders from shelves in-store also supports social distancing in fulfillment centers, reducing the need to overcrowd the center to ship orders out in time.
Shoppers want more informative and up to date product information online
There's nothing more frustrating than loading up your online shopping cart only to realize the items actually aren't available at the store for pickup. Retailers need to work to ensure that inventory is available when shoppers order via BOPIS to keep them coming back. At a time where it's difficult to find toilet paper or dumbbells, shoppers want to know that the items they're selecting will be in their bag upon pickup. For example – Texas grocery retailer HEB only shows products available in their store when you place an order online for pickup, and they badge items that are low stock.

And retailers like Target and Walmart allow you to sort items online by what's available for BOPIS, leading to great customer satisfaction.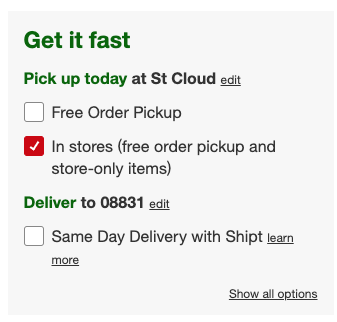 Building accurate inventory and product pages has come to be expected by shoppers using BOPIS. Going above and creating an experience on those pages with customer photos, review functionality, and information unique to your brand raises it and will help you stand out on the digital shelf.
BOPIS presents a (new to some) challenge for brands and retailers – telling their story when their customers aren't setting foot inside their store. Creating an accurate inventory is one step to make customers feel like they're shopping in-store and exhibits principles that shoppers love to see in brands they buy from – reliability and trustworthiness.
What does the future of BOPIS look like?
COVID-19 has accelerated BOPIS even more rapidly, which means the future of BOPIS is bright. Shoppers have voiced wanting even more BOPIS pickup options, which gives this trend room to grow. According to the National Retail Federation, 81% want curbside pickup, 74% want items delivered to the trunk of their cars, and 63% are interested in trying a locker code.
Even as retail stores begin reopening, many are continuing to offer a variety of BOPIS options to help ease shoppers' concerns of shopping in-store and preventing long fulfillment times.
As more retailers jump on the BOPIS trend to maintain shopper loyalty and diversify their revenue streams, prioritizing customer experience, providing more pickup options, and offering discounts and incentives will help win over shoppers and beat out the competition.
––––––––––––––––––––––––––––––––––––––––––––––––––––––––––––––––––––––––––––––––––––––––––––––––––––––––
Want to learn more about telling your brand story when shoppers are buying online instead of in-store? Connect with us here.