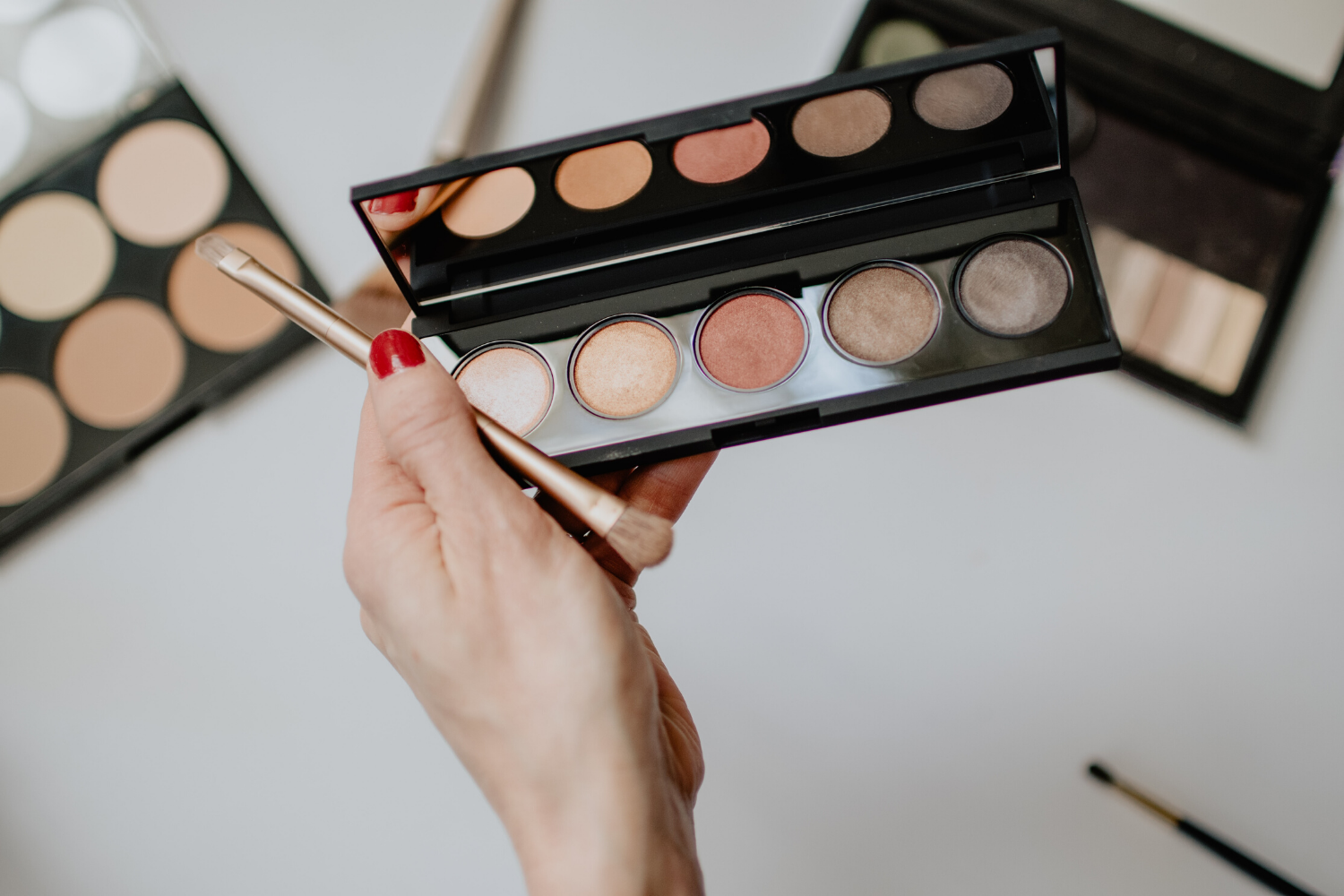 "The only times that I wear makeup and style my hair now is for a Zoom happy hour with my friends" is a sentiment that most of us can relate to during our extended time at home."
From rethinking how we socialize with friends and how we do our jobs, to how we cut our hair and how we work out, the pandemic has changed almost every aspect of our work and personal lives. And with many salons and spas still closed due to social distancing guidelines, many women have been inspired to experiment and change up their health and beauty routines.
We asked 5,100+ women of the Influenster community over the age of 13-years-old to share how their routines and shopping behaviors may have changed during the pandemic week-over-week. Here are some of the trends we're seeing for health and beauty specifically from two member surveys in May 2020.
There's more trial and experimentation with at-home beauty treatments
The closure of salons, more time at home, a need for distraction, and the urgent desire to maintain healthy skin, hair, and nails has resulted in women being more open and experimental with DIY health and beauty treatments.
We heard from women that the at-home treatments they have been trying the most are manicures/pedicures (49%), facials (42%), hair coloring (26%), anti-aging treatments (24%), hair trims (22%), and teeth whitening (22%).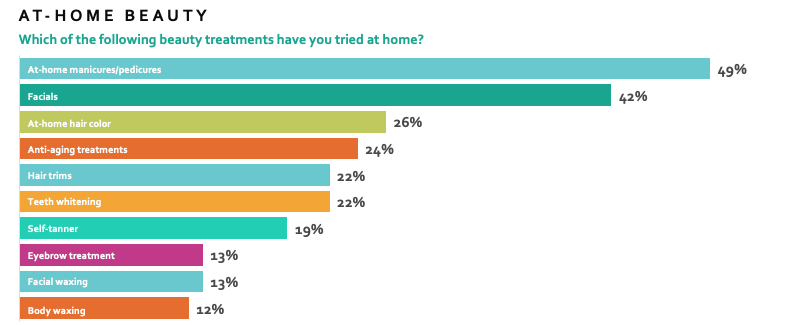 A variety of treatments that were once reserved for the professionals, women are now trying themselves. When we asked respondents to share the treatments they were trying out themselves, they shared:
"I'm doing my own nails- manicures and pedicures, at home hair color- full color or touch up when needed, doing more at home face masks and facial treatments, deep conditioning for my hair, which I'd normally have my hairdresser do, tweezing my own eyebrows instead of getting them threaded, and sunless tanning products instead of tanning beds or sprays from a professional."
"…I have learned to cut my own bangs, I tried a color touch up product, I have been doing at home manicures, and I have been using a lot of skincare: sheet masks, other masks, serums, and focusing more time on my skin. I have also used white strips."
"… I feel during this pandemic I'm getting a chance to use the products I've bought but never used due to not having the time."
And while women shared a variety of success stories of covering up grays, trying a newer and bolder look, or achieving that perfect sun-kissed glow (without leaving the house), they also shared their flops and how they are eager for the reopening of salons, spas, and their aestheticians.
Through the open ended responses, we found that they're most excited about getting professional manicures, pedicures, haircuts, waxing, eyelash extensions, and eyebrow waxing, threading, and tinting.
While she's wearing less makeup at home, when she does, it's to feel good and confident
With more people working from home and generally staying in, lower-maintenance looks are the go-to.
Close to half of respondents say they're wearing less makeup, 22% said that they're wearing about the same, and 21% said they're wearing no makeup now during 'stay at home'.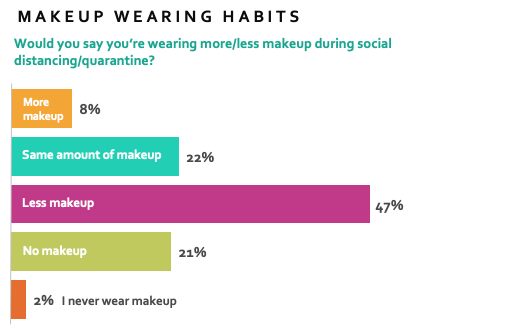 For those respondents still wearing makeup, 47% said they are doing so when trying out a new look, the same percentage said that they only did when they left the house, 30% said they will for video calls with family and/or friends, and 25% will wear makeup for work video calls.
Over half of the women agreed that they were still wearing makeup as it makes them feel good and confident. For those respondents who are not wearing makeup, 31% said they didn't see the point as they're not seeing anyone, 29% said they would like to take this opportunity to let their skin breathe, and 25% said they're more focused on skin care right now.
The top cosmetics that women consider to be essential to purchase right now include lip balm (62%), mascara (50%), foundation (41%), concealer (37%), and eyeliner (25%). And the top products that she's prioritizing when wearing makeup include mascara (81%), lip balm (65%), foundation (63%), concealer (60%), and eyeliner (53%).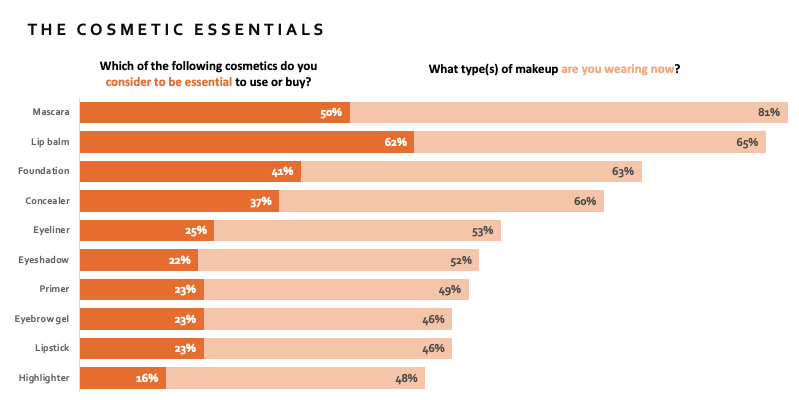 She's choosing more simple hair styling techniques for when she is seeing people IRL or URL
Over half of respondents said they're washing their hair about the same as they did pre-pandemic, 23% of respondents said they're washing their hair less, and 10% are washing their hair more.
41% of respondents said they're styling their hair about the same as they did pre-pandemic, a third of respondents said they're styling their hair less, and 16% are styling their hair more.


Ponytails, buns, air-drying, and wearing hair natural are popular social distancing trends. Hair serums, dry shampoo, and hair spray have been popular products as many shoppers prefer no-fuss routines for a full day of Zoom calls or staying at home.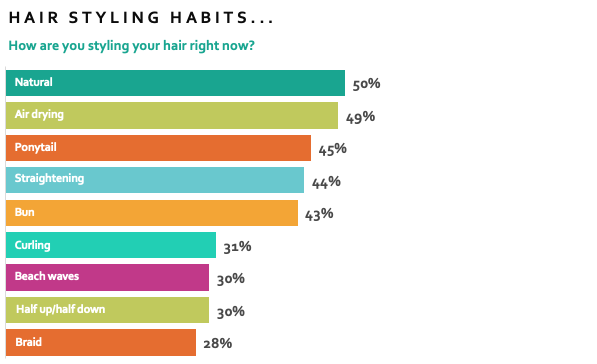 While many consumers feel wearing makeup and hair styling is pointless while social distancing. There are many women who are sticking to their beauty routines to keep up a sense of normalcy and because it makes them feel good and confident—or because they're connecting with friends, family, and co-workers virtually and still want to put their best face forward.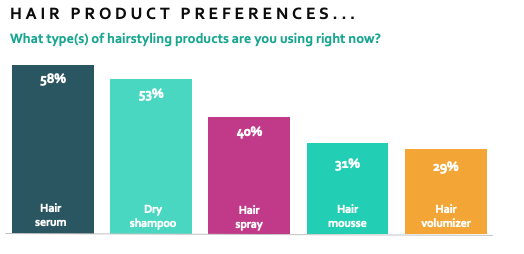 Another product women are purchasing to feel that sense of normalcy is fragrance. Our survey found 70% are still wearing their favorite scent while at home to feel good about themselves, and to smell good for their roommates or partners.
Clean purchases still matter, especially for beauty products
Pre-pandemic, 93% of women said they were "more inclined" to buy clean beauty products and used product reviews, social media, online searches, and brand sites to research products and make sure ingredients were nontoxic, sustainable, vegan, hypoallergenic, or cruelty-free.
We found that 43% of shoppers are still prioritizing clean products during the pandemic, and 68% still read ingredient labels before purchasing.
Facial skincare, makeup, and hair care are the most-purchased clean beauty categories, both before the pandemic and now.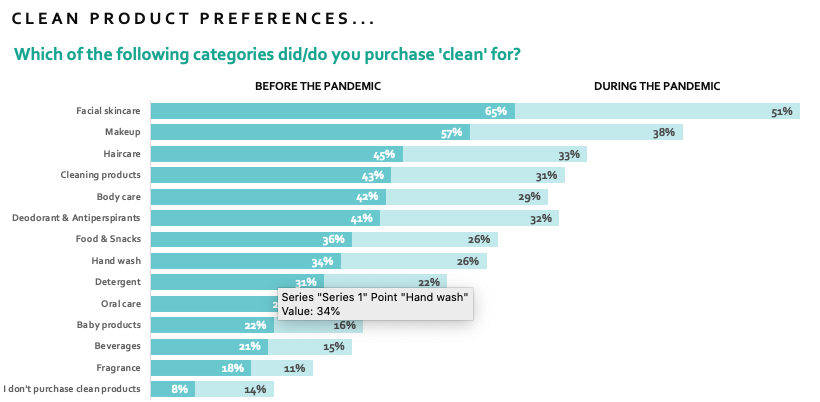 Shoppers are ready for retailers to reopen safely
Shopping for products online has been a necessity for most during the pandemic, and there has been a surge in online buying for many beauty products. . But, consumers look forward to stores reopening—3 in 4 women plan to start buying cosmetics in-store when retailers open up.
Additionally, when asked If beauty retailers were to stop in-store sampling and product trials, 70% would still want to purchase in-store, while 30% would no longer as brick and mortar loses its appeal. For those women, who want to continue to shop in-store their top reasons include the ability to compare colors, textures, and products in person, a need to receive their products ASAP (vs. waiting for delivery), and a need for human interaction and experience that stores provide.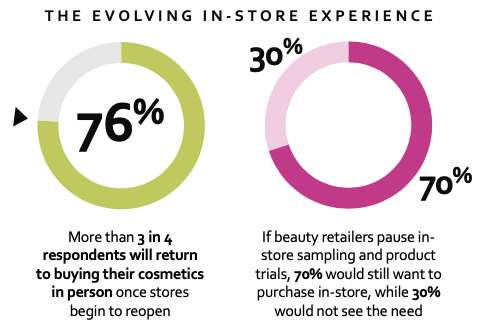 Beauty shoppers expressed that in order for them to feel comfortable and safe in store, they would need retailers to communicate how often they're sanitizing their stores, enforce masks and social distancing requirements for both employees and customers, pause on in-store testing and product returns, offer individual pre-packaged samples instead, and provide touch free pay options.
"Extensive and frequent cleaning, staff provide/handle testers only, not customers. I definitely need to colour match with a tester or small sample before purchasing an expensive base product!"
"More safety measures, like gloves and masks, increased sanitation, distance between shoppers, and making sure packaging on beauty products are intact (no open seals, no swatches or usage of products, etc)."
It's no surprise that due to the current conditions, consumers have altered how they use beauty products and re-invented their daily routines. Women have embraced more DIY treatments, tips, and tricks, they're being more bold and experimental with new looks, and have mastered how they can simplify their styling, yet still feel positive, and ultimately create a sense of normalcy that they crave. As cities and salons begin to reopen, only time will tell which of these routines and habits will stick and who will be running to be first in line for a salon appointment.