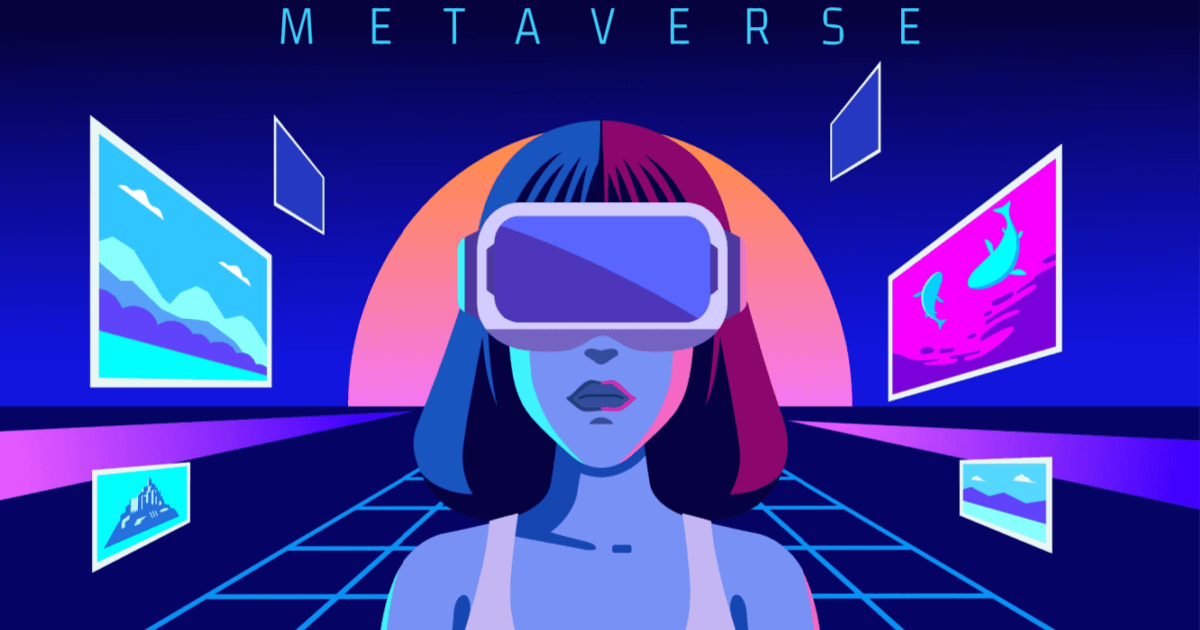 By now, you've surely heard a lot about the metaverse. Maybe you've even stopped by Nikeland, Nike's virtual world where visitors play games like tag and dodgeball and, of course, browse a showroom full of merchandise. Or, maybe you even considered shelling out $50,000 to buy one of Tiffany & Co.'s NFT (or NFTiffs) pendants.
While the metaverse is still new, brands are already capitalizing on metaverse retail. With consumers now shopping online most of the time, it makes sense that metaverse shopping is just the next phase.
If you're trying to wrap your head around how to get ready for shopping in the metaverse, we're here to help. Here's an overview of what retail metaverse is, what shoppers think about it, and how it's likely to change the retail landscape.
What is the retail metaverse?
Simply put, the metaverse is a virtual, immersive network of worlds that brings people together. The metaverse may be a strictly digital environment or blend elements of real life and digital experiences. It taps into technologies, like augmented reality (AR), virtual reality (VR), and artificial intelligence (AI).
Retail metaverse refers to retailers and brands setting up shop in the virtual world. Shoppers can play games, try out items virtually, and even make purchases. It may seem like a futuristic idea, but consumers are getting more and more excited about the possibility of metaverse shopping.
The metaverse isn't a new concept, as it's existed in the gaming world for some time. However, it's predicted that the metaverse will play a bigger role in people's lives in the future. By 2026, Gartner predicts about a quarter of people will spend an hour a day — at least — in the metaverse working, shopping, learning, or enjoying entertainment or social activities.
How will the metaverse change retail?
According to our survey of 10,500 consumers, 49% can't quite grasp what the metaverse is right now. But the metaverse market is expected to be worth $800 billion by 2024, so it's safe to assume that FOMO, or "fear of missing out," will lure consumers to the virtual space once friends and social media influencers are shopping there.
For brands and retailers, the metaverse allows for marketing, product discovery, and the ability to offer unique, immersive experiences that tap into AR or VR. It's a new platform for rewarding loyal customers with exclusive opportunities, non-fungible tokens (NFTs), personalized content, and more. No wonder 30% of worldwide organizations will have products and services in the metaverse by 2026 — forever changing the retail landscape.
But a prime opportunity brands can't afford to miss in this virtual world is the creation and collection of user-generated content. Brands can invite shoppers to play games, co-create content with your brand, or submit their own unique brand-related content to drive and sustain consumer engagement.
Which retail brands are leveraging the metaverse?
With the metaverse's potential to generate buzz, drive engagement, and build loyalty, brands are jumping on the trend. Here's a few examples of brands winning at metaverse retail.
Forever 21
The fashion brand partnered with gaming platform Roblox to launch Forever 21 Shop City in December 2021. The interactive experience lets users, fashion influences, and other creators build and manage their own personal stores in the metaverse. Users can purchase and sell Forever 21 clothing and accessories, hire employees, and customize every aspect of the experience. The brand is partnering with influencers to create and curate collections and debut their own shops.
Forever 21 also announced a summer collaboration with Barbie, featuring a limited-edition collection inspired by the Barbie DreamHouse. It will be available in the metaverse, as well as in stores and online.
MAC Cosmetics
MAC Cosmetics is taking a philanthropic approach to its entry into the metaverse. The brand debuted the collaboration Viva Glam x Keith Haring NFT collection earlier this year. MAC is making three digital artwork designs inspired by artist and activist Haring available for purchase. Each has a different level of rarity, and shoppers receive the artwork, along with a makeup tutorial. Proceeds from sales of the NFTs will be donated to the Keith Haring Foundation to support youth living with HIV or AIDS, or who've been affected by the diseases.
Gucci
Gucci set up a permanent metaverse retail shop this year with Gucci Town, created with Roblox. Users can compete in games and earn rewards, create exclusive pieces of art, learn about the brand, show off their style, explore limited-edition virtual products, and connect with other Gucci fans. Gucci has been hosting temporary metaverse events, including Gucci Garden, where a digital bag sold for more than $4,000. Real-life versions of the bag retail for about $3,400.
How do consumers feel about shopping in the metaverse?
Shoppers may still be learning about the metaverse, but they're definitely excited about it. According to our survey, 53% of consumers want to try a new shopping experience and 45% want to try a new product. What better way to give them what they want than to set up shop in the metaverse?
Metaverse retail lets you provide the personalized and unique experiences that shoppers are growing to expect from brands. Some have already tried virtual shopping experiences. Among those who've shopped in a virtual store, 70% have bought something.
Consumers view the platforms as a way to enjoy games while they shop and use VR and AR. 61% of shoppers are excited to use VR for shopping — and they want to try out clothing, furniture, home appliances, and technology via AR or VR before buying.
Shoppers are excited about NFTs, too. 23% of millennials collect NFTs as an investment or a hobby, and 49% of consumers will buy NFTs in the next year.
The bottom line
The metaverse strives to bring people together and enable them to connect in new ways. Brands should seize on this opportunity and think through how they can capitalize on shoppers' growing interest in metaverse retail.
Want to learn more about how the metaverse will disrupt the future of commerce? Read our new e-book.