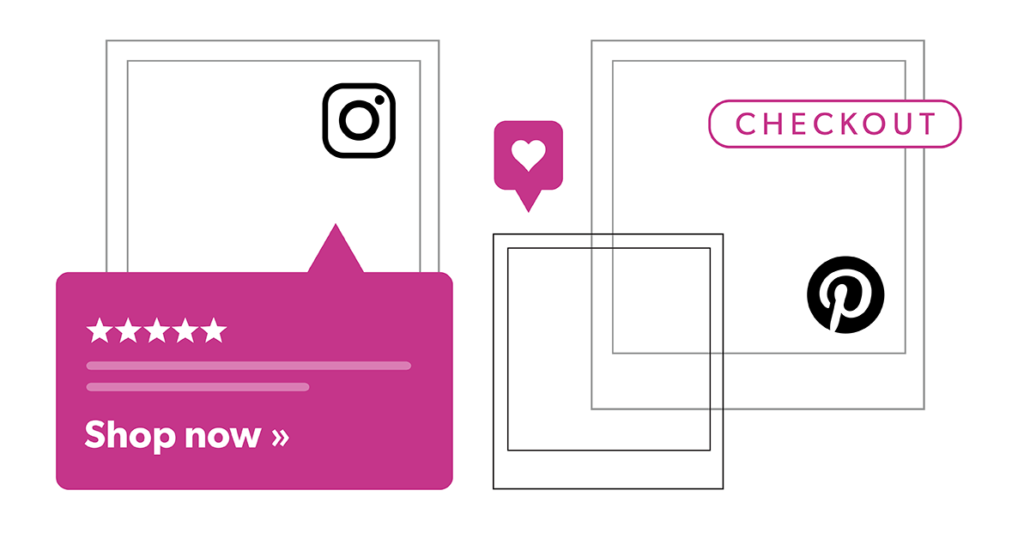 Far from the days when it was a channel to simply connect with friends, social media today is now becoming intrinsically tied to marketing and sales strategy. From awareness to conversion, social media plays a role throughout the entire shopping journey. The relationship between social media and shopping is rapidly evolving, and brands and retailers are exploring ways to take full advantage. Even in the last year, platform innovation and changing consumer preferences have changed the way brands think about social strategy. From pushback against influencer marketing to social media in-store, here are three examples that demonstrate the current state of social commerce.
Everyone is an influencer
There's a good chance if you're reading this you've been at least touched, if not influenced, by influencer marketing on social media. This type of marketing has seen a rapid increase in popularity and impact; in our survey of 4,000 European consumers, an overwhelming majority (92%) said they interact with influencers on social media. That being said, there has been a recent shift in perception around influencer marketing. The Federal Trade Commission has put regulations in place to require disclosure of paid, sponsored content, in an effort to make influencer content more transparent to consumers.
Even with these rules in place, consumers are increasingly finding this practice to be untrustworthy and inauthentic. Of those same consumers surveyed, 62% said they believed influencer content takes advantage of impressionable audiences. Another 55% said influencer content was too materialistic, while 54% said such content misrepresents real life. Among German consumers particularly, 32% said influencers do not promote ethical behavior. There has been a backlash against what consumers perceive to be inauthentic, pay-to-play content; companies that use influencer marketing should look closely at how they choose and work with influencers and consider how best to authentically integrate their products and brands into influencers' social content to ensure audiences believe the promotion.
Furthermore, customers want to hear more from unsponsored voices that can provide real insight into products, instead of what the marketing department paid someone to say. In a 2017 survey, 65% of consumers trust a brand more if it links to social media posts from real customers, and 66% of consumers are more likely to purchase a product if the website has social media posts with pictures and videos from real customers.
To combat the perceived inauthenticity of influencer marketing, brands and retailers are also incorporating photos and videos from customers across their marketing mix. In our research for our annual Shopper Experience Index, brands and retailers reported that visual user-generated content (UGC) creates a more engaging shopping experience, increases discoverability, deepens brand trust, and increases conversion. In 2018, 38% of our clients reported featuring visual content from social media on product pages (up from 35% in 2017), and 43% say they plan to in the near future. Some brands, like Bumble and Macy's, have even gone as far as featuring real people, like customers and even employees, in influencer-like social media campaigns. Going forward, it is likely that brands will strike more of a balance between featuring content from real people and influencers on social media to ensure that the content they are producing is authentic and resonating with consumers.
Social media as a checkout counter
Outside of influencer marketing, social media continues to serve as a way for brands to interact directly with shoppers and as a venue for extending the online shopping journey. According to our Shopper Experience Index , 1 in 5 consumers say it's important or very important to be able to discover and purchase products directly from social media platforms like Instagram, Facebook, and Pinterest – a 17% increase over last year.
In the last year, social media platforms have rapidly rolled out features that aim to improve the social commerce experience. Snapchat has partnered with Amazon, allowing users to scan a product or its barcode, and, if it's available on Amazon, buy it directly in the app. Instagram recently released the beta version of its new in-app checkout feature that allows users to buy items they see in a brand's Instagram post without leaving the app.
As e-commerce and social media continue to merge, it will be interesting to see whether more consumers begin using social media as a viable purchase channel. Last year, only 19% of consumers that identified as heavy online shoppers said they had ever purchased from a social media platform. With nearly half of our clients saying that integrating social media and online shopping experiences will be a top priority or increased area of focus over the next 12-18 months, we can expect more social media users to rely on these platforms for purchase, in addition to discovery and inspiration.
Bringing social to the storefront
While browsing social media content is often done from one's phone or computer, there is an opportunity for brands and retailers to expand the influence of social media to the real world by incorporating social media into the physical store experience. Today's shoppers interact with brands fluidly across devices and channels, and they expect a consistent brand experience across their entire journey. By bringing elements of social media into brick-and-mortar, brands and retailers can bridge the divide between online and offline.
Beyond just promoting hashtags and account handles in store, stores are becoming social media backdrops. Many businesses seek to provide an aesthetically pleasing shopping experience through thoughtfully designed and curated stores. Glossier is a perfect example; their flagship store is an Instagrammer's playground. Some stores have taken a pop-up approach, creating temporary installations in their stores to create buzz and interest. Late last year, ModCloth launched a two-week campaign during which customers could be styled with their clothes and then photographed by a professional photographer in store. They were given both a digital and physical copy of the photo that they were able to share on social media and that were also shown on digital display walls in the store, essentially making the participants models for the brand both in-store and online.
Both social media platforms and brands are experimenting with augmented and virtual reality. Foot Locker and Snapchat recently partnered to bring an in-store advertisement to life. A static painting of LeBron James was hung in the store with a Snapcode included in the bottom corner. By scanning a Snapcode and then focusing their Snapchat camera on the painting, shoppers could see a digital LeBron James burst out of the advertisement and dunk a basketball on a digital basket. These examples are just some of the ways that brands and retailers are exploring the evolving use of social media in-store.
---
Although the retail industry is already benefiting from the ever-increasing popularity of social media, there is still much room for innovation and exploration. As retail continues to revolutionize and become a truly omnichannel experience, the integration of social media into the shopping experience will become even more important for brands and retailers to survive in the online marketplace.
For more on retail trends, download our annual Shopper Experience Index.
A version of this blog originally appeared in MarTech Series.