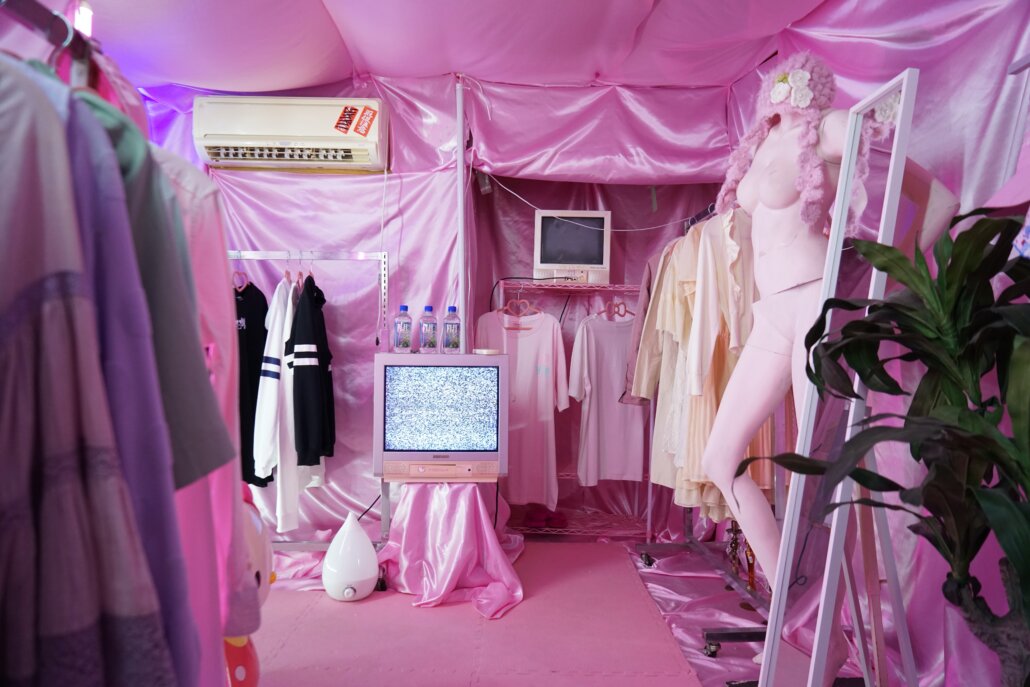 Not long ago, the goal of retail stores was simply to sell products. But today, stores must do much more than just move merchandise. They have to provide (Instagrammable) experiences, and they must be continually evolving, which is why stores now get facelifts every few years.
The popularity of social networks, especially the visually focused Instagram, has created a need for Instagrammable spaces to attract visitors and entice them to spend. These selfie-worthy retail spaces inspire customers to share photos and videos of their shopping experiences, creating invaluable word-of-mouth marketing on behalf of the brand.
And with more than a billion Instagram users — 83% of whom use the social network to discover new products — that's a powerful motivator to make your store worthy of the gram.
A nonselling space devoted to selfies may be out of the question for some stores. But creating even a temporary Instagrammable area or setting up an irresistible photo opportunity in one store per region can excite customers, increase foot traffic, and be a boon to sales. So check out nine ways your space can inspire shoppers to snap pics and share them.
1. Know your brand identity
You want to create a space that prompts shoppers to get out their phones, but it's important not to stray too far from what your brand is known for. Have fun, and mix things up while still maintaining brand colors, fonts, and tone.
Take botanical beauty brand Aesop, for example. It's known for its minimalist design and reliance on natural ingredients, so its retail stores reflect this. Visit any of its locations worldwide and you'll be met with bare walls, wood accents, and meticulously placed products.
However, the brand finds ways to get creative within its brand parameters, such as when it celebrated the changing seasons by dumping bags of autumn leaves on the floors of its shops.
Atlanta streetwear boutique Wish was Instagrammable long before the social network even existed.
The edgy shop has been compared to an art gallery, and its basement display of well-lighted sneakers surrounded by hardback books has even inspired celebrities like Jeezy to snap a selfie.
The store was redesigned in 2020, and every angle of the space is 'grammable, from its staircase of books to its underground sneaker gallery.
2. Create an experience
If you've ever walked into a shop and been immediately inspired to snap a photo, you know how important it is for the overall aesthetic of a space to work together to create an experience. It's why so many people pause the second they step into Ladurée's Georgetown location.
And today, that's exactly what consumers want. 74% of Americans value experiences over products. And that number is even higher among millennials, who also value the experience of shopping — and sharing those Instagrammable moments with their audiences.
"Consumers want to discover and be immersed in the story of a brand," said Melissa Gonzalez, founder of retail strategy company The Lion'esque Group. "And brands are doing this with beautifully designed environments that further extend their voice through color and material choices. These are used to create moments that inspire user-generated content."
Take Glossier's Los Angeles location, for example. Although not a large space, every inch of it is pretty, pink, and undeniably Insta-worthy.
So consider the overall look and feel you want your space to convey. Look for ways to communicate this in every aspect of the store so that customers feel transported as soon as they enter and can experience your brand as a whole.
3. Remember that less is more
Clutter doesn't make for 'gram-worthy photos, so ensure there's space between displays and around merchandise.
You may have limited room to work with and can't quite pull off the super-minimalist aesthetic of an Apple Store. But you can still create artful product displays. Place premium merchandise in noticeable locations at eye level, and give it status by displaying a single product or a small selection of items instead of an entire collection.
Be subtle but strategic with branding. Include a logo or hashtag in the display so ever photo that's shared on Instagram features your company's branding.
And you can still get creative when displaying only a few products, such as Vans did in the example above.
4. See what's trending
Pay attention to what's happening in popular culture, and find ways to integrate those trends into your space.
While the look of your store should be unique to your product and your brand, you can still indulge in some of the fads that inspire many of the selfies you'll spot on Instagram.
For example, millennial pink, neon signs, succulents, and walls of plants are all the rage these days and are inherently Instagrammable, but they can also be easily overdone. So pick the fads that work for your space, and look for opportunities to make them your own.
Here, both Washington, D.C.'s Crumbs & Whiskers cat cafe/retail store and Waterloo's bar Tonight Josephine jumped on board with the pink neon-sign trend, but they've each made it distinctly their own.
5. Get interactive
Lure shoppers inside, and keep them entertained by offering interactive aspects to your retail space, such as photo booths with props, classes, product demonstrations, and influencer events.
These can be temporary installations, like the virtual reality water slide that Topshop installed at its flagship store in London in 2017.
But they can also be permanent fixtures that shoppers are willing to shell out cash to see. Cosmetics brand Winky Lux, for example, knows what its young audience wants in addition to vibrant makeup: an Instagrammable experience. And that's exactly what it delivers at its store in New York City.
The retail outlet is built specifically for the 'gram, and visitors shell out $10 each to pose for pics in seven different rooms designed to match the ambiance of a Winky Lux product. So it's clearly a very different experience than walking into a Sephora. At the tour's conclusion, customers can put that $10 toward an in-store purchase.
6. Provide an Instagrammable backdrop
When there's an eye-catching mural or stunning backdrop, people line up to snap a photo in front of it. It's why every time a friend travels to Austin, they share a pic of themselves in front of the iconic "I love you so much" wall, and it's why you can't enter Atlanta's Krog Street Tunnel without stumbling upon a photo shoot.
While an original mural is certainly Instagrammable, you can also simply opt for unique wallpaper or a brightly colored wall and a branded hashtag to tempt customers to pose in front of it.
At Revival Body Care in Lakewood, Ohio, customers can't help but pose for a winged pic in front of the natural skincare company's living art. And the brand expertly included its hashtag and social links so that every shared selfie is also an advertisement.
San Diego gift shop Pigment features a selfie station with a new backdrop each season. Once a photo is snapped, shoppers can enter their phone number and get a link to their pic, making it a cinch to instantly share the image on social media.
7. Add mirrors
Mirrors are already commonplace in apparel stores because they enable shoppers to see how they'll look in items. But strategically placed mirrors can also be a great way to easily take pics of themselves modeling merchandise while also featuring your space.
Place mirrors not just in dressing rooms and bathrooms but also beside product displays and in entryways to create selfie opportunities.
Add a branded hashtag to the mirror, like GU STYLE Studio does, to turn every pic into user-generated content.
8. Invite shoppers to lounge
The longer consumers spend in a store, the more they're likely to spend. So give them the opportunity to sit down, pose for a photo, and take in your beautifully designed store — and its products.
Set up a lounge area that fits with your aesthetic, like Filson in Seattle, where customers can get cozy on a couch and sit beside the fireplace.
The Citizenry Bunkhouse, a home-furnishings pop-up shop, was designed with "speed bumps," or spots for customers to sit and relax. The lounge areas were designed to look like "beautiful New York City apartments," with hardwood floors, exposed brick, and comfy chairs, and they were such a draw that the pop-up shop extended its stay.
9. Don't forget lighting
Great lighting doesn't only showcase your products — it can also entice customers to snap a pic.
So determine the areas where customers are most likely to pose for shots, and ensure that the lighting is top-notch. You can even go the extra mile, like San Francisco restaurant Bellota did.
The Spanish bistro installed 25 lamps with customizable dimmers, so visitors can get the ideal selfie — or the perfect shot of their craft cocktail.
An Instagrammable store means more user-generated content
Making your retail space Instagrammable can increase foot traffic and even turn your store into a travel-worthy destination. Plus, it keeps people in store and entices them to spend more.
But there's another big benefit to having an Instagrammable store: user-generated content (UGC).
UGC is any type of content created by unpaid contributors, and it's one of the most effective ways to promote your brand because it essentially involves other people marketing your brand for you. This kind of marketing is more authentic and engaging, and it drives sales.
In fact, featuring UGC, such as a selfie a customer snapped in your store, increases web conversions by 29%. So designing an Instagram-worthy space can pay off — both in-store and online.
Check out the rest of our Instagram content for more best-practices.