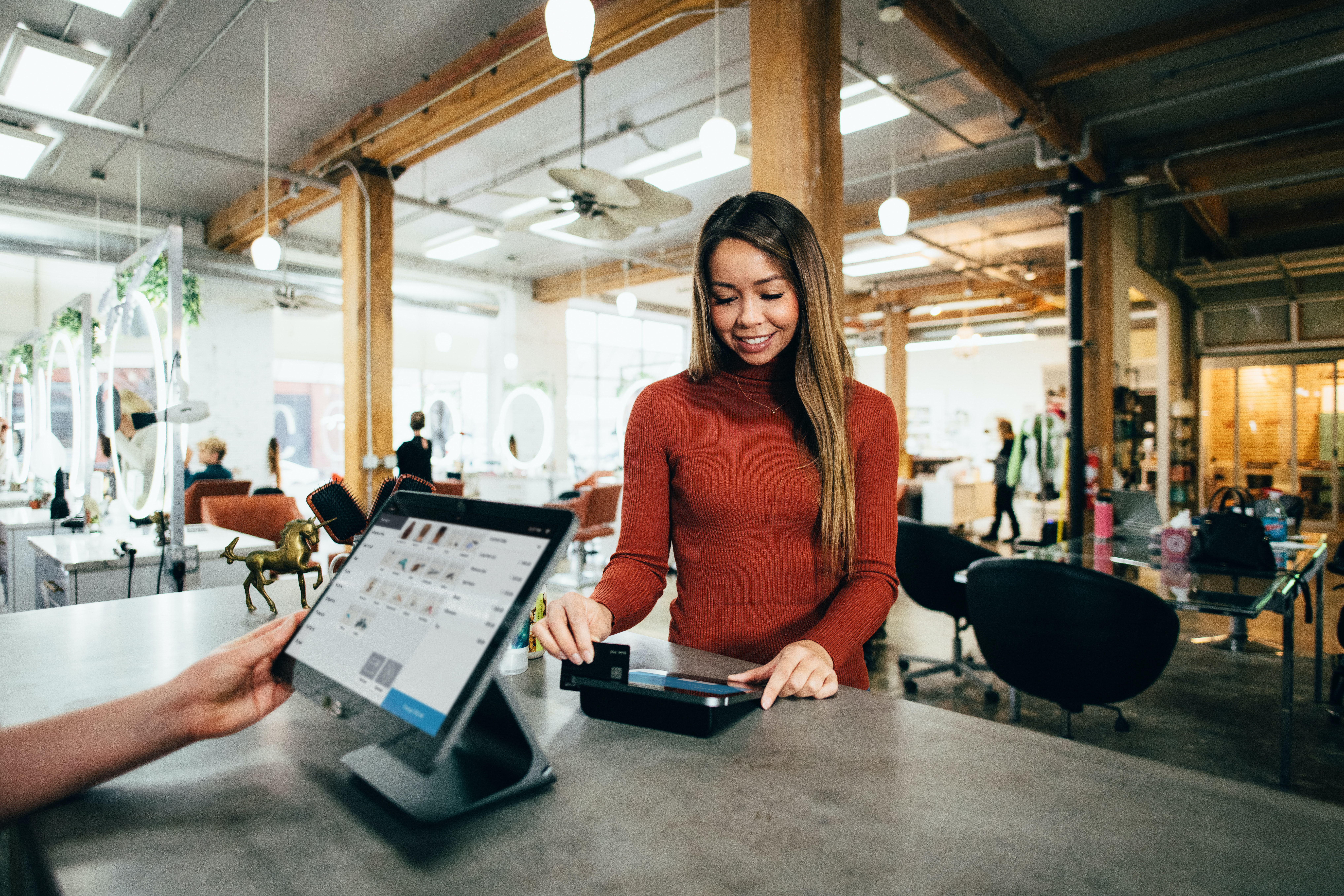 Shopping preferences are as varied as the products they're regularly buying. While there's some commonalities among consumers, everyone's shopping cart is as unique as they are. A shopper's age, gender, and location all have an impact on how they shop as well.
Consumer shopping preferences
To better understand what shoppers are looking for, how they're buying, and how they're interacting with user-generated content such as ratings and reviews, we surveyed over 5,500 consumers around the globe. Here's the demographic differences we found between them.
Men are from Mars, women are… also from Mars?
We found gender had the smallest impact on shopping preferences, but there's a few key areas where it does. The biggest difference is that women tend to be more digitally inclined than men. For instance, when writing reviews, women tend to include photos of themselves using or wearing the product, while men stick to text only. When asking questions to brands, men are more likely to call a business or visit them in-store, while women are more likely to ask their question on social media or through a live chat/chat bot on a brand's website.
However, when it comes to unconventional ways they have tried purchasing products, men are more likely to have turned to voice assistants, while women prefer social commerce.
Both men and women like to lean on subject matter experts (SME) for purchasing advice, but for very different types of products. Men are more likely to turn to the reviews of SMEs when they're shopping for automotive, home improvement, or electronic products. Women do the same when shopping for items in the beauty, food and beverage, and financial services.
Location, location, location
When it comes to shopper behaviours, shopping preferences show similarities across all five regions. However, North American and United Kingdom shoppers are generally the most aligned. Australian and German consumers tend to have preferences most unique to their regions, and French shoppers are somewhere in the middle of the mix.
Overall, North American and UK shoppers are most trusting of review and influencer content and most open to trying the latest retail trends, like subscription services and secondhand marketplaces. North American consumers want to interact with the companies from which they buy and are most likely to ask questions to brands through the largest variety of channels. Meanwhile, UK consumers are most willing to give businesses a second chance if they respond to their negative review (37%), and they're most likely to write a review via email when prompted (24%).
German shoppers seem to be the most sceptical and mistrusting out of the five regions. They're least trusting of reviews, 62% responding they "sometimes" trust the reviews they read online. And they're also least likely to buy from an influencer, as only 21% of German respondents said they trusted their recommendations. However, they're more trusting of traditional aspects of retail and were the demographic most likely to trust a recommendation from a store associate while shopping in-store (32%).
On the other hand, Australian shoppers are most likely to buy from an influencer (45%). Ironically, while they want more photos in reviews, they are also the least likely to include them — in fact, 42% of Australian respondents said they never do! They are also least likely to have used a product subscription service or shopped on Amazon in the last year, as adoption of the online retailer is lower there than in other parts of the world.
The most middle-of-the-road consumers, French shoppers have high expectations for companies with which they shop and interact. While they are most likely to leave a review, they also expect to be rewarded when they write a positive review. They also are the most likely to expect a brand to make changes to a product after a positive review.
Age isn't just a number
This is where we saw the biggest discrepancy in shopping preferences. Age is by far the biggest differentiator in how, why, and where consumers shop. Most of these differences can be explained by younger generations' much higher use of technology. For instance, younger consumers were the most trusting of different types of brand advocates and more likely to prefer social media for engaging with and purchasing from brands. Millennials, in particular, are most likely to submit photos and videos alongside their reviews and to wish they had more visual user-generated content on product pages.
However, don't let younger demographics' inclination for technology have you make too many assumptions. Millennials were also the group to say that entertaining and inspiring in-store experiences matter to them. On the other hand, while they are less likely to shop online, survey respondents over the age of 55 were most likely to have purchased a product that an influencer has recommended.
Regardless of generation, a brands' actions and ethics is something that consumers pay attention to, and it affects the way they shop. Shoppers buy based on brand reputation and agree that businesses are held more accountable for their actions by customers today than five years ago.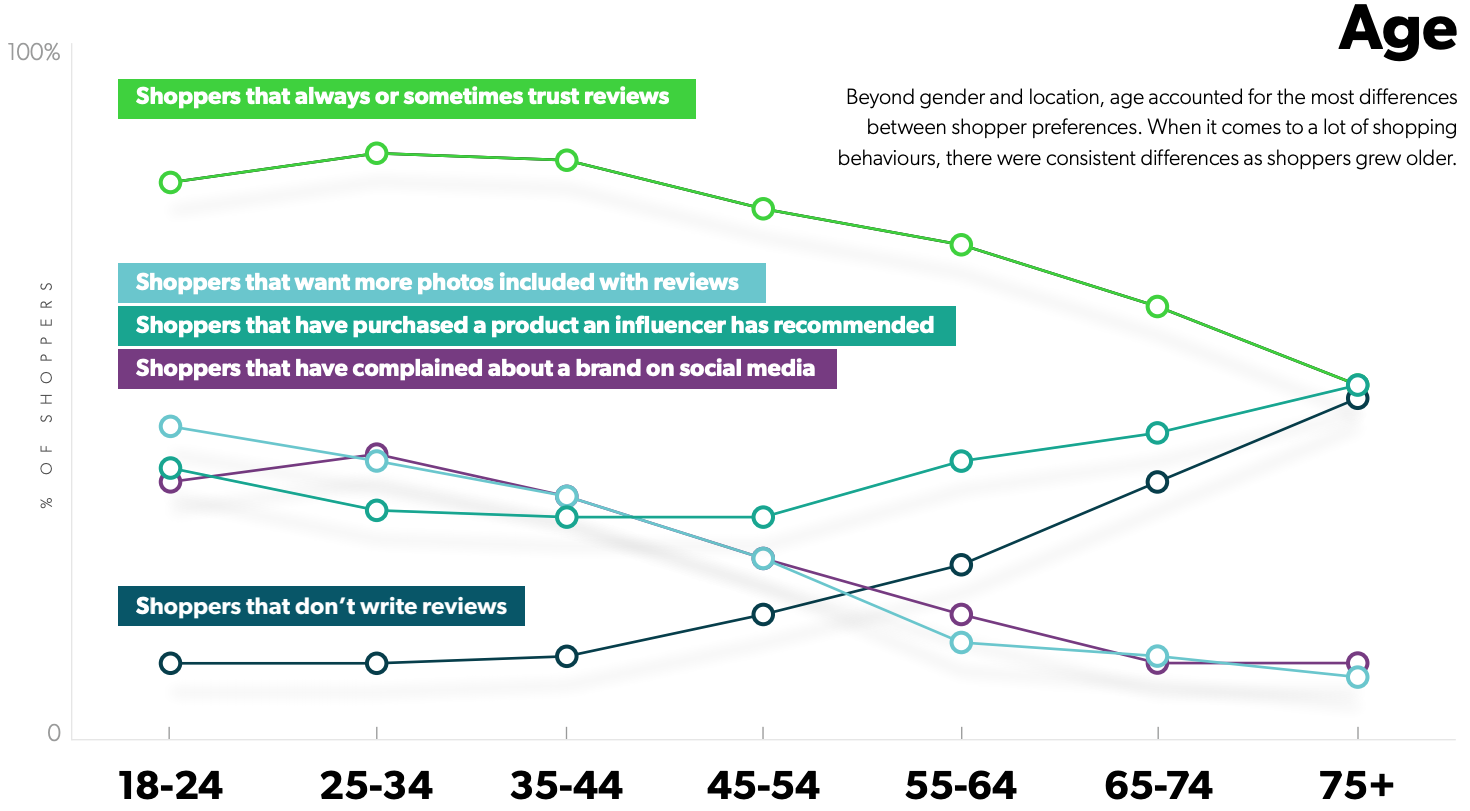 What's the shopping preference?
To answer the question our title asks – while a consumers' age, gender, and location all factor into how, where, and why they shop, age is definitely the biggest differentiator in terms of shopping preferences. Be sure to be cognizant of these variables when marketing and advertising to your customers. To learn about more shopping trends from the past year, read our Shopper Experience Index.