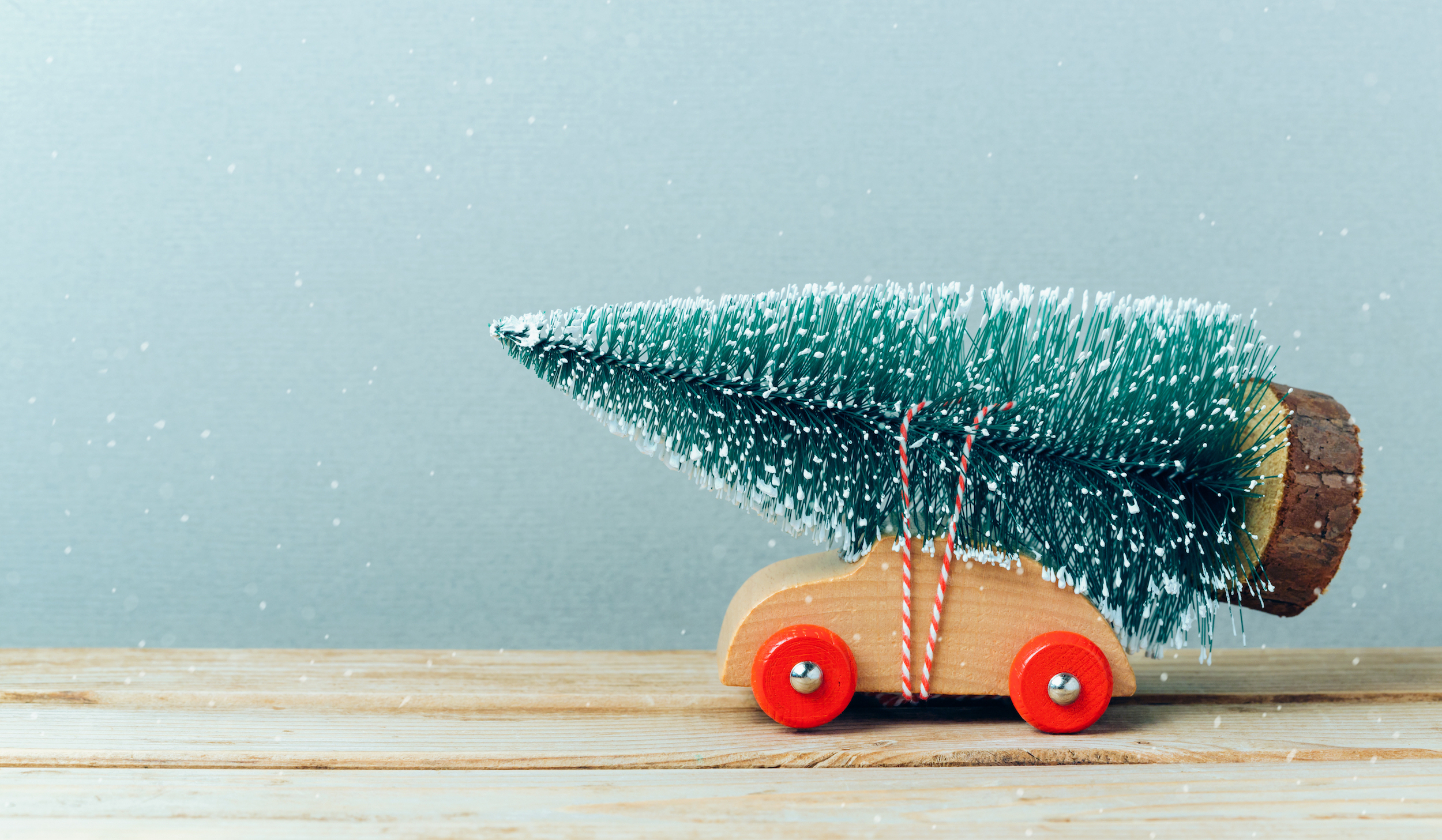 It might not be the year of the hoverboard, but this holiday season has good things in store for toys and games as marketers prepare for the year's biggest sales frenzy.
Case in point: While sales in almost every category reached a crescendo during the Black Friday and Cyber Monday rushes, sales of toys and games will see the biggest in-store and online holiday spike in the week before Christmas.
Those are the findings of our latest study of the Bazaarvoice Network, which includes more than 5,700 brand and retailer websites. In this research, we tracked online shopping behavior during the 2016 holiday shopping season across seven product categories to build out predictions for the 2017 holiday shopping season.
Our biggest takeaway is that Black Friday and Cyber Monday merely signaled the start of a big sales spike for toys and games. And that's in spite of the fact this year's fidget spinner craze has already gone the way of the Dodo bird.
Of all categories, toys and games saw the highest amount of online traffic growth — 191% — and the highest conversion increase — 4.7X higher — from the fall to winter seasons. While it's no surprise that toys and games see a significant spike during the holiday season, there are nuances in our findings that may surprise you — and inform your holiday marketing strategy.
Biggest opportunity for toys and games sellers: The week before Christmas
'Twas the week before Christmas…when toys and games saw its biggest spike.
Even though the holiday rush around toys and games starts as early as September, companies that invest too much in Black Friday and Cyber Monday alone will miss out on the later and greater opportunities to capture sales.
That's because the lion's share of toy shopping is done in the week before Christmas. Last year, brands and retailers in the Bazaarvoice Network saw a 110% increase over Black Friday numbers and a more than 800% increase over typical traffic during the week before Christmas.
But the rush didn't stop there. December 26th marked the final holiday sales spike, and online traffic for toys and games spiked higher that day than on Cyber Monday.
These findings are corroborated by the NPD Group, a market research firm, which finds that the week before Christmas saw "explosive growth of 28%" in raw sales figures for the toys and games industry. "As a result, week 51 was the largest sales-generating week of the year by a ½ billion dollars over the previous top week and grew to represent 10% of all toy sales for the entire year," NPD says.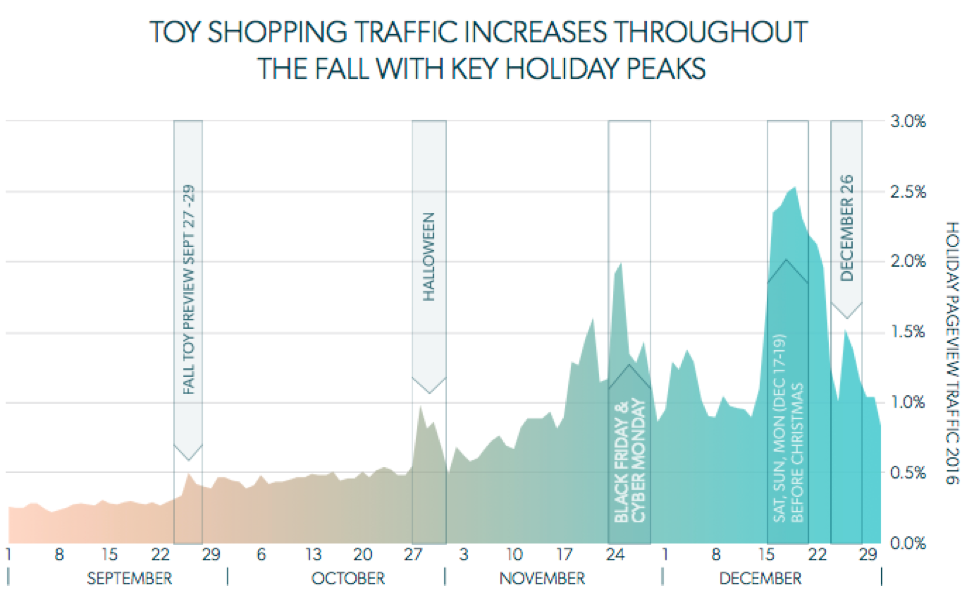 Of course, there are explanations for the late spike in toy shopping. It's not hard to imagine why we see a spike on December 26th in the toy category (and across all others). Between the after-Christmas sales hunters and gift card spenders, shoppers are excited to make purchases. But how do we explain the shopping spike in the week before Christmas?
As it turns out, it was the week before both Christmas and Hanukkah. Last year, Hanukkah started late — the first day was on December 24th — so both Christmas and Hanukkah shoppers were waiting to make their final purchases in that final week.
Another possible reason for the late spike is that Christmas was on a Sunday — meaning that shoppers had both the previous weekend (December 17th-19th) and Saturday the 24th to spend time in stores instead of at work.
There's reason to expect that 2017's holiday shopping season will closely mirror 2016. Despite the fact that Hanukkah falls earlier in December this year, Christmas falls on a Monday, which leaves both Saturday and Sunday for last-minute shopping.
What's more, Star Wars: The Last Jedi is slated for release on December 15, 2017. And with the Walt Disney Co. juggernaut behind it, you can bet there will be a significant number of Star Wars toys hitting the shelves in time for the holidays.
How much can one timely movie release impact toy sales? Over the past two years, strong gains in the toy industry have been directly attributable to a flurry of merchandising from the release of blockbuster hits like Star Wars, directly helping spur a 5% increase in sales. According to Fortune, "Star Wars sales totaled nearly $760 million in the U.S. alone last year, beating 2015 by $60 million. That made Star Wars the top property in the toy world, based on dollar sales.
All of this will be welcome news for an industry that has seen its year-over-year growth fall from 5% in 2016 to an estimated 4.5% in 2017. In the UK in particular, the BBC reports that toy sellers are betting big on Christmas. With a full weekend before Christmas and the release of a major blockbuster hit, all signs points to similar trends this year.
The path-to-purchase for toys and games: Equal parts online and in-store
How do consumers browse and shop for toys and games? As it turns out, they don't show a strong preference between online or in-store.
When it comes to researching toys, shoppers are spending more and more time reading reviews, looking at photos on product pages, and comparing products before making a purchase. In our research, we found that 53% of in-store shoppers and 59% of online shoppers read reviews before buying something.
As you can see from the stats below, the average toy shopper is diligent about their research — it's a six-day process with consideration across four different products.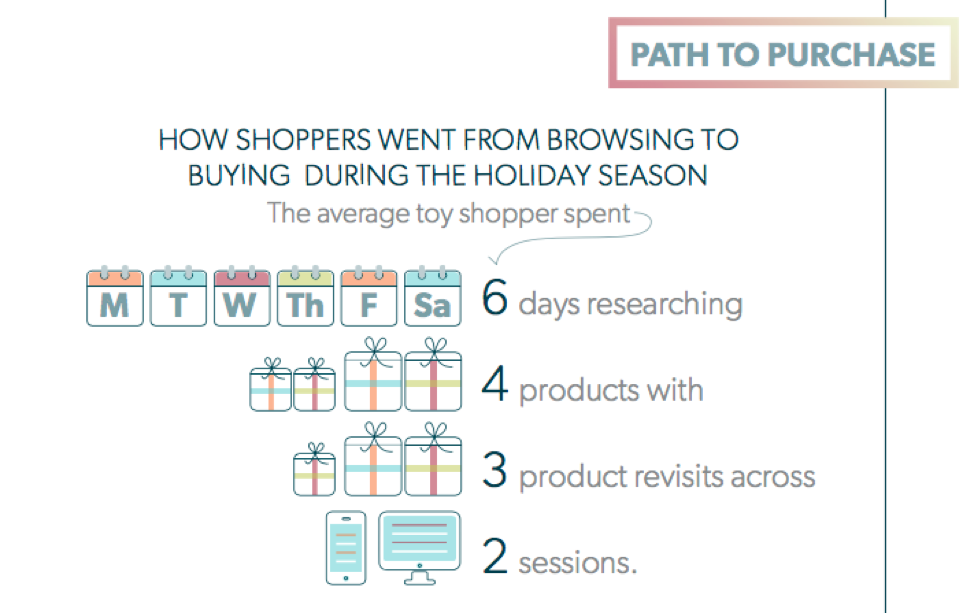 According to PricewaterhouseCoopers' annual Total Retail Survey: "When it comes to purchasing toys, both online and in store channels are almost equal in popularity for this category; 39% of global shoppers like to make their toy purchases online, while 37% prefer to purchase in store."
Even in those in-store sales, online reviews play a big role. Over half of in-store shoppers read reviews before making a purchase. For these shoppers, the path to purchase is a combination of online research and offline buying. But what's more, for every $1 sold online, an additional $5.14 is sold in-store as a result of reading a review.
Those looking to buy toys and games during the holidays are doing their research online, and that research has a direct influence on what they spend their money on — regardless of whether they make that purchase in-store or online.
Key takeaways: 3 ways to capture holiday toys and games shoppers
When you think typical holiday gifts, you almost inevitably think of toys. It's no secret that the winter season presents a big opportunity for those in the toy industry. Across all the categories we studied, toys and games saw the largest growth in all areas between fall and winter.
Based on our data, here are three ways to make the most of this holiday shopping season.
1. Focus marketing efforts on the week before Christmas
The week before Christmas is set to be the biggest sales week of the year for toys and games. Let everyone else be happy with Black Friday and Cyber Monday — late December is yours.
"The situation is even more critical this year, as Christmas falls on a Monday," says Julie Lennet, an industry analyst at the NPD group. "Warm weather aside, to be in the best shape possible in 2017, toy retailers and manufacturers need to figure out how to create more excitement and generate additional shopping visits." More shopping visits means more sales — a simple axiom.
You still have time to run marketing and advertising campaigns right up until Christmas. Appeal to last-minute toy shoppers with flash sales, expedited delivery, or order online-pick up in-store options.
2. Don't forget about the day after Christmas
Whatever you do, don't stop on December 24th! According to our data, the final sales peak of the year isn't the day before Christmas — it's the day after Christmas. From December 26, it's a steady decline down to the New Year.
You have an opportunity to capture these post-Christmas shoppers. Look at your analytics tools and see what products stirred the most interest during the holiday season, and focus your final holiday efforts on these. Work with your advertising team or partner to isolate the shoppers that browsed items without committing to a purchase, and then retarget them with ads for those products. 
3. Put reviews to work on your product pages and in your outreach efforts
The path-to-purchase for toy shoppers is not linear — it jumps across devices, between products, and from online to offline and back. Because of this, toy brands and retailers need to ensure their online, in-store, and mobile shopping experience is cohesive and informative.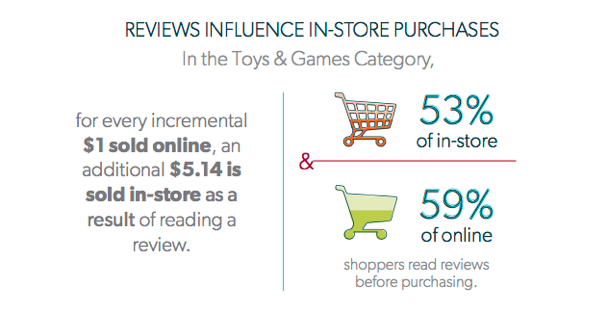 Consumer-generated content (ratings, reviews, and visual customer content) is a powerful way to bridge the gap between your website and brick-and-mortar. Online shoppers can't feel a stuffed animal or ask a store associate if a game is appropriate for toddlers, but they can read reviews from actual customers to better understand if a product will fit their needs.
Our own data shows as much. For toy and game shoppers, reviews matter. Consider including them in your general ads, marketing collateral, and social media ads, as well as making them prominent on all product pages. When you do it right, it's easy to turn your customers into your best advocates and sales assistants.
---
For more insights and trends for the holiday shopping season, including a Toys & Games-specific infographic, visit our Holiday Headquarters.