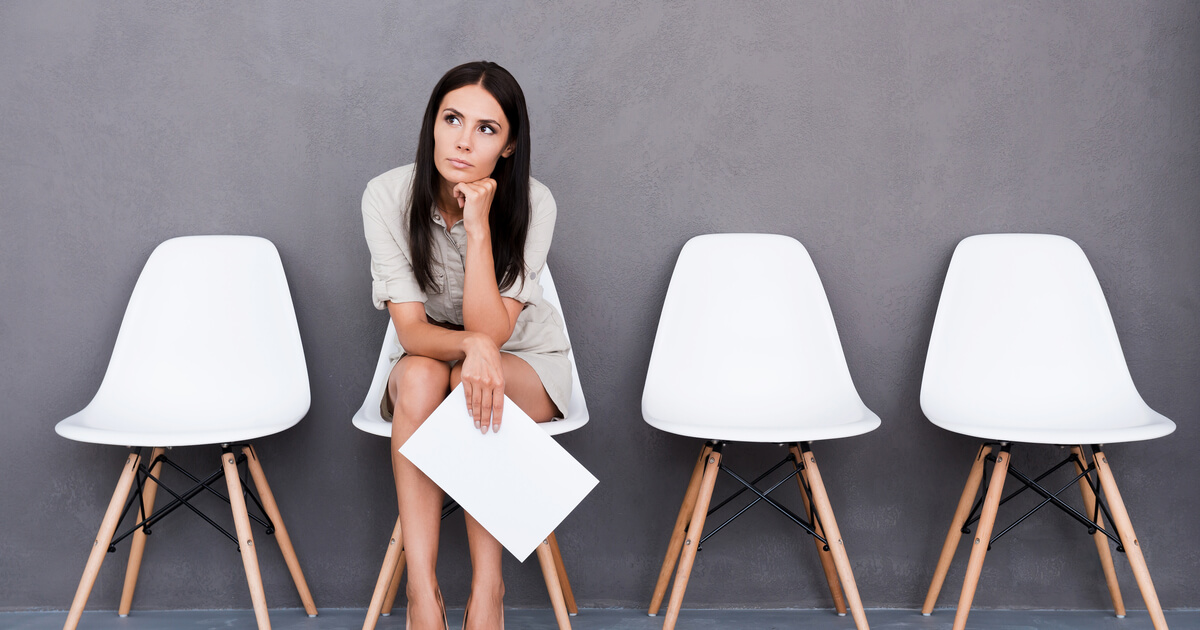 As the experts on all things UGC (user-generated content), if we do say so ourselves, our clients often ask us for a specific piece of advice: How to hire for a UGC content manager.
Rather than respond to each request individually (of which there's obviously millions), we decided to consult internal experts and put together this best practice guide instead.
Chapters:
---
---
If you're like most business leaders today, you're struggling with employee turnover and keeping up with hiring and retention. Tons of people are changing jobs, retiring, or quitting work altogether — over 4 million every month since July of last year. The great resignation is truly here.
And hiring in the semi-niche industry of user-generated content (UGC) manager roles? Even harder.
If you're not a UGC expert yourself, it's hard to know what to ask. That's why it's so important to ask the right interview questions and be able to identify great responses. Before your next UGC content manager interview, read this guide we created with help from industry professionals.
What does a UGC content manager do?
UGC content managers lead marketing teams on a comprehensive UGC strategy. They need to demonstrate a working knowledge of all forms of UGC — ratings and reviews, shopper photos and videos, and questions and answers.
While UGC may have previously been part of other roles like social media or e-commerce managers, it's increasingly a role and focus in its own right.
A UGC content manager is usually responsible for:
Collecting and managing UGC
Distributing UGC across websites, retailers, social channels and search
Collecting the associated customer data
Conducting influencer campaigns
Overseeing sampling campaigns from beginning to end
Analyzing metrics and revenue generated
Communicating insights to stakeholders
Key traits to look for in a good UGC content manager
Hiring content teams in today's competitive and title-bloated market isn't just challenging; it's excruciating, says Joe Manna, Content & SEO Manager at Alyce, a corporate gifting platform.
"At my previous company in the cloud communications space, the desire to hire someone 'right now' sometimes superseded hiring the right candidate. This impatience resulted in unfit leaders who later brought on unsuccessful candidates. What followed? A complete turnover of the communication and content teams. To avoid this disaster, evaluate EVERY potential content marketing producer by drilling deeper." — Joe Manna
To identify a truly great UGC content manager candidate, look for these key traits:
Emotional intelligence. All good leaders — and good marketers — need to empathize and understand emotions. To be effective, a UGC content manager needs to empathize primarily with users.
Time management and proactiveness. UGC content managers need to manage multiple projects and deadlines. Someone in this role often juggles projects from influencers, contributors, and internal creators. All in tandem with broader marketing campaigns or product releases.
Creativity and wit. To thrive in the social media space, UGC content managers need to have a friendly and humorous tone of voice. They also need to balance that creativity with a sense of responsibility to the brand's reputation.
Critical thinking and resourcefulness. Since it's an emerging field, UGC content managers need to be confident decision-makers who can think on their feet. And also take swift action if necessary.
Flexibility. UGC content managers need to be able to quickly adapt to different audiences, topics, and customer pain points. As well as manage different personalities.
Technical skills in writing, editing, SEO, and online marketing analytics are a must. Also helpful is the ability to create GIFs, memes, videos, and other visuals.
Business acumen to contribute to the larger goals of a company.
Top interview questions to ask a UGC content manager candidate
Ask open-ended questions to identify an interviewee's skills and talents for a UGC role as well as a leadership position.
Below are some of the top questions to ask a UGC content manager during an interview, along with ideal responses.
"Can you provide examples of how you move users to take action?"
Get specific with examples. Ask job candidates to tell you about times they've had a great marketing idea that moved users to take action, recommends Makenzie Rath, President at Talent Plus, a global human resources consulting firm. This type of question shows resourcefulness and critical, out-of-the-box thinking.
Evaluate responses based on how specific they are. If the interviewee answers with vague, jargon-heavy platitudes, they're probably not qualified for the role. Or, they don't know how to communicate effectively, which in itself could be difficult to overcome in a marketing position.
"What are the most important things to consider while planning a UGC marketing campaign?"
Answers to this question speak not only to technical skills but also to a candidate's business acumen. Also whether they know how to contribute to a company's larger goals or not.
"UGC managers must have the necessary ability to understand and explain the business value of your content marketing efforts to the company," says Deni Ivanov, Digital Marketing Director at Royal Cleaning, a London-based cleaning company.
Responses should indicate how candidates structure and prioritize work and show care for the target audience's needs. Can they look at the bigger picture?
"Knowing a goal of a campaign and making sure we understand it is a must," says Agata Szczepanek, Community Manager at MyPerfectResume. Candidates should also demonstrate how UGC interacts with a brand's image, values, and tone.
"How do you increase team member engagement?"
If your UGC leader will manage people, then asking about team engagement will help you understand their leadership style and empathy. You're looking at more than technical skills since those can be learned. Reading between the lines, you're actually asking: "Are they human-centered and responsible as a leader?" Szczepanek advises.
This question will also help you determine if a candidate is a good cultural fit with your brand. "If you bring in someone unable to connect with people, embrace constructive conflict, and roll their sleeves up and work," says Manna, "you'd be spending thousands of dollars every week for someone to move Asana tasks around."
Whether your role is people manager or a project manager, candidates still need to have high emotional intelligence. This question helps answer that. Emotional intelligence is important for UGC content managers because it means they can show restraint and handle social media crises with grace, says Padmaja Santhanam, Growth Manager at FirstPrinciples.
"Tell me about your day-to-day responsibilities."
The title "content manager" and "content marketer" seem similar but have vastly different experiences and duties. To avoid hiring someone without the necessary expertise, Manna recommends asking interviewees to tell you about their daily responsibilities.
"Have them talk through the types of campaigns, challenges, or 'fires' they had to resolve," says Manna. "Ask for samples, even redacted ones, and get extremely clear about this person's SPECIFIC responsibilities. Did they concept, write, edit, proof, publish, and promote the piece? Or were they spectating?"
"Tell me about our target market and current content marketing efforts."
Asking interviewees about your brand's marketing can help you figure out if they are serious about your company, according to Ivanov. Are they critical thinkers? Are they prepared for this position? Their response should demonstrate that they've done their own research about your company, target audience, and competitors. It will also show you how they process information and make recommendations.
"The candidate's answer will provide an insight into his research skills and how well he understood the company's target market," says Ivanov. "I will be most impressed with answers that not only cite our target market correctly but also share insights on what we should be doing to improve our current content marketing efforts based on the candidate's research."
"Tell me about any one of your most successful campaigns."
This question will help you gauge a candidate's experience and how they define a campaign's success, says Ivanov. The best candidates, according to Max Benz, Founder and CEO at BankingGeek, will also be able to show you high-quality, error-free, engaging samples. Candidates should be able to provide clear explanations of the campaign's objectives, details of the approach, and quantitative and qualitative measures they used to determine success.
For example, according to Ivanov, a stellar response might be something like this:
"Last year, one of our clients required us to generate buzz for their newly launched makeup line. We developed a campaign that encouraged customers to post and share vlogs using our products for a chance to be hired as a featured model. And we saw an immediate increase in our engagement. By the end of our six-month campaign, we successfully exceeded our revenue goal by 150% thanks to the increased attention brought by user-generated content promoting the new product line."
"How do your favorite brands use UGC?"
This is another great way to evaluate a candidate's critical thinking skills and preparedness for the position. Look for specific examples in their responses, especially if they can tailor their response to your industry, says Holly Landis, SEO & Digital Marketing Consultant.
Candidates should be able to grasp a brand's voice and persona, and how UGC has honed and expanded it, says Santhanam. "The UGC manager should be capable of focusing on grabbing audience attention while maintaining the business discoverability."
This means candidates should demonstrate they have a deep understanding of what makes UGC content good, as well as fluency in using terms like customer/follower engagement, account click-through rate, site referrals, or, according to Landis, "anything that could point to how the UGC benefited the bottom line of the business."
"How would you use different social platforms for our brand's UGC?"
Asking this question will show you if candidates are aware of the social media landscape and how each platform works for different industries and audiences, according to Landis. This shows "a deep familiarity with the options for gathering content and permissions for reposting or sharing on each of the platforms that they're discussing."
"At minimum, I would want them to talk about demographic breakdowns generally across different platforms, e.g., having a good understanding that beauty/apparel/home goods, etc., would likely work well on TikTok or Instagram with younger audiences," says Landis. "If paid advertising is something that you'd be looking for too under this role, I'd want to hear mention of TikTok Spark influencer advertising and Instagram whitelisted campaigns to get UGC in front of new audiences."
"What metrics would you track to extract knowledge about our current social media strategy?"
Santhanam recommends asking candidates this question to help you get an overall idea of their qualifications and knowledge for the job. You could also ask what tools they would use to schedule posts, which would be more role specific. You need to know if they're adept at social media and familiar with collecting, curating, and promoting UGC, says Benz.
"In marketing, setting up KPIs and tracking metrics is vital to measure the campaign's performance," says Santhanam. "So the response should include the ideas and metrics to measure the success in all social media campaigns mingled with creativity into effective strategies to promote the brand. The candidates' responses also should include the plan to manage day-to-day social media accounts and engage your target audience in the long run."
"What will your strategy be to keep our organization on top of new trends and features?"
This is a behavioral question, says Santhanam. You could also ask how they have raised brand awareness using social media in their previous positions. According to Santhanam, qualified candidates will mention updating the news feed, trade journal subscriptions, networking, and engaging with potential customers.
Here's a good response, inspired by Santhanam's advice:
"I managed a brand's Twitter and Instagram accounts in my previous role and stayed abreast of industry trends by reading social media news feeds, joining groups like [Name of Group], or following experts like [Name of Expert]. I also subscribed to trade journals like [Name of Trade Journal]. When planning posts, I put my own spin on trending topics, so it ended up being 50% brand voice and 50% trend. To get real-time updates on brand mentions and customer sentiment, I engaged customers in comments and relied on X tool to monitor brand mentions."
"How do you manage competing priorities and deadlines?"
Any manager has to tackle multiple projects simultaneously, says Logan Mallory, VP of Marketing at Motivosity, an employee recognition platform. And in the fast-paced world of internet marketing and UGC, it's important to get a sense of how candidates manage their time, how productive they are, and how well they stick to deadlines.
Ideal responses should speak to how candidates distribute and prioritize tasks. According to Szczepanek, candidates should be able to show "flexibility to switch between different audiences, topics, occasions, etc., and to manage different types of people effectively."
"Can you perform a compensated project?"
This last question (and the resulting project) will help you understand how candidates approach their work. "Give them a REALISTIC — not fictional — campaign scenario and brief with a few requirements," recommends Manna. "You're not asking for a week's worth of work, but just several hours. Pay them 2x the market rate given the turnaround time. It's well worth paying someone $1,000 [rather] than losing so much more on a bad hire."
In their completed project, you'll be able to evaluate their writing, editing, and technical skills, as well as their curiosity, creativity, and interest in the job. Szczepanek points out that candidates should demonstrate industry knowledge, wit, a friendly tone of voice, and broad knowledge of pop culture. Santhanam's advice follows suit: look for candidates that show a sense of humor and creativity that can differentiate your brand in a saturated space.
In addition, a completed project will show a candidate's actual productivity and critical thinking skills in real life. Manna says that candidates should be willing to "take the time to understand the market, the opportunity, and the novel ways for the brand to stick out and how you'd piece the campaign together and execute it."
It is important to note that if a candidate turns in a great project, it's still theirs. "Don't steal a candidate's ideas," advises Manna. "Even if they turned down the job (or you rescinded it), it's extremely poor form."
Fill your UGC content manager position with top talent
Getting qualified, willing candidates to the interview is half the battle. Once you're there, make the most of your time (and your candidate's time!) by asking the right questions. Now that you know which questions to ask and what to look for in the responses, you can fill your open position with the best.
And remember to provide a great interview experience for job candidates, says Rath. "Even if they cannot join your team now, they can still be a potential customer, user, or referral source for your business now and into the future."
If you're unsure of what a UGC content manager should know, read up on our guide to UGC. Or feel free to check out the rest of our Long Read content for more UGC best-practices!
---
Bazaarvoice University, or BVU as everyone (just us) is calling it, is our one-stop shop for your Bazaarvoice platform education. From beginner tips and tricks to advanced skills, check out our bitesize classes to get up to speed with everything about managing the Bazaarvoice platform.