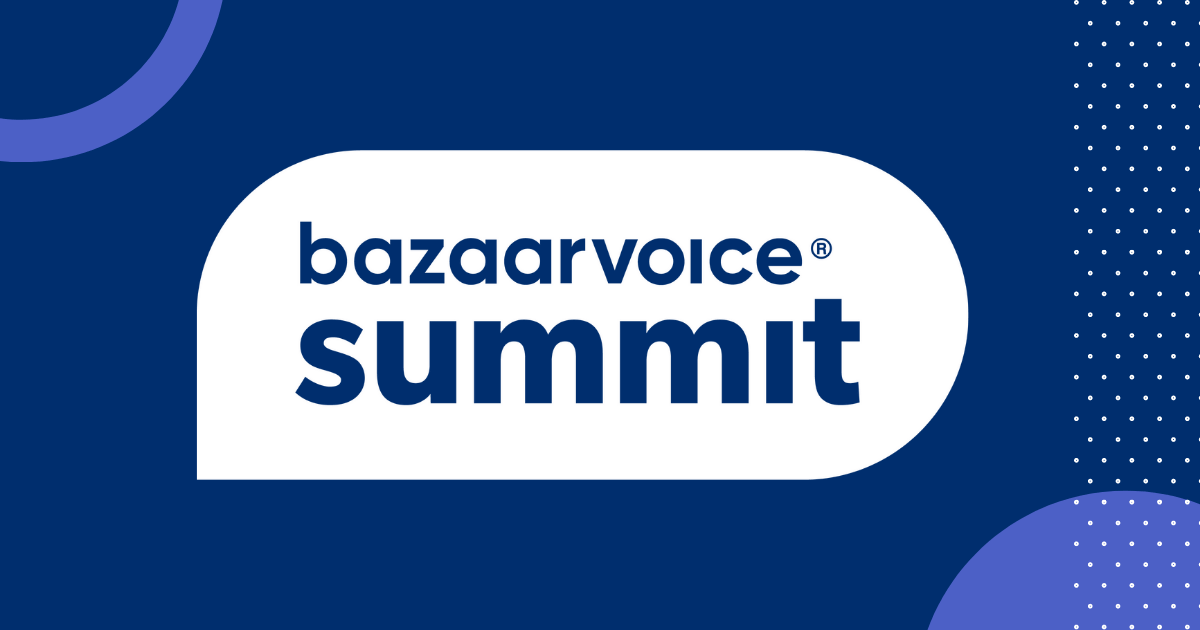 First of all, Bazaarvoice Summit is free to attend. In a time when the economy is tumultuous at best, and every spending decision is under extra scrutiny, "free" is a blessing. So let's get that one right out the way early.

This past year, over 12,500 of the world's leading brands and retailers have trusted Bazaarvoice to help them adapt and thrive through economic uncertainty. In order to get ahead in 2023 and beyond, you need to find your position in the new connected marketplace.
With so much change and growth, we've seen and learned a lot, and we're eager to share it with you.
That's why we're bringing back the renowned Bazaarvoice Summit, a two-day virtual event running from March 7th – March 9th, where we'll share all of our learnings. And much, much more.
What is the Bazaarvoice Summit?
The Bazaarvoice Summit is a global, virtual experience that brings together the people and brands redefining commerce. Join us for a series of keynote talks and masterclasses from the best and brightest minds in our industry.
Commerce is continually evolving but there's one constant — the voice of the customer is key. At Bazaarvoice Summit, we'll share the latest trends in commerce and customer insights to help you supercharge your commerce engine.
Can't wait to register? Save your spot here.
Why you should attend Bazaarvoice Summit
Not convinced to register yet? Here's five reasons why you should.
1. Learn from world-class speakers
It's not often you find yourself in the presence of digital marketing and retail thought leaders from some of the biggest names across the globe.



During Bazaarvoice Summit you'll hear not only from Bazaarvoice leaders like CEO Keith Nealon and award-winning CMO Zarina L. Stamford, but also from industry experts on a broad assortment of topics ranging from the current state of commerce to the content supply chain. We're excited to share some of this year's guest speakers include:
Christina Tziallas, Head, Digital Shelf and Process Improvement, North America, Kraft Heinz
Justin Thomas-Copeland, President and Chief Executive Officer, Doyle Dane Bernbach
Diana Haussling, VP – GM, Consumer Experience & Growth, Colgate-Palmolive
You can watch last year's presentations here for a taste of what to expect.
2. See the future of commerce 
Shoppers don't just want to see your content on your product page or your social media profiles — they want it everywhere they are. Is your content supply chain up to scratch? And social commerce has moved beyond Instagram. Have you? We'll show you where commerce is going next and how you can get there.
3. Deepen your expertise with hands-on workshops
Throughout Bazaarvoice Summit, we'll be holding a variety of masterclasses to help you supercharge your commerce engine. You can choose from sessions like:
Why is finding your bazaar voice important?
Overcome content and channel biases with a content supply chain
How to capitalize on the authenticity movement
4. Connect with growth-minded peers
They say you're only as smart as the person standing next to you, which is why we're extending invitations to the best of the best in retail and e-commerce. That means global brands and retailers in every type of business you can think of. Get face time with some of these industry leaders and learn how they're finding their bazaar voice.
5. Discover our vision and latest technology
One of the most exciting moments from any Bazaarvoice Summit is the Bazaarvoice vision for the future. What products are coming soon? How are we going to help you further supercharge your brand? After a few years like no other, we're reflecting on our key findings to help you get ahead of what's next.
Register for Bazaarvoice Summit
Join us at Bazaarvoice Summit 2023 and get ready to take your success to the next level in the new connected bazaar.