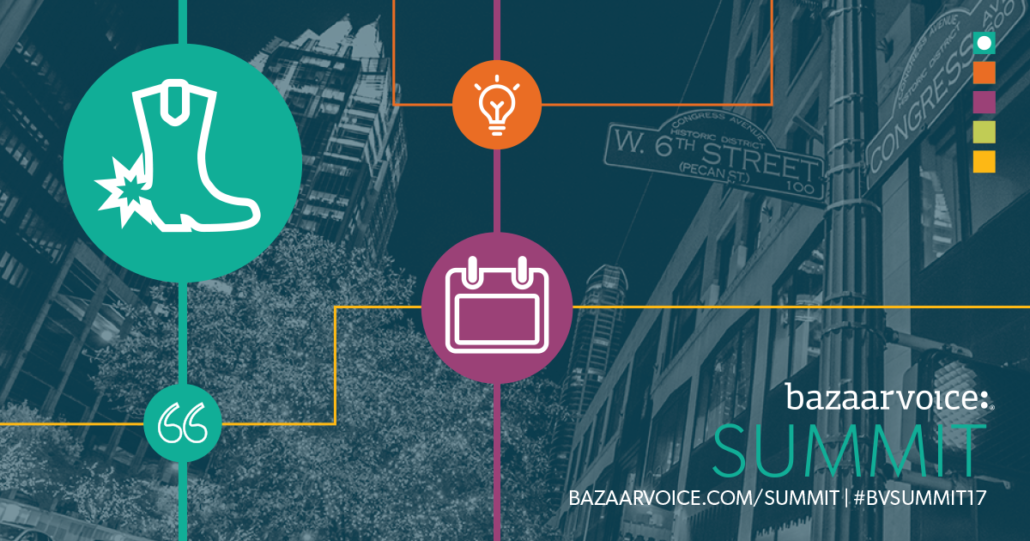 You know, we have an incredible lineup of speakers and sessions at our Bazaarvoice Summit this year (seriously, Daveed Diggs?!). If you haven't yet, be sure to download our Summit app, so you can view all the sessions and customize your own schedule. I have to say, I'm actually really excited about another part of the event — what we're calling The CX (The Consumer Experience). Not to get all meta, but I love how we've created a true consumer experience about consumer experiences.
I should explain.
From offline to online and everything in between, our clients care a great deal about the consumer experience they create. Their businesses depend on it. Meanwhile, because our relationship is central to helping them achieve an engaging and cohesive experience, it made sense to create a way to show our clients just how we can support each step along the way. At Summit, The CX is a journey through the consumer journey, if you will.
What I think our clients are going to love is that we're really not gearing up to talk about our technology, as we have done in the past. Don't get me wrong, we love the way we innovate at Bazaarvoice and will happily geek out with anyone. But technology and products only matter if they help someone to do something. To solve a problem. To meet a challenge. To move the needle. So, this year's Consumer Experience is all about what we're doing to help our clients fix actual pain points and move their businesses forward.
The CX will be organized around four sections; each one will address a specific issue that our clients often need to solve. We're going to be talking about truly and efficiently reaching new consumers, effectively getting shoppers to really consider your brand, removing barriers that prevent shoppers from pulling the trigger on a purchase, and building and activating an army of loyal customers to fuel your business. We help a lot of clients do these things every day, and we want to share the best practices (and mistakes) we've learned from our experience.
And, of course, given the theme of the Summit is 'The Network Effect,' we'll be talking about that as well. If you'll excuse a little bit of tech geekery, our engineers have built an incredible tool that will allow attendees to truly experience how well they're connected into the Bazaarvoice Network, amplifying their impact and influence with shoppers. As for the format, I don't want to spoil the surprise, but sci-fi fans won't want to miss it.
As we are constantly preaching, feedback from customers is essential to doing business. At Summit, you are our customers, and we want to hear from you during and after the event. Did you learn something new from walking through The CX? Was there another problem your company is facing that you wish we had covered? Let us know — post to the Summit app activity feed or hit us up on social media with the hashtag #BVSummit17.
I'm looking forward to a lot of great conversations with our clients in the CX. There will be a lot going on at Summit on Thursday, but don't forget to stop in to The CX in between sessions. My words can't quite do it justice. It is really something that you have to experience.